This no bake blueberry cheesecake recipes needs to be your go-to summer dessert. So easy to make in individual portions and so delicious!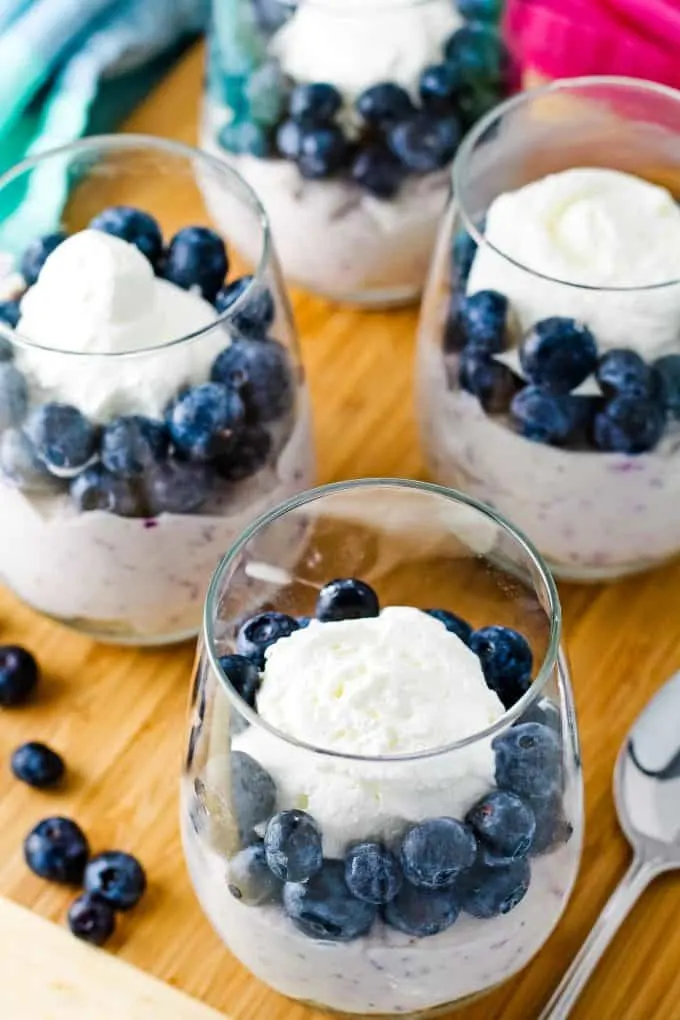 Originally published March 2015, updated July 2019.
Folks. My kitchen does not have air conditioning. I have a big window that lets in a mediocre breeze but otherwise I'm dependent on a pretty strong fan to cool the room off.
So, in the summer or on a freak 80-degrees-in-March day, my oven goes into hibernation. I should cover it with one of those giant covers car collectors use for their fancy vehicles so it doesn't get dusty. Wait, that's a little overboard, ha!
A hot, hot kitchen and a love for sweet stuff meant I had to come up with some great no-bake desserts. Enter no-bake blueberry cheesecake.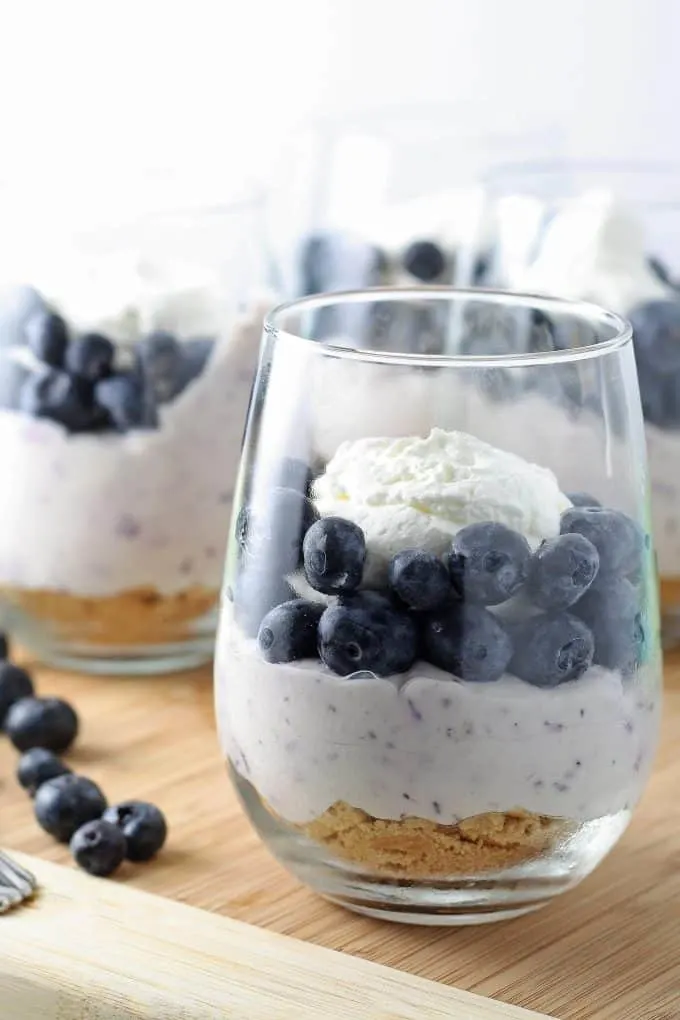 I have a confession to make… up until a few years ago, I hated cheesecake. If I saw it on a dessert table I would run away screaming. Well, obviously that is an exaggeration but I definitely passed down any slice that was served my way. (Now I'm a big fan of mini cheesecakes!)
Second confession… I had never actually tried cheesecake. I just didn't like the thought of it.
I remember the first day I tried cheesecake. I put on my big-girl pants and cut myself a sliver. Seriously, the smallest sliver that ever lived. I ate it. And loved it.
It was like a thousand bells went off and whistles blew and lights flashed on and off. I had been denying myself the delicious goodness of cheesecake for so many years out of fear and some weird aversion to the word cheesecake. It makes sense that if I love cheese and I love cake that I would love cheesecake.
Big "Duh Jen!" moment for sure. I haven't turned down another piece of cheesecake since.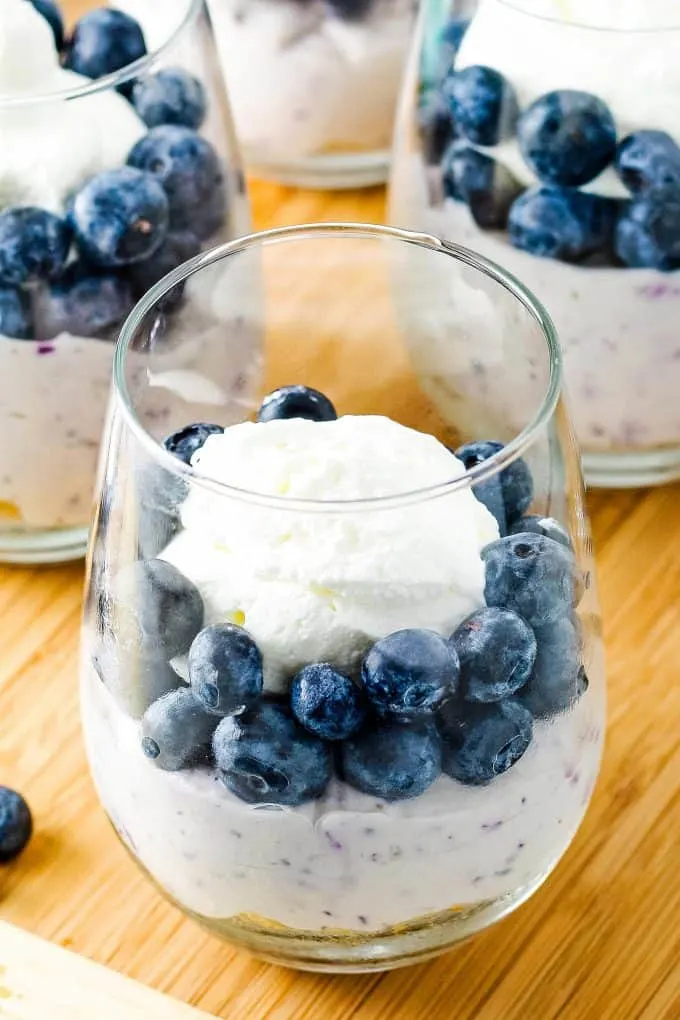 This post contains some affiliate links for your convenience. Click here to read my full disclosure policy.
Individual No Bake Blueberry Cheesecake Recipe
What better treat to serve at a holiday barbecue or party than a no bake blueberry cheesecake? Seriously, that is a real question. These individual cheesecakes are perfect for sitting around a table and chatting with your friends. A glass of wine in one hand, a cheesecake in the other… need I go on?
My recipe is for 4 large individual portions but you could easily make smaller individual portions by halving the amounts. I used stemless wine glasses as my serving vessel – a great substitute are canning jars or ramekins.
The bottom layer is a mixture of crushed graham crackers and crumbled vanilla wafer cookies. Next is the blueberry cheesecake mixture followed by fresh blueberries and lots of whipped cream. Dig in with a long handled spoon all the way to the bottom to get some of the crumbly "crust" and enjoy!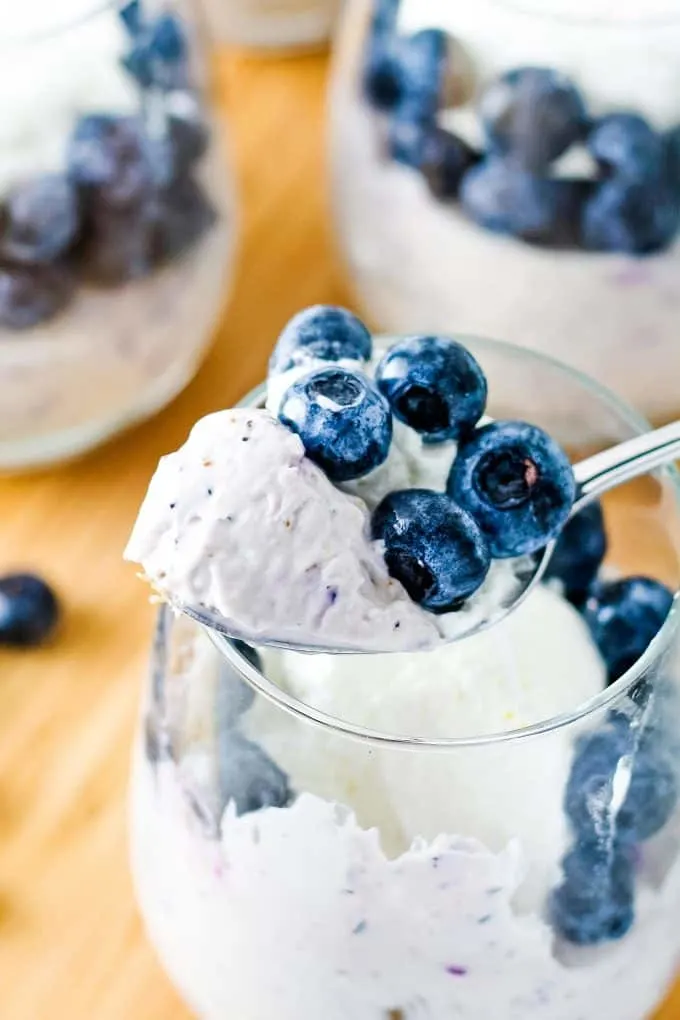 Can I make this into one large no bake cheesecake?
You sure can. Use a baking dish like an 8-inch square casserole dish or a 9.5 inch deep pie baking dish. Follow all of the instructions below up until the assembly section, then assemble without dividing the ingredients amongst 4 wine glasses.
How long does no bake cheesecake take to set?
Individual no bake cheesecakes take about 1 hour to set in the refrigerator. Regular-size no bake cheesecakes take 2-3 hours to set and become firm.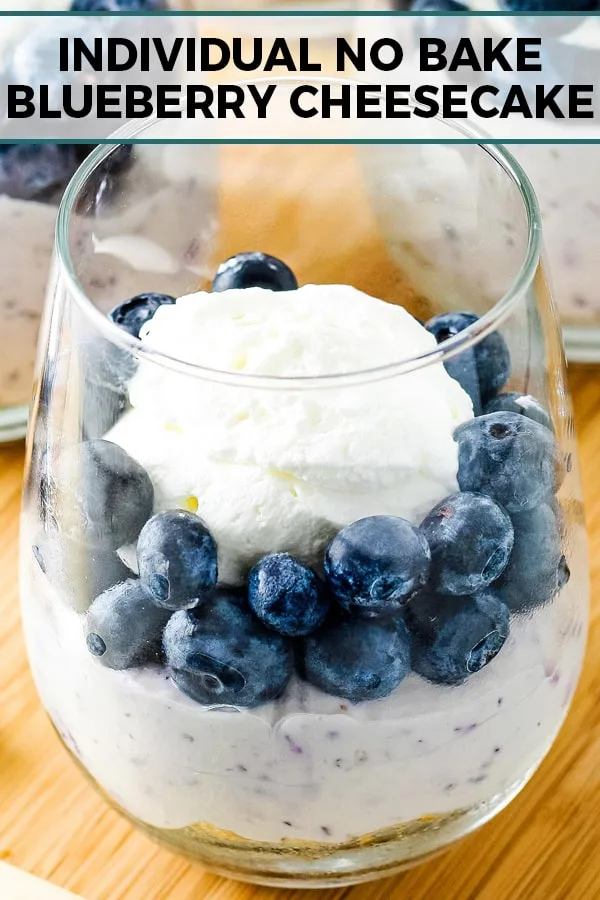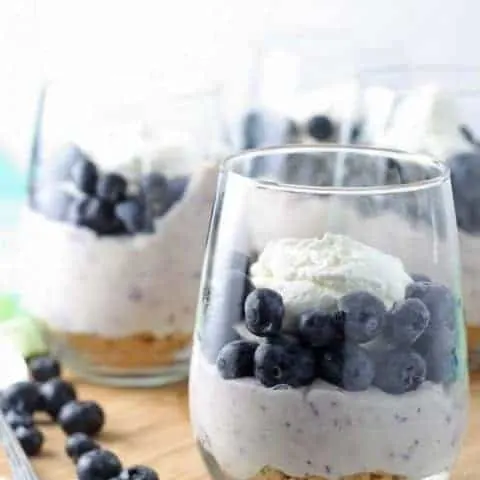 No Bake Blueberry Cheesecake
Total Time:
1 hour
20 minutes
This no bake blueberry cheesecake recipes needs to be your go-to summer dessert. So easy to make in individual portions and so delicious!
Ingredients
2 (8 ounce) packages cream cheese, softened
¼ cup heavy cream
½ cup powdered sugar
1 cup blueberries
⅔ cup crumbled graham crackers
⅔ cup crumbled vanilla wafer cookies
Garnish/Topping
fresh blueberries
whipped cream
Instructions
In a food processor, puree the blueberries until the large chunks are gone and the blueberries are mostly liquified.
In the bowl of a stand mixer, beat the cream cheese on medium until smooth. Lower the speed to low and add the heavy cream. When mixture is combined add the powdered sugar, ¼ at a time. Increase speed to medium and beat until combined. Add the blueberry puree and mix until combined.
In a small bowl, combine the graham cracker crumbs with the vanilla wafer crumbs.
In the bottom of a wine glass or mason jar, place ¼ cup of the crumb mixture. Layer ¾ cup cheesecake mixture on top of that. Layer fresh blueberries on top of that and top with whipped cream.
Repeat with the other 3 glasses. Chill in the refrigerator for at least 1 hour before serving.
Recommended Products
As an Amazon Associate and member of other affiliate programs, I earn from qualifying purchases.
Long Handle Stirring Spoon, DaKuan Set of 10 Stainless Steel Mixing Spoon for Iced Tea, Coffee, Cocktail, Milkshake, Cold Drink

Delling Geometric 8 Oz Porcelain Ramekins/Dessert Bowls, Durable Creme Brulee Dishes for Baking, Dessert, Ice Cream, Snack, Souffle - Set of 6 - White
Nutrition Information:
Yield:

4
Serving Size:

1
Amount Per Serving:
Calories:

649
Total Fat:

49g
Saturated Fat:

28g
Trans Fat:

0g
Unsaturated Fat:

16g
Cholesterol:

133mg
Sodium:

479mg
Carbohydrates:

47g
Fiber:

2g
Sugar:

30g
Protein:

9g