Whipped Feta Dip, inspired by Greek cuisine – indulge in the rich and tangy flavors of the Mediterranean with this easy, creamy recipe.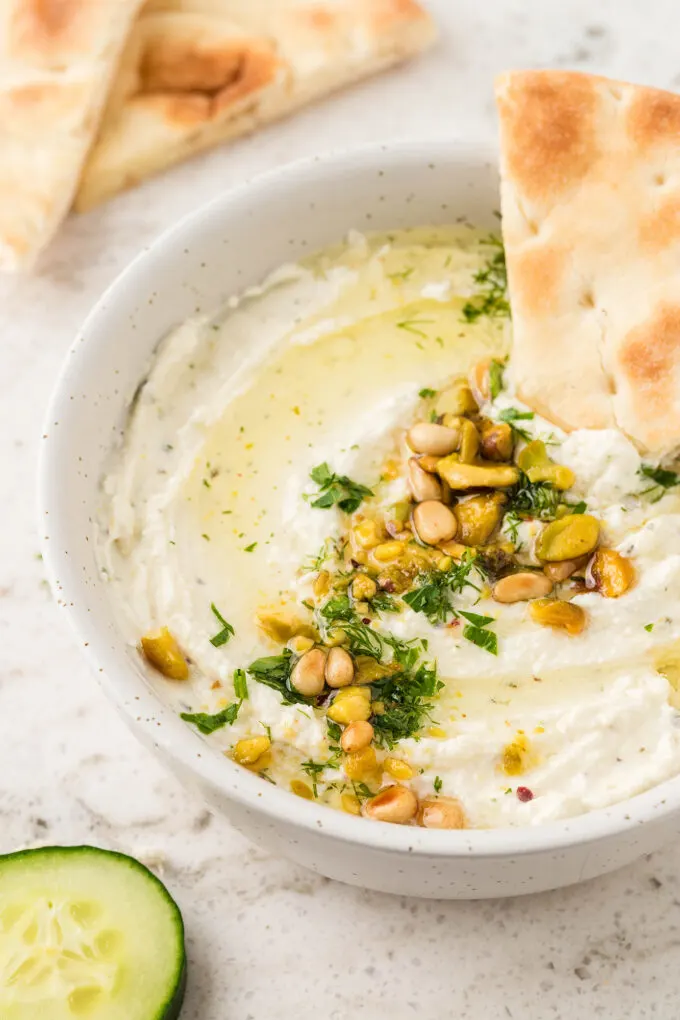 My favorite kinds of dips are easy to make. This delightful dip is easy to prepare and a crowd-pleaser, making it an ideal addition to any gathering or meal.
If you're having a party, serve it alongside my creamy blue cheese dip or easy veggie dip.
This easy feta dip, made with feta cheese (duh), aromatic herbs, and a hint of zesty lemon, is a fusion of tradition and modern taste.
Enjoy the rich, creamy, and herb-infused goodness of this Mediterranean-inspired creation! Feta fans – check out my one-pot chicken feta pasta!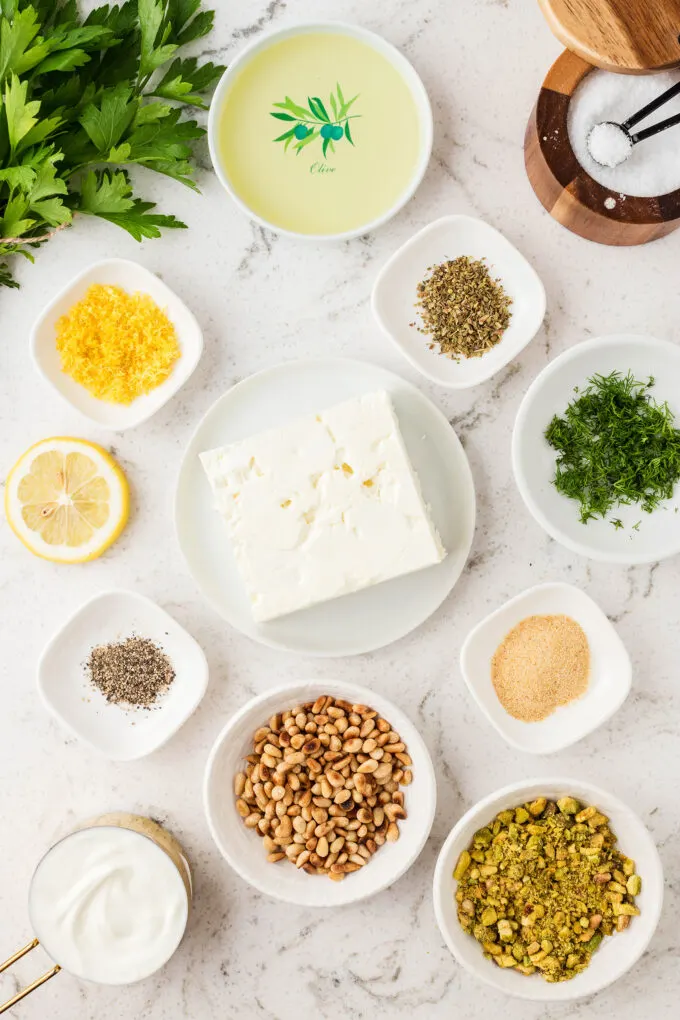 Creamy Whipped Feta Dip Ingredients
These ingredients create a harmonious fusion of creamy, herby, and zesty elements, making Creamy Whipped Feta Dip a delectable and irresistible appetizer.
Feta Cheese Block: Feta, renowned for its crumbly texture and tangy flavor, is the star of this dip. It brings a creamy, salty, and slightly tangy element to the recipe, lending it a distinctive Mediterranean character
Plain Greek Yogurt: Greek yogurt is the key to achieving this dip's lusciously creamy and dreamy texture. It complements the feta's saltiness with a touch of tanginess and provides a smooth consistency.
Fresh Dill: Fresh dill, with its vibrant, herbaceous notes, infuses the dip with a burst of refreshing flavor. It pairs perfectly with the feta, adding a hint of brightness to the overall profile.
Garlic Powder: A pinch of garlic powder contributes a subtle but essential savory note to the dip, enhancing its depth of flavor without overwhelming it.
Dried Oregano: Dried oregano lends the mixture a warm, earthy aroma. It's a classic Mediterranean herb harmonizing beautifully with feta and Greek yogurt.
Fresh Lemon Zest: Fresh lemon zest provides a zesty, citrusy lift to the dip, making it bright and inviting. It complements the creamy and savory elements with a touch of freshness.
Extra Virgin Olive Oil: A drizzle of extra virgin olive oil adds a luxurious finish and imparts a subtle fruitiness and depth to the dip's flavor profile.
Kosher Salt and Ground Black Pepper: These seasonings balance and intensify the flavors. They allow the dip's ingredients to shine while ensuring the perfect savory and salty equilibrium.
RECIPE TIP – Pre-crumbled feta can be too salty and dry for this dip. Use a block of feta cheese.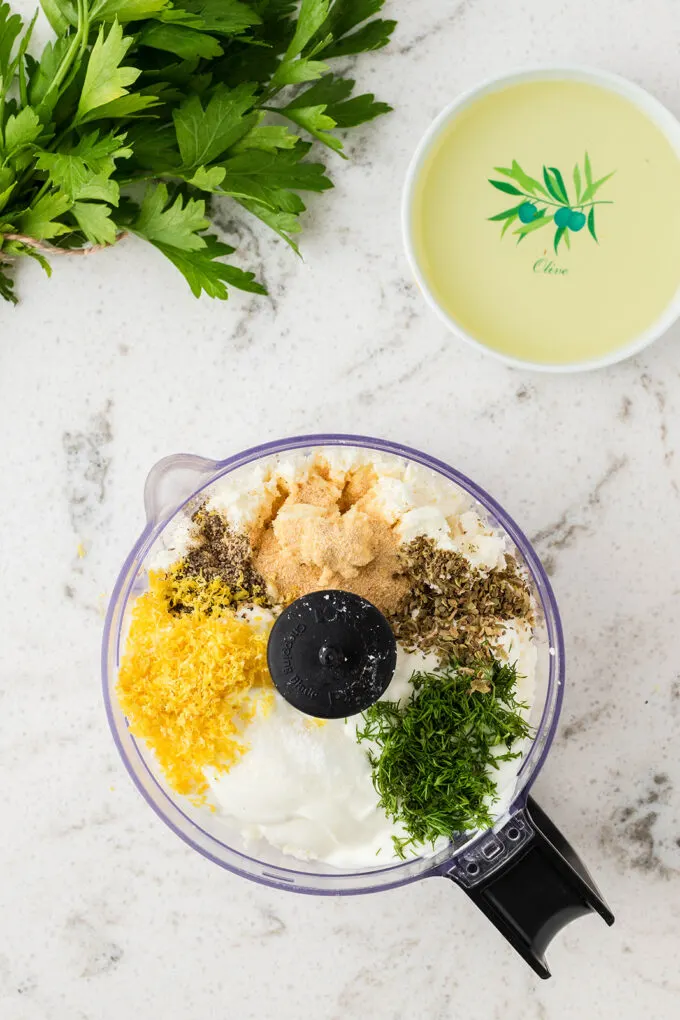 Feta Dip Ingredient Substitutions
I like to use fresh ingredients whenever possible but chose garlic powder and dried oregano because many people keep them in their pantry and spice rack.
Fresh Garlic: Replace the garlic powder with minced fresh garlic cloves.
Mince the garlic finely to release its pungent flavor.
You can start with one or two cloves and adjust according to your preference for garlic intensity.
Fresh Oregano: Instead of dried oregano, finely chop fresh oregano leaves.
Fresh oregano offers a more vibrant and aromatic flavor than dried oregano.
Adjusting to your taste, use 1-2 tablespoons of fresh oregano leaves.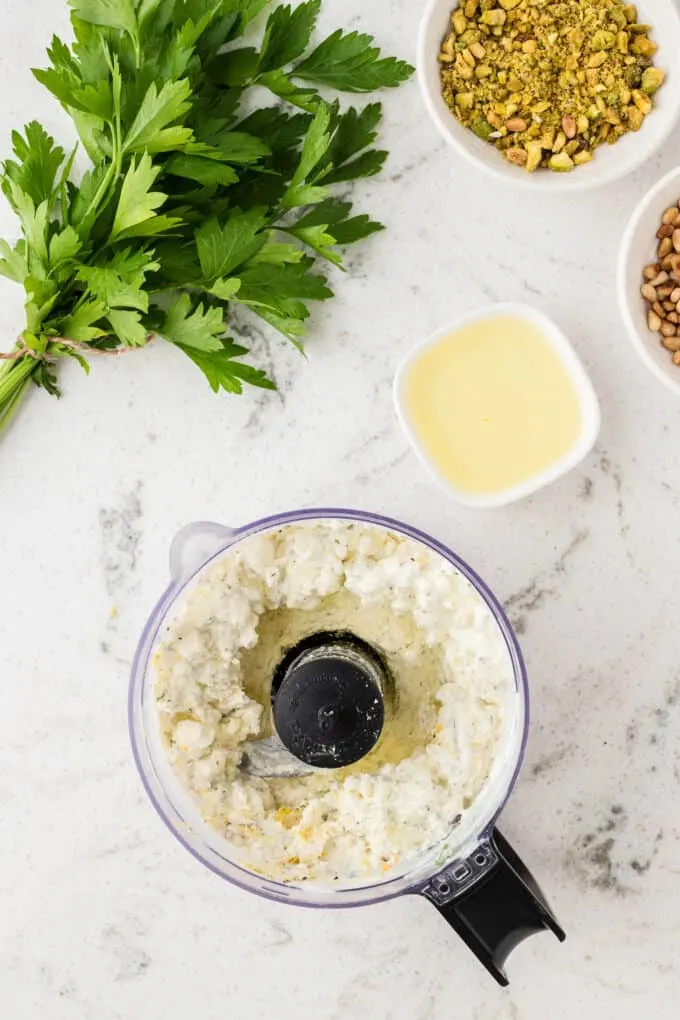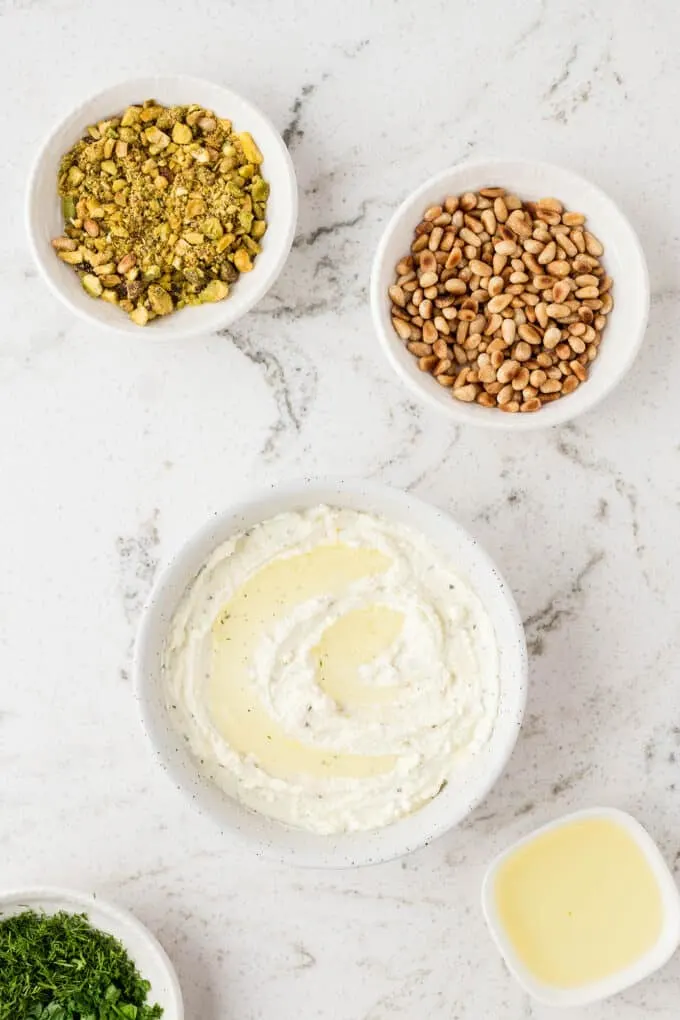 How to garnish whipped feta dip
Garnishes enhance the visual appeal of this Whipped Feta Dip and introduce additional textures and flavors.
It's a feast for the senses – my favorite kind of recipe! The creamy dip is the canvas, and these garnishes are the finishing touches.
Chopped Italian Flat-Leaf Parsley: Fresh Italian flat-leaf parsley adds a vibrant green color to the dip and a refreshing, herbaceous aroma.
The parsley's bright, clean flavor complements the creamy and savory notes of the appetizer, providing a colorful contrast.
Crushed Pistachios: Crushed pistachios bring crunch, a touch of nuttiness, and a rich and slightly sweet flavor, enhancing the overall texture and taste.
Their vibrant green color creates a beautiful contrast against the creamy dip.
Toasted Pine Nuts: Toasted pine nuts offer a nutty, earthy depth to the garnish.
The toasting process intensifies their flavor and adds a delightful smokiness. They contrast the creamy dip pleasantly and elevate its texture with a delicate crunch.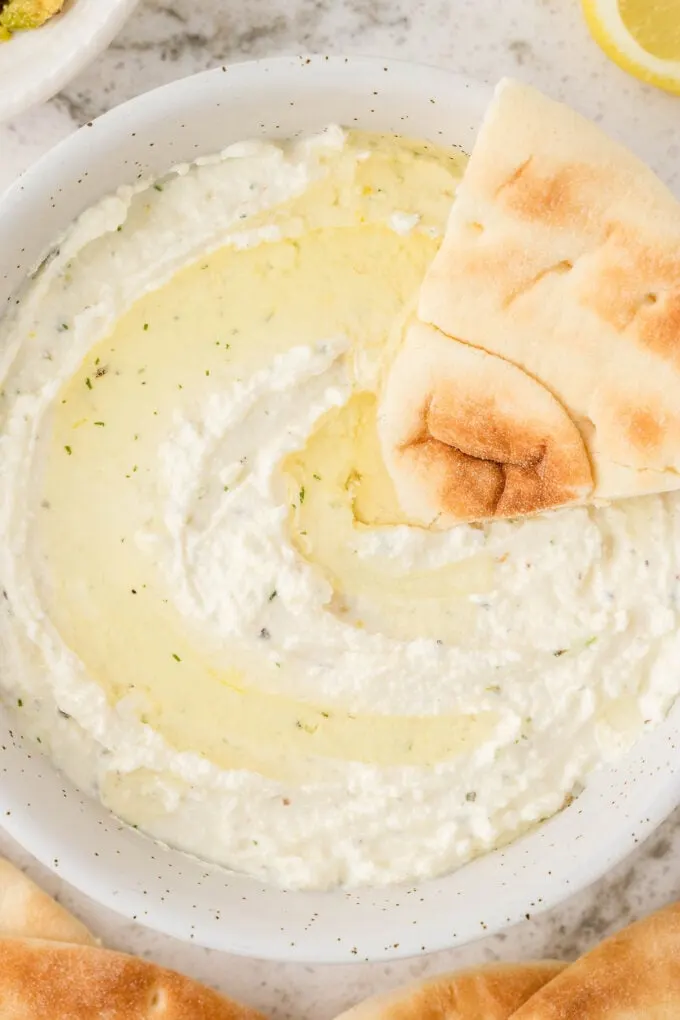 This post contains some affiliate links for your convenience. Click here to read my full disclosure policy.
Helpful Tools for This Recipe
How to Make Creamy Feta Dip
Prepare the feta mix: Begin by assembling the main elements of your dip.
In a food processor or a high-speed blender, combine the crumbled feta cheese, plain Greek yogurt, freshly chopped dill, a dash of garlic powder, dried oregano, kosher salt, a pinch of ground black pepper, and the zest from a fresh lemon.
Don't Overmix: Refrain from overblending this dip, as it will become thin and won't stick as well to your dippers.
You want the ingredients to blend smoothly without becoming overly whipped.
Scroll down to see the full recipe below!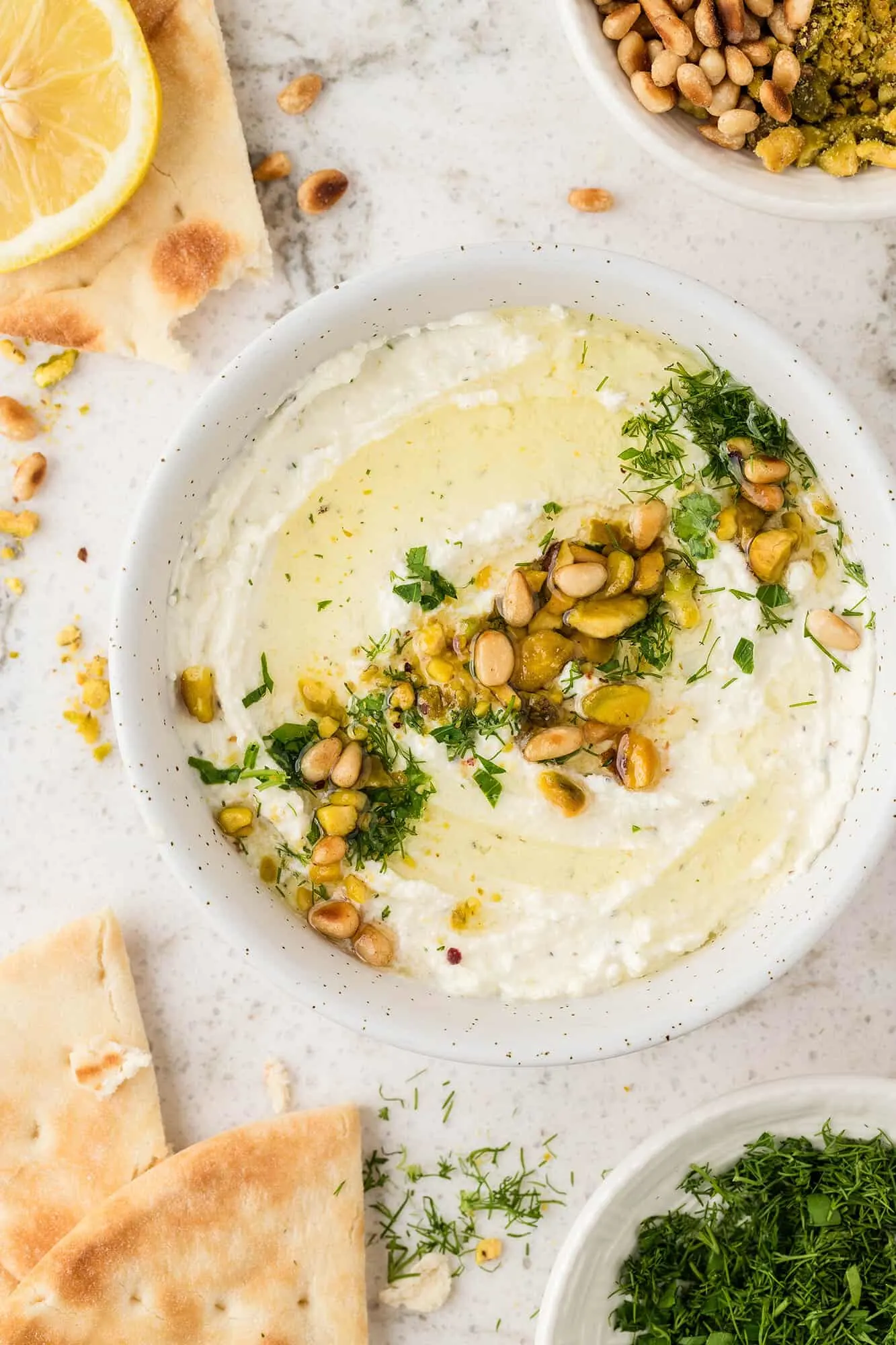 Incorporate the Olive Oil: With the feta mixture well combined, it's time to introduce the richness of extra virgin olive oil.
Pour the olive oil into the food processor or blender, then blend again until thoroughly integrated into the mixture.
The olive oil enhances the creaminess of the dip and adds a delightful Mediterranean aroma.
Transfer to a Serving Bowl: Once the dip reaches the desired consistency, transfer it into your preferred serving bowl.
Choose a bowl that complements your table setting or adds an aesthetic touch to your presentation.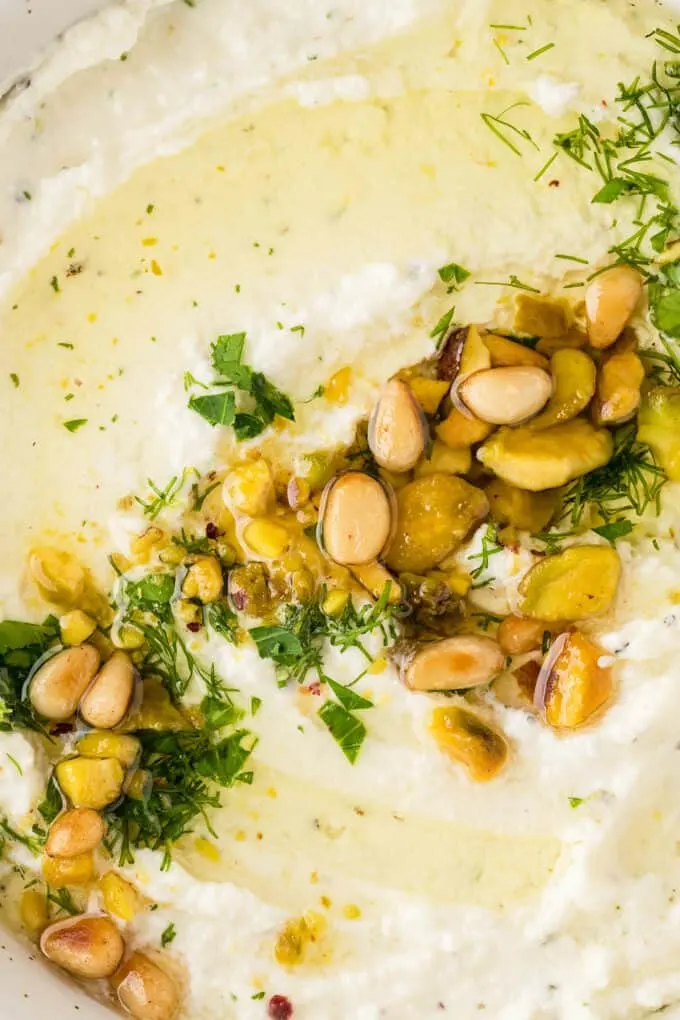 What should I serve with whipped feta dip?
By offering a variety of accompaniments, you create a dynamic and engaging spread, allowing your guests to customize their experience by selecting their favorite dippers.
Warm Pita Bread: Soft pita bread is a classic and perfect companion for your Whipped Feta Dip.
Tear or cut the pita into bite-sized pieces, creating a delightful vessel for scooping up the creamy dip.
The warm pita's mild, slightly chewy texture provides a pleasing contrast to the dip's smooth and savory profile.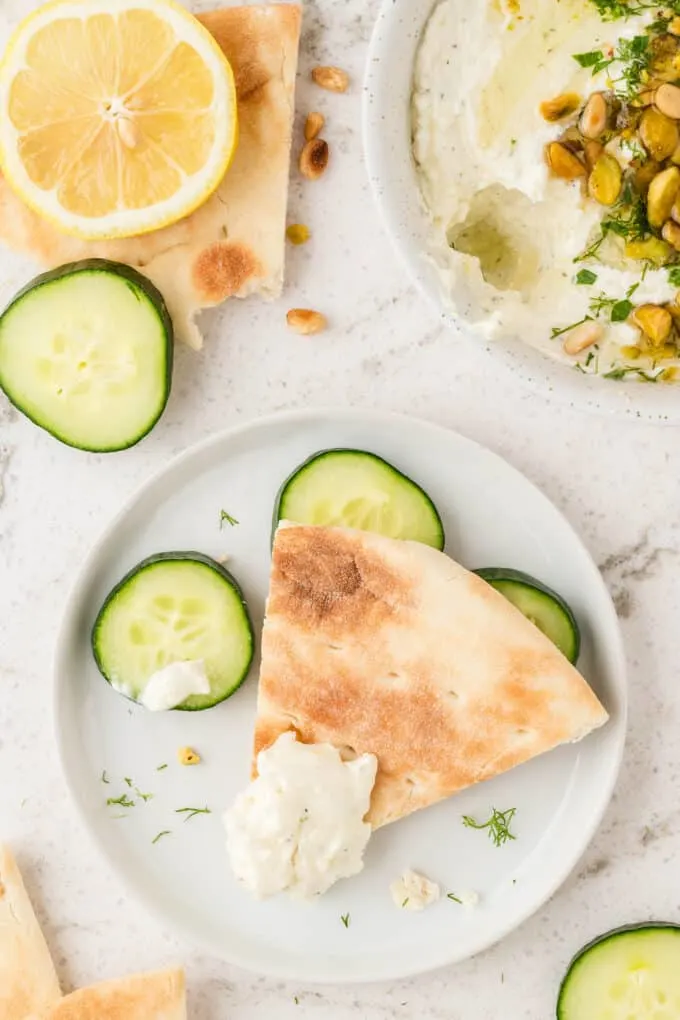 Pita Chips: If you prefer a crunch, opt for pita chips. These crispy, baked pita triangles are ideal for dipping.
Their sturdy structure lets you scoop up generous amounts of the whipped feta dip without worrying about breakage.
You can find various flavors of pita chips, from classic to seasoned options, to complement the dip's taste.
Fresh Vegetables: For a healthy and refreshing option, serve a variety of fresh vegetables alongside your dip.
Crisp, colorful veggies like cucumber slices, cherry tomatoes, carrot sticks, celery, and bell pepper strips make for an excellent and guilt-free dipping experience.
The veggies add a delightful crunch and freshness to each bite.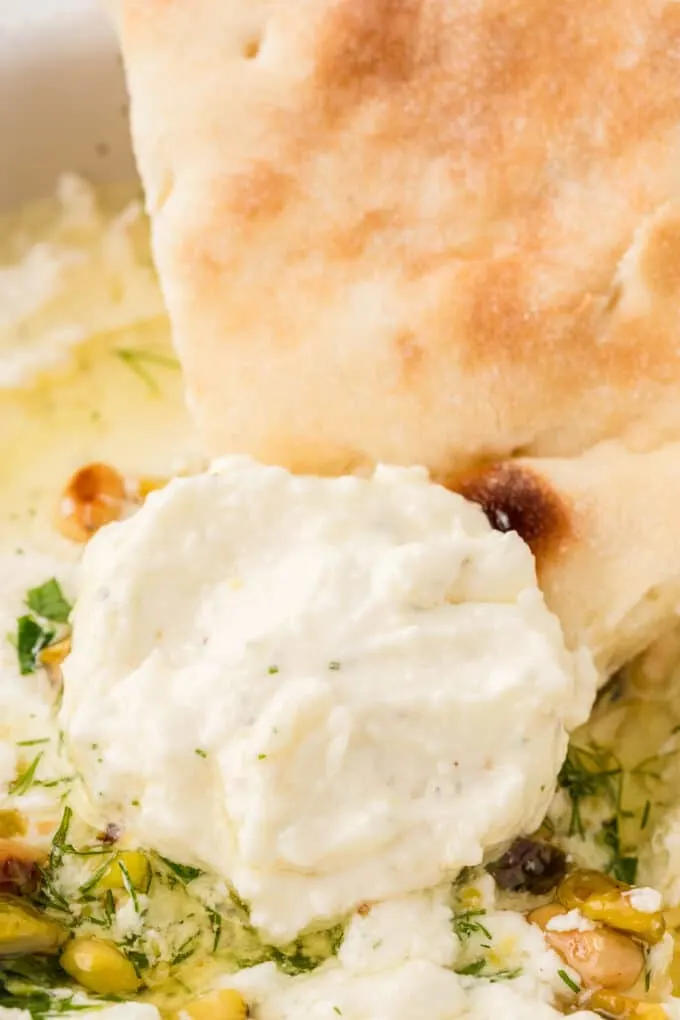 Olives: A side of assorted olives, such as Kalamata or green olives, pairs beautifully with the Whipped Feta Dip.
Their briny and slightly tangy flavors complement the creamy and savory nature of the dip, offering a Mediterranean-inspired combination that's hard to resist.
Grilled Bread: Grilled slices of artisan bread, like a baguette or ciabatta, are another fantastic choice.
The slight char from grilling imparts a smoky flavor to the bread, enhancing the overall experience when dipped into the feta mixture.
How to store this creamy feta dip
Store your leftover dip in the fridge in an airtight container for up to 3 days.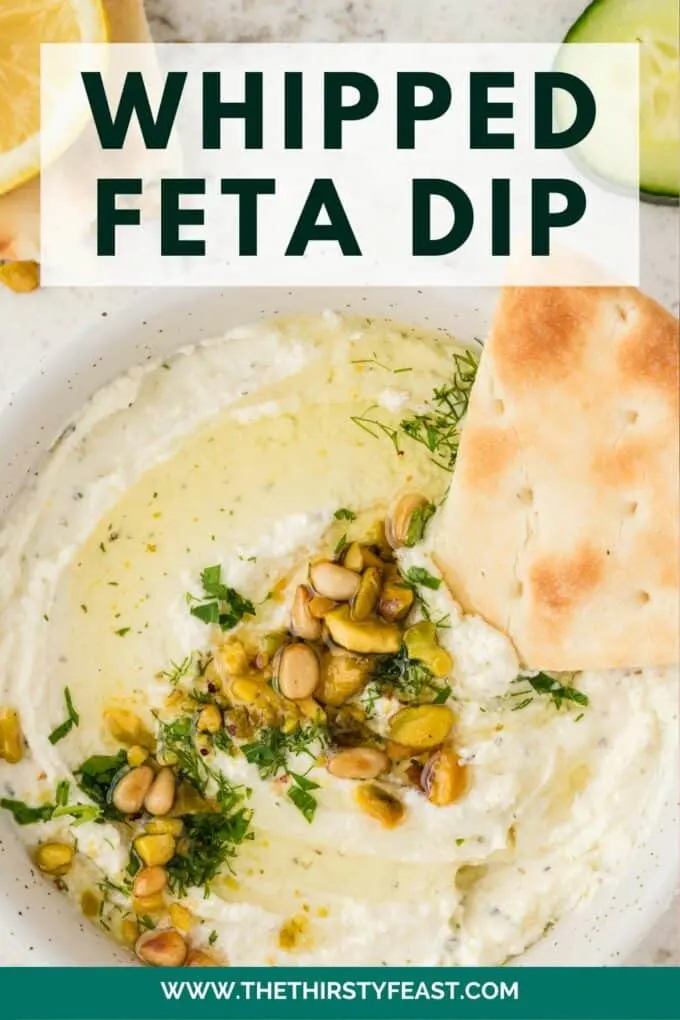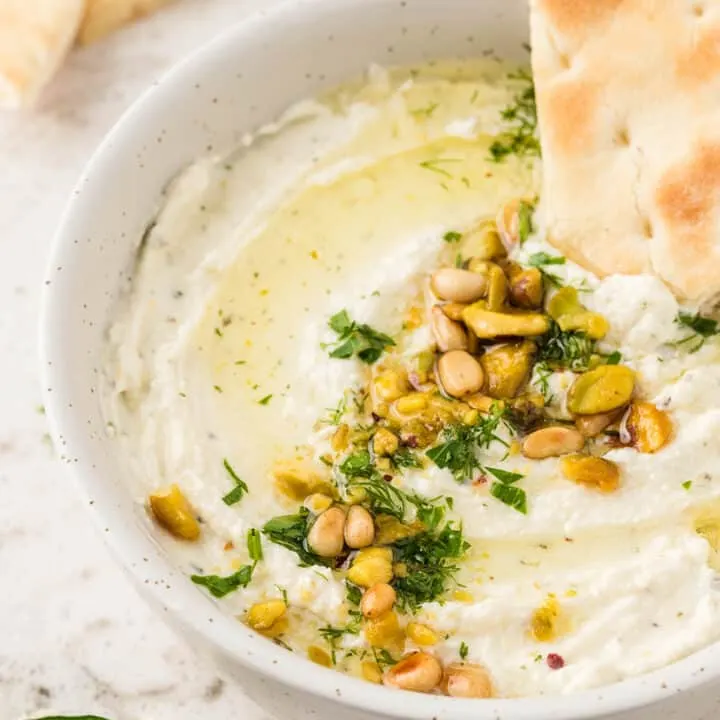 Whipped Feta Dip
Our Whipped Feta Dip, inspired by Greek cuisine - indulge in the rich and tangy flavors of the Mediterranean with this easy recipe.
Ingredients
(1) 8 ounce block feta cheese
½ cup plain whole milk Greek yogurt
1 teaspoon fresh dill, finely chopped
1 teaspoon garlic powder
½ teaspoon dried oregano
¼ teaspoon kosher salt
¼ teaspoon ground black pepper
Zest of ½ of a lemon
2 tablespoons (1 + 1 tablespoons) extra virgin olive oil, divided
Instructions
In a food processor or high-speed blender, combine 8 ounces of feta cheese, ½ cup plain Greek yogurt, 1 teaspoon fresh dill, 1 teaspoon garlic powder, ½ teaspoon dried oregano, ¼ teaspoon kosher salt, ¼ teaspoon ground black pepper, and zest of ½ of a lemon.

Do not over whip.

Add 1 tablespoon extra virgin olive oil and whip until blended.

Transfer the dip into your favorite serving bowl.

Drizzle 1 tablespoon extra virgin olive oil over the dip.

Garnish the top with chopped parsley, crushed pistachios, and toasted pine nuts.

Notes
Refrain from overblending this dip, as it will become thin. Mix just until all the ingredients are blended.
Add red pepper flakes for a spicy twist!
Serve with warm pita, pita chips, or fresh vegetables.

Recommended Products
As an Amazon Associate and member of other affiliate programs, I earn from qualifying purchases.
Nutrition Information:
Yield:

8
Serving Size:

1
Amount Per Serving:
Calories:

122
Total Fat:

10g
Saturated Fat:

5g
Trans Fat:

0g
Unsaturated Fat:

5g
Cholesterol:

27mg
Sodium:

305mg
Carbohydrates:

3g
Fiber:

0g
Sugar:

2g
Protein:

5g
Nutrition information is automatically calculated and may not be correct.