Candied ginger is easy to make and great as candy or for garnishing cocktails and desserts. You only need a few ingredients!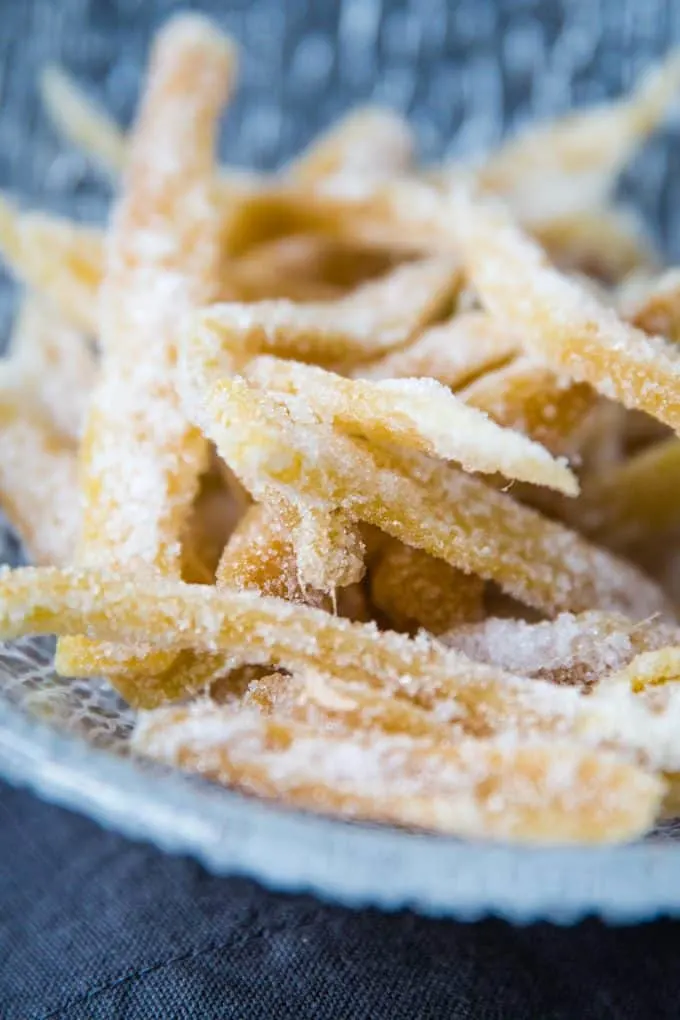 I started out with the idea to make candied ginger when I was playing around with Moscow mule garnishes.
Store-bought would have been fine, but that's not how we do things.
"Homemade or go home," I say. Or something like that.
The sweet and spicy combination of homemade crystalized ginger is my new favorite!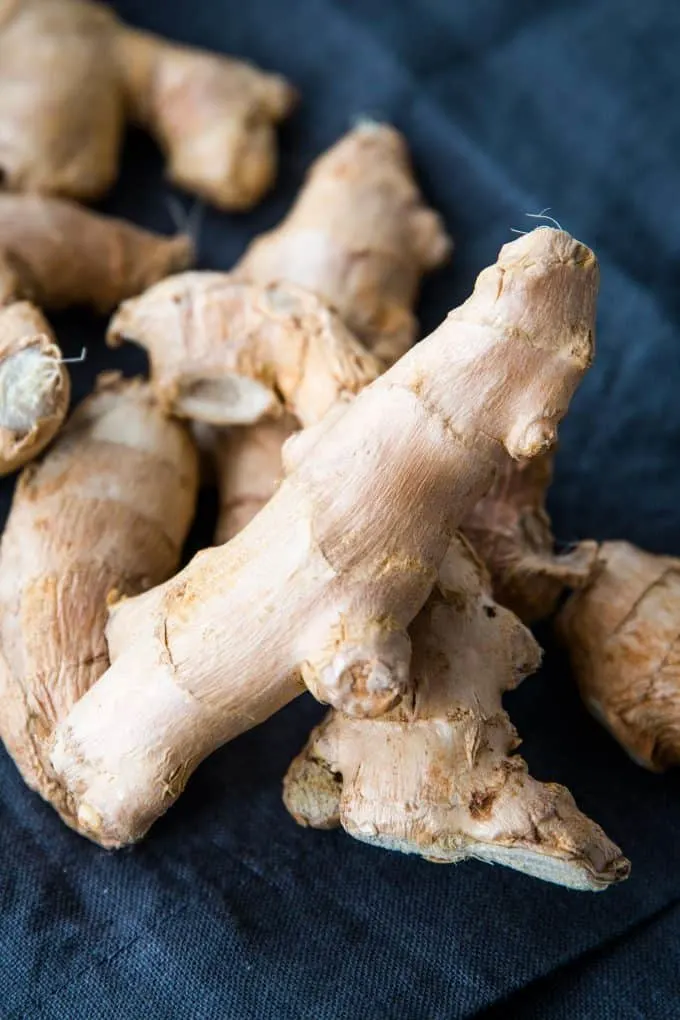 This post contains some affiliate links for your convenience. Click here to read my full disclosure policy.
How To Make Candied Ginger
Start by peeling the ginger. This can be a BIG PAIN in booty.
I would recommend checking out this tutorial if you need some tips.
When I'm in a hurry I will just slice the peel off with a knife but usually I go with the spoon method.
After the ginger has been peeled, it's time to slice.
If you are using the candied ginger to garnish a cocktail, strips are better. If for candy or other uses, then cut it into thin rounds.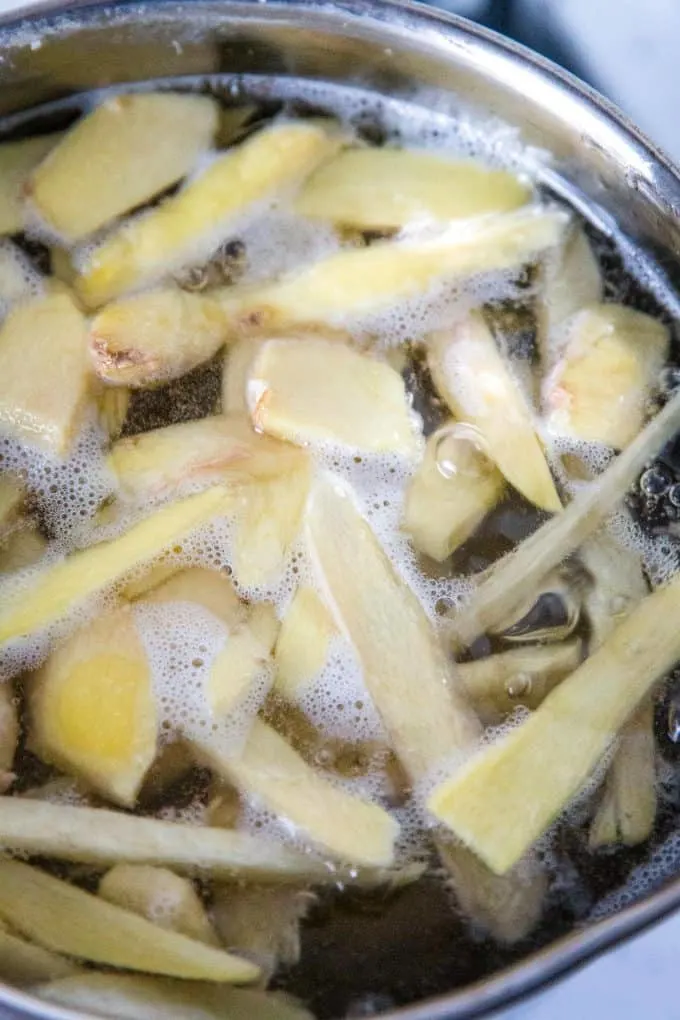 Bring sugar and water to a boil in a medium saucepan and then add the fresh ginger pieces.
Simmer the mixture for about 45 minutes.
Then drain the ginger using a colander – save the syrup!
Toss the ginger in sugar and let it dry and cool on a cooling rack.
And that's it.
Well, there may be a little more to do but detailed instructions are in the recipe card.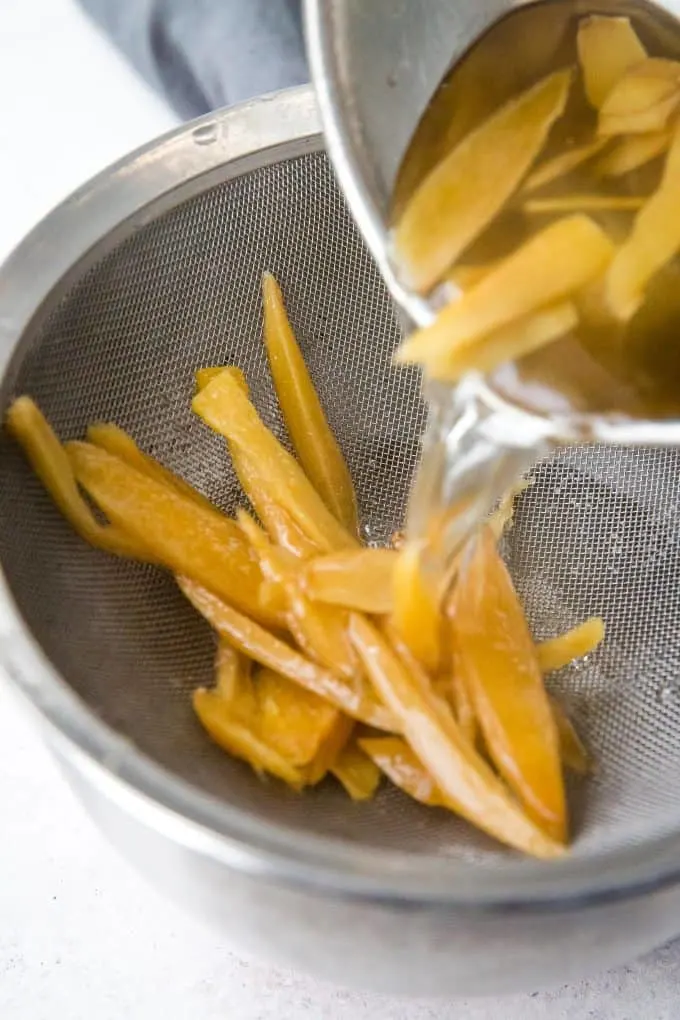 What Tools Do I Need?
A medium pot, mesh strainer or colander, and a bowl are the basics.
A mandolin is my favorite tool for slicing fresh ginger.
You will want to slice the ginger around a ⅛″ and using a mandolin will make more consistently sized pieces.
Be careful though – mandolins are very sharp.
You will also need a drying rack – a cooling rack for baked goods works perfectly.
Place the rack on top of a sheet of parchment paper for easy cleanup.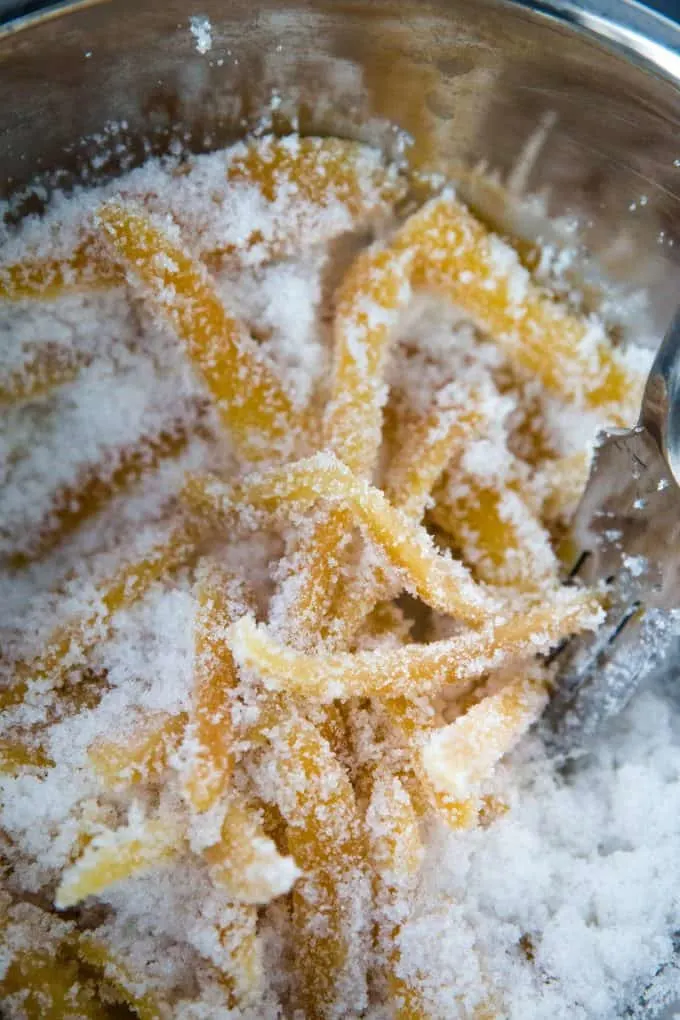 How long does homemade candied ginger last?
I recommend storing the dried candied ginger in an airtight container (like a mason jar.)
The store bought version will last for several months; the homemade version is preservative free so only lasts 2-3 weeks.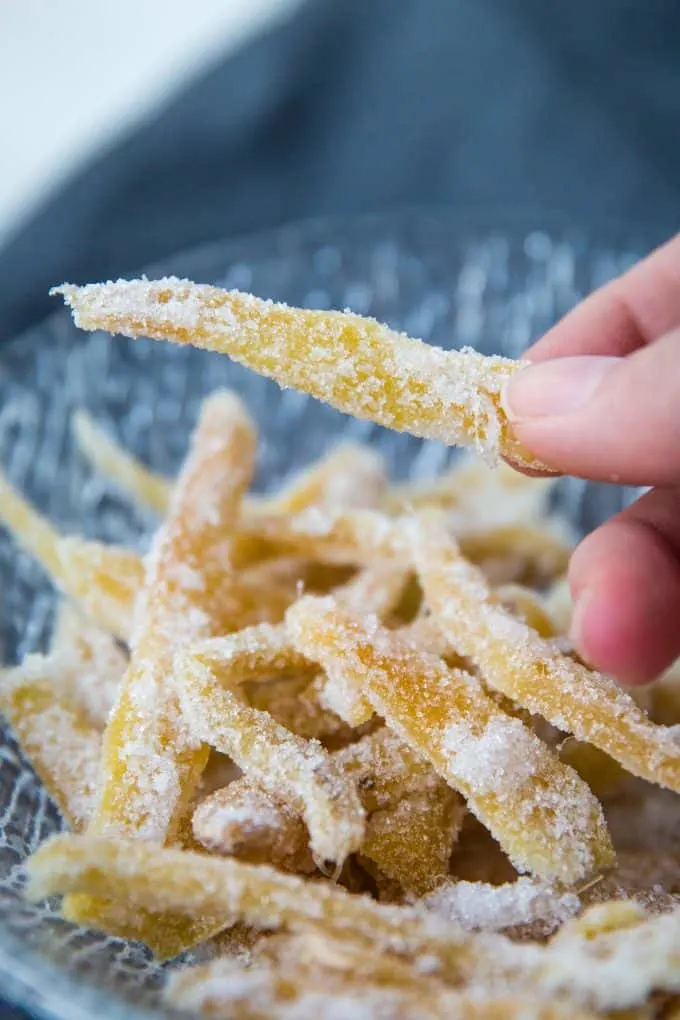 Different Ways to Use Candied Ginger
a quick snack or dessert
a garnish for a Moscow mule or other ginger cocktail
to top a cake, cookie, or cupcake
Cocktails That Need to Be Garnished with Candied Ginger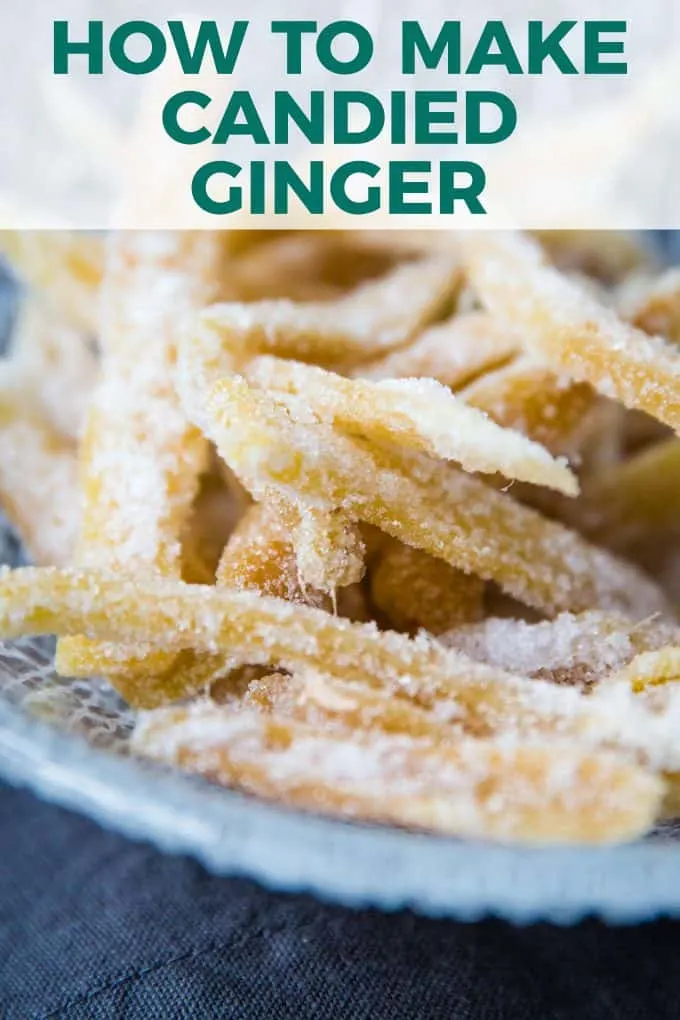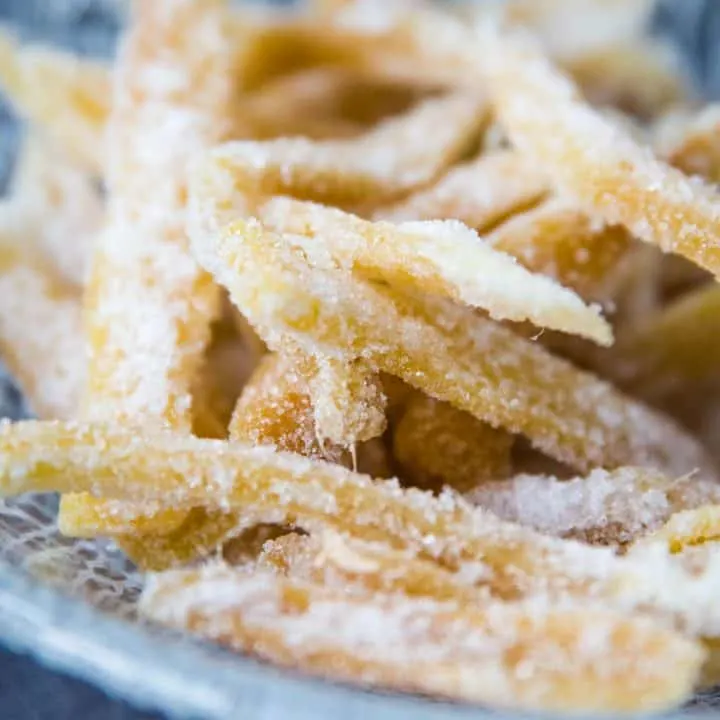 Candied Ginger
Candied ginger is easy to make and great as candy or for garnishing cocktails or desserts. You only need a few ingredients!
Ingredients
1 cup sliced ginger, ⅛" thick
2 cups water
2.5 cups granulated sugar, separated
Instructions
In a medium-sized pot bring, 2 cups of water and 2 cups of sugar to a boil. When boiling, add the ginger and reduce heat to a simmer for 45 minutes..
Place a colander over a bowl and drain the mixture. Reserve the syrup for other uses.
Place a cooling rack over a sheet of parchment paper. Add the remaining ½ cup of sugar into a medium, clean bowl and toss softened ginger in the sugar. Place the sugar-covered ginger on the cooling rack. Let dry overnight, then place in an airtight container.
Recommended Products
As an Amazon Associate and member of other affiliate programs, I earn from qualifying purchases.
Nutrition Information:
Yield:

12
Serving Size:

1
Amount Per Serving:
Calories:

200
Total Fat:

0g
Saturated Fat:

0g
Trans Fat:

0g
Unsaturated Fat:

0g
Cholesterol:

0mg
Sodium:

3mg
Carbohydrates:

51g
Fiber:

0g
Sugar:

50g
Protein:

0g
This data was provided and calculated by Nutritionix on 1/24/2019