This red fruit salad is full of raspberries, currant berries and pomegranate – perfect for lunch or an afternoon snack!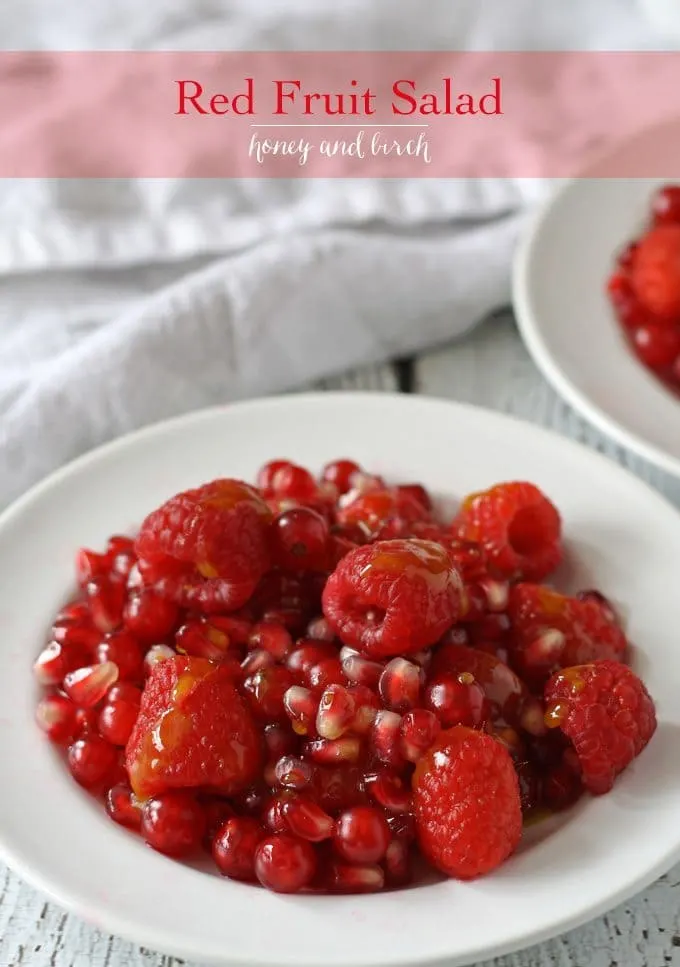 I have finally caved and decided I should get on the healthier-eating train for 2015. I word it "healthier" because I am not quite able to stop myself from the occasional sweet or snack. And I don't want to beat myself up if I slip and eat a cookie one day. Or a chip.
I wish I could say that I woke up one crisp January morning and felt the urge to be a better me in 2015. But that is not at all what happened.
I usually over shop when I go for groceries and I have been actively working on this. Last week, I was able to use up just about all of the groceries I had purchased in the beginning of the week, leaving me with saltines and canned tuna by Saturday.
No fretting – I planned to go grocery shopping on Sunday. I went about my day, noshing on my salty tuna crackers and then it hit me. A nagging, gnawing feeling in my stomach.
I was craving fruits and vegetables.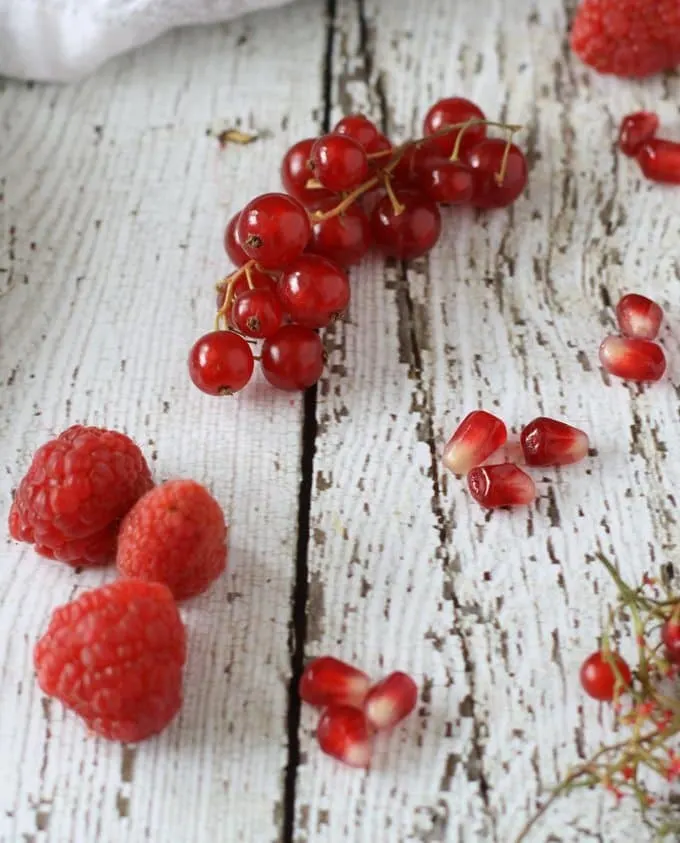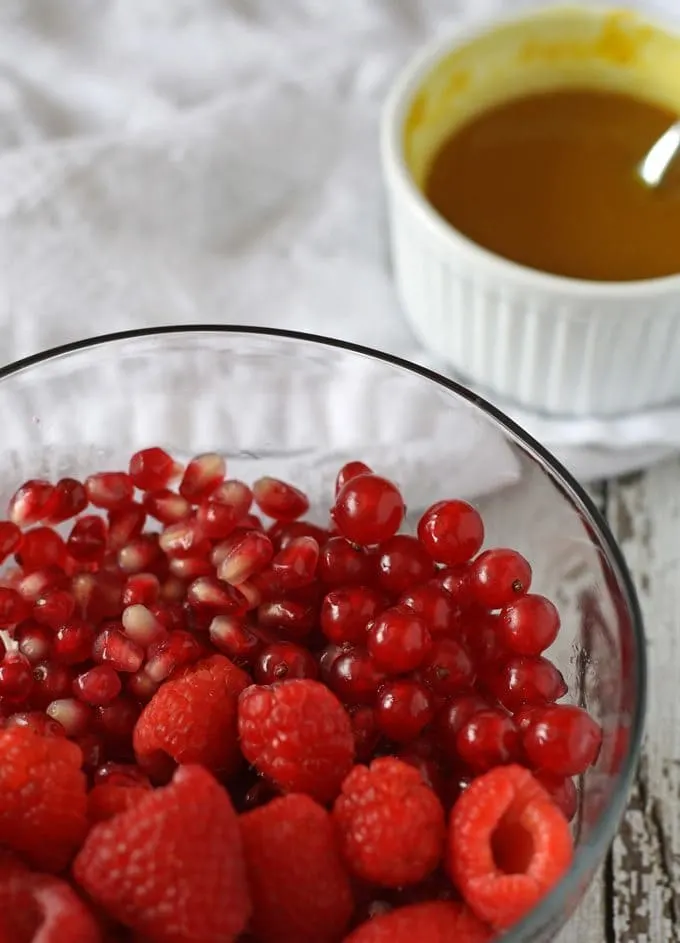 I've always believed that if you start craving a food, your body is trying to tell you something. There was a few years span of my late teens/early 20's that I rarely ate meat.
When I got a craving for a cheeseburger, I think my body was saying I needed protein or iron and I would succumb to the cravings for the sake of my body.
This fruit and vegetable craving needed to be answered because obviously the saltines and tuna just wasn't cutting it. Sunday's grocery trip ended up being a grocery adventure.
I went to fruit markets in the Chicago suburbs in addition to one of my usual grocery stores. And it was marvelous.
By the time I was finished, my bags were like rainbows. They were filled with deep purple blueberries, bright yellow bell peppers and lots of leafy greens. A lemon or two and a few limes, some carrots and a whole lot of red.
Can't forget about all of the red fruit.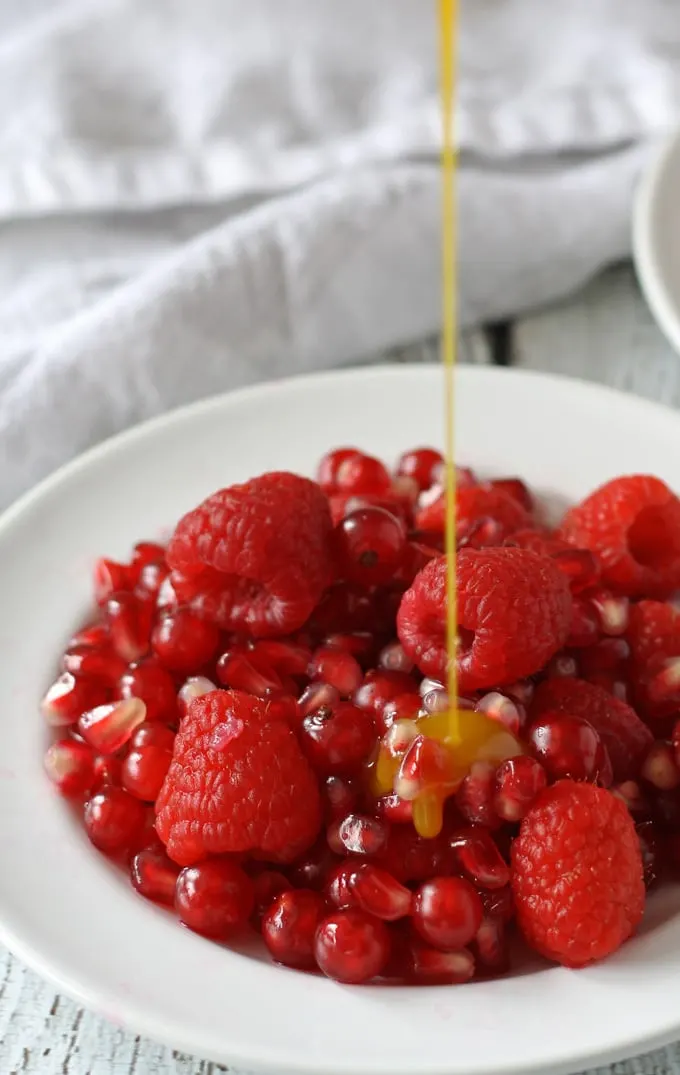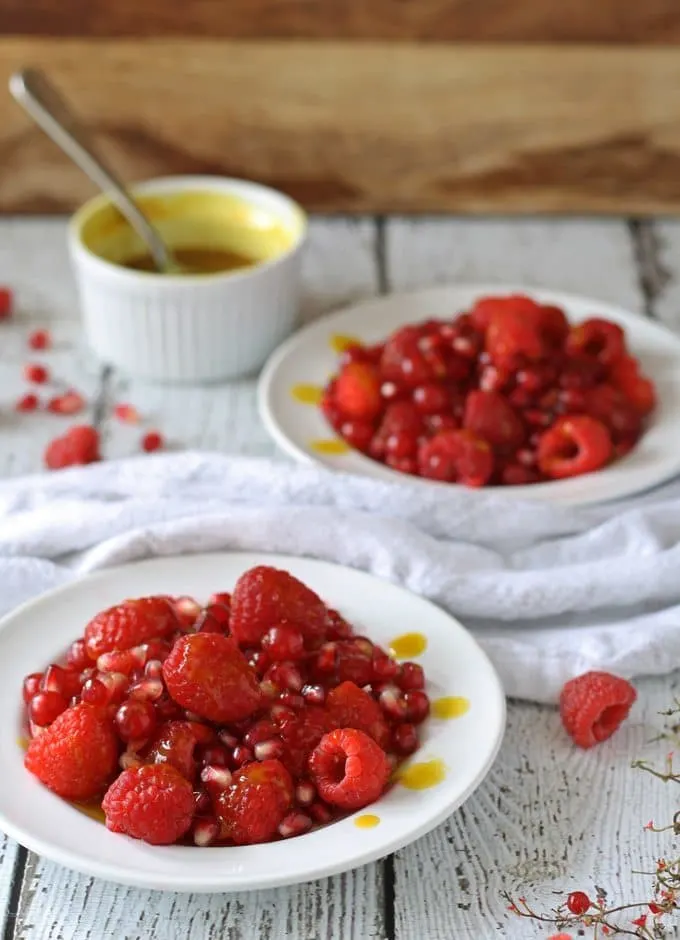 Red Fruit Salad
Raspberries, pomegranate seeds and red currant are at the center of this yummy red fruit salad. Raspberries and pomegranates are something you're probably used to seeing, but currants may be new to you.
They are similar in taste and texture to pomegranates – a little sweet, a little tart – and delicious!
I grew up with them, seeing them in my grandma's kitchen all of the time. Our Austrian heritage is full of baked goods filled with currant and I recall afternoons where she would make currant jams and jellies.
I used to pop them in my mouth, eating them like blueberries.
The trio of red fruits is paired with an easy homemade honey mustard. Drizzled over the top, it balances out the flavors of the fruit and makes for a perfect lunch!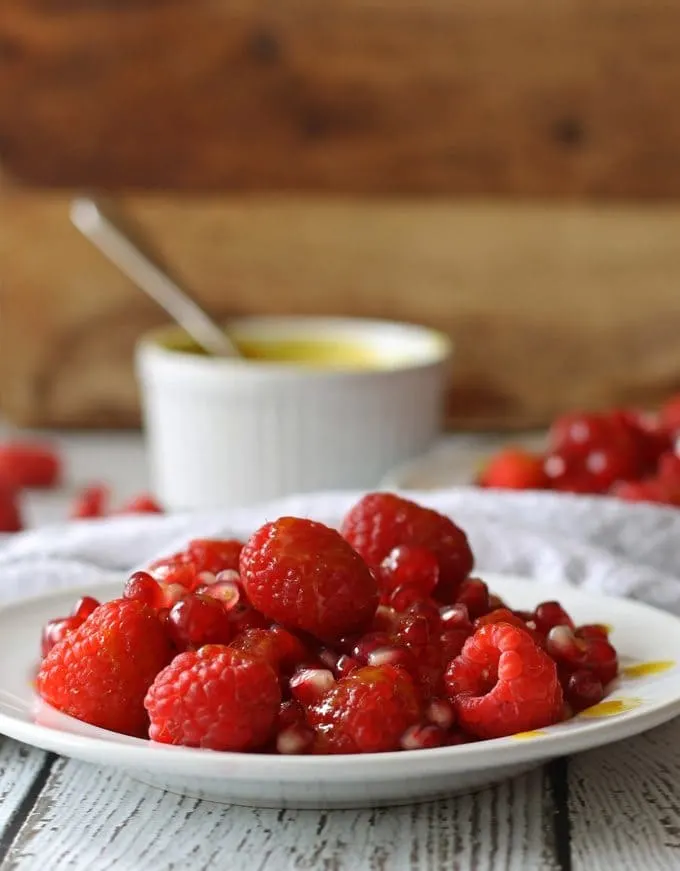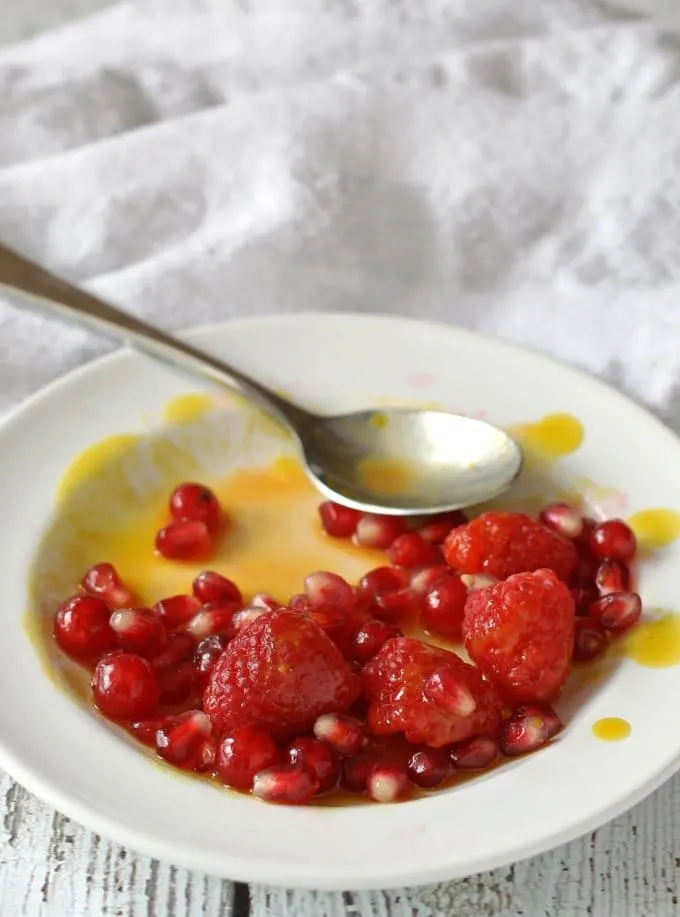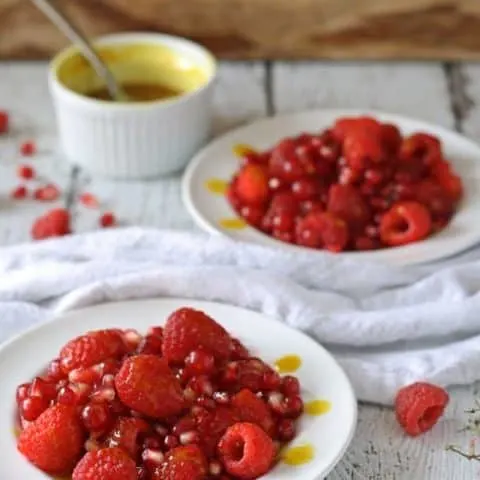 Red Fruit Salad
This red fruit salad is full of raspberries, currant berries and pomegranate - perfect for lunch or an afternoon snack!
Ingredients
1 cup raspberries
½ cup currant berries
½ cup pomegranate seeds
¼ cup honey
⅛ cup yellow mustard
Instructions
Combine the raspberries, currant berries and pomegranate seeds in a medium bowl. In a small bowl, mix the honey and yellow mustard until well combined. Drizzle over the fruit before serving.
Nutrition Information:
Yield:

4
Serving Size:

1
Amount Per Serving:
Calories:

170
Total Fat:

1g
Saturated Fat:

0g
Trans Fat:

0g
Unsaturated Fat:

1g
Cholesterol:

0mg
Sodium:

86mg
Carbohydrates:

43g
Fiber:

6g
Sugar:

36g
Protein:

2g
This data was provided and calculated by Nutritionix on 1/29/2019