Start your day off a little healthier with this tasty blackberry apple smoothie. Made with almond milk and sweetened with agave nectar. Make it vegan using one of the variations included!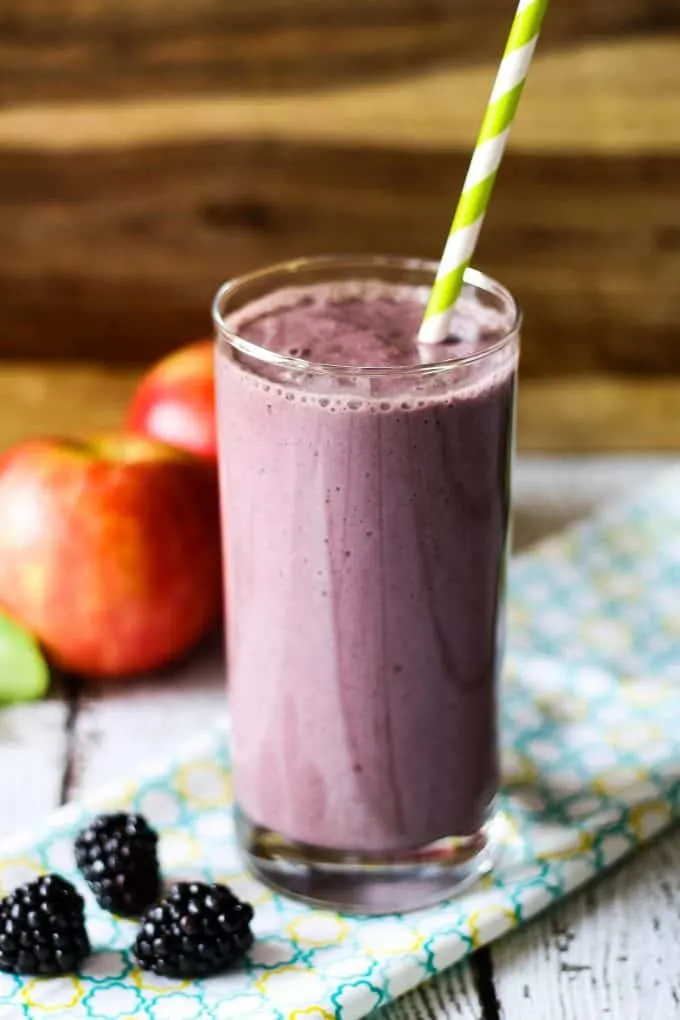 The year is zipping by, and by now, many of us have embarked, and maybe failed, our new year's resolutions to eat healthier. But let's be honest, it's not always easy to stay on track. I totally get it—I've fallen off the healthy wagon countless times myself. In fact, I'm not exactly on it at this moment.
The other day, I found myself searching for healthy recipes, feeling a bit overwhelmed. Maybe you can relate? I was so focused on trying to eat healthily and resist temptations like donuts or cake that I didn't want to deal with complicated recipes. That's when I discovered the perfect solution: smoothies.
Smoothies are a game-changer. You just toss everything into a blender, give it a whirl, and voila! You have a nutritious and delicious meal in a glass. The health-conscious folks have known this secret for ages, and lately, my social media has been flooded with fantastic smoothie recipes. Even though I might not be fully committed to my healthy goals right now, I'm hopping aboard the smoothie train.
Now, I'm typically all about blueberries and raspberries, but these juicy and plump blackberries won me over. I'm so glad I made the switch. Instead of using sugar and milk like I usually do, I opted for agave nectar and almond milk. And here's a fun twist—I added a handful of spinach! Trust me; it adds a lovely depth to the flavors while keeping things nutritious.
If you prefer a sweeter taste, feel free to add more agave nectar. Personally, I kept it subtle because I didn't want it to overpower the delightful combination of blackberries and apple. This smoothie is a guilt-free treat that satisfies your sweet tooth while providing a boost of healthiness.
So, whether you're dedicated to your healthy goals or currently taking a detour like me, give this Blackberry Apple Smoothie a try. It's a fantastic way to indulge in something sweet while still staying on the path to a healthier lifestyle. Cheers to healthy eating and the wonders of smoothie goodness!
Easy blackberry smoothie variations for a quick breakfast
January is all about trying new things and making healthier choices, so let's explore some options that suit your taste and preferences.
Blackberries: Instead of blackberries, you can experiment with other delicious berries like blueberries, raspberries, or even a combination of both. They offer similar health benefits and add a burst of vibrant flavor to your smoothie. If you're feeling adventurous, why not try exotic fruits like mango or pineapple for a tropical twist?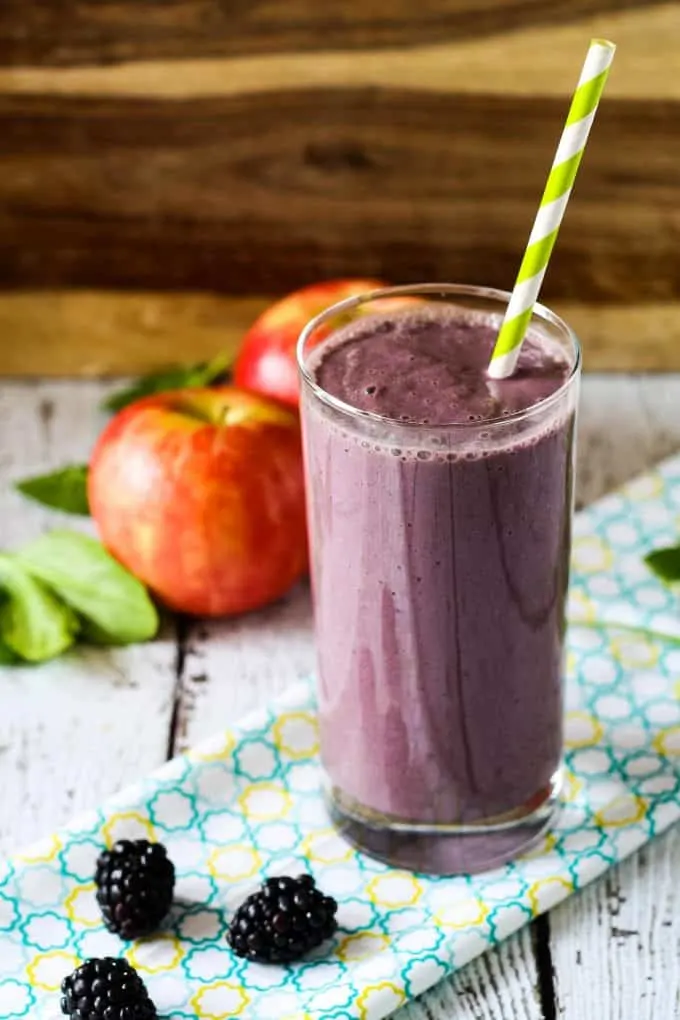 Apples: When it comes to the apple, you have plenty of choices. Granny Smith apples bring a tangy and crisp flavor, while Gala or Fuji apples provide a sweeter taste. You can even mix different apple varieties to create a unique flavor profile.
Spinach: If you're not a fan of spinach or want to change things up, consider using kale or Swiss chard instead. These leafy greens are packed with nutrients and work wonderfully in smoothies. Don't worry; their flavors blend seamlessly with the other ingredients, and you won't even taste the greens.
Agave Nectar: For a different sweetener, swap out the agave nectar with honey or maple syrup. Both options add a natural sweetness and offer their own distinct flavors. Experiment with different quantities to achieve your desired level of sweetness.
Greek yogurt: Greek yogurt provides a creamy and protein-rich base for the smoothie. However, if you prefer a dairy-free option or a vegan blackberry smoothie recipes, you can use coconut milk yogurt or a plant-based yogurt alternative. These alternatives still offer a smooth and creamy texture, ensuring a satisfying sip every time.
Almond Milk: In place of almond milk, feel free to use any other plant-based milk like oat milk, soy milk, or cashew milk. These alternatives provide different flavor profiles, so choose the one that appeals to you the most.
Cinnamon: The dash of cinnamon is optional but adds a warm and comforting touch to the smoothie. If you're not a fan of cinnamon or prefer a different spice, you can experiment with nutmeg, ginger, or even a pinch of cardamom.
Remember, the beauty of smoothies lies in their versatility. Feel free to customize the ingredients based on your taste preferences and dietary needs. With these alternative options, you can create a smoothie that suits your unique palate and keeps your health goals in check. Cheers to exploring new flavors and enjoying the journey to a healthier you!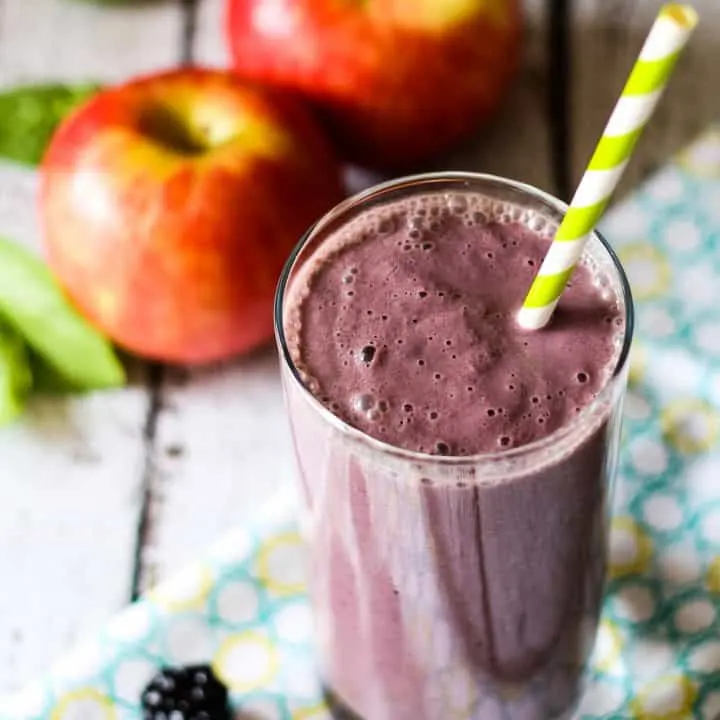 Blackberry Apple Smoothie
Start your day off a little healthier with this tasty blackberry apple smoothie! Sweetened with agave nectar.
Ingredients
1 cup blackberries
1 apple cut into chunks
handful of spinach
1 tablespoon agave nectar
7-8 ounces of Greek yogurt
1/2 cup almond milk
dash cinnamon (optional)
Instructions
Combine all ingredients in a blender, in the order listed. Pulse the blender until the fruit is pureed, then liquify until smooth.
Recommended Products
As an Amazon Associate and member of other affiliate programs, I earn from qualifying purchases.
Nutrition Information:
Yield:

2
Serving Size:

1
Amount Per Serving:
Calories:

594
Total Fat:

4g
Saturated Fat:

1g
Trans Fat:

0g
Unsaturated Fat:

1g
Cholesterol:

40mg
Sodium:

310mg
Carbohydrates:

58g
Fiber:

7g
Sugar:

46g
Protein:

83g
Nutrition information is automatically calculated and may not be correct.
---
Looking for more smoothie recipes?
Banana Blueberry Gooseberry Green Smoothie