Start your day off a little healthier with this tasty blackberry apple smoothie!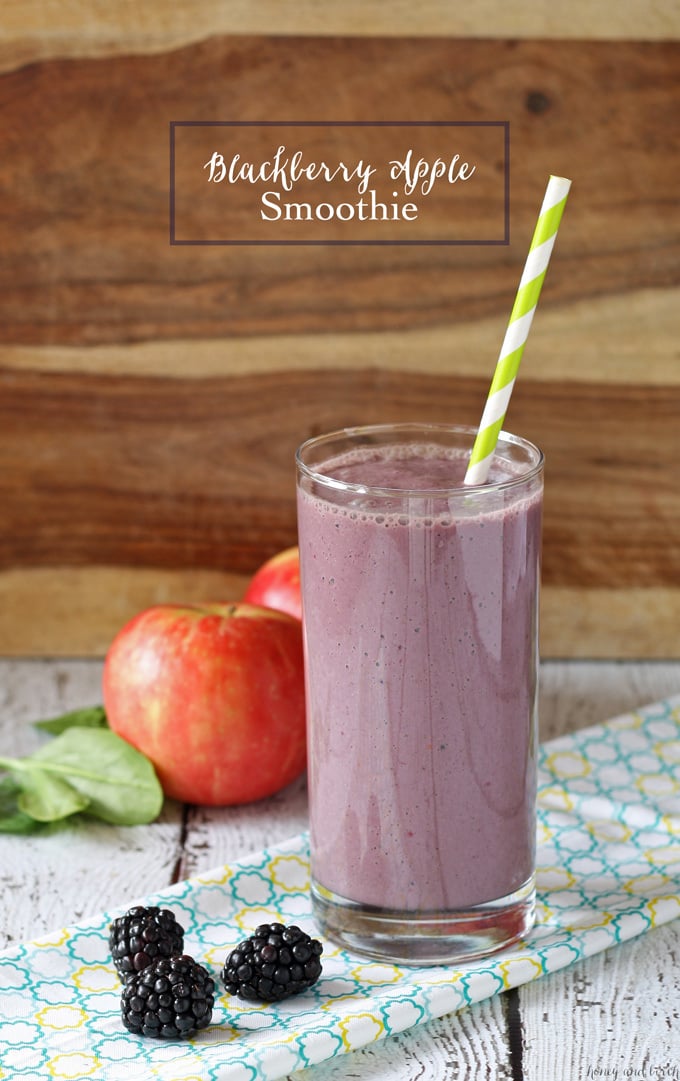 January is flying by.
By this point of 2015, many of you have made new year's resolutions to eat healthier… and then stopped eating healthy. I don't blame you. It's hard to stick with it – I have fallen off the healthy wagon many, many times.
I'm off it right now, in fact.
I was looking for healthy recipes the other day and I got a little overwhelmed. Maybe you feel the same way?
I was so concerned about eating healthy and not eating that doughnut, or piece of cake, or whatever, that I didn't really want to worry about some complicated healthy recipe.
Solution: smoothies.
Throw everything in a blender and you're good to go. Healthy eaters figured this out a long time ago and smoothie recipes have been filling my rss feed reader for the last few week. I may be off the healthy wagon but I'm jumping on the smoothie train.
Blackberry Apple Smoothie
My friends at Driscoll's challenged a bunch of bloggers to come up with some healthy smoothie recipes for the new year.
Challenge accepted.
They sent me some of their delicious product and I got to playing around.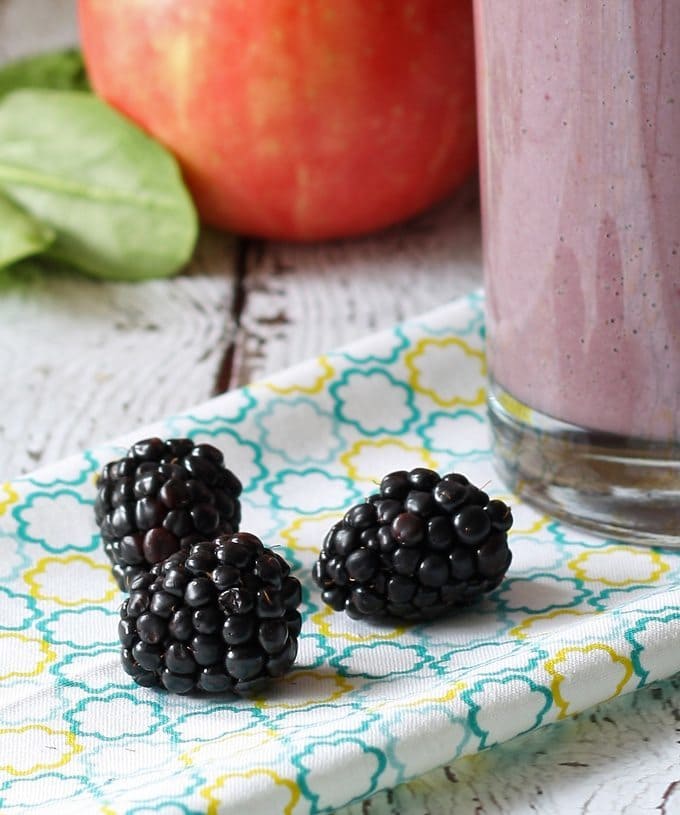 Normally, I am a blueberry and raspberry girl only. But I just love, love, love how juicy and plump these blackberries are and had to use them instead. So happy I did.
Instead of sugar and milk (my usual smoothie ingredients,) I used agave nectar and almond milk. That, paired with the fruit and a little surprise – a handful of spinach! – makes for a delicious and healthy smoothie.
If you're looking for something sweet, use more agave nectar. I just use a touch because I didn't want to take away from the flavors of the blackberries and apple.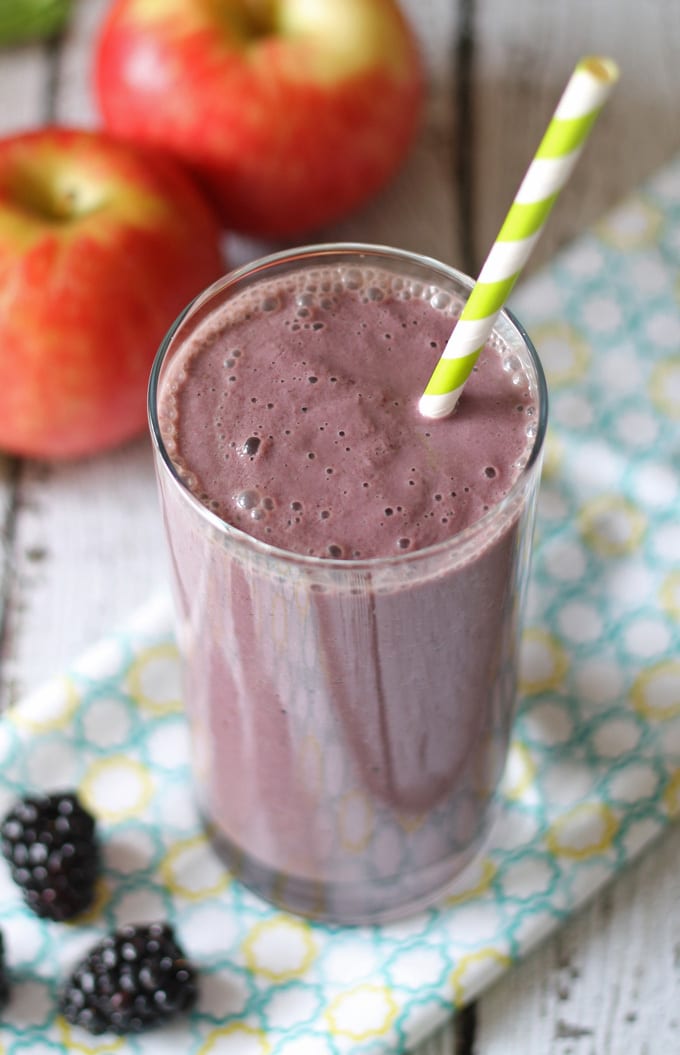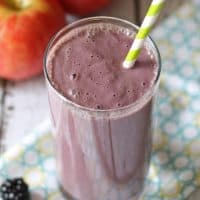 Blackberry Apple Smoothie
Yield: 2 smoothies

Cook Time: 5 minutes

Total Time: 5 minutes

Start your day off a little healthier with this tasty blackberry apple smoothie! | honeyandbirch.com
Ingredients
1 cup blackberries
1 apple cut into chunks
handful of spinach
1 tablespoon agave nectar
7-8 ounces of Greek yogurt
1/2 cup almond milk
dash cinnamon (optional)
Instructions
Combine all ingredients in a blender, in the order listed. Pulse the blender until the fruit is pureed, then liquify until smooth.
Nutrition Information:

Amount Per Serving:Calories: 230 Carbohydrates: 45g Protein: 21g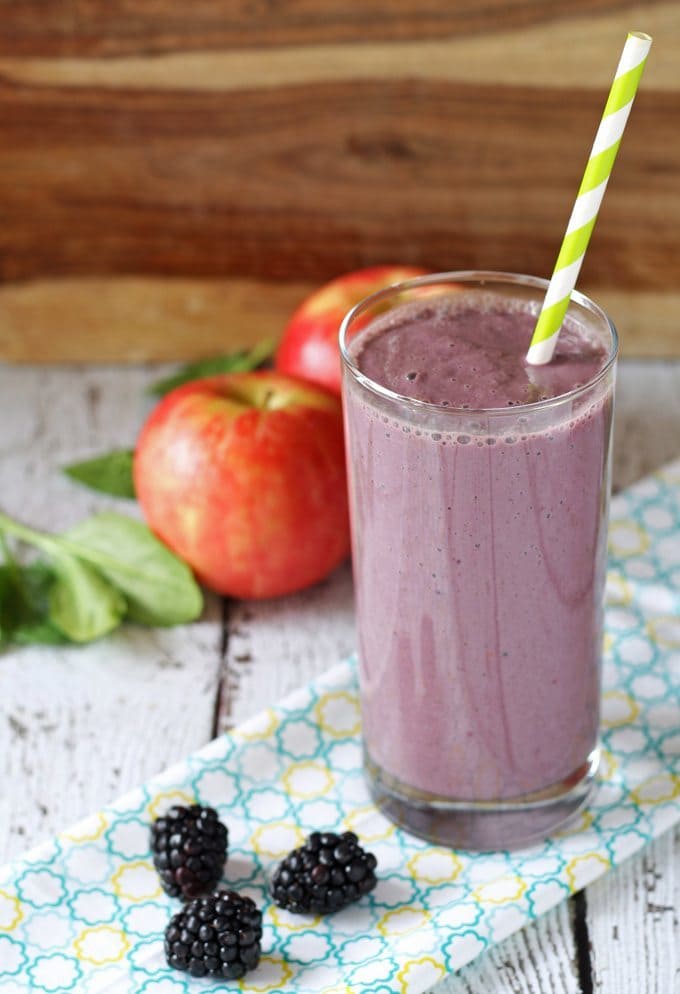 Disclosure: I was provided with product from Driscoll's. Recipe and opinions are my own.
---
Looking for more smoothie recipes?
Banana Blueberry Gooseberry Green Smoothie