Simple, yet scrumptious, this Mini Cheesecake Recipe is perfect for any occasion! You don't need a lot of time to make it and your guests will love it.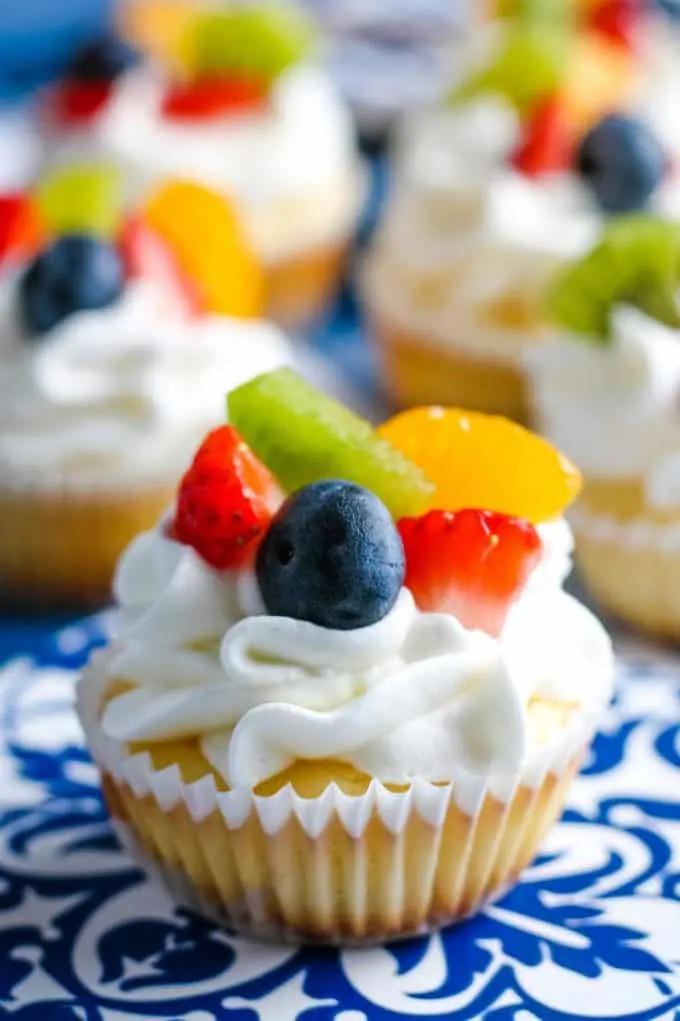 Who doesn't love an easy go-to recipe? When I'm craving cheesecake, this Mini Cheesecake recipe is always my go-to. Plus, how wonderful is it that you can have the perfect portion sizes? Everyone loves the classic cheesecake recipe and that's just what you'll get with this recipe.
Being able to bake little cheesecakes in a mini cupcake pan will change the way you think about baking. I think sometimes it's hard to bake because everything takes so much effort. NOT this recipe.
This cheesecake recipe makes the perfect portion sizes, so you can easily use it for brunches or dessert bars. When you see it garnished with fresh fruit, it looks oh-so-beautiful. Fresh fruit on top also helps it taste even more amazing!
What Are Mini Cheesecakes?
Most of us have had cheesecake at some point in our lives, but it's always a tad better when you are making mini cheesecakes. They are adorable!
The general idea of this mini cheesecake bites recipe is that the cheesecake is in smaller bite-sized pieces. Cheesecake is always done in a huge cake-type size, which isn't always portable or easy to make. Using fresh ingredients, like vanilla wafers, butter, and cream cheese, the end results are these mini cheesecakes.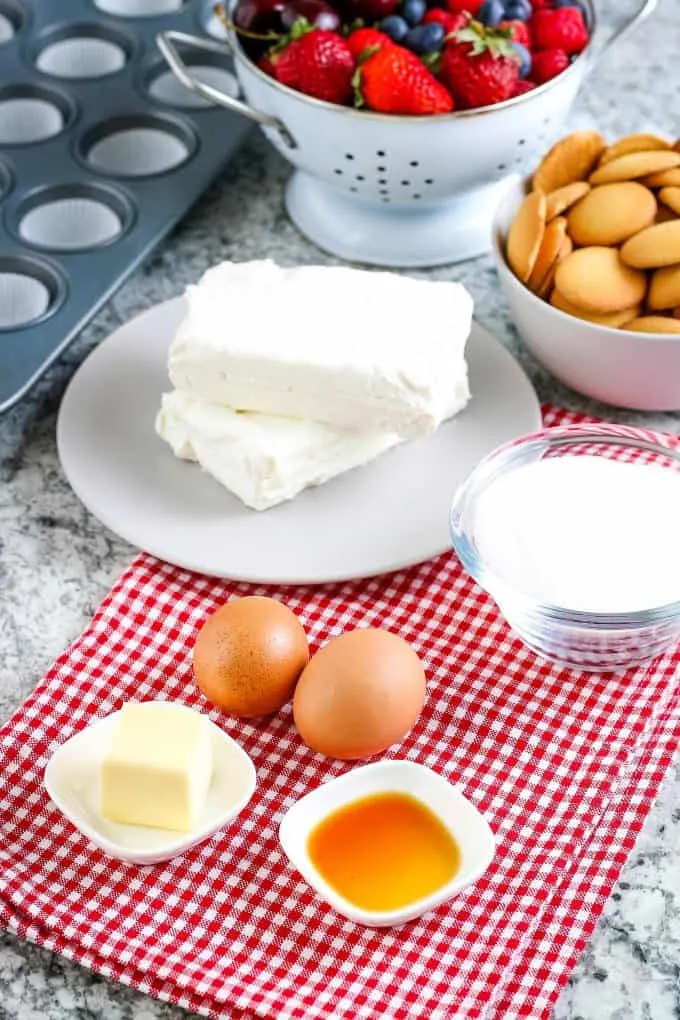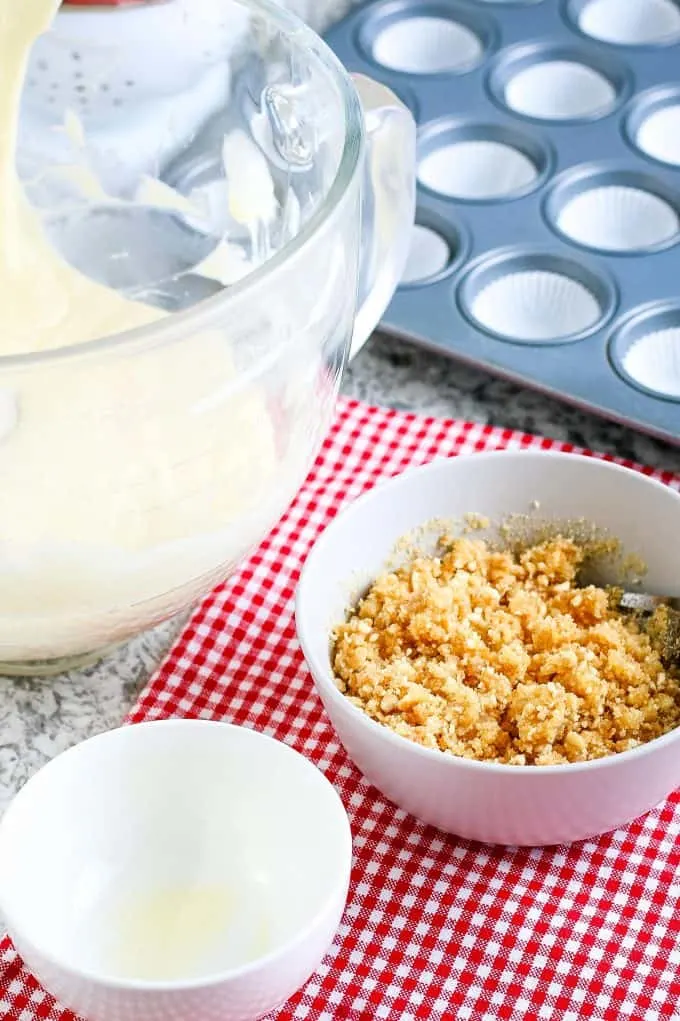 This post contains some affiliate links for your convenience. Click here to read my full disclosure policy.
How to Make This Mini Fruit Cheesecake Recipe
Go ahead and add cupcake liners to your mini cupcake pan. You're going to start making this recipe by preheating the oven to 375. You'll want to take the vanilla wafers and crush them.
Take the butter and melt it in the microwave for 20-30 seconds. And then take the cookie crumbs and the butter and melt it all together.
Take the cookie mixture and place about ½ teaspoon cookie mixture into the cupcake liner and this will act as your crust.
Take the cream cheese and beat it until it's light and fluffy. Go and add the add sugar, eggs, and vanilla. You'll also want to beat that until it is creamy and smooth.
This cream cheese mixture will be added to the cookie crumbs and bake this delicious mixture for around 15-18 minutes. Allow the cheesecake to cool and you can then add your choice of toppings. I would suggest adding fresh fruit and some of the suggested topping.
You can see the full recipe below! This is just a general idea of how to make it.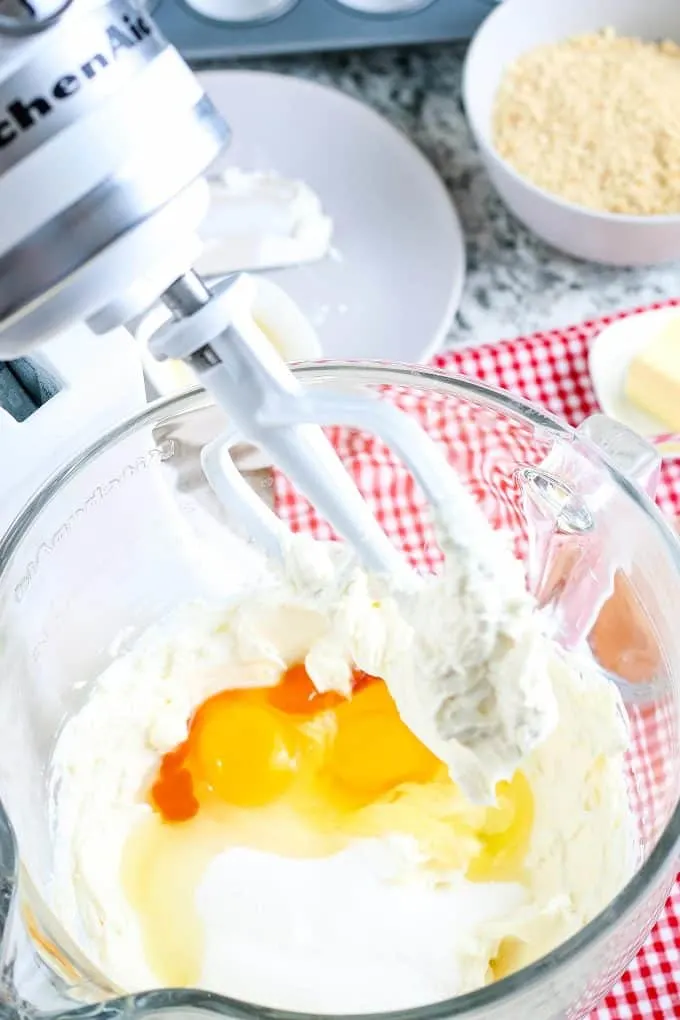 What Do I Need to Make Mini Cheesecakes?
Although this Mini Cheesecake Recipe may look fancy, it's actually quite simple. The amount of time and resources you need to make these are minimal.
Mini cupcake pan – you'll enjoy having this mini cupcake pan on hand for this recipe and future recipes!
Wire rack – if you are starting to bake more and more it's super helpful to have a wire rack for cooling your baked goods.
Mini Cupcake liners – because you're using a mini cupcake pan, make sure you grab the mini cupcake liners.
Optional
Food processor – you don't HAVE to have a food processor but it does help to chop the cookies up into tiny pieces.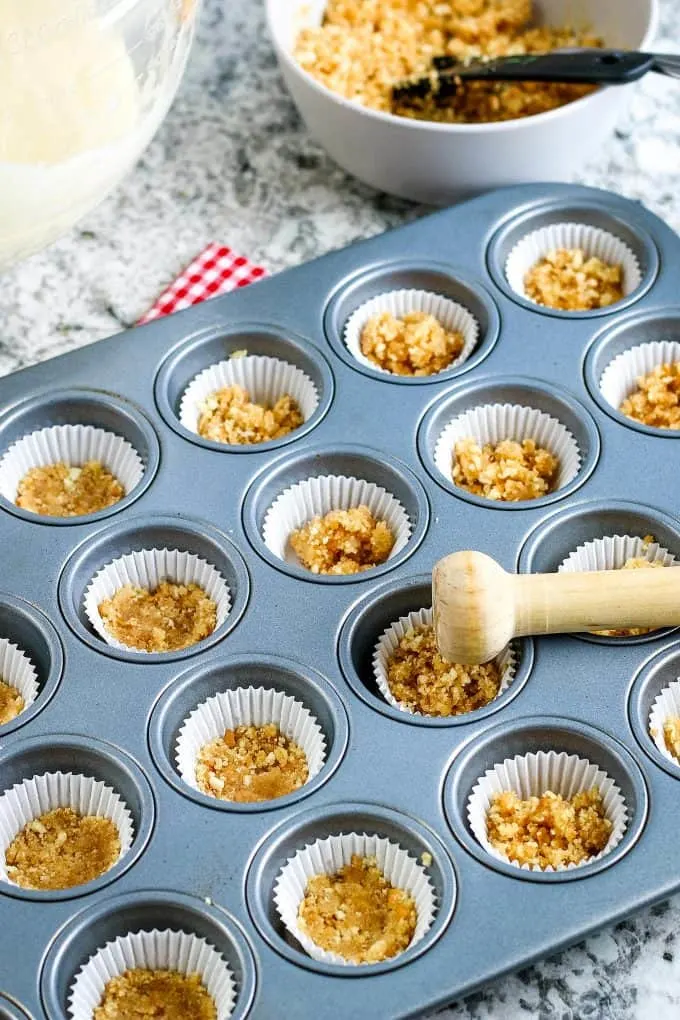 Helpful Tips
Line your cupcake pan before you get started. When you go to put the cookie mixture inside of the cupcake pan, you'll want to make sure you have the mini cupcake liners in there already.
Let the cheesecake cool. I know it's so hard to let the cheesecake cool, but it's important. It'll taste better and set better when the mini cheesecakes are cooled completely prior to enjoying.
Get creative with toppings. Although I give you some options for toppings, you can totally get creative with what you put on top of them.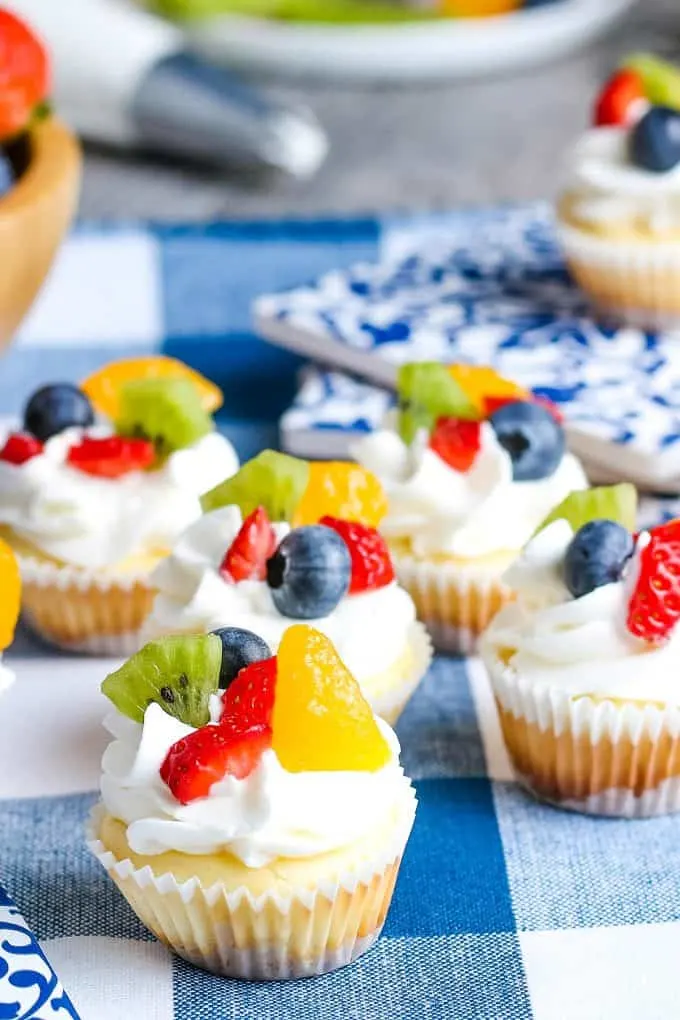 More party desserts!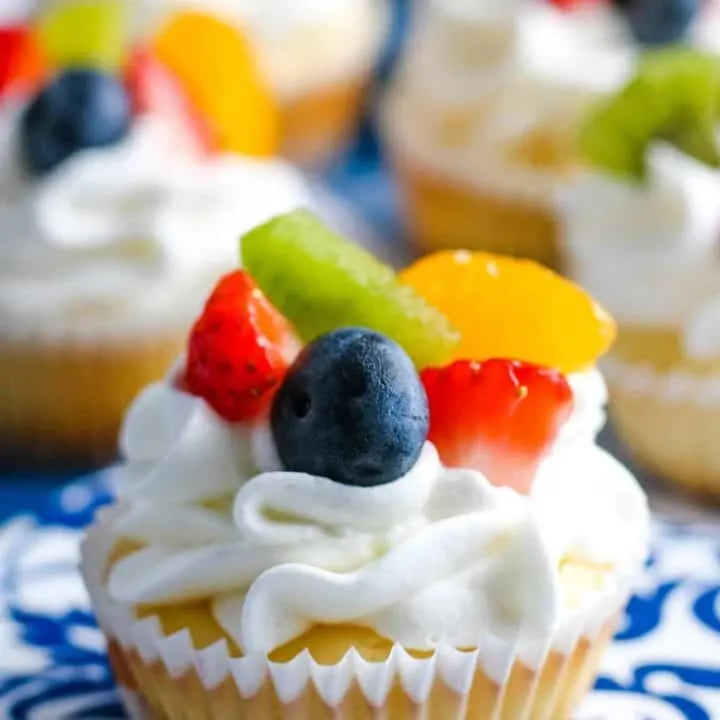 Mini Cheesecake Recipe
Simple, yet scrumptious, this Mini Cheesecake Recipe is perfect for any occasion! You don't need a lot of time to make it and your guests will love it.
Ingredients
40 vanilla wafers, crushed
3-4 tablespoons butter, melted
2 packages (8 oz each) cream cheese, softened
¾ cup granulated sugar
2 eggs
1 teaspoon vanilla extract
Toppings
Instructions
Add cupcake liners to a mini cupcake pan. Preheat oven to 375 degrees.
Crush vanilla wafers in the food processor or resealable bag.
Melt butter in microwave 20-30 seconds. Mix cookie crumbs and butter together until well blended.
Add about ½ teaspoon cookie mixture to the cupcake liners and tap to form to bottom using a wooden tart shaper or spoon.
In a large mixing bowl, beat cream cheese until very smooth and fluffy.
Add sugar, eggs, and vanilla. Beat until creamy and smooth.
Add about 1 tablespoon cream cheese mixture on top of the cookie crust.
Bake for 15-18 minutes. Cheesecake will puff up a bit but will deflate when cooled - this is normal. Cool completely on wire rack.
Add your choice of toppings. Store in a refrigerator prior to serving.

Notes
Top with fruit such as kiwi, blueberries, strawberries, clementine slices, and more.
Recommended Products
As an Amazon Associate and member of other affiliate programs, I earn from qualifying purchases.
Nutrition Information:
Yield:

48
Serving Size:

1
Amount Per Serving:
Calories:

51
Total Fat:

2g
Saturated Fat:

1g
Trans Fat:

0g
Unsaturated Fat:

1g
Cholesterol:

12mg
Sodium:

36mg
Carbohydrates:

7g
Fiber:

0g
Sugar:

5g
Protein:

1g