Mango pico de gallo – perfect on top of fish tacos! Also, great for dipping chips, inside a steak burrito, or on top of a burger.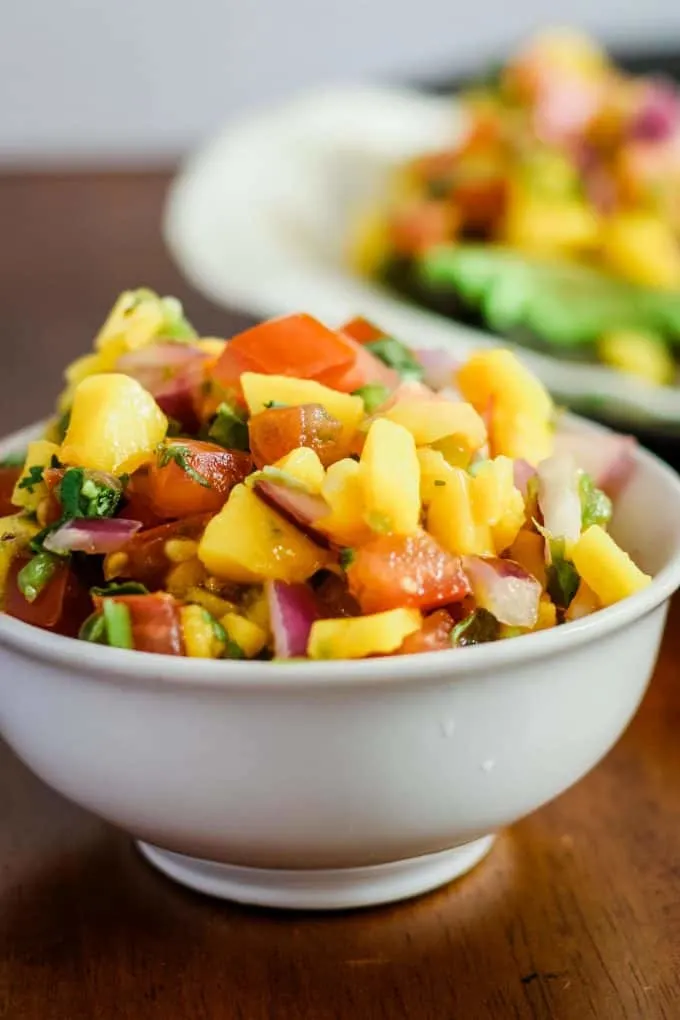 I don't know if I told you all before, but I worked in a restaurant for a few years. From hostess to server, from bartender to manager – I spent four and a half years in the grasp of the food industry.
Maybe that is why I turned to food blogging. If you're around food every day in and out and then poof, you're not anymore, you miss it.
I started this blog in the hopes of it being a lifestyle blog. Besides recipes, I hoped to include free printables that I designed as well as craft and DIY projects. Right around the time I stopped working full-time at the restaurant I began to only post recipes. Couldn't tell you why – I just must have really missed being around all that food.
The reason I am telling you this part of my history has to do with mango pico de gallo.
One of the most popular items on the restaurant's menu were ahi tacos. The cooks seared the tuna and then topped it with fresh avocado and… yes.. mango pico de gallo.
I never paid attention to their preparation of it, so I can truly say that this is my own recipe.
But the idea to throw mango into pico de gallo definitely came from them. I love it plain, with tortilla chips and also as a topper. I have used it as a condiment for white fish tacos and the other day I even covered a hot dog with it.
LOL, it looked funny, was very messy but also was incredibly delicious.
When dicing your ingredients, try to cut the tomato, onion and mango into similar sized pieces. The jalapeño should be diced very finely. If you want something that is more mild, remove the jalapeno seeds, but we like some kick in our food and left them in.
Mango Pico de Gallo Serving Ideas
Mango pico de gallo is great on fish tacos – in fact, that is when I eat it most often. It's also great as an appetizer, served with tortilla chips. Try adding this salsa alternative to these delicious recipes: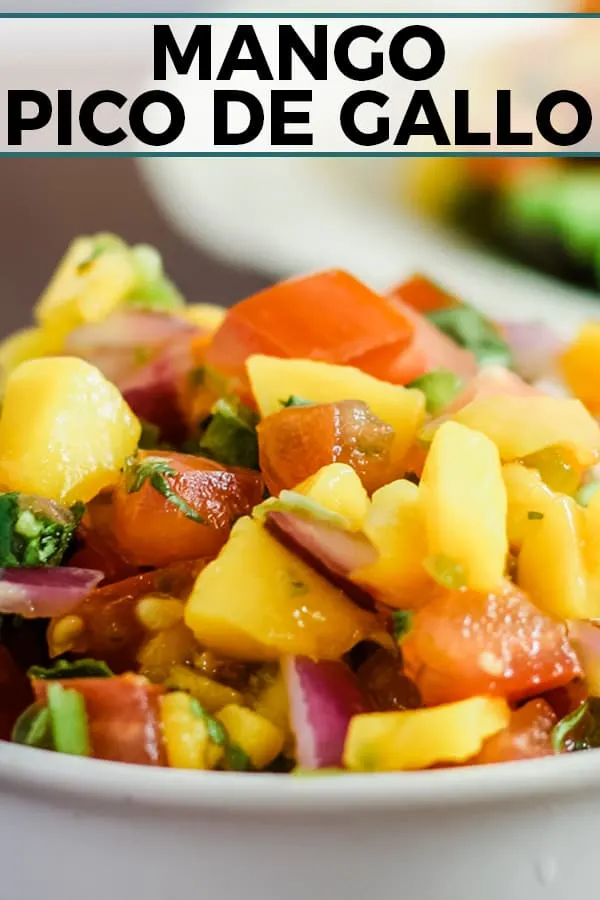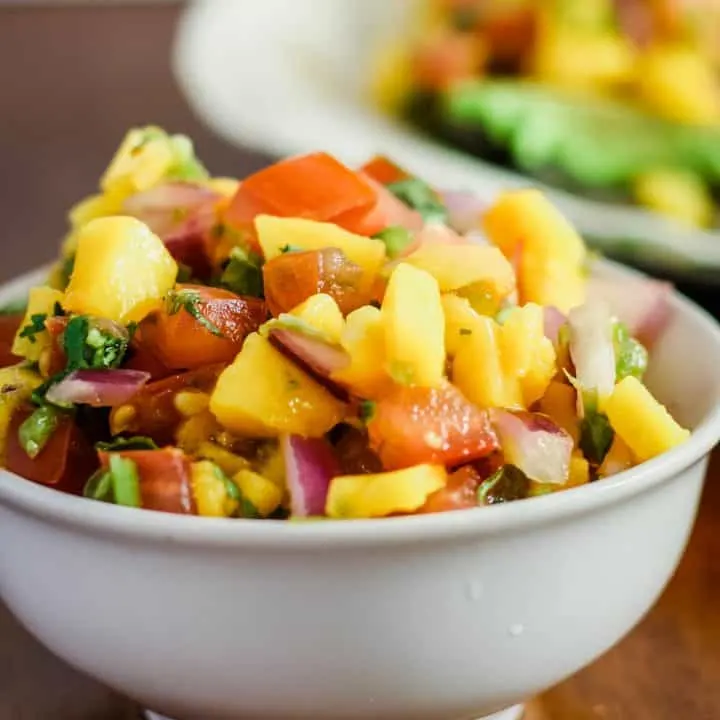 Mango Pico de Gallo
Mango pico de gallo - perfect on top of fish tacos! Also, great for dipping chips, inside a steak burrito or on top of a burger.
Ingredients
2 cups diced tomato
1 cup diced red onion
3/4 cup diced mango
1/2 cup diced cilantro
1/2 cup fresh limed juice
4 tablespoons finely diced jalapeno (1 jalapeno)
1/8 tsp kosher salt
Instructions
In a large bowl, combine all ingredients and mix well. Cover and refrigerate before serving.
Nutrition Information:
Amount Per Serving:
Calories:

35
Carbohydrates:

8g
Protein:

1g
---
If you're looking for more condiment recipes, try my recipe for tomato habanero relish.