This chilled Bloody Mary soup is great for hot summer days when you're craving soup!
I did it. I went off the deep end food-wise.
Not sure what possessed me to combine two of my favorite things – bloody Mary's and soup – but it happened. And it's delicious.
Ever since I started this blog I have been torn between creating Frankenstein like food creations that are entirely unique and rendering my own versions of easy and traditional recipes. Traditional usually wins out. It's what I know and there is less chance of screwing up. Almost every time I try something a little strange it ends up in the garbage and I really hate wasting food.
But this time I got the idea in my head and I couldn't get it out. I originally planned to make my own version of gazpacho because even though its July, I miss soup. I found a chilled tomato soup recipe in 400 Soups (affiliate link) that sounded pretty good, but boring. It got me thinking about making my own tomato juice, which led to making bloody Mary's from scratch. Which led to bloody Mary soup.
Why not?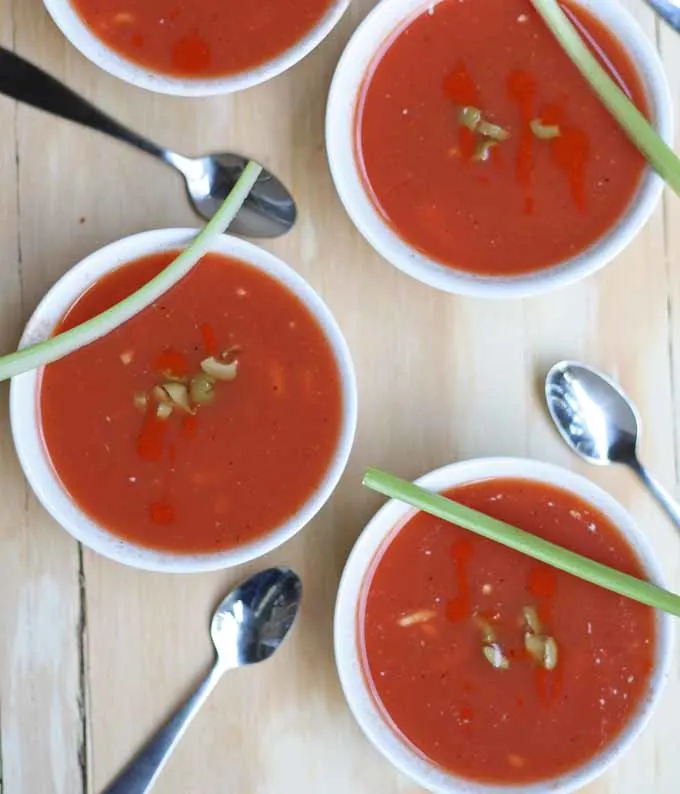 Turns out that it has been done before (I did a quick Google search before I started writing this), but I refuse to look at any of the other chilled bloody Mary soup recipes out there. Even though it's not my unique Franksteiny food idea, it's still not an ordinary and traditional recipe.
This recipe would be a lovely addition to a passed hors d'oeuvre menu – perhaps in little shooters on little trays? It would also be great for a formal dinner's soup course. So many flavors and ways you can garnish it to really make it your own.
If you do decide to make it, please let your imagination run wild when garnishing. Doing this shooter style? Why not rim the shooters with homemade bacon salt. Or top with a dash of vodka that hasn't had the alcohol cooked out. If it is in a larger bowl, you can serve it with salt crusted spoons and crunchy bacon or croutons that have been coated with paprika.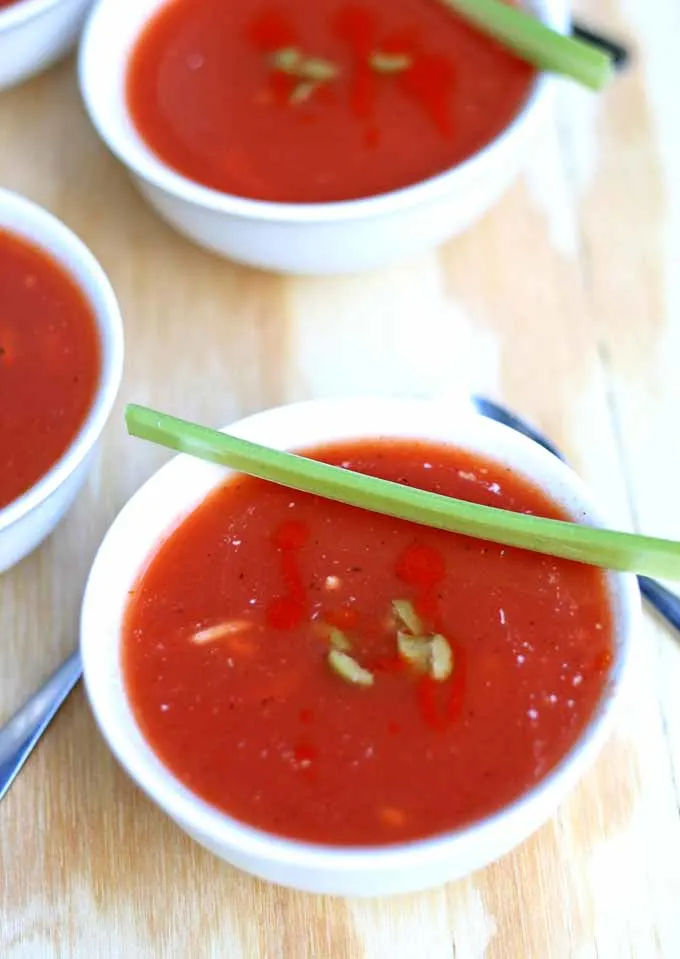 Bloody Mary Chilled Soup
Total Time:
4 hours
25 minutes
This chilled Bloody Mary soup is great for hot summer days when you're craving soup!
Ingredients
10 oz cherry tomatoes, halved
10 oz grape tomatoes, halved
2 medium tomatoes on the vine, chopped into large pieces
2 shallots, roughly chopped
¼ sun dried tomatoes
½ cup vodka
2 cups vegetable broth
½ teaspoon black pepper
½ teaspoon kosher salt
1 teaspoon Worcestershire sauce
½ teaspoon celery salt
Garnish
hot sauce
creamy horseradish
celery
diced olives
Instructions
Combine the tomatoes and shallots in a blender. Puree until smooth.
Pour through a strainer into a soup pot. Use the back of a spoon to push the puree through the strainer, separating the seeds.
Measure the vodka and vegetable broth and pour some into the blender to clean out the puree. Pour this through the strainer. Pour the remaining liquid through the strainer to clean the seeds.
Stir the tomato puree and cook over medium heat. Bring to a boil and then cook for 5 additional minutes.
Remove from heat, add the pepper, salt, Worcestershire sauce and celery salt. Allow to cool, then chill for at least 4 hours.
Add an ice cube or two to your bowl before garnishing. Garnish with a dash of hot sauce, a celery stalk, and a pinch of horseradish and diced olives.
Notes
Recipe adapted from 400 Soups
Nutrition Information:
Yield:

4
Serving Size:

1
Amount Per Serving:
Calories:

122
Total Fat:

1g
Saturated Fat:

0g
Trans Fat:

0g
Unsaturated Fat:

0g
Cholesterol:

0mg
Sodium:

690mg
Carbohydrates:

12g
Fiber:

3g
Sugar:

7g
Protein:

2g
Nutrition information is automatically calculated and may not be correct.