Make these fish tacos with spicy poblano pepper pico de gallo on the grill! Perfect lunch or dinner for a hot, summer day.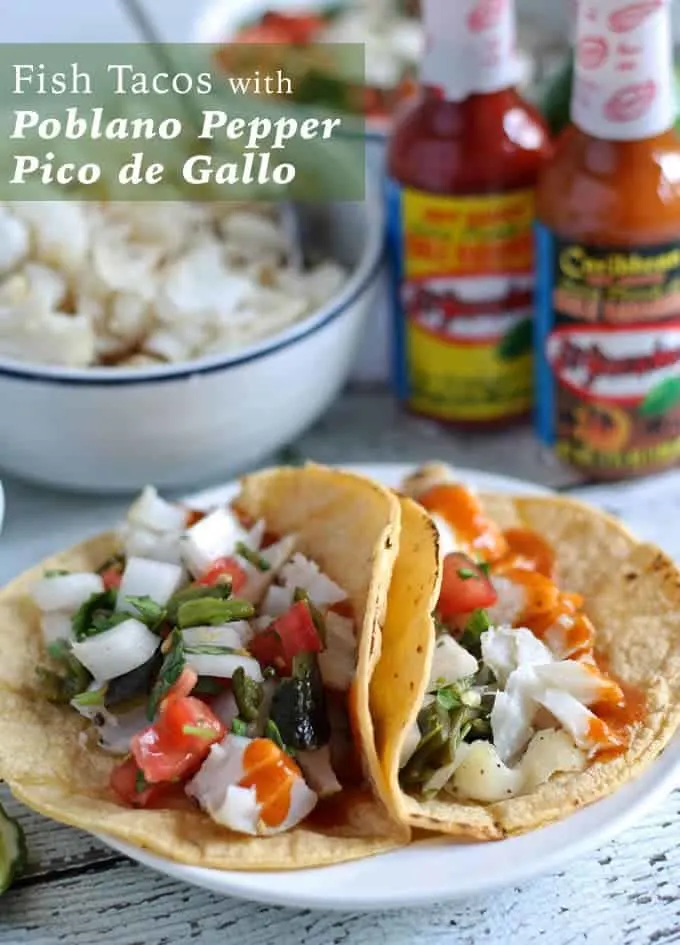 This post was sponsored by El Yucateco. All opinions are my own.
Summer finally arrived in Chicago! Usually, I cook fish in the oven or on a pan but I decided to turn off the oven and stove until the temperature drops below 80. Hopefully, this means we will be grilling for the next 20 or so days (hoping for both hot weather and grilled food!)
I got a craving for fish tacos and a great idea at the same time – add fire-roasted poblanos and hot sauce to our usual, run of the mill, pico de gallo. We turned on the grill and got to grilling/chopping/devouring.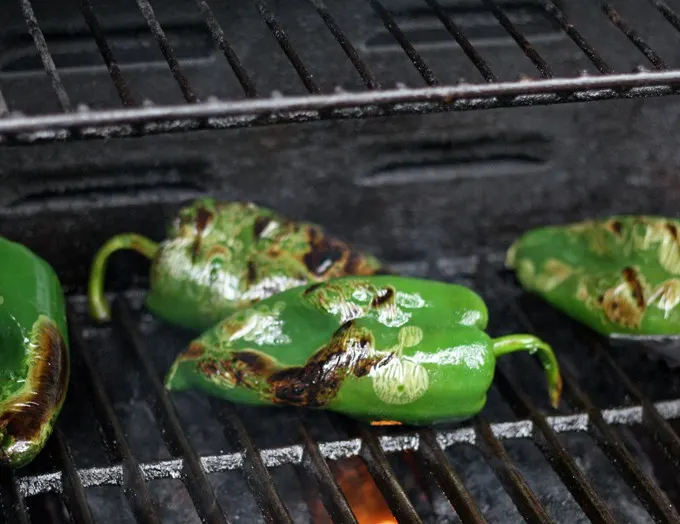 I know I have talked about my love for spicy food, like a zillion times. And I am pretty sure I have talked about Mr. B's love of grilling. Well, the sun was shining and the grill was looking at us invitingly – apparently, it was the perfect hot, Chicago summer day to combine spicy food and grilling.
We started with the grill. Mr. B placed my poblano peppers on the hottest part of the grill and charred them for me.
We waited until they were mostly blackened, then took the peppers off the grill and immediately wrapped them in foil. I brought the peppers inside while Mr. B grilled up the fish real quick (I'll get back to that in a second).
After 7 minutes, I unwrapped the peppers. With a little help from a paring knife, the charred skin peels right off thanks to the steam being held inside the foil. I de-seeded and destemmed them and then went out to check on the fish.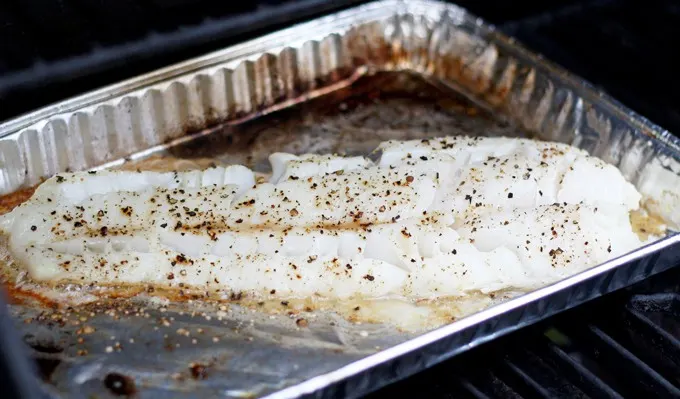 We chose cod for our fish tacos because of its dense texture. We have had a few "fish stuck to the grill" incidents so now cook most fish in a tin on the grill. Just put a little butter or oil on the bottom so that the fish doesn't stick to the tin too.
I lightly seasoned with sea salt and pepper – I wanted the flavor to be subtle because I knew the real flavor was coming.
Fish cooks pretty fast. We kept a fork handy so we could do the fork test (if you stick in a fork in it and the fish is flaky, it's done.)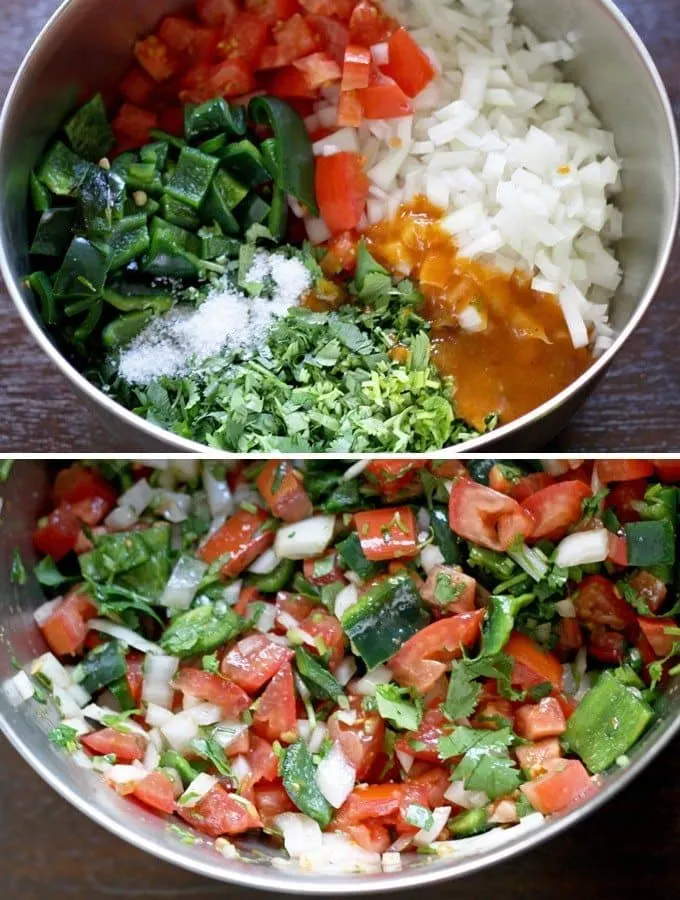 Poblano Pepper Pico de Gallo
In the Honey and Birch household, we want a spicy pico de gallo. In addition to topping our fish tacos with the new Caribbean Habanero sauce from El Yucateco, I also wanted to add it to the pico de gallo.
We decided to let the smokiness of the poblano peppers and the spicy sweetness of the habanero hot sauce would pair well together.
When I make pico de gallo, I like to chop all of my ingredients into similar size pieces. To help the poblano pieces keep their shape (they soften when cooked), we kept everything chunky.
Pico de gallo is very easy to make – just combine all of the ingredients in a big bowl. This is why it is one of my favorite condiments and why adding one extra step (roasting poblano peppers) is totally worth it. You will love this poblano pico de gallo!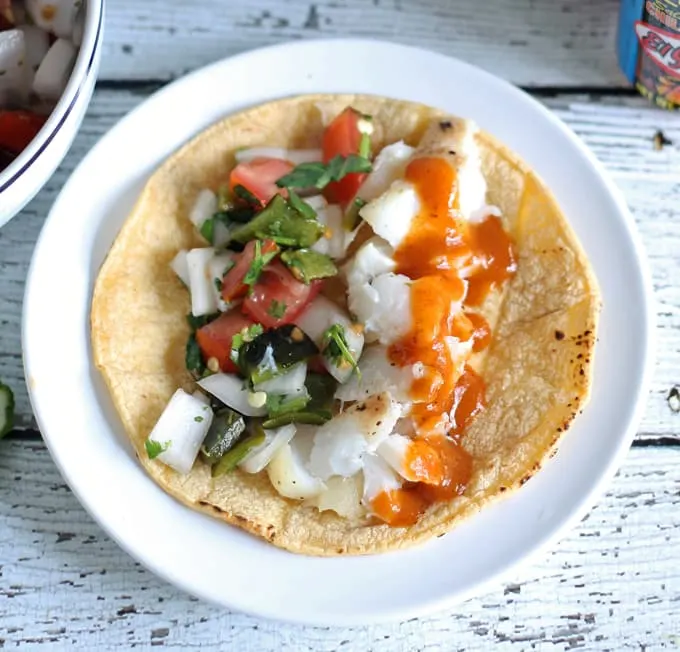 Assemble Your Fish Tacos
Once your pico de gallo is made, it is time to assemble your fish tacos. Warm up your tortillas, then place a little cooked fish off to the center. Put a healthy dose of poblano pepper pico de gallo next to that and top all of that with hot sauce.
My favorite hot sauce for fish tacos is El Yucateco. Currently, I am all about the Caribbean flavor (its what is in the pictures!) but I always keep the red and green habanero sauces on hand as well.
The Caribbean Habanero Sauce is a blend of yellow habanero peppers and fresh carrots – it's slightly sweet flavor and mild heat deliver the perfect balance of habanero flavor. Perfect for seafood, chicken or to kick up a Bloody Mary!
I have an incredibly high tolerance for spicy food so put A LOT of hot sauce on my tacos – you may want to be a little less liberal than I was. I love the sweet/spicy touch of the Caribbean Habanero Sauce with the poblano peppers and the fish. New favorite fish tacos… just sayin…
I picked up the Caribbean Habanero Sauce at my local Meijer. Next time you are shopping there, keep an eye out for the "Try Something New" section where you should be able to find the El Yucateco hot sauces.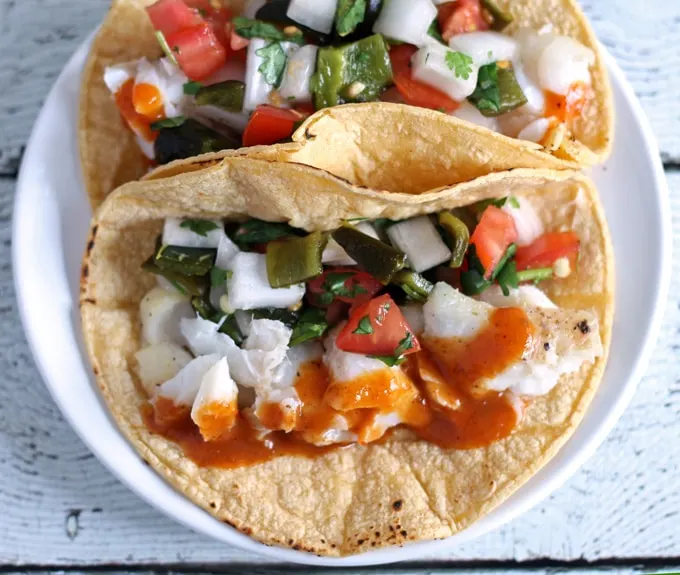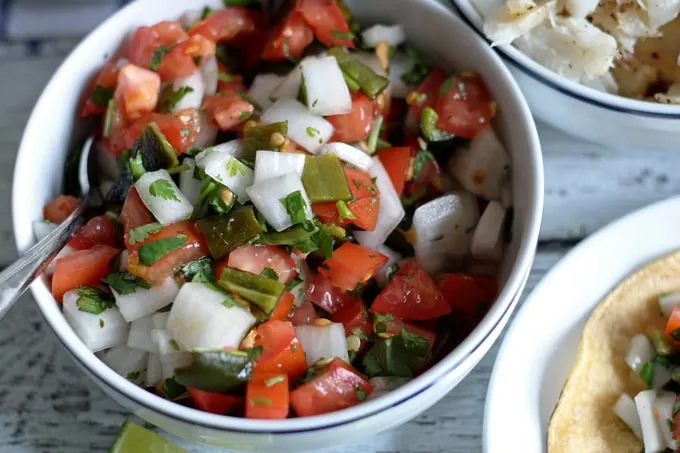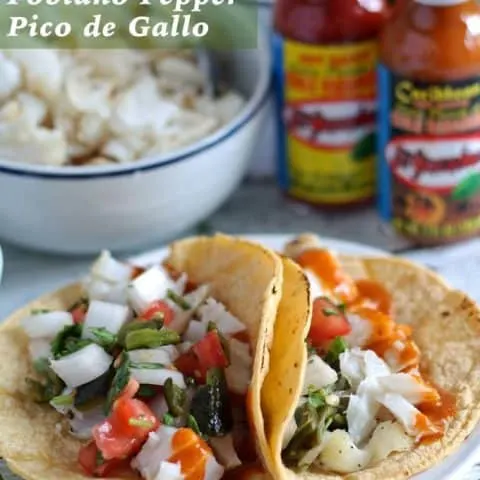 Fish Tacos with Poblano Pepper Pico de Gallo
Additional Time:
30 minutes
Make these fish tacos with poblano pepper pico de gallo on the grill! Perfect lunch or dinner for a hot, summer day.
Ingredients
Fish Tacos
1 pound white fish (cod, halibut)
½ tablespoon butter
salt and pepper
Poblano Pepper Pico de Gallo
hot sauce
Poblano Pepper Pico de Gallo
2 cups roasted poblano peppers, de-skinned, de-seeded and chopped into ½-inch pieces (about 4 medium poblano peppers)
1 ½ cups diced white onion
3 cups diced Roma tomatoes
1 cup roughly chopped cilantro
2 tablespoons El Yucateco Caribbean Habanero Sauce
½ cup lime juice
½ tablespoon kosher salt
Instructions
Lightly butter a tin pan. Salt and pepper a piece of fish on both sides, then place on the buttered tin. Cook on the grill until the fish is flaky, 6-8 minutes depending on the thickness of your fish. Remove from the grill.
To make the pico de gallo, combine the poblano peppers, onion, tomatoes, cilantro, El Yucateco Caribbean Habanero Sauce, lime juice and salt in a bowl. Mix until well-combined. Refrigerate for 30 minutes before using.
To assemble your fish tacos, heat a tortilla in the microwave or on the grill. Place cooked fish, 2-3 tablespoons pico de gallo and a few dashes of hot sauce on the tortilla.
Nutrition Information:
Yield:

6
Amount Per Serving:
Calories:

148