Make everyone happy with these grilled chicken fajitas. Chicken fajitas are the perfect recipe for summer family dinners – everyone can put whatever toppings they want on their own fajitas.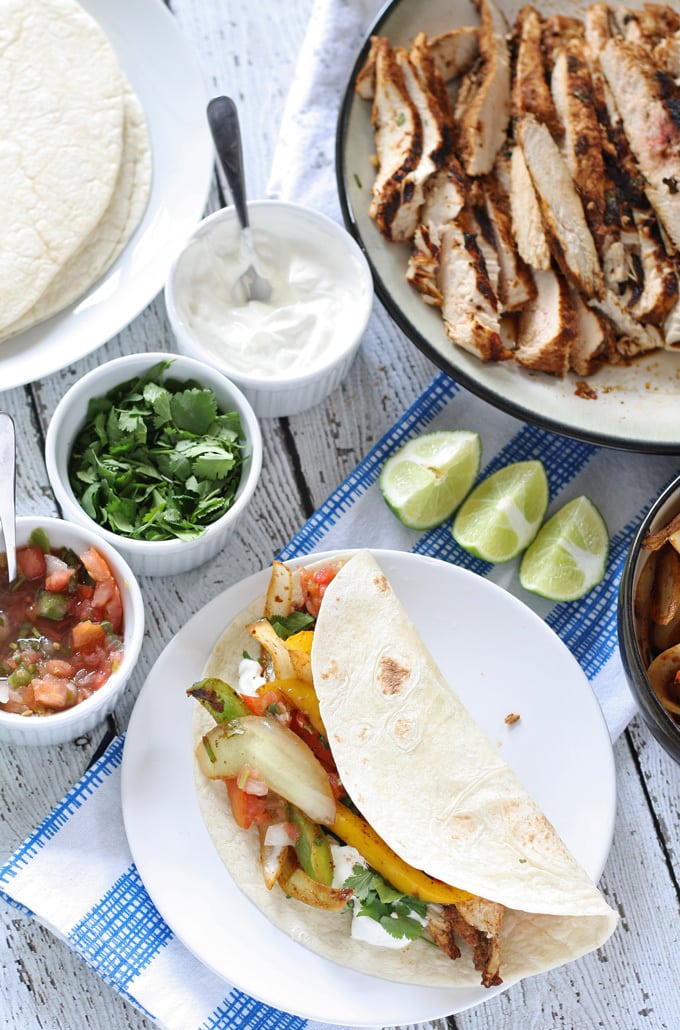 I love food blogging and the community of food bloggers. I think once you start to take your food blog seriously, you start to meet other food bloggers. They are a very supportive bunch of people.
Once such group of awesome food bloggers are the ladies participating in this blog hop with me. So much awesomeness.
Each of us was secretly given another blog to choose a recipe from to then recreate. Today, we all published our posts at the same time and found out who got our blog.
It has all been very exciting and fun for me – I've never done anything like this before and I loved being able to pick any recipe I wanted.
My secret Freaky Friday blogger was……  Susie from Simply Sated.
I had a very hard time picking a recipe from her collection because so many called to me that I wanted to make many. No, seriously. Some of my favorites were this salmon recipe and these Canadian bacon cheese straws.
It was a very difficult decision, but eventually I settled on her recipe for Chicken Fajitas.
Mr. B, my sister and I drooled as we were cooking the chicken and veggies because they smelled fantastic. The tasted even better when we were finished making them!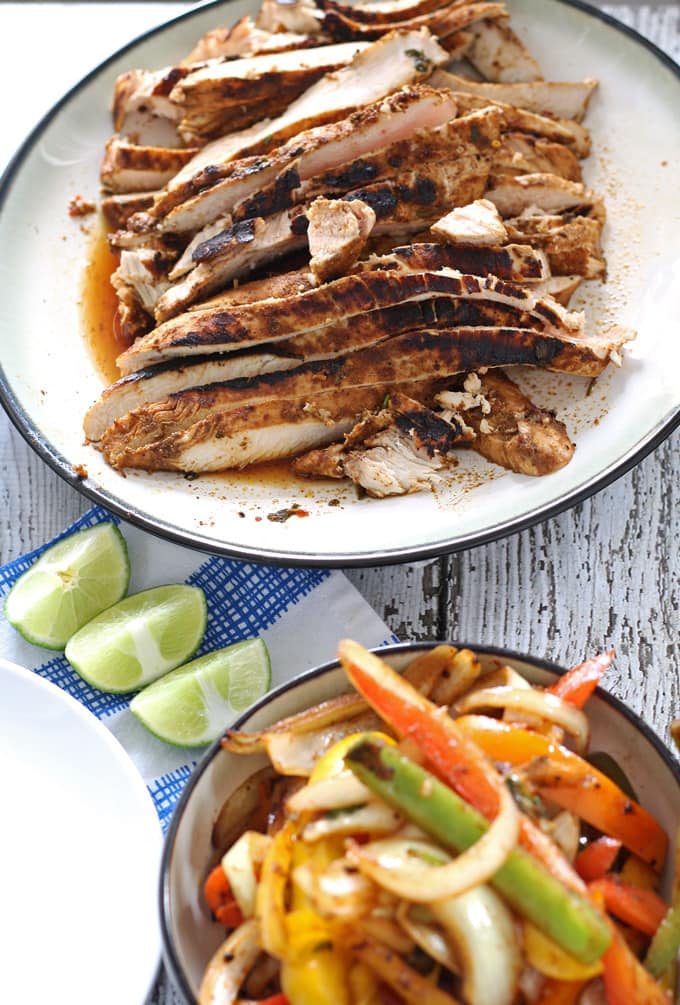 Since we are in the midst of a *fun* Chicago winter over in Honey and Birch-land, I didn't feel up to doing outdoor grilling to make this chicken.
Luckily, I recently purchased an indoor grill and took this opportunity to use it for the first time. Very, very nice and convenient! It kind of made me feel like I was not in the middle of winter.
That alone is a success to me.
These fajitas are amazing and I totally recommend you try this chicken fajitas recipe. We followed it almost exactly – we made a small change by substituting cayenne pepper for the jalapeño because I forgot to buy one.
I don't think it was a big enough change to screw it up.
Grilled Chicken Fajitas Recipe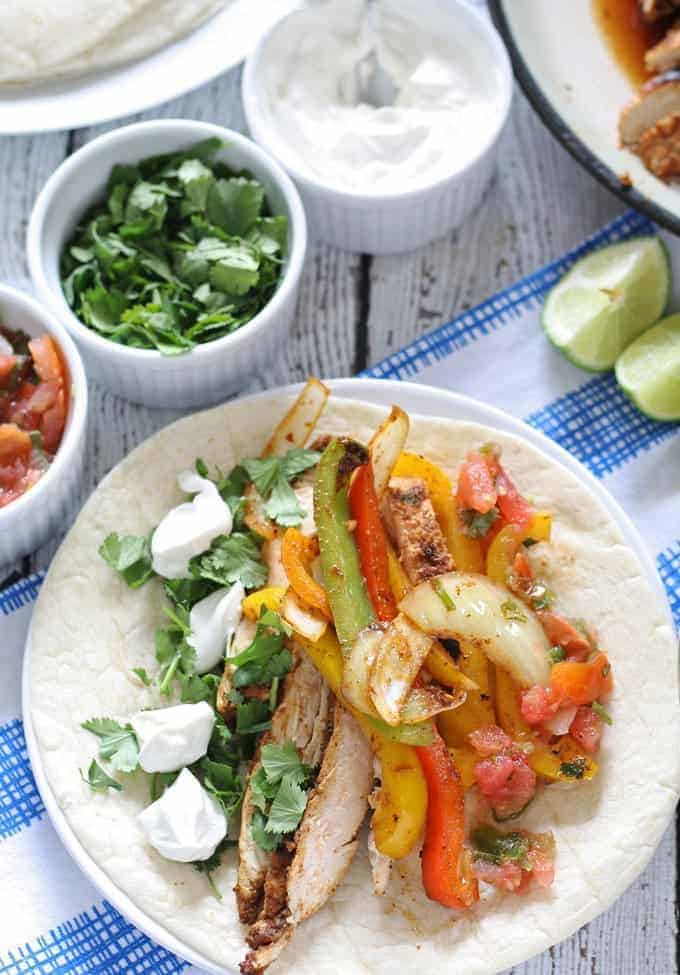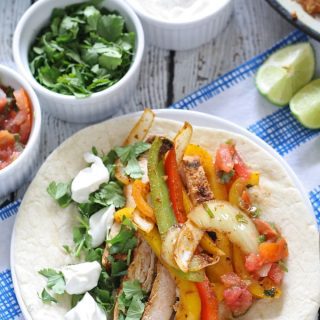 Chicken Fajitas
Make everyone happy with this chicken fajitas recipe. Chicken fajitas are perfect recipe for family dinners! - everyone can make their own fajitas.
Ingredients
Marinade
4 tablespoons vegetable oil
1 teaspoon cayenne pepper
1 teaspoon black pepper
2 tablespoons Worcestershire sauce
1 teaspoon kosher salt
2 teaspoons brown sugar
1/2 teaspoon red pepper flakes
2 tablespoons fresh chopped cilantro
1 teaspoon smoked paprika
2 tablespoons chili powder
2 tablespoons ground cumin
2 cloves minced garlic
1/2 cup lime juice
Optional Toppings
salsa
cilantro
sour cream
pico de gallo
lime wedges
Fajitas
10 Flour tortillas
2 sweet yellow onions, halved and sliced thin
4 bell peppers (green, red, yellow, orange), sliced into thin strips
2.5 pounds boneless chicken breast,
Instructions
In a small bowl combine all the marinade ingredients and mix well. Put the chicken breasts in one bowl and the peppers and onions in another. Pour half the marinade over the vegetables and the other half over the chicken. Mix well, cover and refrigerate for 1-2 hours.
Remove the chicken and vegetables from the refrigerator. Prepare your grill for high heat. Grill the chicken on both sides until it has reached an internal temperature of 165 degrees F. Remove from grill, cover and set aside.
Then grill your vegetables until tender - about 10 minutes. If using a traditional grill, I recommend using a grill basket. Toss occasionally.
Wrap your tortillas in a damp paper towel and warm in the microwave to 10 seconds just before serving.
Cut the chicken into strips. To serve, place chicken in a warmed tortilla, top with vegetables and then with you topping of choice.
Nutrition Information:
Yield: 10 Serving Size: 1 fajita
Amount Per Serving: Calories: 445 Total Fat: 17.6g Saturated Fat: 4.5g Trans Fat: 0g Unsaturated Fat: 0g Cholesterol: 101mg Sodium: 742mg Carbohydrates: 32.8g Fiber: 3g Sugar: 5.7g Protein: 38g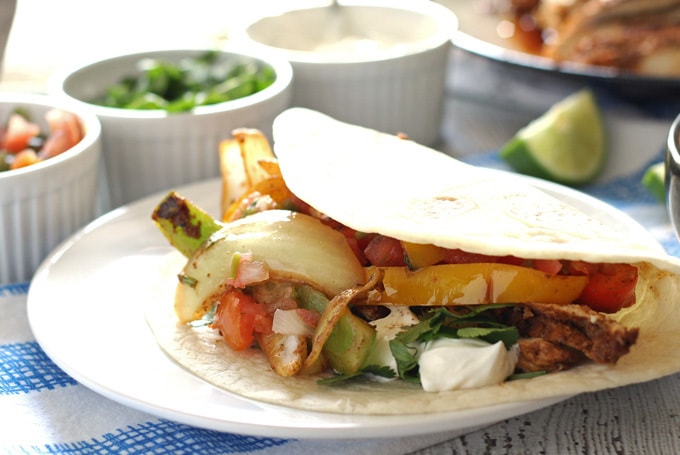 More dinner recipes you might like:

SaveSave
Join the newsletter!
Subscribe to get our latest content by email.