It's time to change up Meatless Mondays with this dairy free white bean butternut squash chili! Your tailgating parties will never be the same.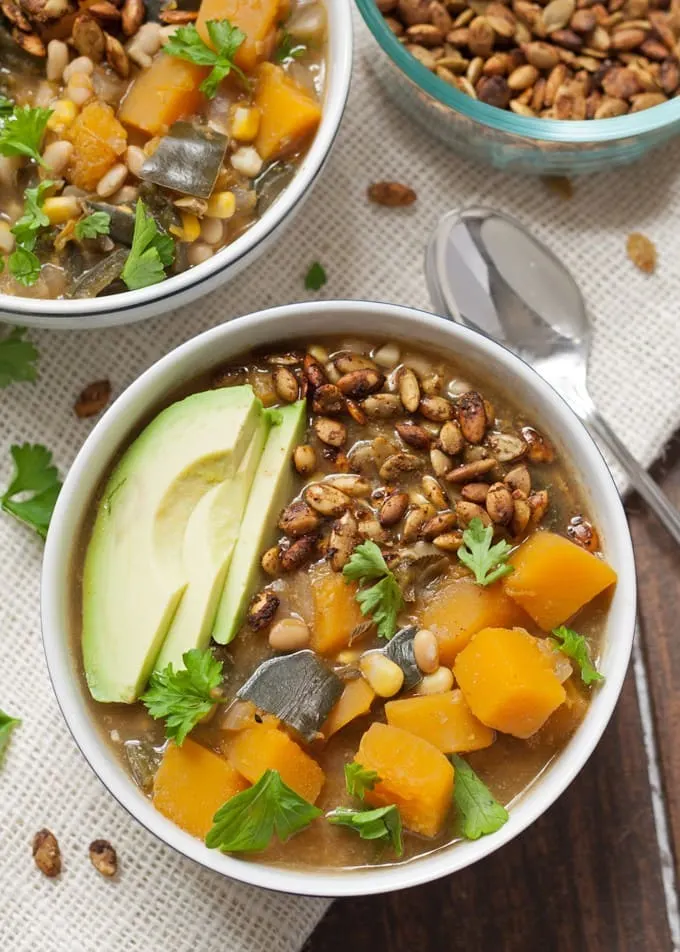 I have been trying to introduce Meatless Monday into our life for, like, ever. I have made recipes for Meatless Monday and Mr. B runs out and grabs a burger. I joke that he is all "meat and potatoes" but it's not really a joke when its true, right? Sounds kind of like a challenge, right?
A challenge to come with a Meatless Monday dish that will please even my meat-lovin' husband. Next time we are watching football on a Monday night, we are going to make it Meatless Monday Night with a pot of this dairy free white bean butternut squash chili.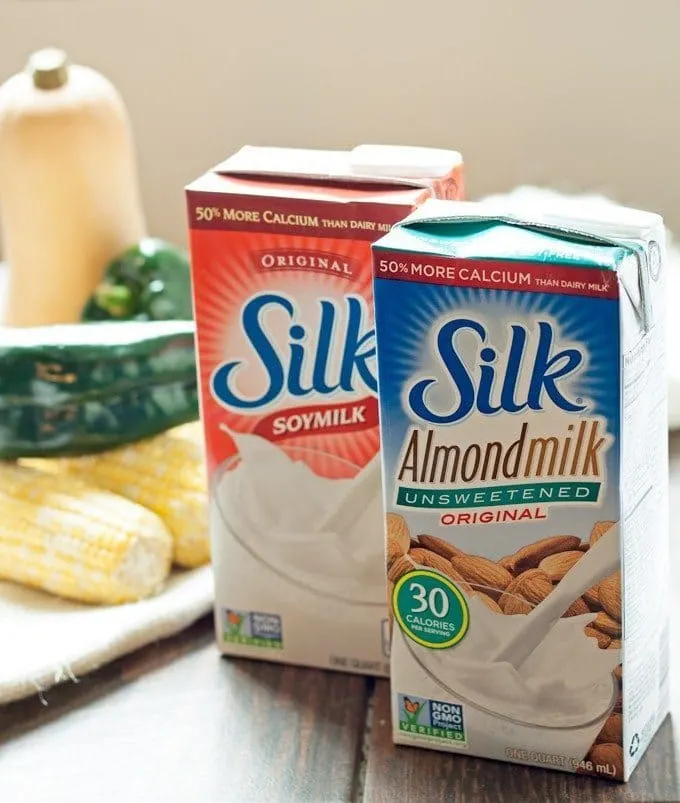 Dairy Free White Bean Butternut Squash Chili
Mr. B. challenged me at the same time as Silk challenged me to sideline meat for football season. And there is no reason you can't have delicious dairy free, meat free food and enjoy the big game!
I went to my local farmer's market looking for some veggie-based ideas and came upon a stand with butternut squash and poblano peppers. I knew immediately that they needed to put into a chili together. This chili is super easy to make – the most difficult part is chopping up the butternut squash.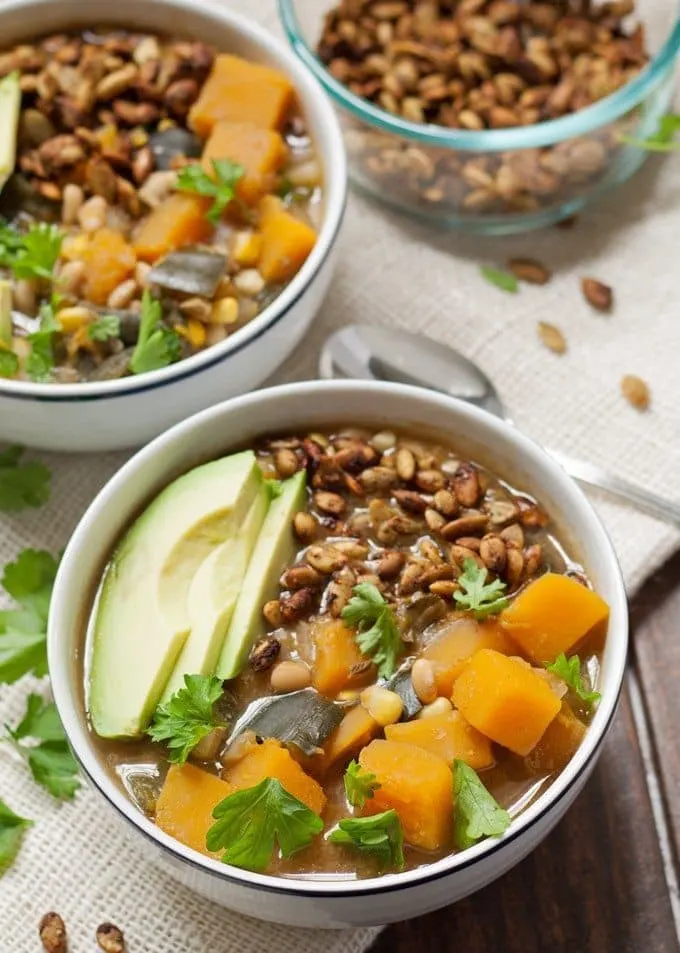 If you have never cooked with butternut squash, don't be deterred. Get the strongest vegetable peeler you own, peel away all of the skin (if there are green lines then you need to keep peeling) until the vibrant orange squash is revealed.
Then take a butcher knife and slice the squash in half length-wise. Scoop out the seeds and then you can chop it up. A little brute force may be necessary but its totally worth it.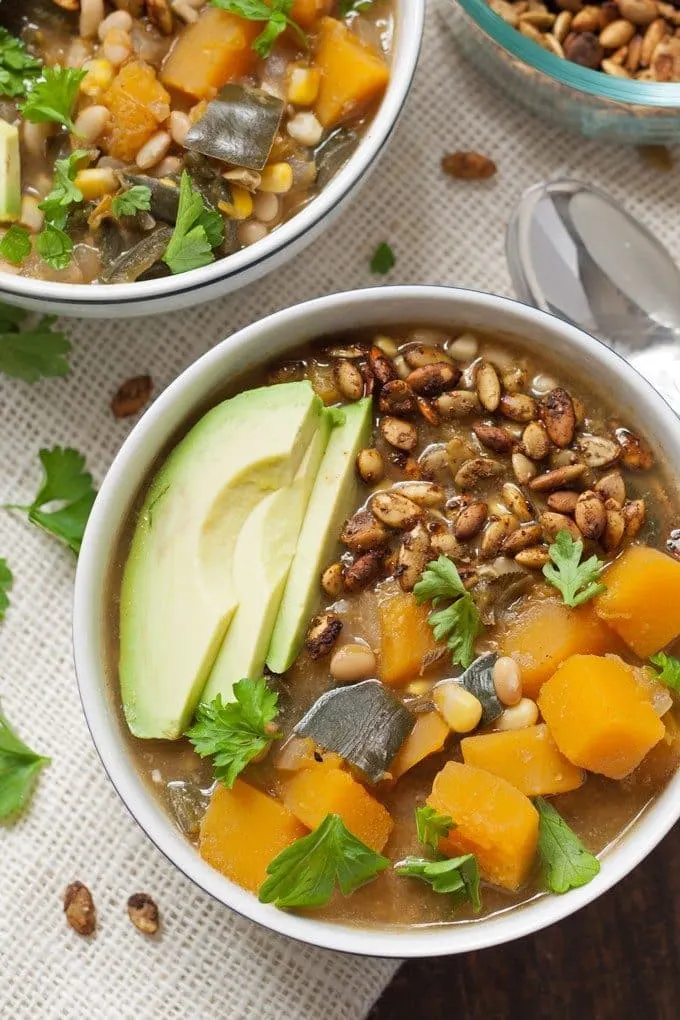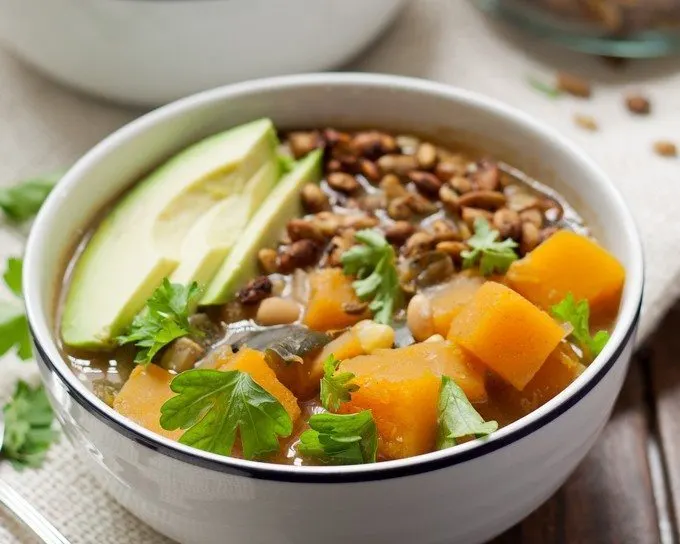 Before I start messing with the butternut squash, I put the poblano peppers in the oven for a little bit to roast them. Roasted poblano peppers = love.
If the skin from the peppers blisters, just peel it off and discard. After the peppers are roasted, its very easy to deseed and chop them.
A big soup pot or dutch oven is needed for all your ingredients and a little time. Imagine the looks on your tailgating guests' faces when they find out that delicious smell coming out of your kitchen is a pot of dairy-free, meat-free chili?
I suggest not even telling them – it will be our little secret. We garnish with avocado, fresh cilantro and homemade spiced pepitas so keep those handy too!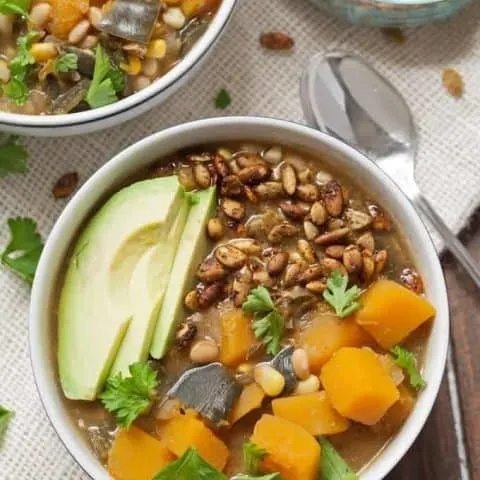 Dairy Free White Bean Butternut Squash Chili
It's time to change up Meatless Mondays with this dairy free white bean butternut squash chili! Your tailgating parties will never be the same.
Ingredients
1 cup diced onion
1 teaspoon extra virgin olive oil
1 tablespoon minced garlic
3 large poblano peppers (approximately 1 cup diced)
1 large butternut squash
1 cup corn
3 cups vegetable broth
½ tablespoon chili powder
½ tablespoon cumin
1 cup Unsweetened Almond Milk
16 ounces small white beans, rinsed and drained
Instructions
Pre-heat oven to 425 degrees. When oven is warm, put whole poblano peppers on a pan and in the oven for 10-15 minutes or until the skin starts to blister. While the poblano peppers are roasting, peel and cut your butternut squash into large 1 inch chunks. You should have approximately 4 cups cubed butternut squash.
When the peppers are done roasting, remove them from the oven. Allow them to cool, then remove the skin, stem and seeds. Cut into 1 inch chunks.
Heat the olive oil in a large soup pot over medium heat. When the olive oil is hot, add the onions and garlic, sautéing until translucent. Then add the butternut squash, poblano peppers, and corn. Stir and allow to cook for 5 minutes. Then add the vegetable broth, chili powder and cumin. Stir well and allow to simmer for 30 minutes or until the squash is tender.
Add the Silk Unsweetened Almond Milk and the small white beans. Turn heat to medium-high and cook for an additional 5 minutes.
Season to taste with salt and pepper. Garnish with avocado, cilantro, and pepitas.
Nutrition Information:
Yield:

6
Serving Size:

1
Amount Per Serving:
Calories:

191
Total Fat:

2g
Saturated Fat:

0g
Trans Fat:

0g
Unsaturated Fat:

2g
Cholesterol:

0mg
Sodium:

393mg
Carbohydrates:

35g
Fiber:

8g
Sugar:

5g
Protein:

10g
Nutrition information is automatically calculated and may not be correct.
This conversation is sponsored by Silk. The opinions and text are all mine.