This grilled chicken avocado salad is topped with homemade jalapeno cilantro dressing. It is the perfect easy summer salad and great for quick lunches!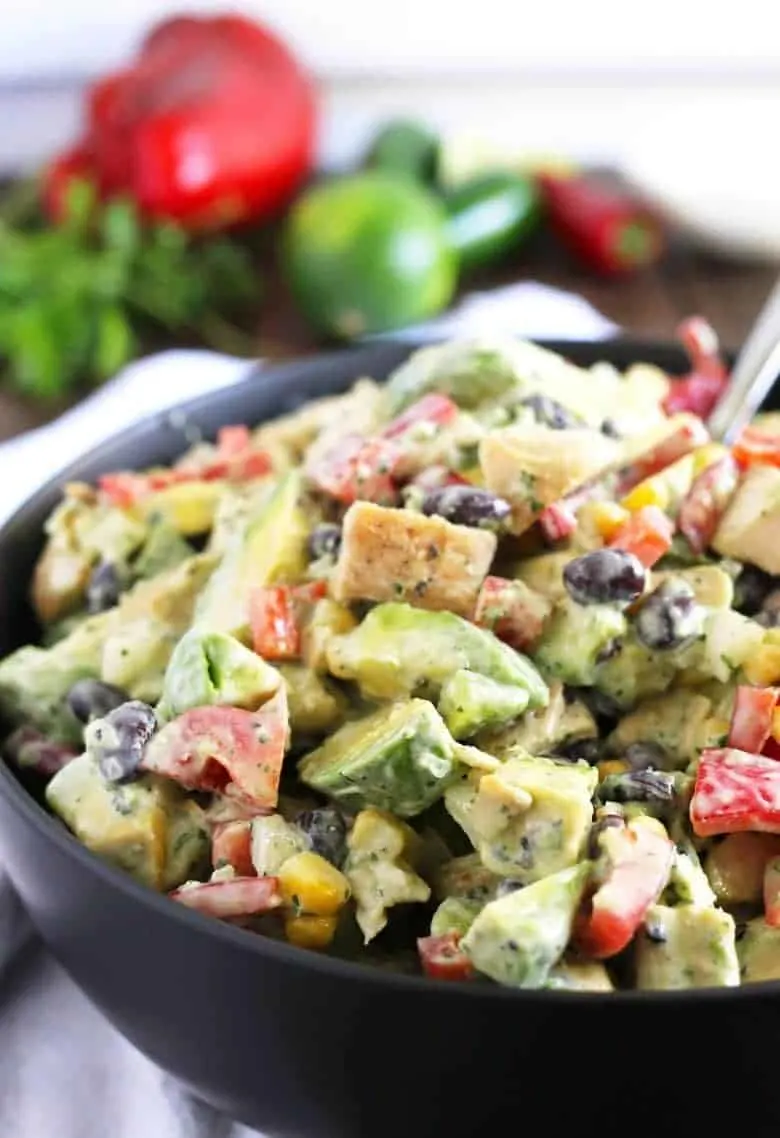 I've been taking a chance on foods I don't normally eat. Avocados used to make me squeamish, to say the least. At events, I could be seen scraping the avocado off of passed-appetizers to the amazement of my fellow guests.
Not anymore.
I have been hearing so many good things about avocados and their health benefits. Doctors have been telling me to add them to my diet for years – an avocado a day keeps the doctor away.
Slowly, oh so slowly, I've been adding avocados to my sandwiches and tacos. I even added some to my huevos rancheros.
It's about time I gave in to my fear and added them to a salad. A grilled chicken avocado salad, in fact.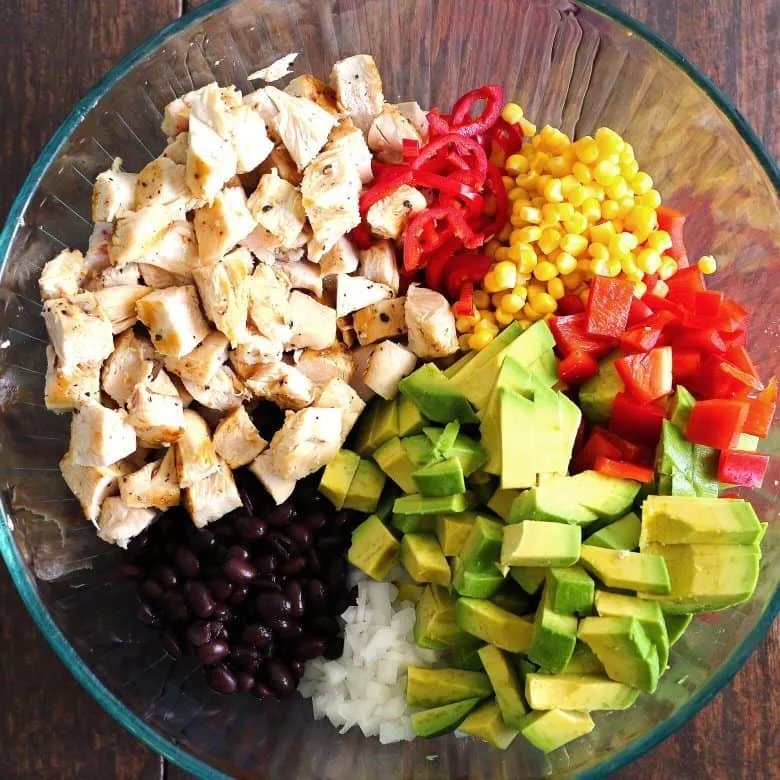 This post contains some affiliate links for your convenience. Click here to read my full disclosure policy.
Grilled Chicken Avocado Salad
In the summer, I find myself craving, and eating, a lot more salads. It made the most sense to start here on my mission to eat more avocado.
This grilled chicken avocado salad is easy to make, delicious and dressed with a homemade jalapeño cilantro salad dressing.
Start with grilled chicken. If you don't have a grill outside, you can use an electric indoor grill or a grill pan to grill it inside. I season with a little salt and pepper but that's it.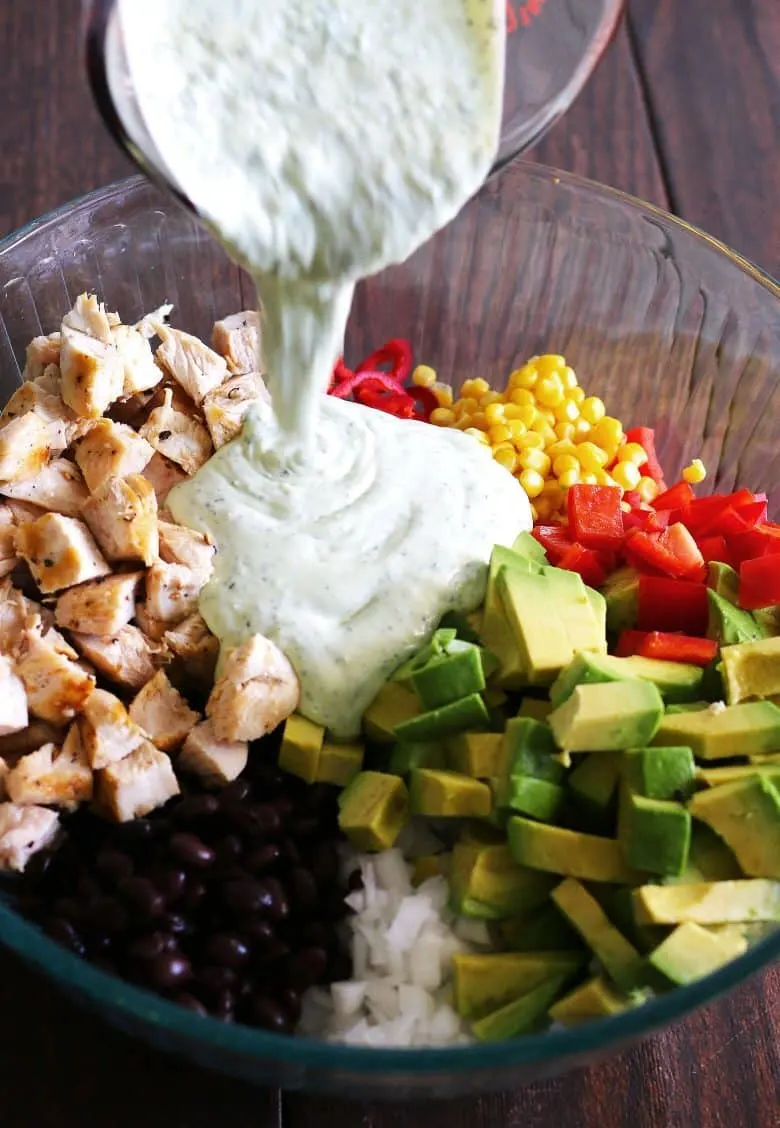 Then make the jalapeno cilantro dressing. All of the ingredients go into a food processor to be pureed. What you are left with is a thick and creamy dressing that is delicious with everything. I based it off of this easy sauce recipe.
I'm not joking; this salad dressing is my new go-to for dipping veggies, all of my salads and next will be dolloped on top of a steak.
Chop or dice the grilled chicken and all of the veggies and combine them in a bowl. Pour a cup of the dressing on top and mix everything together well.
And that's it – the end product is a delicious, and easy to make, grilled chicken avocado salad. It's also my new favorite summer salad and we keep eating it.
My doctor would be so happy about all of the avocados I've eaten.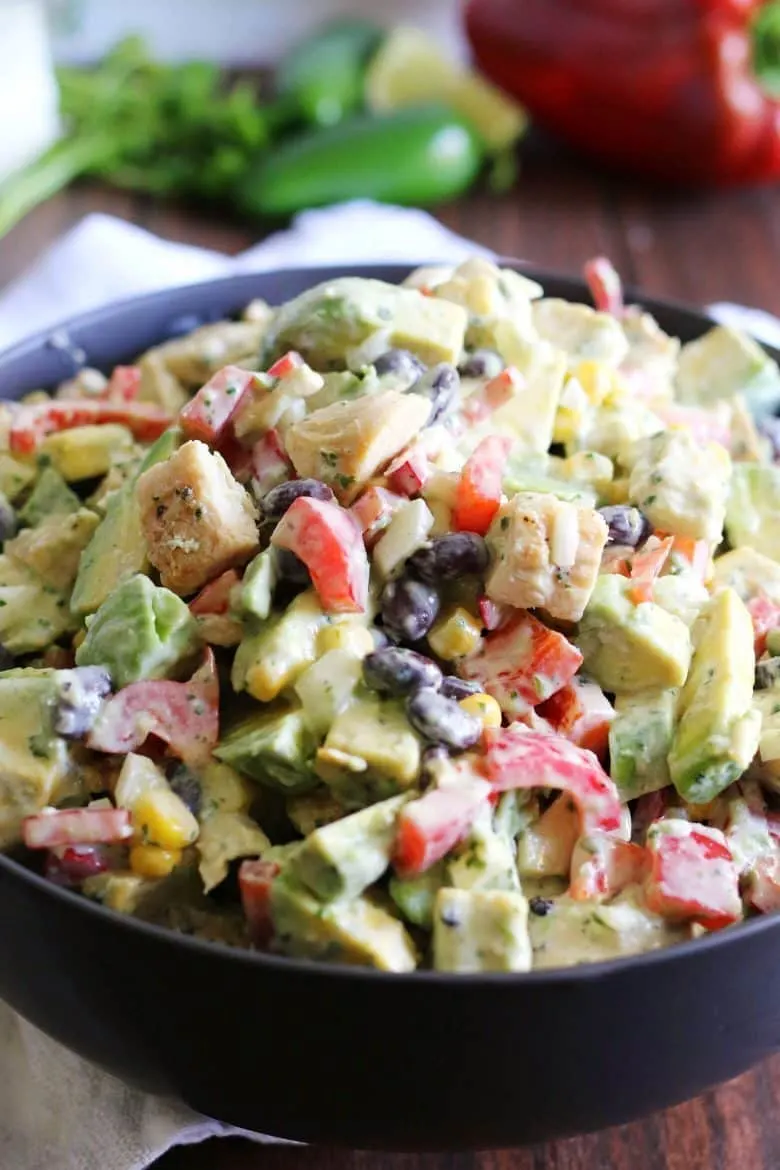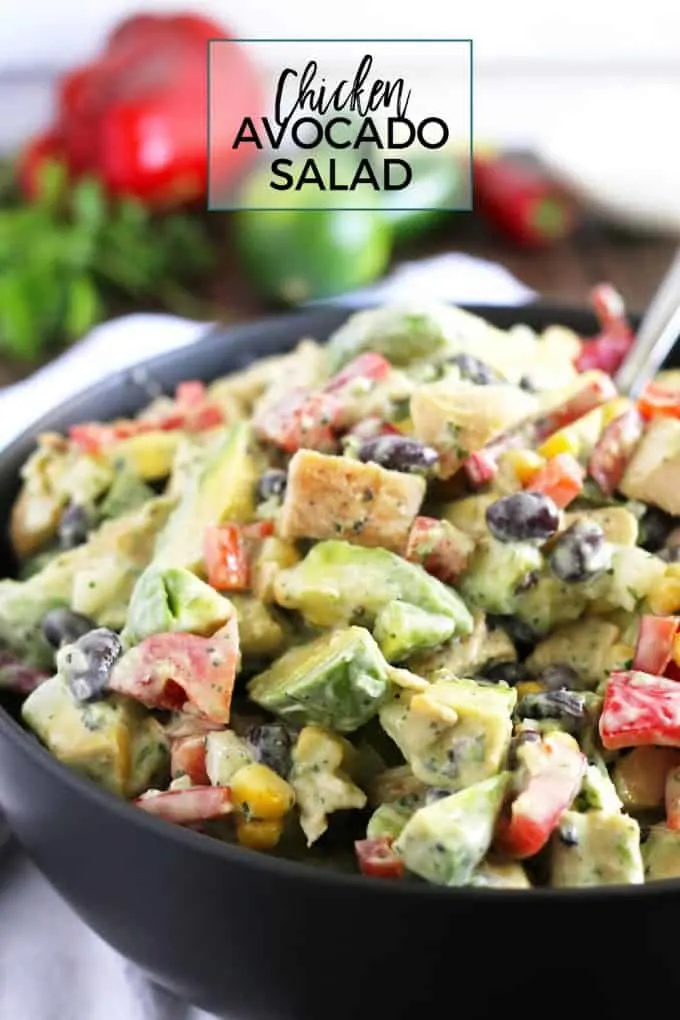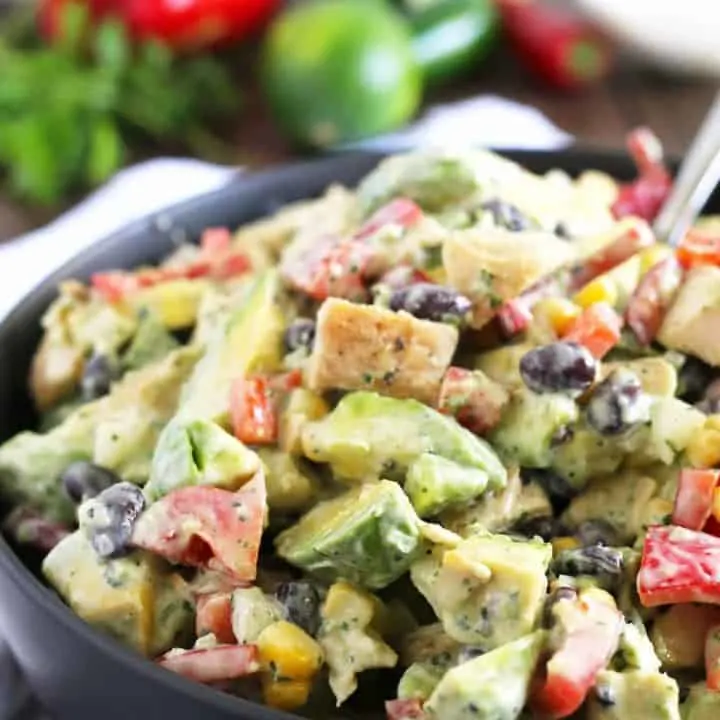 Grilled Chicken Avocado Salad
This grilled chicken avocado salad is topped with homemade jalapeno cilantro dressing. It is the perfect easy summer salad and great for quick lunches!
Ingredients
2 pounds chicken breast, grilled and diced
2 avocados, peeled, pitted and diced
1 cup diced red bell pepper
1 cup black beans, drained and rinsed
1/2 cup corn kernels (if canned - drained, if frozen - thawed)
1/2 cup diced white onion
1/4 cup thinly sliced fresno peppers, deseeded
Jalapeno Cilantro Dressing
2 cups greek yogurt
2 jalapeños, roughly chopped
1 large handful of cilantro
2 garlic cloves
1 tablespoon extra virgin olive oil
2 teaspoon salt
1/8 teaspoon black pepper
juice of 2 limes
Instructions
Make the salad dressing.
Combine all Jalapeño Cilantro Dressing ingredients in a food processor or blender and pulse until well combined. Set aside.
To make the grilled chicken avocado salad
Combine all salad ingredients and 1 cup of salad dressing in a large bowl. Gently toss until the ingredients are coated in dressing.
Cover and refrigerate any leftovers.
Recommended Products
As an Amazon Associate and member of other affiliate programs, I earn from qualifying purchases.
Nutrition Information:
Yield:

8
Serving Size:

1
Amount Per Serving:
Calories:

349
Total Fat:

11g
Saturated Fat:

2g
Trans Fat:

0g
Unsaturated Fat:

8g
Cholesterol:

123mg
Sodium:

816mg
Carbohydrates:

22g
Fiber:

6g
Sugar:

8g
Protein:

43g
---
Looking for more grilled chicken recipes?
Try this grilled chicken ranch pasta salad.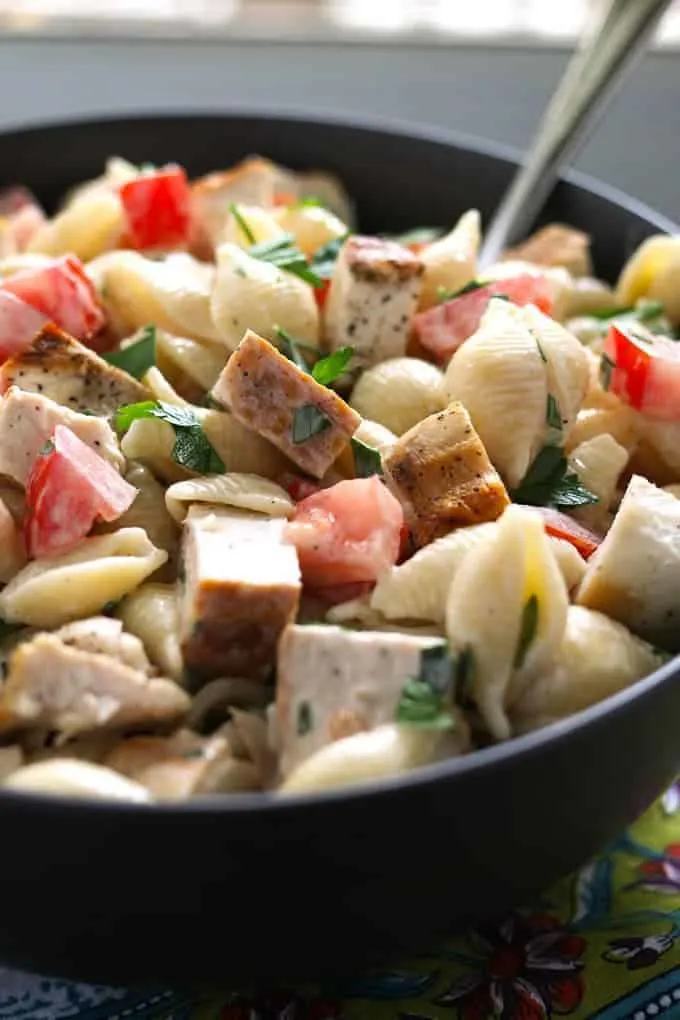 Chicken fajita mac and cheese – love this recipe!