Grapefruit curd and grapefruit buttercream frosting are delicious when enjoyed with your favorite chocolate cupcake recipe. They are the perfect way to enjoy winter citrus!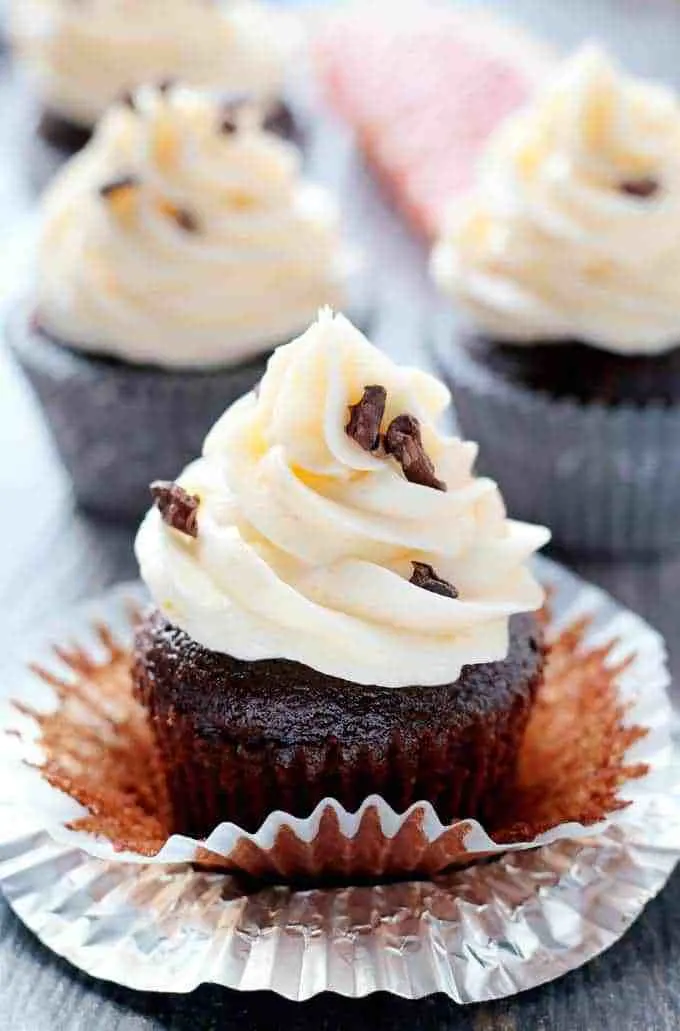 Earlier this month, I attended an event called "A Sweet Taste of Destination Kohler" at The Social Table here in Chicago (super cute venue btw!)
You may remember my trip to the Kohler Food and Wine Experience last fall – I felt like this was a mini taste of all of that awesomeness brought right to my door.
A few Chicago bloggers and myself got to experience an intimate and interactive evening with Destination Kohler's award-winning Executive Pastry Chef, Josh Johnson and Head Chocolatier, Anette Righi DeFendi.
I had a great time! I ate a lot of chocolate (and drank a little wine.)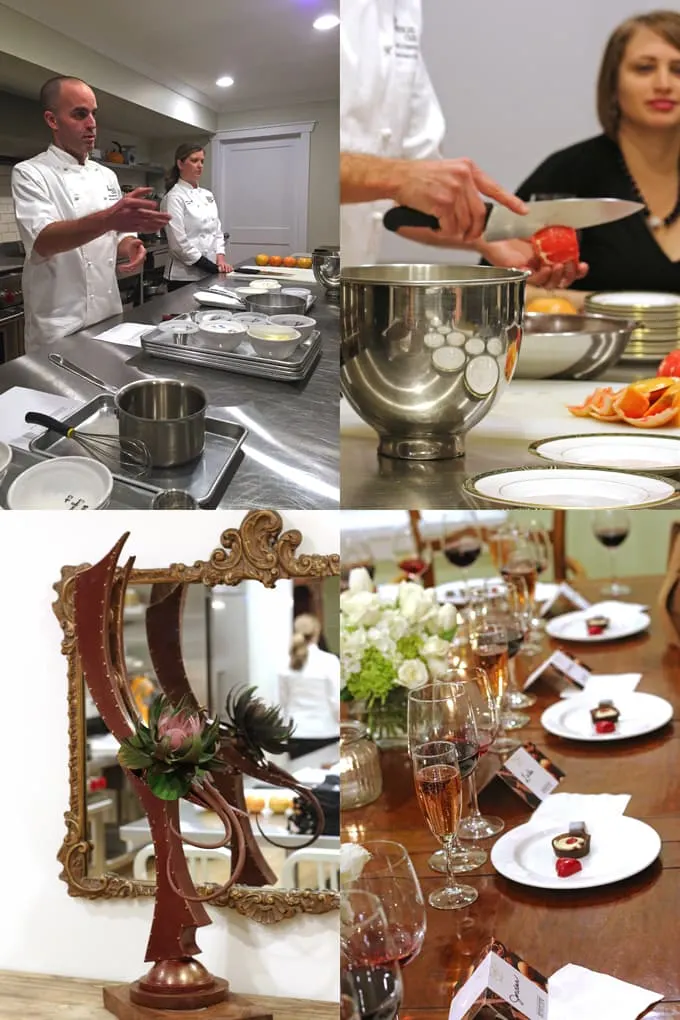 We got to help Chef Josh make this delicious dessert; I originally intended to share one of his recipes here with you but I had trouble getting one of the components.
If I can't find it, you probably can't either so I created a cupcake "inspired" by what we ate (more on that in a little bit.)
After that Chocolatier Anette led us through three chocolate pairings. I loved her choices! I even wrote down the names of all of the beverages she chose so I can add them to my boozy repertoire.
The tawny port she chose was a particular favorite of mine (and it's already on my shopping list!)
If you want to partake in some of the awesome chocolates of Kohler, consider attending In Celebration of Chocolate this weekend. The three-day cocoa-centric soiree will see notable Chicago-based Executive Pastry Chef, Toni Roberts (theWit Hotel, Chicago) and Donald Wressell, Executive Pastry Chef at the renowned Guittard Chocolate Company, along with Josh and Anette.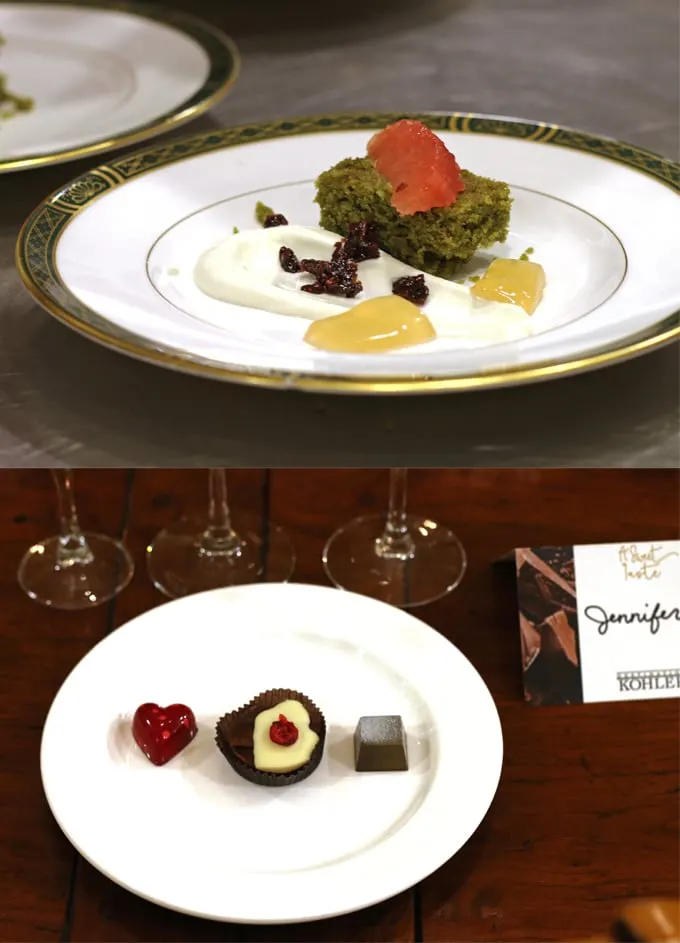 Demonstrations include putting together a dark chocolate s'mores parfait, DIY chocolate sculptures and a hands-on experience discovering the secrets of chocolate with Anette.
Or you can order some Kohler chocolates from their website, like Dark Chocolate Hearts or my favorite, the Buttery Terrapins.
Chocolate Cupcakes with Grapefruit Curd and Grapefruit Buttercream Frosting
Since I couldn't replicate Josh's recipes, I made some cupcakes. Nothing like dealing with frustration with a delicious sweet treat.
These chocolate cupcakes are moist and delicious. I followed a chocolate cake recipe on King Arthur's Flour exactly, so I'm not going to rewrite it here.
Head over there and it will make 24 cupcakes.
The piece de resistance of this post is the grapefruit curd and the grapefruit buttercream frosting. I just couldn't resist the flavors – grapefruit is quickly becoming my new favorite citrus.
When you decide to make these cupcakes, make the grapefruit curd first. While it's cooling/setting, make your cupcakes. Since you should wait to frost the cupcakes until they are cooled, go watch a movie or go for a walk.
When you come back, whip up the grapefruit buttercream frosting.
To assemble the cupcakes, use a butter knife to remove the center of the cooled cupcakes. Use a spoon to fill the cavity with grapefruit curd.
When frosting, pipe frosting over the grapefruit curd and then pipe frosting around that. This will help stop the curd from jumping ship.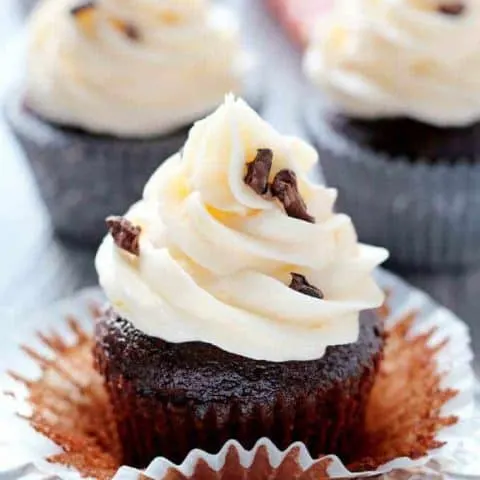 Grapefruit Curd and Grapefruit Buttercream Frosting
Total Time:
1 hour
50 minutes
Grapefruit curd and grapefruit buttercream frosting are delicious when enjoyed with your favorite chocolate cupcake recipe. They are the perfect way to enjoy winter citrus!
Ingredients
Grapefruit Curd
6 tablespoons unsalted butter, softened
1 cup white sugar
2 large eggs
2 large egg yolks
2/3 cup fresh grapefruit juice
1 teaspoon grapefruit zest
Grapefruit Buttercream Frosting
1 cup unsalted butter, softened
3 tablespoons grapefruit zest
1 (32 ounce) package powdered sugar
8 tablespoons grapefruit juice
Instructions
Grapefruit Curd
In the bowl of a stand mixer, beat the butter and sugar for 2 minutes. Slowly add the eggs and yolks and beat for 1 min. Add the grapefruit juice (mixture will look curdled.)
In a medium saucepan, cook the mixture over low heat until it's appearance smooths out. Increase the temperature to medium and cook, stirring constantly for about 15 minutes (until the mixture thickens.) Don't let the mixture boil.
Remove the saucepan from the heat and stir in the grapefruit zest. Transfer the curd to a bowl and press plastic wrap on the surface of the grapefruit curd. Chill in the refrigerator and it will thicken as it cools.
Grapefruit Buttercream Frosting
Beat the butter and grapefruit zest at medium speed with an electric mixer until creamy (1-2 minutes.) Gradually add the powdered sugar, alternating with grapefruit juice, beating at low speed until blended.
Notes
Chocolate cupcake recipe from King Arthur's Flour.br]Curd recipe adapted from [Fine Cooking.br]Buttercream recipe adapted from [My Recipes.
Nutrition Information:
Yield:

14
Serving Size:

1
Amount Per Serving:
Calories:

282
Total Fat:

20g
Saturated Fat:

12g
Trans Fat:

0g
Unsaturated Fat:

7g
Cholesterol:

114mg
Sodium:

24mg
Carbohydrates:

25g
Fiber:

0g
Sugar:

23g
Protein:

2g