These chocolate coffee cupcakes with a whiskey buttercream frosting and candied bacon are perfect for Father's day!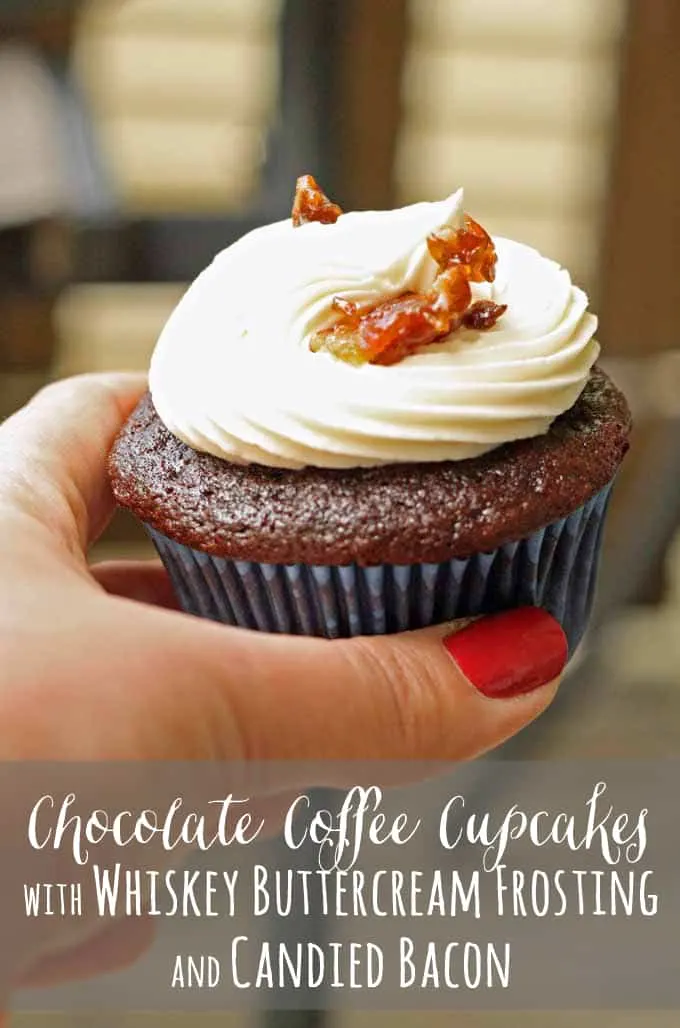 Hello cupcake, bacon and dad lovers!
Father's Day is fast approaching and it's time to treat our dads to some baked goodies. I love making baked goods for every holiday and I feel like sometimes dads get the short stick when it comes to sweet treats on their big day. If tradition carries through, they definitely are getting a bunch of ties (but hopefully not short ties.)
My dad is not the kind of guy to turn down a cupcake. Nor a piece of bacon. So I figured if I combined the two ingredients (with two more ingredients that should be consumed in moderation) then it would equal out to a handful of happy Father's Day thoughts.
And they are pretty freaking cool. I have been playing with them all month, trying out different recipes and I finally settled on this recipe for chocolate coffee cupcakes with whiskey buttercream frosting because it gives me a chance to show off both mixers (I used one to make the cupcakes and one to make the frosting). And the candied bacon on top is pretty awesome too!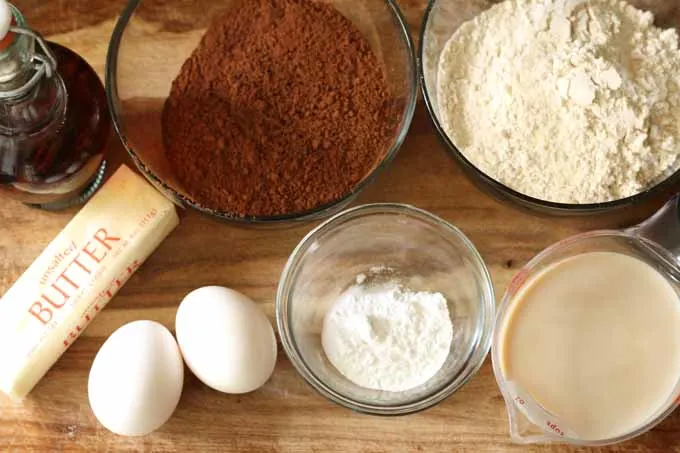 The 6 Speed Stand Mixer has the same mixing action as a similar popular stand mixer (you know which one I'm talking about!) It's 300 watt motor is powerful!
I probably should have made bread for this write-up just to show you how much power it has. That's okay – perfectly mixed cupcakes will do just fine to introduce you to the product.
I found this pretty simple recipe for chocolate cupcakes on allrecipes.com and modified it to add the coffee. It's a great recipe because the cupcakes are so incredibly moist.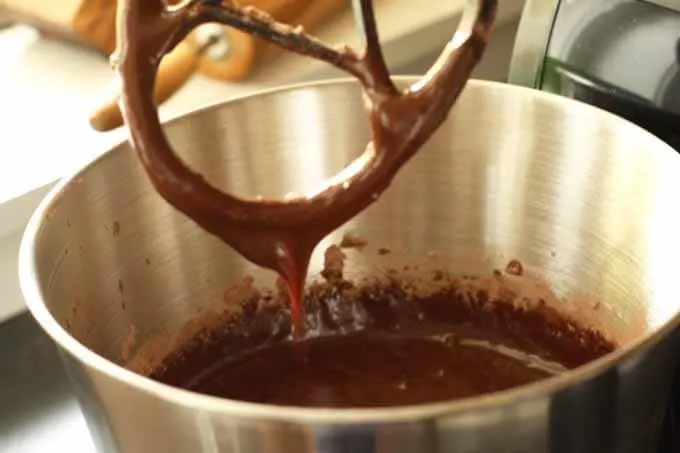 Really watch them at the end so you don't overcook them because they are really what brings this whole recipe together. If you want to skip the whiskey and the bacon, plain frosting is great on these cupcakes too because they have so much flavor. And a slightly healthier cupcake isn't a terrible thing either.
Mr. B thinks both of these mixers look great on our counter – we're big fans of the stainless steel look. I especially like how all the hand mixer pieces fit so nicely into the storage case (which snaps on!) for the Soft Scrape 6 Speed hand mixer. It's hands down a great hand mixer.
One of the things I like the most is that you don't have to stop and scrape the bowl at all. It's helped me make a few batches of mashed potatoes so far (in addition to this frosting.) See the red stuff in the picture above? Yeah, that scrapes the bowl for you without the risk of ruining the bowl. You could even mix right in your baking dish if you wanted to.
Chocolate Coffee Cupcakes with Whiskey Buttercream Frosting and Candied Bacon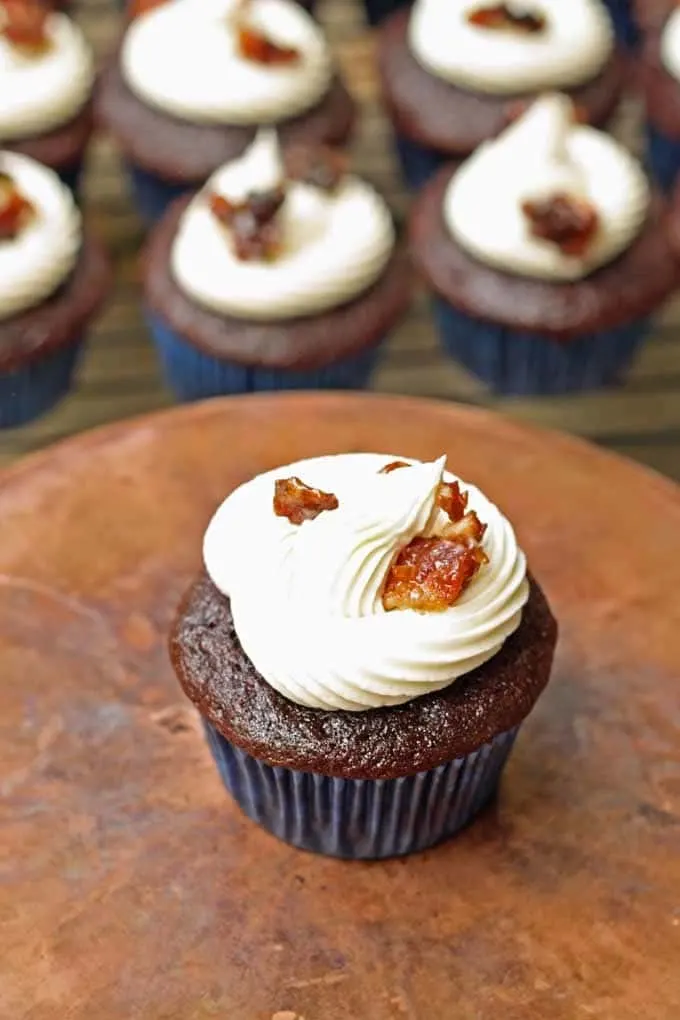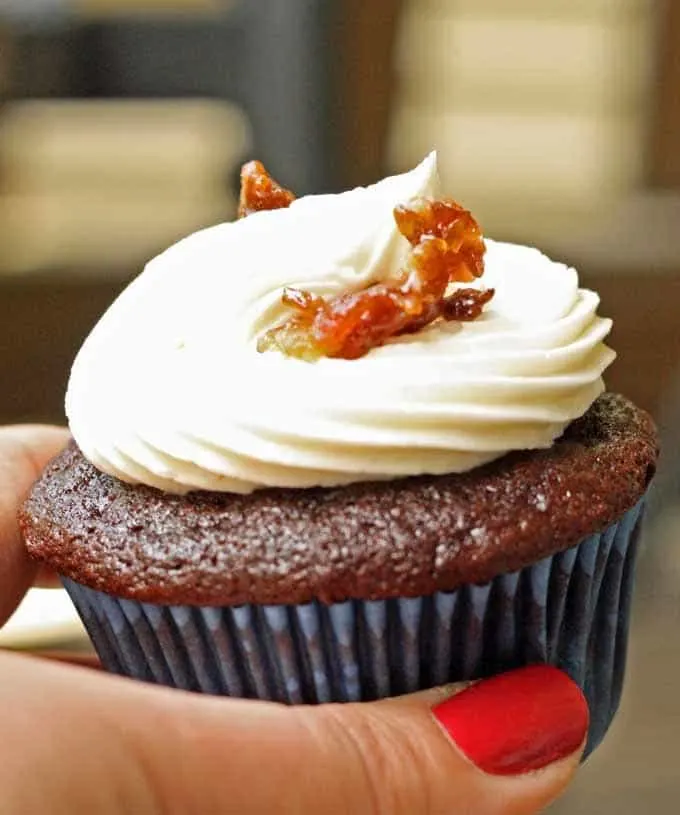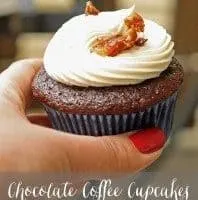 Chocolate Coffee Cupcakes
These chocolate coffee cupcakes are topped with whiskey buttercream frosting and candied bacon - perfect for a Father's Day treat.
Ingredients
Chocolate Coffee Cupcakes
1 ⅓ cup flour
¼ teaspoon baking soda
2 teaspoons baking powder
¾ cup unsweetened cocoa powder
⅛ teaspoon salt
3 tablespoons unsalted butter, softened
1 ½ cups white sugar
2 eggs, room temperature
¾ teaspoon vanilla extract
3 tablespoons coffee, brewed strong
1 cup milk (minus 3 tablespoons)
Whiskey Buttercream Frosting
3 cups powdered sugar
1 cup butter, softened
1 ½ teaspoons vanilla
2 tablespoons whiskey
Candied Bacon
4 pieces of bacon
⅓ cup light brown sugar
Instructions
Chocolate Coffee Cupcakes
Preheat oven to 350 degrees F and line a muffin pan with cupcake liners.
Combine the flour, baking powder, baking soda, cocoa powder and salt in a bowl. Sift all of the ingredients together.
Using a stand mixer, cream together the butter and sugar. Add the eggs, one at a time until combined.
Then add the vanilla, milk and coffee. (To measure out the milk, take a 1 cup measuring cup and add the three tablespoons of coffee, then fill to the 1 cup line with milk.)
Add the flour until well mixed.
Pour the batter evenly into the cupcake liners. Fill each one to ¾ full.
Bake 15-17 minutes. Insert a toothpick into the center of the cupcake - if it comes out clean it is finished. Remove from oven and let cool 10 minutes in the pan. Finish cooling on a cooling rack.
Whiskey Buttercream Frosting
In a medium bowl, use an electric hand mixer to combine the sugar and butter.
Slowly add the vanilla and whiskey until combined.
Candied Bacon
Preheat oven to 350 degrees.
Chop the bacon into small pieces and put it in a bowl.
Add the brown sugar and toss to coat the bacon.
Line a cookie tray with foil or parchment paper. Put the bacon on the tray and cook for 10 minutes, using a spoon to stir the bacon after 5 minutes. When the sugar is boiling check one piece of bacon, if crispy the bacon is done.
Remove from oven and let cool for 5 minutes before transferring the bacon to a piece of parchment paper to cool before using.
Nutrition Information:
Yield:

12
Serving Size:

1
Amount Per Serving:
Calories:

502
Total Fat:

21g
Saturated Fat:

12g
Trans Fat:

1g
Unsaturated Fat:

7g
Cholesterol:

85mg
Sodium:

340mg
Carbohydrates:

72g
Fiber:

1g
Sugar:

57g
Protein:

6g