Strawberry lemonade cupcakes are the perfect spring dessert! Sweet and tangy – one of the BEST combinations out there!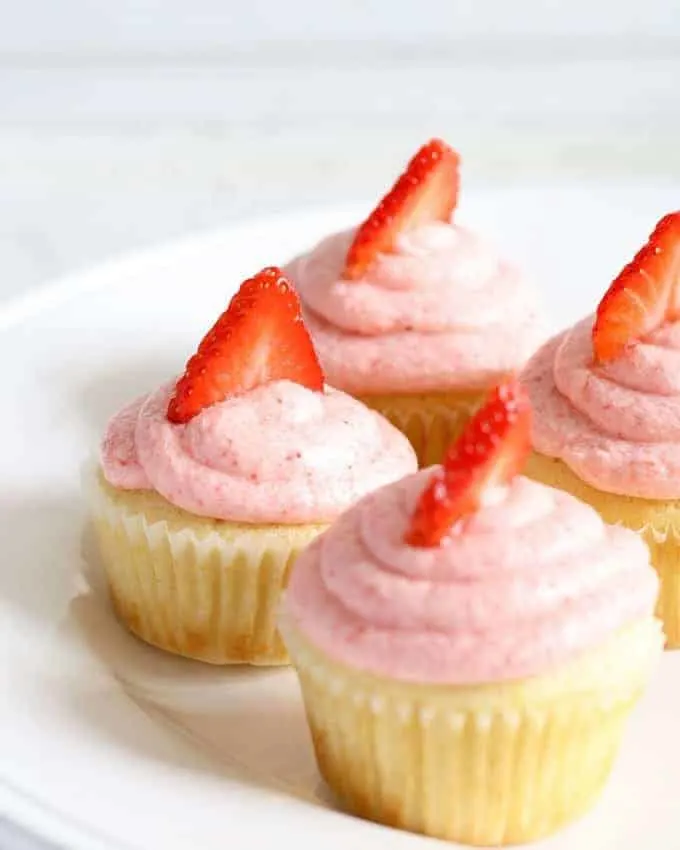 These cupcakes first graced the screens over at Craftaholics Anonymous. This is the second recipe I ever shared there and it taught me a few things. One, not everyone is a natural baker. Two, I am not always right.
Big lessons brought on by a dozen cupcakes, right?
These cupcakes also were an opportunity for me to share some fun baking tips, or at least, that's how I look at them. Like, did you know that if you microwave your lemons before juicing them, they will produce more juice?
Great tip if you plan on making lots of strawberry lemonade cupcakes.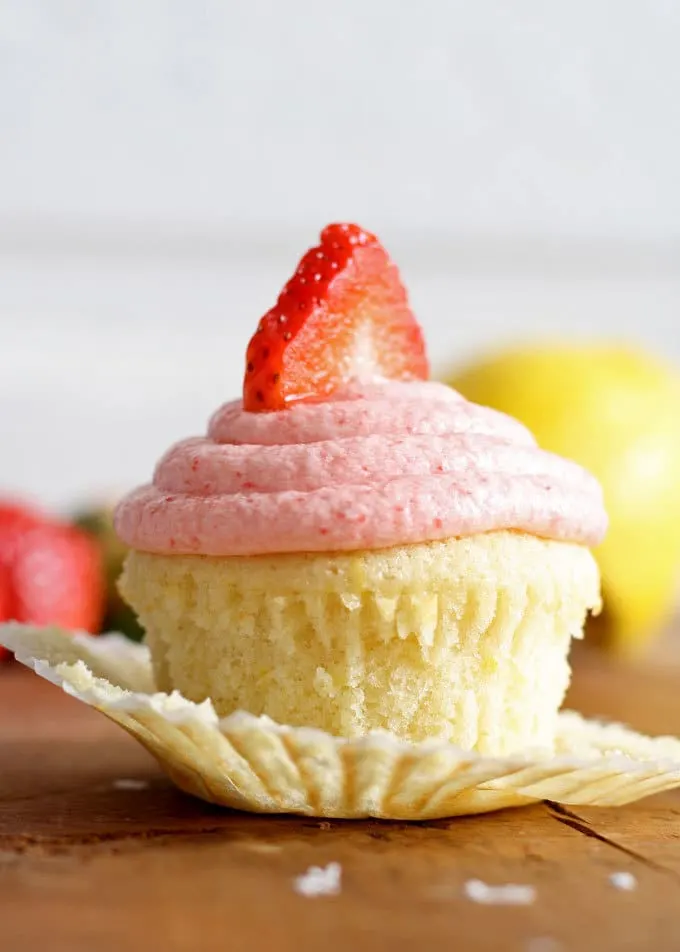 Also, did you know there is a wrong and a right way to measure flour? If you aren't using a kitchen scale (which is the only way to be 100 percent accurate in your flour measurements), then whisk your flour really good before putting it in a measuring cup.
Also, spoon it into the measure cup and use the back end of a knife to level it off. Over fill it and then level it (this is my baking mantra.)
These cupcakes are pretty easy to make – the only area you may have difficulty is the frosting. Mix the butter and powdered sugar together and then slowly add the strawberry puree and lemon juice. If you over juice, add a little more powdered sugar to even it out.
Strawberry Lemonade Cupcakes
Making cupcakes is very much a science but you have more leverage with the frosting.
My cupcakes have been fluffier and better tasting ever since I started using this technique.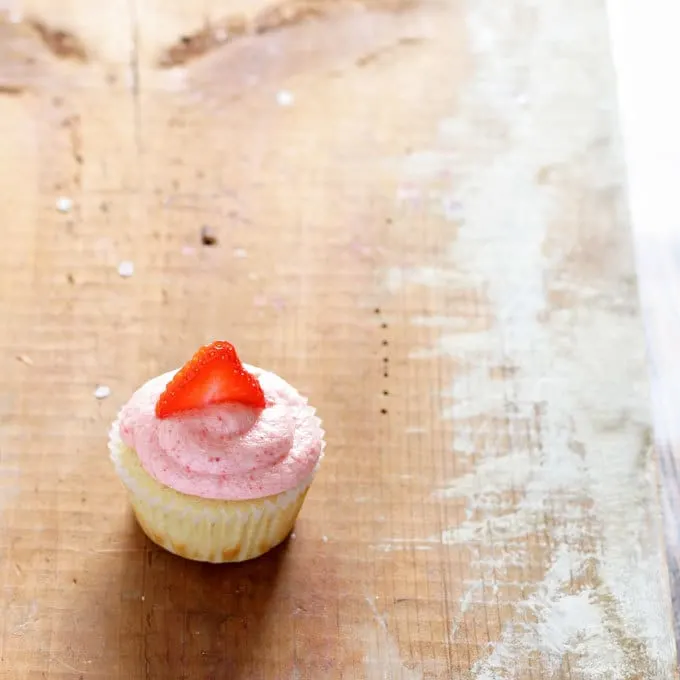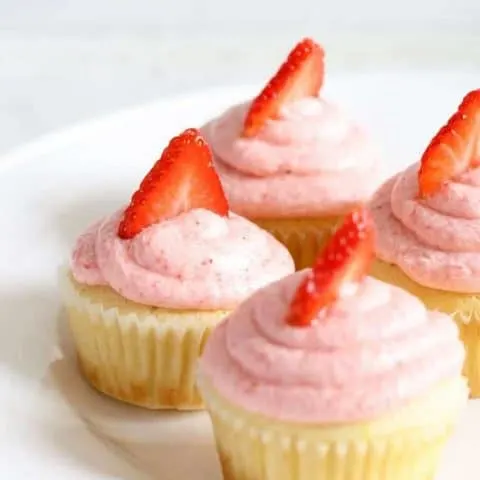 Strawberry Lemonade Cupcakes
Strawberry lemonade cupcakes are the perfect spring dessert! Sweet and tangy - one of the BEST combinations out there!
Ingredients
Cupcakes
2 cups flour
2 teaspoons baking powder
1/2 teaspoon kosher salt
1 cup white sugar
1/2 cup unsalted butter, softened
2 eggs at room temperature
1 cup milk
1 1/2 teaspoon vanilla extract
zest of 1 lemon
2 teaspoons lemon juice
Frosting
1 stick unsalted butter, room temperature
2 cups powdered sugar
1/2 teaspoon lemon juice
1 tablespoon strawberry puree (about 1/2 cup diced strawberries blended or processed)
Instructions
Preheat oven to 375 degrees. Prepare a muffin/cupcake pan with 12 cupcake liners.
In a medium bowl, whisk the flour, baking powder and salt together and set aside. In the bowl of stand mixer fit with a paddle, on medium, beat the sugar and butter together until smooth. Add the eggs, one at a time until well mixed. Beat in the milk, vanilla extract, lemon zest and lemon juice until combined.
Add the reserved flour mixture to the wet ingredients and mix on low for 1-2 minutes, until the wet and dry ingredients are combined. *Batter will be thicker than normal.
Pour the batter into the prepared muffin pan, distributing the batter evenly. Bake for 16-18 minutes or until a toothpick comes out clean. Remove pan from the oven and let cool for 10 minutes. Then take the cupcakes out of the pan and continue cooling on a cooling rack.
While the cupcakes are cooling, make the frosting. In a bowl, whisk the butter on high until smooth. Then slowly whisk the powdered sugar in until combined and fluffy. Add the lemon juice and strawberry puree, in small amounts, into the frosting until just combined and you have reached the consistency you desire.
Pipe or spread the frosting on the cupcakes when they are completely cool.
Nutrition Information:
Yield:

12
Serving Size:

1
Amount Per Serving:
Calories:

378
Total Fat:

17g
Saturated Fat:

10g
Trans Fat:

0g
Unsaturated Fat:

6g
Cholesterol:

73mg
Sodium:

195mg
Carbohydrates:

54g
Fiber:

1g
Sugar:

36g
Protein:

4g