This slow cooker beer cheese soup is super easy to make! It combines sharp cheddar cheese, cream cheese, and beer and is delicious for lunch or dinner.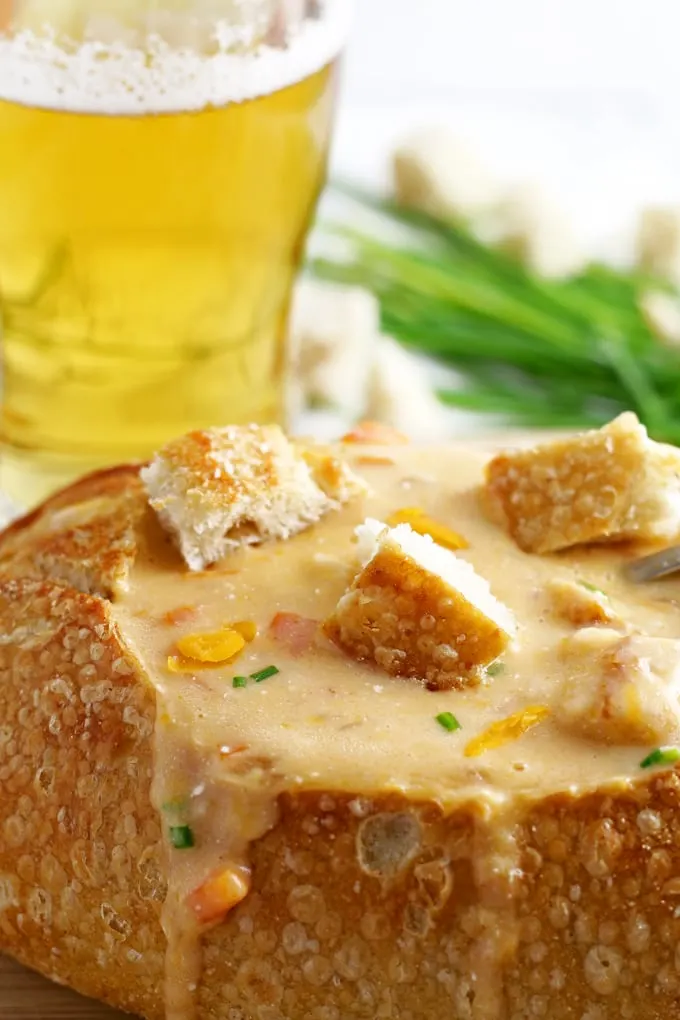 I had a blast making this recipe!
Many beer cheese soup recipes say to use a lager, pilsner or wheat beer. I say, use whatever beer is your favorite!
For this recipe and these pictures I used a pilsner, but I usually use scotch ale because I love how malty and dark it is.
Get out your slow cooker and get cooking cause you are going to love this soup.
Serve it with crusty bread or like me – in a sourdough bread bowl!
Slow Cooker Beer Cheese Soup Ingredients
Chicken Broth or Stock – Chicken broth or stock serves as the liquid base for your soup.
It provides a savory and flavorful foundation while contributing depth and richness to the dish.
The broth adds essential moisture to the slow cooker, allowing the other ingredients to meld and create a comforting soup.
Beer – Beer is a crucial ingredient that imparts a unique and complex flavor profile to the soup.
It contributes a rich, malty note and a hint of bitterness that pairs wonderfully with the creamy cheese.
The beer also helps create a velvety texture in the soup, making it a standout comfort food.
Cornstarch – Cornstarch is used as a thickening agent in the soup. It helps give the soup its desirable creamy and slightly thick consistency.
Mixing cornstarch with melted butter creates a roux that thickens the soup without altering its flavor.
Unsalted Butter – Unsalted butter is an essential component of the roux for thickening the soup.
When melted, it forms the base of the roux, allowing the cornstarch to dissolve and create a smooth, lump-free thickening agent.
Additionally, it adds a rich and buttery taste to the soup.
Diced Carrot – Finely diced carrots introduce a natural sweetness and vibrant orange color to the soup.
They also contribute a slight crunch and a hint of earthy flavor, balancing the richness of the cheese and beer.
White Onion – Diced white onions bring a savory and aromatic quality to the soup.
They become tender and sweet as they cook in the slow cooker, enhancing the overall depth of flavor.
Cream Cheese – Cream cheese adds creaminess and a subtle tang to the soup.
Blended into the mixture, it creates a luscious and velvety texture while mellowing the beer and cheddar cheese flavors.
Sharp Cheddar Cheese – Sharp cheddar cheese is the show's star, providing the soup with its iconic rich and cheesy taste.
As it melts into the soup, it imparts a bold, tangy flavor and creates a luxurious, velvety consistency.
Black Pepper and Salt – Black pepper and salt are used to season the soup to your preference.
They enhance the flavors of the other ingredients, ensuring a well-balanced and savory taste. Adjust the seasoning as needed to achieve the perfect flavor profile.
These ingredients combine in your slow cooker to create a delightful and comforting beer cheese soup.
The combination of chicken broth, beer, and a blend of cheeses yields a flavorful and creamy soup with a hint of beer's malty bitterness.
Adding diced carrots and onions adds depth, while the roux provides thickness and creaminess.
Customize the seasonings to suit your taste, and enjoy a bowl of this delicious soup with its robust and complex flavors.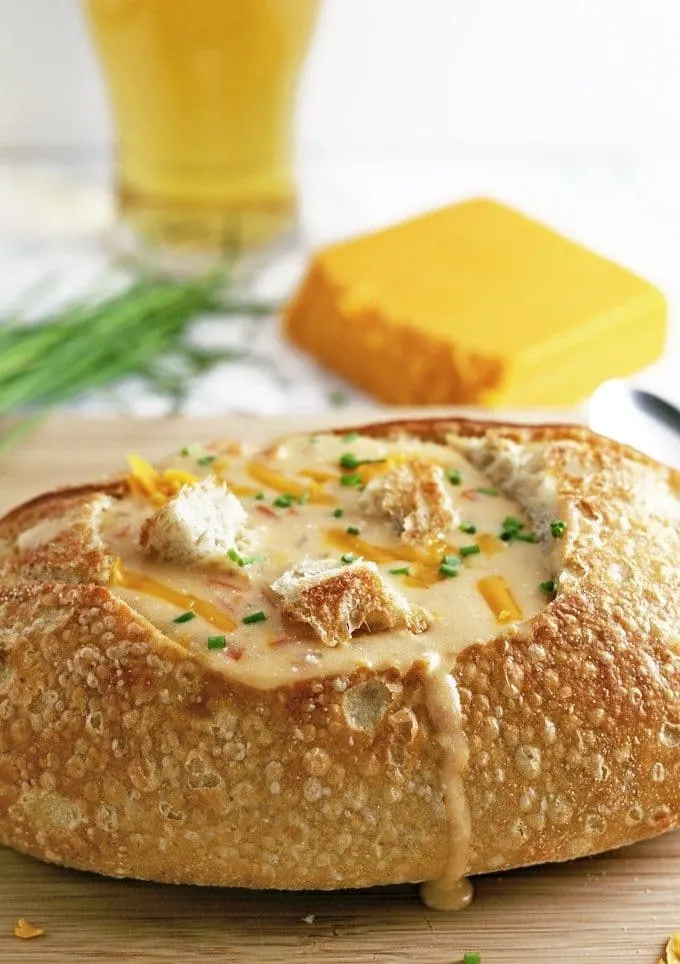 How to Make Slow Cooker Beer Cheese Soup
Begin by setting up your slow cooker for the soup-making process.
First, pour the chicken broth or stock into the slow cooker. Then, add the beer, infusing the soup with its unique flavor.
To ensure the soup thickens properly, whisk in the cornstarch until it's completely smooth. This cornstarch mixture is a thickening agent that will give the soup its desired creamy consistency.
Next, pour in the melted, unsalted butter, which contributes richness and a hint of buttery flavor to the soup.
Finally, add the finely diced carrots and white onions to the slow cooker. Stir everything together until well combined.
These vegetables will provide a touch of sweetness and earthiness to complement the cheese and beer flavors.
Cover the slow cooker and set it to cook on low heat for 6 hours. The soup will gently simmer during this time, allowing the flavors to meld and develop.
The carrots and onions will become tender, and the beer and chicken broth will infuse the soup with their rich, savory notes.
This slow-cooking process ensures that the soup achieves its desired depth of flavor and a comforting, hearty quality.
After the initial 6-hour slow cook, it's time to introduce the creaminess to the soup.
Add the softened cream cheese to the slow cooker. This cream cheese will create a luxurious and velvety texture while imparting a subtle tanginess.
Continue to cook the soup on low for an additional 20 minutes. This brief cooking period allows the cream cheese to be fully incorporated into the soup.
Stir the soup well after the cream cheese has melted into it.
Then, add the star ingredient: the shredded sharp cheddar cheese.
Stir until the cheese is completely melted into the soup. This cheddar cheese provides the iconic rich and cheesy taste that defines the soup.
To perfect the flavor, season the soup with black pepper and salt to taste, adjusting the seasonings to your preference.
Finally, the soup is ready to be served.
Ladle the hot and creamy Slow Cooker Beer Cheese Soup into bowls and serve immediately.
The soup is at its best when enjoyed right after cooking, allowing you to savor its robust flavors and comforting warmth.
Optionally, you can garnish each serving with additional shredded cheddar cheese, crumbled bacon, chopped green onions, or a drizzle of hot sauce for extra flavor and texture.
These steps result in a delightful and satisfying beer cheese soup perfect for enjoying on a chilly day or as a comforting meal at any time of the year.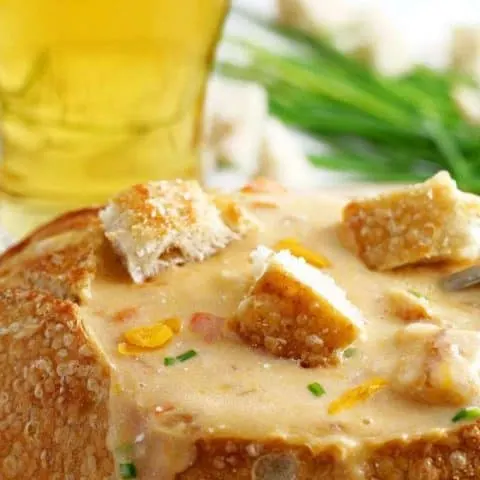 Slow Cooker Beer Cheese Soup
Cook Time:
6 hours
20 minutes
Total Time:
6 hours
30 minutes
This slow cooker beer cheese soup is super easy to make! It combines sharp cheddar cheese, cream cheese and beer and is delicious for lunch or dinner. Serve it with crusty bread or like me, in a sour dough bread bowl!
Ingredients
4 cups chicken broth or stock
16 ounces beer
¼ cup cornstarch
¼ cup unsalted butter, melted
1 cup finely diced carrot
1 cup finely diced white onion
4 ounces cream cheese, softened
8 ounces sharp cheddar cheese, shredded
black pepper and salt to taste
Instructions
Combine the chicken broth and beer in a slow cooker. Whisk in the cornstarch until smooth. Add the melted butter, carrots and onions and stir until combined.
Cook on low for 6 hours.
Add the cream cheese and cook on low for an additional 20 minutes. Stir well, then add the shredded cheddar cheese. Stir until the cheese is melted. Add black pepper and salt to taste.
Serve immediately.
Nutrition Information:
Yield:

6
Serving Size:

1
Amount Per Serving:
Calories:

394
Total Fat:

28g
Saturated Fat:

16g
Trans Fat:

0g
Unsaturated Fat:

9g
Cholesterol:

81mg
Sodium:

1094mg
Carbohydrates:

18g
Fiber:

1g
Sugar:

5g
Protein:

14g