This country-style rigatoni recipe is the perfect easy weeknight recipe. From-scratch tomato cream sauce is added to pasta, Italian sausage and peas for a hearty and filling dinner.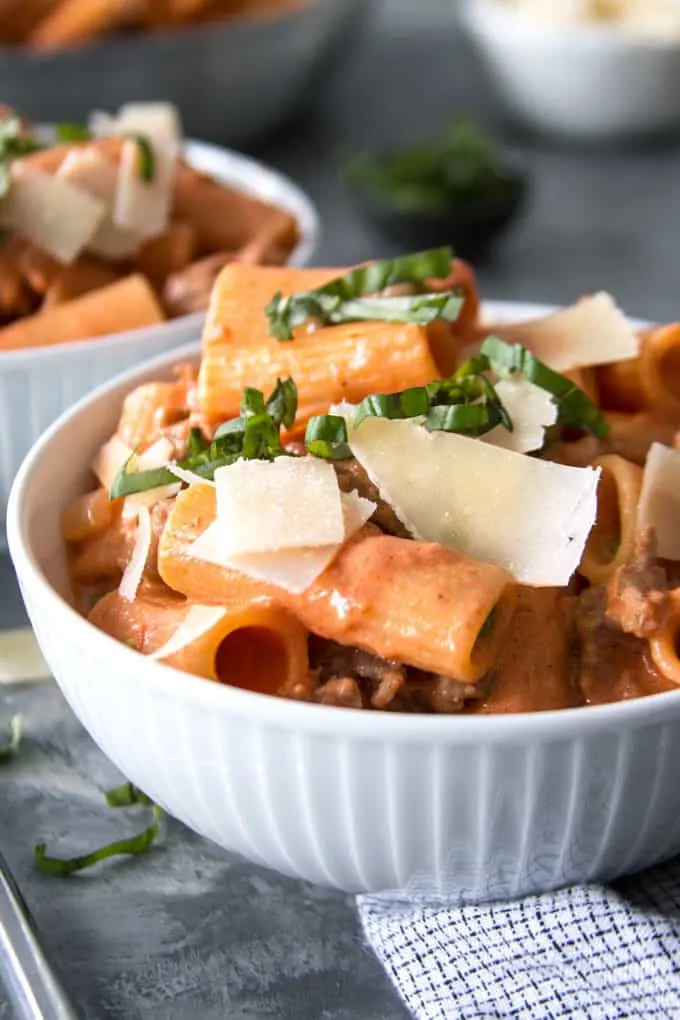 For my 35th birthday, I craved nothing more than a big bowl of pasta. No extravagant celebrations or fancy dinners, just a simple meal at a local restaurant. You see, I have an unwavering love for pasta (check out my pasta recipe collection!). Luckily, a nearby restaurant had recently transitioned from German cuisine to classic Italian, making it the perfect choice for my special day. I adore neighborhood restaurants.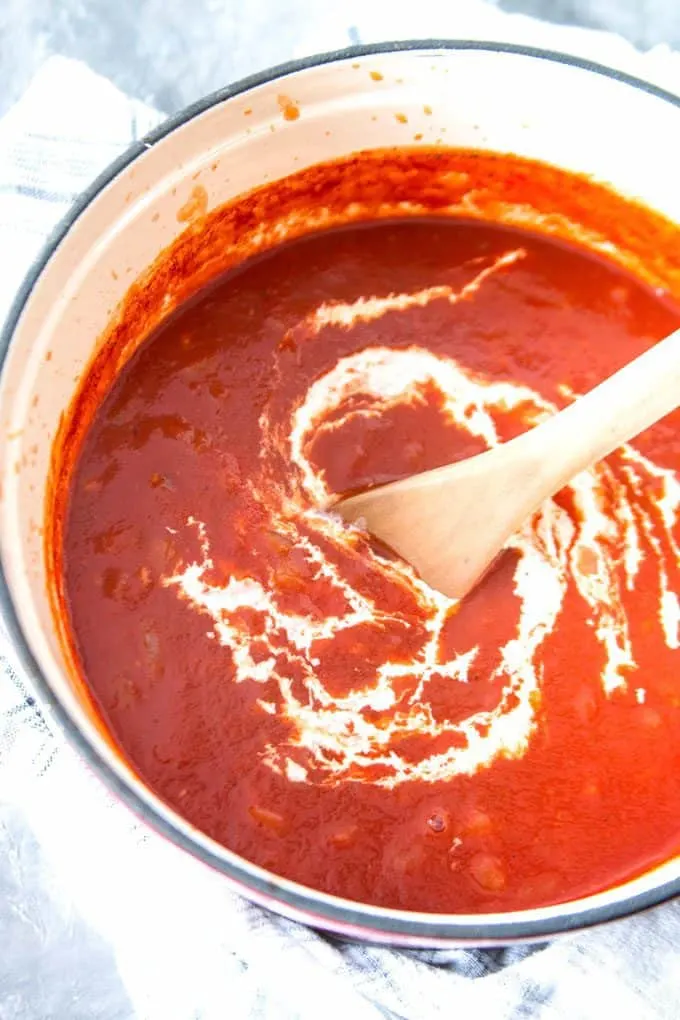 As we strolled over, we were promptly seated. I wasted no time and savored some bread dipped in a delightful olive oil and Parmesan cheese mixture while browsing the menu. Ignoring everything else, my eyes went straight to the pasta section. Ah, the eternal dilemma of a pasta enthusiast—how to choose just one pasta dish?
After much contemplation, I made my selection, and this country-style rigatoni recipe draws inspiration from that very dish I enjoyed that day.
What Sets It Apart: Country-Style Rigatoni with Italian Sausage and Peas
What exactly makes a dish "country-style"? To me, it's all about the simplicity of the ingredients and the cooking method. Country-style dishes possess a comforting heartiness that is both irresistible and easy to recreate. Don't have the time to make the sauce from scratch? No worries—grab a jar of vodka sauce or creamy tomato sauce for a similar taste.
Pairing Suggestions: Garlic Bread to Complete the Meal
To elevate this dish even further, serve it with a side of garlic bread. The warm, crusty bread with its aromatic garlic spread perfectly complements the robust flavors of the rigatoni. The combination will undoubtedly please your taste buds.
Let's Get Cooking: Country-Style Rigatoni Recipe
Let's gather the ingredients for your rigatoni dish! We'll need 16 ounces of rigatoni noodles, which you can find in the pasta aisle of your local grocery store or online.
For a burst of flavor, get 1 pound of uncased Italian sausage from the meat section. Consider visiting a local butcher shop for the best quality sausage.
Add 1 cup of frozen peas for a touch of freshness. Look for them in the frozen vegetable section of any grocery store.
To create a flavorful sauce, grab 2 tablespoons of butter, 2 cloves of minced garlic, and 1 small chopped onion from the produce and dairy sections.
For the sauce base, you'll need a 29-ounce can of tomato sauce, available in the canned goods aisle.
Balance the sauce's acidity with 1 tablespoon of sugar, 1/2 teaspoon of kosher salt, and 1/4 teaspoon of black pepper from the spice aisle.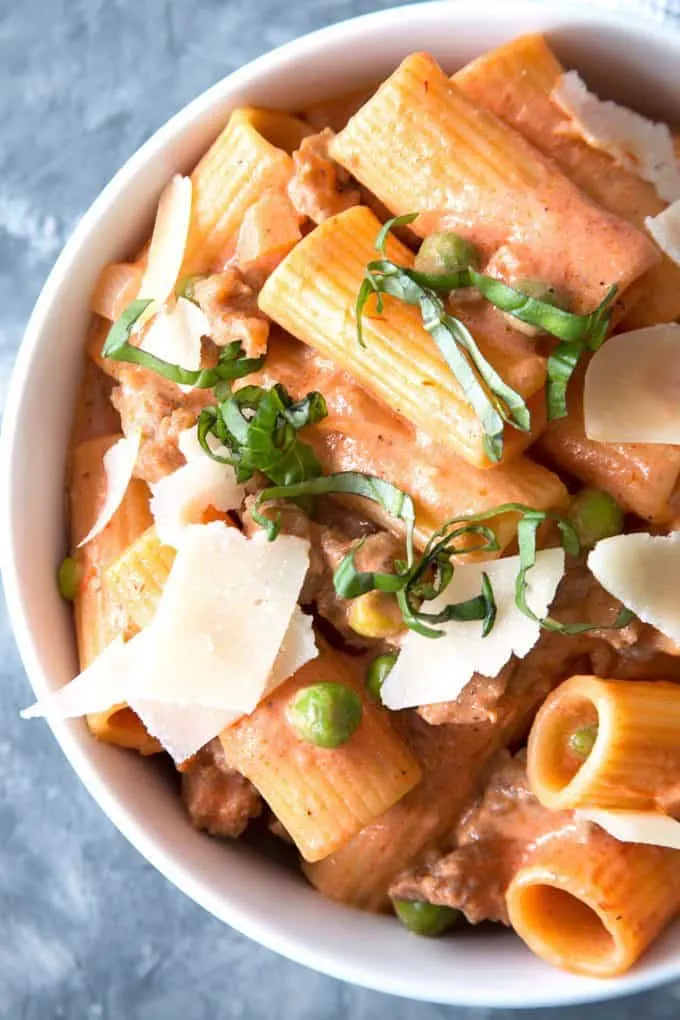 Here's how to bring this country-style rigatoni to life in your kitchen
Step 1: Cook the Rigatoni Grab a large pot and fill it with water. Bring it to a rolling boil—yep, we want those bubbles dancing! Toss in the rigatoni noodles and let them cook until they reach that perfect al dente texture. You know, that tender bite with a slight firmness. It usually takes around 13 minutes, but check for doneness by giving them a little taste test. Once they're cooked to perfection, drain the noodles and set them aside. We'll come back to them in a jiffy.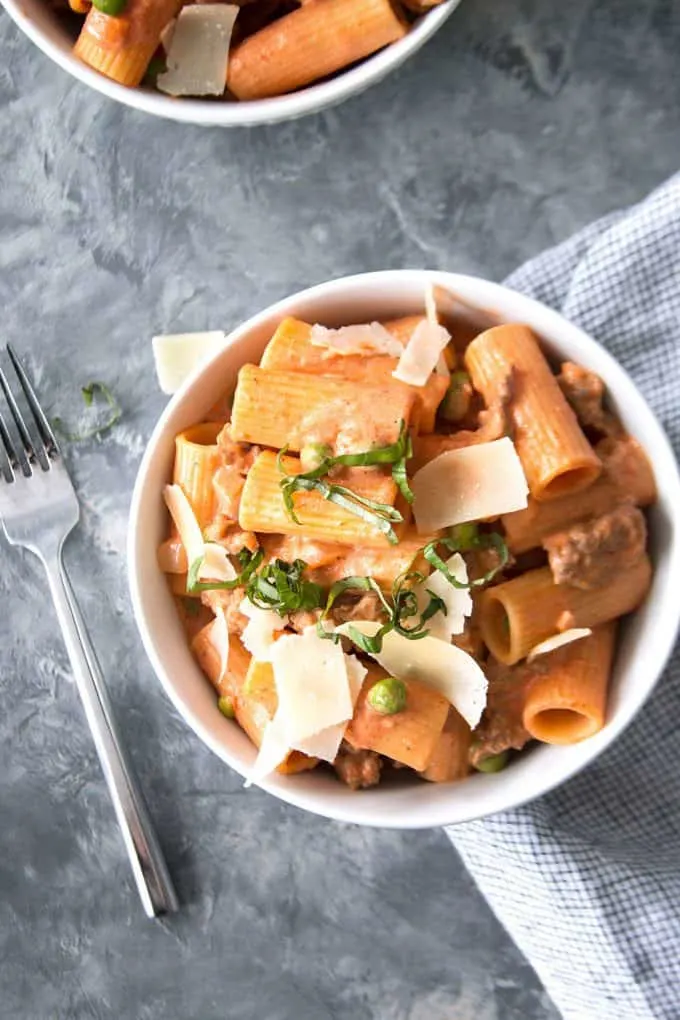 Step 2: Prepare the Sausage and Peas Now, let's give our Italian sausage some love. Grab a trusty large skillet and heat it up over medium heat. Pop in the Italian sausage and let it sizzle until it transforms into a beautiful golden brown. Once it's cooked through and bursting with flavor, turn off the heat. Time to add a touch of vibrancy—throw in those frozen peas! Give everything a good stir, allowing the residual heat to work its magic and warm up those peas.
Step 3: Make the Tomato Cream Sauce Alright, get ready for some saucy goodness! Grab another large pot and melt some butter over medium heat. Once it's all nice and melted, introduce the minced garlic and chopped onion. Cook them up until the onions become translucent and release their irresistible fragrance. Now comes the tomato sauce, sugar, kosher salt, and black pepper. Stir it all up like a culinary maestro, making sure those flavors mingle and combine harmoniously. Let the sauce heat up until it's just about to hit that boiling point—oh, the anticipation! Turn off the heat and add the heavy cream, stirring until the sauce achieves a luscious, creamy blend.
Step 4: Combine and Serve It's time for the grand finale! Take those cooked rigatoni noodles and gently introduce them to the skillet where the sausage and peas are waiting eagerly. Next, pour that tantalizing tomato cream sauce all over the noodles, making sure every strand gets a generous coating. Give everything a gentle toss, allowing the flavors to come together in perfect harmony. Now, bring out the bowls and serve up this country-style rigatoni delight! Add a touch of freshness with some fresh basil leaves and finish it off with a shower of grated Parmesan cheese. Oh, the aroma and taste—it's pure pasta bliss!
Short on time? No worries! Feel free to swap the homemade tomato cream sauce for a jarred option. We won't judge—it's all about making life easier in the kitchen. Want to make this meal even more satisfying? Serve it alongside some warm garlic bread. The combination of flavors will take your taste buds on a delightful journey.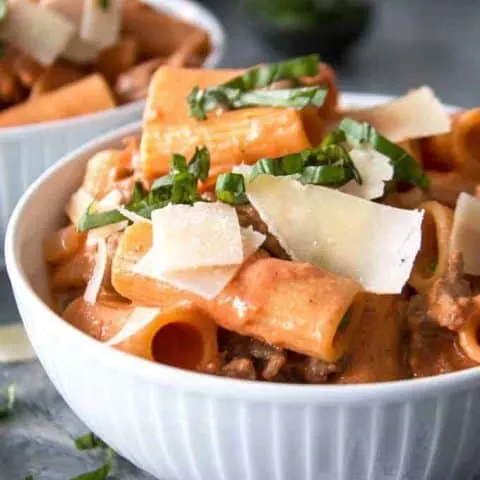 Country-Style Rigatoni
This country-style rigatoni recipe is the perfect easy weeknight recipe. From-scratch tomato cream sauce is added to rigatoni noodles, Italian sausage and peas for a hearty and filling dinner.
Ingredients
16 ounces rigatoni noodles
1 pound Italian sausage, uncased
1 cup frozen peas
2 tablespoons butter
2 cloves garlic, minced
1 small onion, chopped
29 ounce can tomato sauce
1 tablespoon sugar
1/2 teaspoon kosher salt
1/4 teaspoon black pepper
1 cup heavy cream
Optional Garnishes
Instructions
Bring a large pot of water to boil. Add the rigatoni noodles and cook until al dente (about 13 minutes.)
In a large skillet, cook the Italian sausage over medium heat until browned. Turn off the heat and add the frozen peas. Stir until the peas have been heated through.
In a large pot, melt the butter over medium heat. When the butter is completely melted, add the garlic and onions. When the onions are translucent, add the tomato sauce, sugar, salt and black pepper. Stir well and cook until just before boiling. Turn off heat and add the heavy cream. Stir until mixed.
Drain the rigatoni. Add the tomato cream sauce and the rigatoni to the skillet. Stir until well combined.
Serve with basil and parmesan cheese.
Notes
You can substitute the homemade tomato cream sauce for jarred sauce if you are short on time.
Recommended Products
As an Amazon Associate and member of other affiliate programs, I earn from qualifying purchases.
Nutrition Information:
Yield:

6
Amount Per Serving:
Calories:

777
Total Fat:

44g
Saturated Fat:

20g
Trans Fat:

0g
Unsaturated Fat:

0g
Cholesterol:

122mg
Sodium:

1247mg
Carbohydrates:

0g
Fiber:

6g
Sugar:

12g
Protein:

24g

SaveSave