This rosa chicken caprese pasta recipe is my preferred way to combine my favorite flavors – traditional spaghetti sauce and Alfredo sauce. Use your favorite pasta and this is the perfect dinner!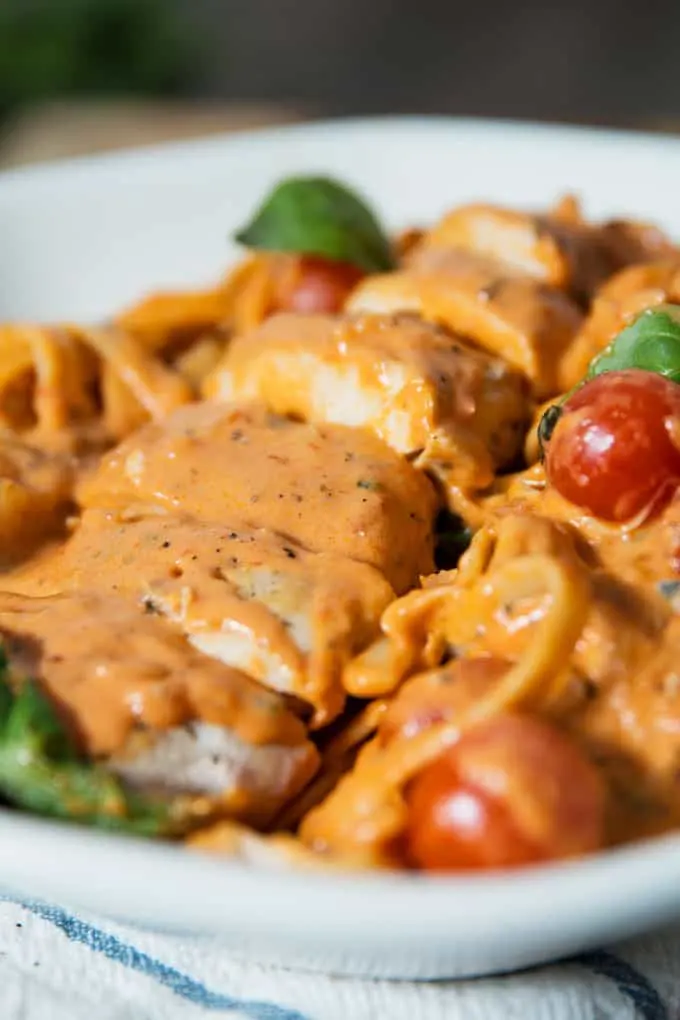 This post is sponsored by RAGÚ®. Thank you for supporting the brands that we love! All opinions are my own.
Caprese salad is one of my favorite menu items to order when I'm out at a restaurant.
It's relatively simple yet the flavors are out of this world. Fresh mozzarella, basil, and tomatoes goes SO well together!
Want to make it more filling or a main dish?
Add some chicken and pasta and you have a full meal.
Rosa Chicken Caprese Pasta
Do you ever cook a small portion of spaghetti sauce and then have half a jar in your fridge?
I do and if you're like me this is THE RECIPE for you.
Rosa Chicken Caprese Pasta Ingredients
Extra Virgin Olive Oil: Olive oil is used for cooking and adds a light, fruity flavor to the dish while preventing it from sticking to the pan.
Chicken: The chicken breast is the protein source in this dish. When seasoned and perfectly cooked, it adds a delicious and tender texture to the completed dish.
Salt: Salt is used to season the chicken and enhance its flavor. It also helps to balance the overall taste of the dish.
Black Pepper: Black pepper adds a hint of spiciness and complements the flavors in the dish. It pairs well with the other seasonings.
Red Pasta Sauce: Red pasta sauce provides a rich, tomato-based foundation for the dish. It contributes a hearty and savory flavor, making it an essential component of the Rosa sauce.
Alfredo Sauce: Alfredo sauce is a creamy and indulgent element, offering a smooth and luscious texture. It complements the tomato-based sauce to create the Rosa sauce.
Cherry Tomatoes: Cherry tomatoes are added for a burst of freshness and a slight tang. They provide a contrast in texture and enhance the dish's overall flavor.
Fresh Mozzarella: Fresh mozzarella cheese adds a creamy, mild, and slightly tangy note to the pasta, creating a classic Caprese flavor profile.
Basil: Fresh basil brings a fragrant and herbaceous touch to the dish. It's a quintessential element in Caprese-inspired recipes, contributing a vibrant aroma and taste.
Pasta: The pasta serves as the base for the dish, and cooking it al dente ensures that it has a pleasing texture. It absorbs the flavorful Rosa sauce and complements the other ingredients.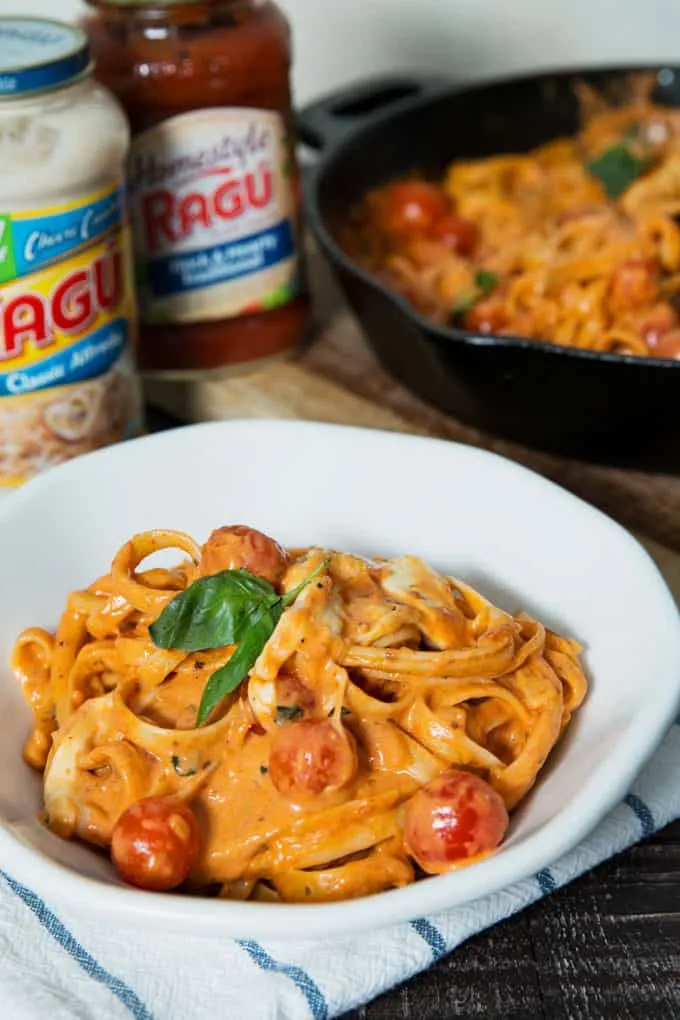 How to Make Rosa Chicken Caprese Pasta
Start by cooking a pound of chicken in a large pan.
I usually butterfly two chicken breasts to make this serve 4 people.
When the chicken is cooked, remove it from the pan and add the pasta sauce.
How To Make Rosa Sauce
To make the rosa sauce, I used half a jar of RAGÚ® Homestyle Thick & Hearty Traditional Sauce and half a jar of Family Size Classic Alfredo Sauce.
The flavors blend SO well together and create the perfect creamy, rosy sauce.
Let the two sauces combine by giving them a really good stir.
Once the sauce is a uniform color, it's time to add the fresh mozzarella cheese, tomatoes, and fresh basil.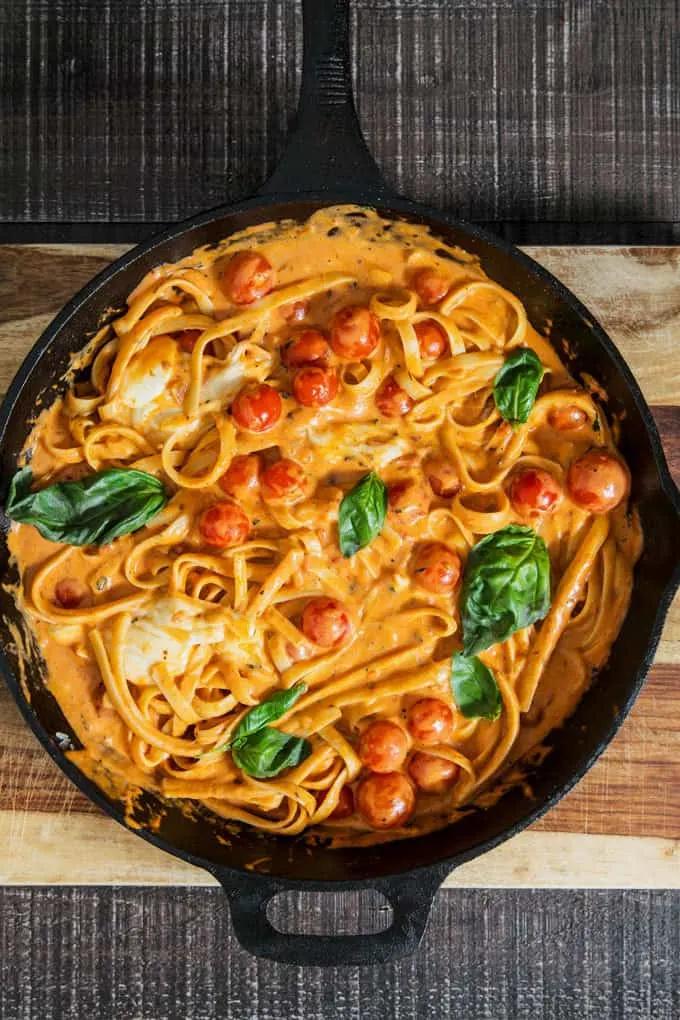 If you want to add a little pizzaz to your dinner making, first add the cheese in a circular pattern.
Then sprinkle the cherry tomatoes around the cheese.
Top that with finely chopped basil and watch it cook.
This pasta dish was so much fun to make – you really have to watch the video below.
If you're in a hurry or you don't want a show, you can just add the ingredients and let them simmer in the sauce.
Stir occasionally and when the cheese has melted it is time to add the pasta.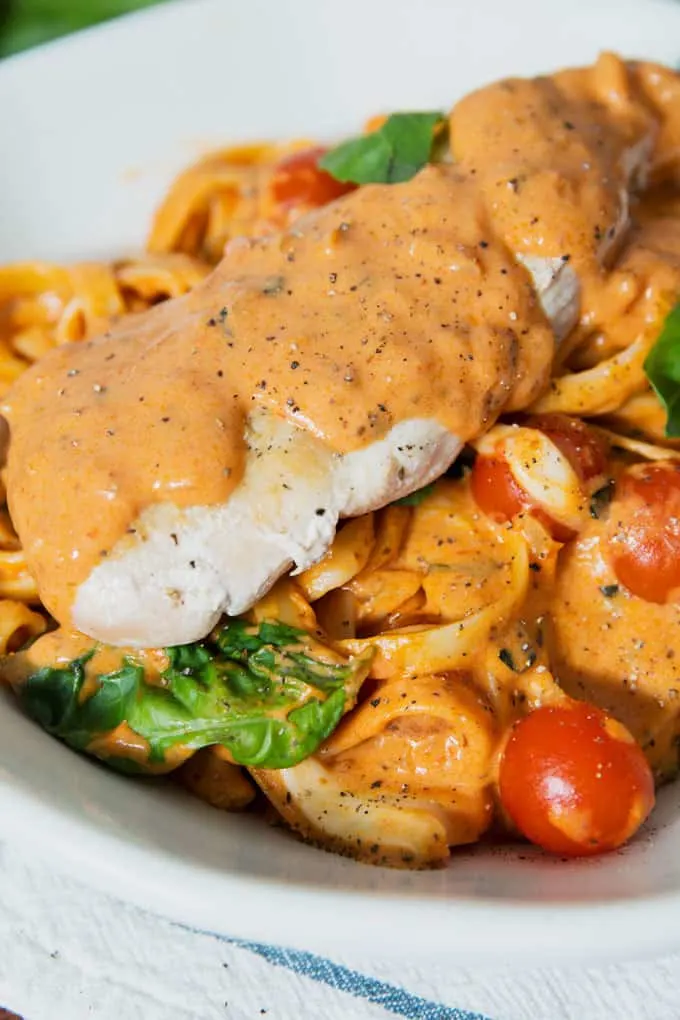 I used half a box of fettuccine noodles but you could easily replace that with spaghetti, rotini, linguine or your favorite pasta!
Add your fully cooked pasta to the pan and stir well.
When it comes time to serve, place a portion of the noodle and sauce mixture on a plate and top with a piece of your cooked chicken.
Ladle some of your rosa sauce on top – there's no such thing as too much sauce!
Top with a basil leaf or two, some black pepper, and enjoy.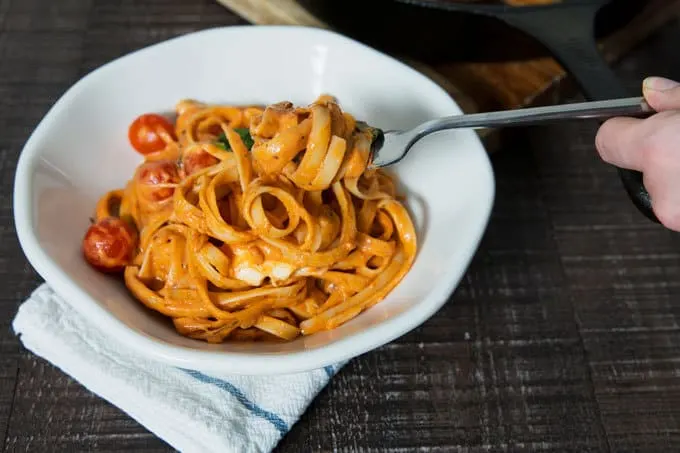 Looking for more pasta recipes? Try these: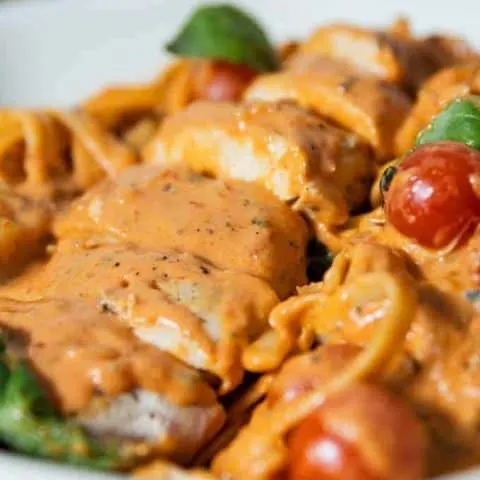 Rosa Chicken Caprese Pasta
This rosa chicken caprese pasta recipe is my preferred way to combine my favorite flavors - traditional red spaghetti sauce and Alfredo sauce. Use your favorite pasta and this is the perfect dinner!
Ingredients
1 tablespoon extra virgin olive oil
1 pound chicken breast (about 2 pieces) cut in half
1 teaspoon salt
½ teaspoon black pepper
1.5 cups Traditional Red Pasta Sauce
1 cup Alfredo Sauce
1 pint cherry tomatoes
7 ounces fresh mozzarella, cut into small pieces
2 tablespoons finely chopped basil
½ pound of pasta, cooked al dente
Instructions
Heat a large pan over medium-high heat and add olive oil to pan.
Season the chicken with salt and pepper on both sides.
When the oil is hot, add the chicken breasts. Cook for 5-7 minutes on both sides, until the chicken reaches an internal temperature of 165°F. Remove the chicken from the pan and set aside.
Add the Traditional Red Pasta Sauce and the Alfredo Sauce. Stir well to combine. Bring to a boil and then reduce heat so the sauce simmers.
Add the cherry tomatoes, fresh mozzarella pieces, and chopped basil to the sauce. Stir occasionally and cook for 10 minutes, or until the cheese melts.
Add the cooked pasta and mix into the sauce and caprese mixture until the noodles are completely covered in sauce. Turn off heat.
Notes
To serve, divide the pasta onto four plates and top each plate with a cooked chicken breast.
Garnish with additional fresh basil and black pepper if desired.
Recommended Products
As an Amazon Associate and member of other affiliate programs, I earn from qualifying purchases.
Nutrition Information:
Yield:

4
Amount Per Serving:
Calories:

822
Total Fat:

55g
Saturated Fat:

26g
Trans Fat:

1g
Unsaturated Fat:

24g
Cholesterol:

215mg
Sodium:

1905mg
Carbohydrates:

33g
Fiber:

4g
Sugar:

8g
Protein:

49g
Nutrition information is automatically calculated and may not be correct.