This savory sweet potato pancake recipe is perfect for lunch or dinner. Pair these pancakes with chive dipping sauce for the perfect sweet and savory combination.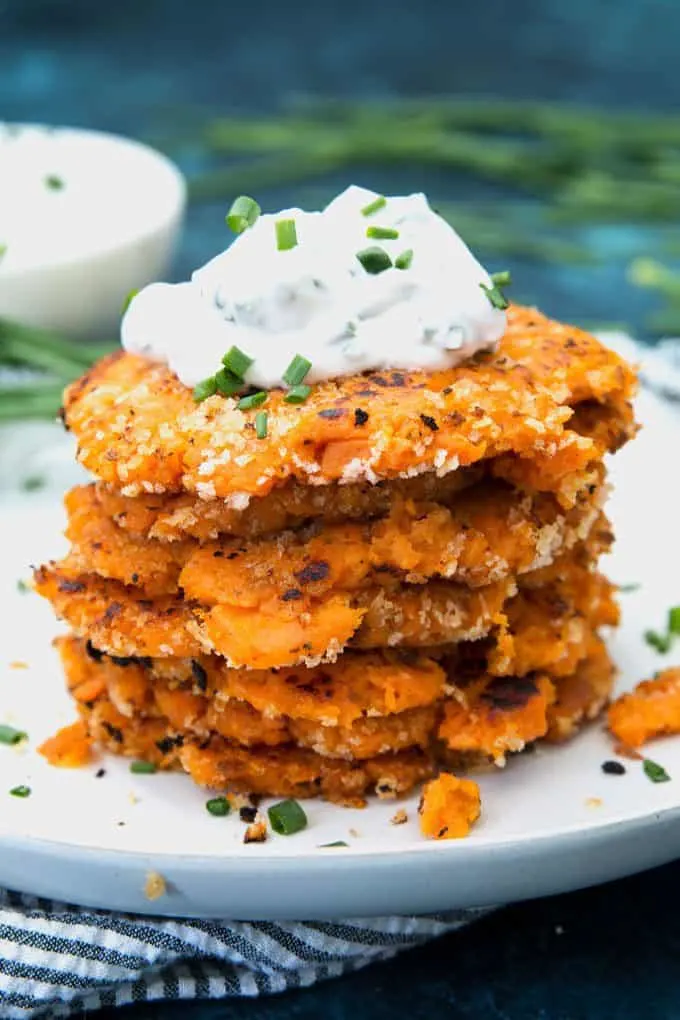 Potato pancakes have always been among my "most loved" foods.
My uncle has a fantastic traditional pancakes recipe using regular potatoes; I can never get enough of it when he makes it.
These pancakes, however, are made from sweet potatoes. Sweet potato pancakes are just as delicious and have a sweetness that I can't resist.
This sweet potato pancake recipe is savory – think latkes for lunch or dinner.
The best part about this recipe is it has only 5 simple ingredients – yes, just FIVE.
There is no added sugar, no need for dry goods like all-purpose flour or baking powder, and no mixing of wet ingredients with a dry mixture.
In fact, these are vegan sweet potato pancakes, but that was unintentional.
If you were looking for a way to use those leftover sweet potatoes, you have found it with this sweet potato pancakes recipe.
Serve them with fresh fruit or even a little cream cheese.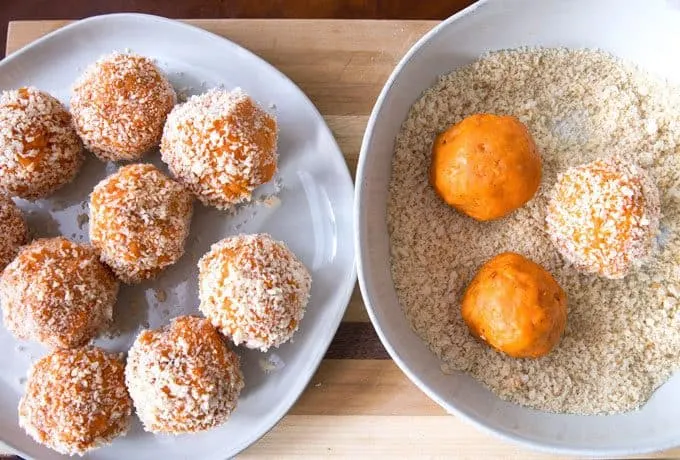 How to Make Sweet Potato Pancakes
This recipe is easy to make and doesn't require a lot of ingredients. The flavors are simple, and that's why I like this recipe so much.
Begin by dicing up raw sweet potatoes and roasting them in the oven with salt and pepper. This is also a great way to use up leftover baked sweet potatoes.
Transfer the cooked sweet potatoes to a large bowl and mash them with a potato masher or a fork when they have cooled.
I usually pull out a fork because I don't like cleaning the masher.
You could also use a food processor, but that is an entire appliance you must clean, and I like to keep things manageable.
Pour the panko bread crumbs into a shallow bowl or plate. Form the sweet potato puree into small balls and roll them into the bread crumbs.
Heat some oil in a nonstick skillet – extra virgin or coconut oil will do the trick – and drop the sweet potato balls into the pan. Alternatively, you can use a large griddle.
Use the back of a spatula to flatten the sweet potato balls into pancakes.
Flip the pancake over when it's crispy and golden brown on one side, and remove from the pan when it's crispy on both.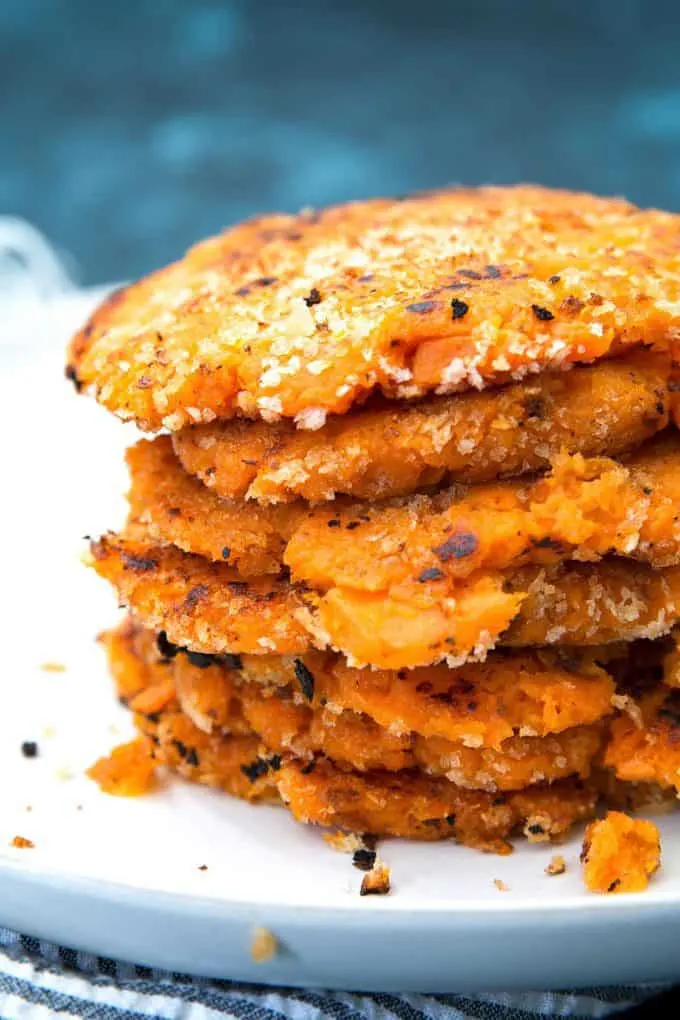 Optional Additional Ingredients for Savory Sweet Potato Pancakes
Herbs and Spices: Add a depth of flavor with herbs like chopped fresh parsley, cilantro, or chives.
Cheese: Incorporate grated Parmesan, cheddar, or feta cheese into the sweet pancake mixture for a savory, cheesy flavor.
Onions or Shallots: Finely diced and sautéed onions or shallots can add a delightful pungent taste to the pancakes.
Nuts or Seeds: Chopped nuts (like pecans or walnuts) or seeds (such as sesame or sunflower seeds) can provide a pleasant crunch and added nutrients.
Fresh Vegetables: Consider adding grated zucchini, carrots, or bell peppers to introduce more texture and flavor.
Citrus Zest: Grated zest of lemon or lime can add a bit of brightness to the pancakes.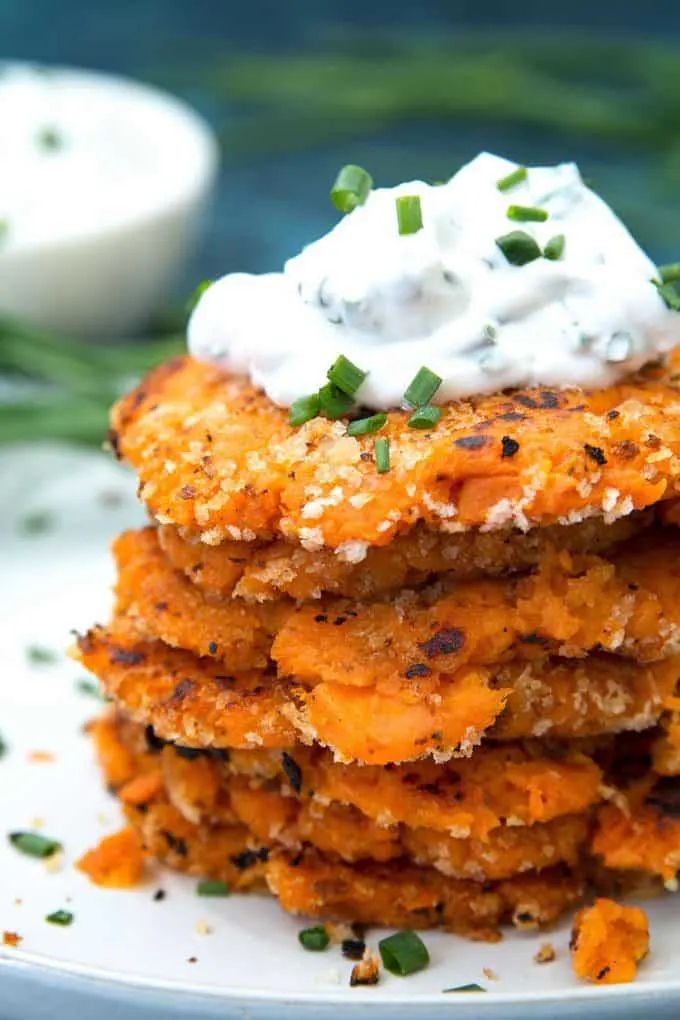 Looking for spicy sweet potato pancakes?
Chili Flakes or Powder: Adding a pinch or more of chili flakes or powder (like cayenne pepper) to the panko bread crumbs will bring noticeable heat to the pancakes.
Spicy Seasonings: Use spices like smoked paprika, chipotle powder, or hot curry powder to add complex spicy flavors.
Harissa Paste or Thai Chili Paste: Incorporating a teaspoon or two of harissa or Thai chili paste with the mashed sweet potatoes will infuse a distinctive spicy taste.
Black Pepper Varieties: Experiment with different pepper varieties like white pepper or Szechuan peppercorns to bring unique spicy undertones.
Freezing Leftover Potato Pancakes
Freezing leftover sweet potato pancakes is a great way to preserve them for later eating. The easiest way is to flash-freeze them.
Allow the sweet potato pancakes to cool completely at room temperature. Placing them on a wire rack can help air circulate around them, preventing sogginess.
Place the pancakes in a single layer on a baking sheet or tray lined with parchment paper. Make sure the pancakes don't touch each other to prevent sticking.
Put the baking sheet or tray with the pancakes into the freezer. Allow them to freeze for 1-2 hours or until they are firm.
Once the pancakes are individually frozen, transfer them into a resealable freezer bag or an airtight container.
Make sure you use a freezer-safe container. Label the container with the date of freezing for easy identification.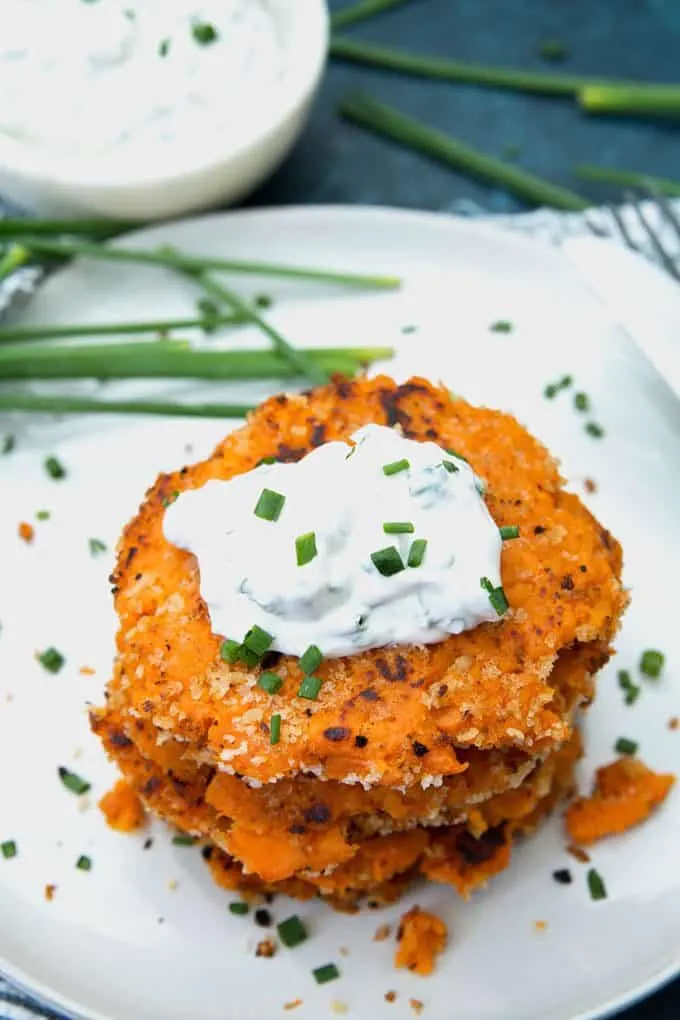 Thawing and Reheating Sweet Potato Pancakes
Thawing: To reheat, remove the desired number of pancakes from the freezer and let them thaw in the refrigerator overnight.
Reheating: Reheat the thawed sweet potato pancakes in a toaster, oven, or toaster oven until they are warmed and crispy outside. Avoid microwaving as it might make them soggy.
Following these steps should help maintain the texture and flavor of your sweet potato pancakes when you decide to enjoy them later.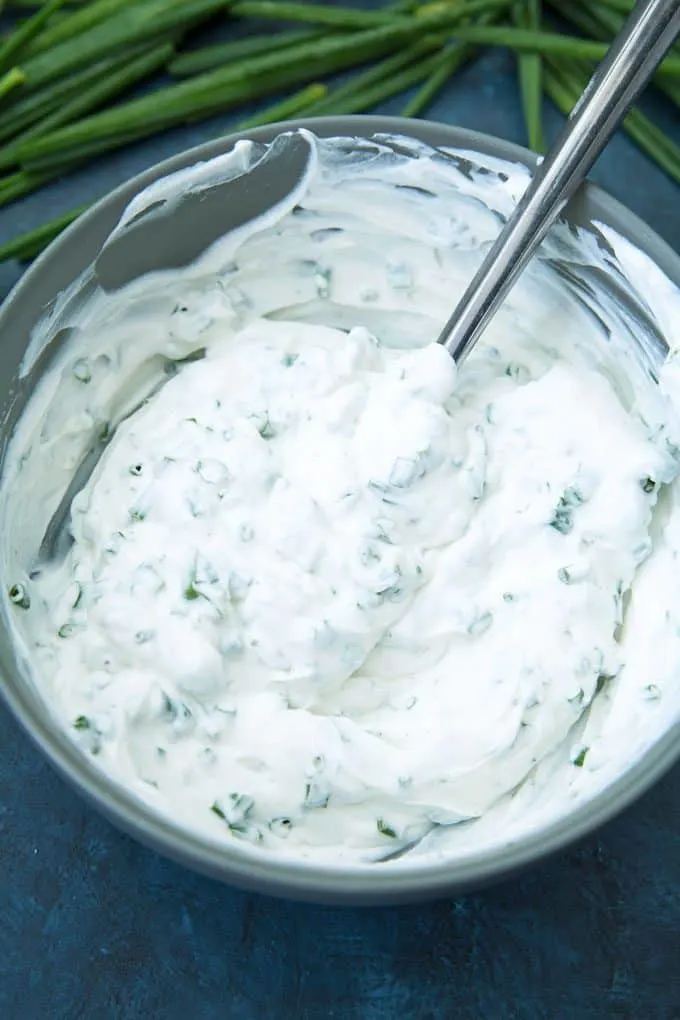 Chive Dipping Sauce
The chive dipping sauce is made with Greek yogurt and is perfect. Yeah, I said it – it's perfect.
The last thing I wanted to serve my pancakes with was maple syrup, so I had to get creative.
I'm a big fan of easy recipes, and 4 ingredient recipes are my kind of sauce.
All you need to do is mix the ingredients in a small bowl. Then, plop a dollop on top of your stack of pancakes, and you're good to go.
If you want a dipping sauce that's even more savory, try these pancakes with my blue cheese dip.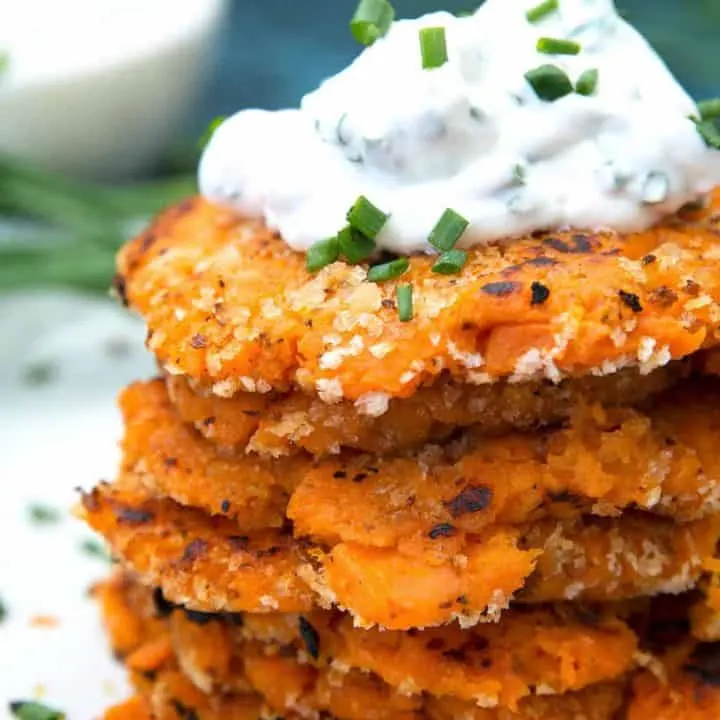 Sweet Potato Pancakes
This savory sweet potato pancake recipe is perfect for lunch or dinner. Pair these pancakes with chive dipping sauce for the perfect sweet and savory combination.
Ingredients
Sweet Potato Pancakes
3 medium sweet potatoes, peeled
3 tablespoons extra virgin olive oil, plus additional for frying
1 teaspoon kosher salt
¼ teaspoon black pepper
½ cup panko bread crumbs
Chive Dipping Sauce
1 cup of Greek yogurt or sour cream
¼ finely chopped fresh chives
1 teaspoon kosher salt
¼ teaspoon black pepper
Instructions
Heat your oven to the broiler setting.
Dice the sweet potatoes into evenly sized ½ inch pieces. Toss the sweet potatoes in 2 tablespoons of extra virgin olive oil, season with salt and pepper, and evenly spread the mixture onto a sheet pan.
Place the sheet pan in the oven and broil the sweet potatoes for 15-20 minutes or until tender. Remove the pan from the oven and allow it to cool, then mash it with a fork or potato masher.
Pour the panko bread crumbs on a plate and form the mashed sweet potatoes into 12 balls (about ¼ cup mashed sweet potatoes per ball.) Roll each ball in panko bread crumbs.
Heat 1 teaspoon of extra virgin olive oil in a large pan over medium-high heat. When the oil is hot, place a sweet potato ball in the oil and smash it with a spatula. Cook on each side for 1 minute or until crispy. Remove the pancake from the pan and place it on a plate covered in a paper towel. Repeat with each sweet potato ball until all pancakes have been cooked.
To make the chive sauce, mix all ingredients in a small bowl.
Serve the sweet potato pancakes with the chive sauce on top.

Recommended Products
As an Amazon Associate and member of other affiliate programs, I earn from qualifying purchases.
Nutrition Information:
Yield:

4
Serving Size:

3 pancakes
Amount Per Serving:
Calories:

260
Total Fat:

12g
Saturated Fat:

2g
Trans Fat:

0g
Unsaturated Fat:

9g
Cholesterol:

5mg
Sodium:

780mg
Carbohydrates:

30g
Fiber:

4g
Sugar:

8g
Protein:

9g
This data was provided and calculated by Nutritionix on 1/23/2019
SaveSaveSaveSave