Looking for baked halibut recipes? This easy baked Alaskan halibut recipe can be on the table in under 30 minutes. Serve it with rice and a simple salad. 
If you are here looking for garlic chicken, I unfortunately don't have a recipe for that any where on my site. Nor do I know why all of those pins on Pinterest direct you to my halibut recipe. The recipe you are looking for is here at Cooks.com.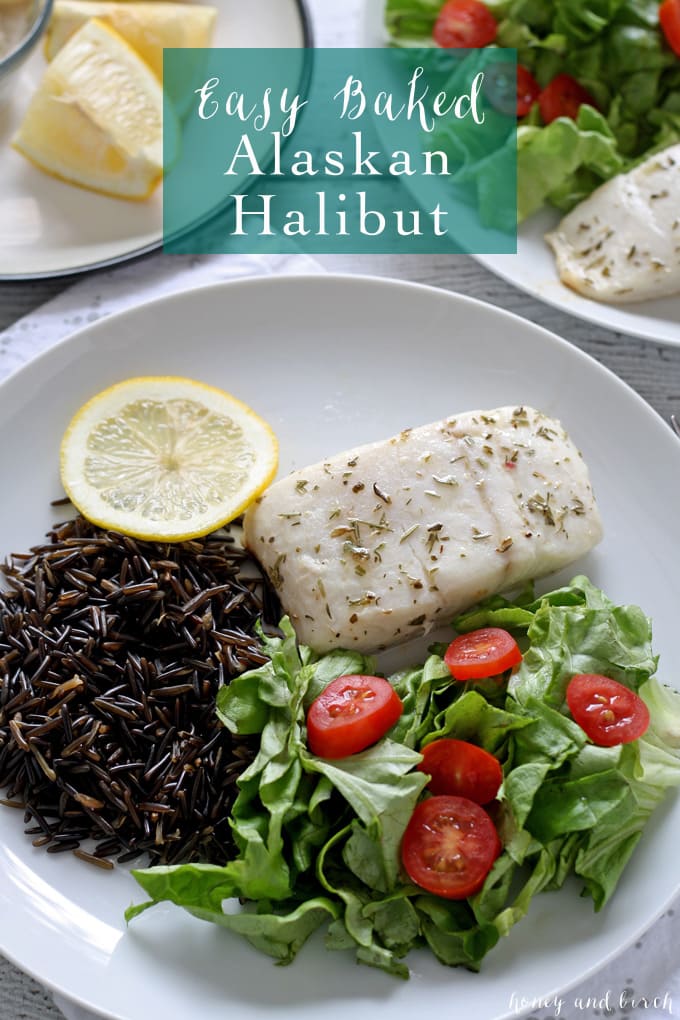 Thank you Alaska seafood for sponsoring today's post!
If you follow my blog regularly, you know that back in December I had an allergic reaction to crickets, which led me to find out I am allergic to shellfish. Can we all commiserate together? It was quite a shock. At my birthday dinner a few months earlier I had celebrated with large amounts of shellfish. Everyone should eat large amounts of shellfish, all of the time… unless they are allergic to it.
I mourned some of my favorite foods (particiulary lobster, crab and shrimp) for a little while. Then I decided to take the matter into my own hands. Just because I can't eat shellfish, it doesn't mean I can't eat fish.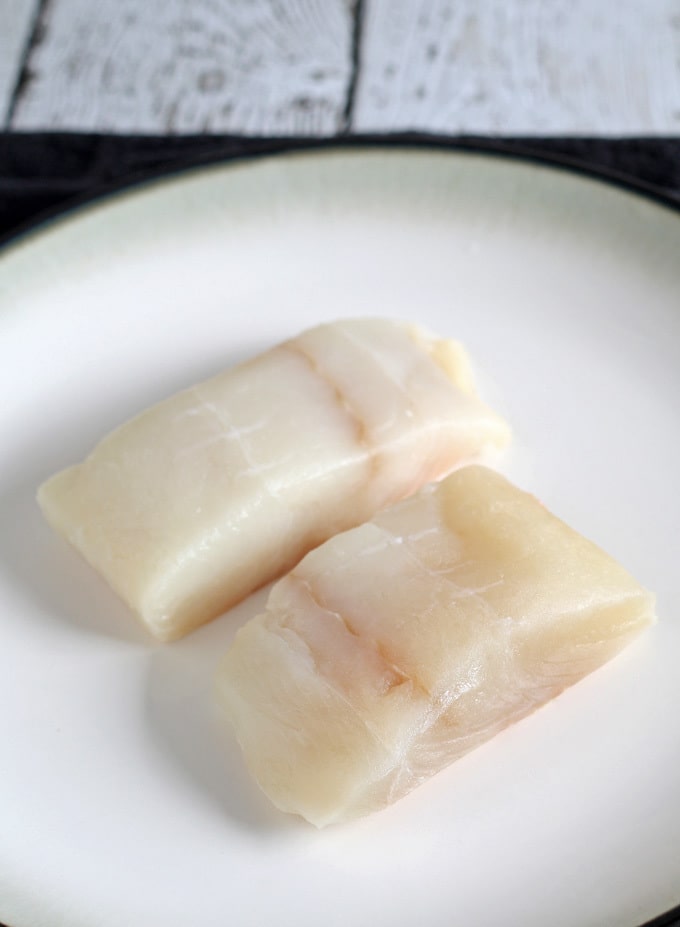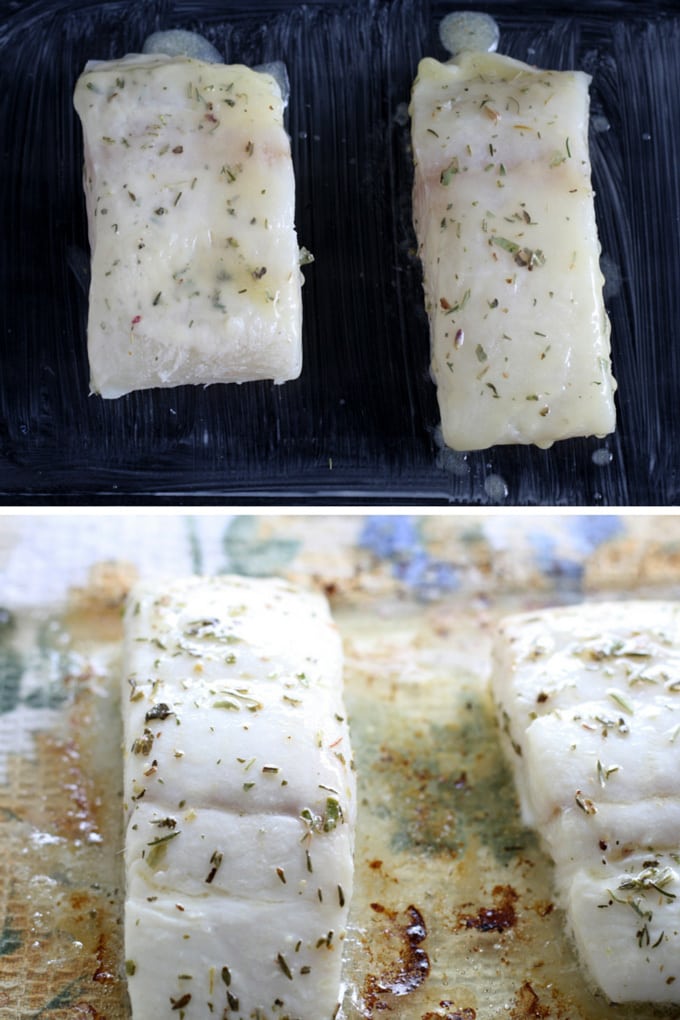 Making fish at home is very easy and you can find really great fresh and frozen Alaskan seafood at the grocery store nowadays. Did you know Alaska supplies nearly 60% of the nation's seafood and about 90% of North America's salmon comes from Alaska? That is pretty amazing! I've started checking the packaging of frozen fish and making sure it's from Alaska before buying.
I digress. Five species of salmon, several varieties of whitefish, and numerous shellfish species come out of Alaska which means mouthwatering seafood options for every taste and cooking method and fresh, frozen and canned seafood available year round. If you're wondering when specific types of Alaskan seafood are available, check out this infographic: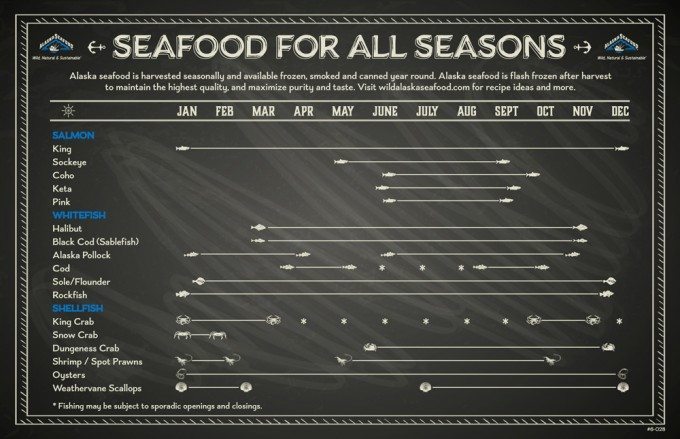 I decided to use halibut for this recipe because I love it and I feel like it may not be cooked at home as much as it should be. I pondered making a number of baked halibut recipes but decided to stick to an easy halibut recipe.
Easy Baked Alaskan Halibut
Halibut doesn't have a lot of natural oil so it's important to keep it moist, otherwise it will dry out fast. There are a lot of different ways to cook halibut. You can grill it, bake it or fry it in a pan; as long as you make sure it is moist it will be delicious.
We basted halfway through the baking process and ended up with flaky and juicy meat.  I made up a quick lemon butter and used that to oil the baking dish and to baste the fish. It may be simple but it is simply delicious.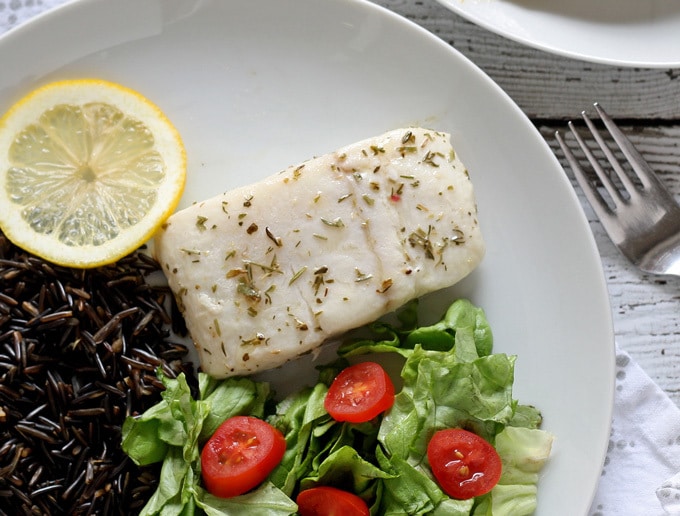 I don't usually baste with butter but I thought it would be okay with halibut.  Alaska seafood is really good for you – it's high in protein, low in saturated fat, low in sodium and one of the best sources of heart-healthy omega-3 fatty acids. This made me feel so much less guilty about all of the butter.  Everything in moderation, right?
I served the baked halibut with a small side salad and some wild rice. It was so easy to make and so quick that it is now on our weeknight rotation. You can never have too many delicious 30-minute meals!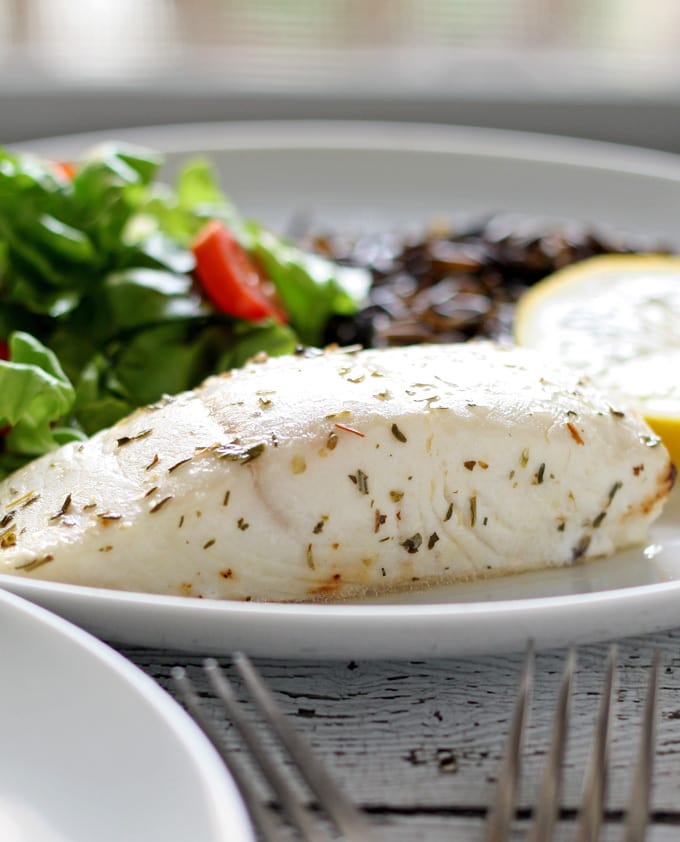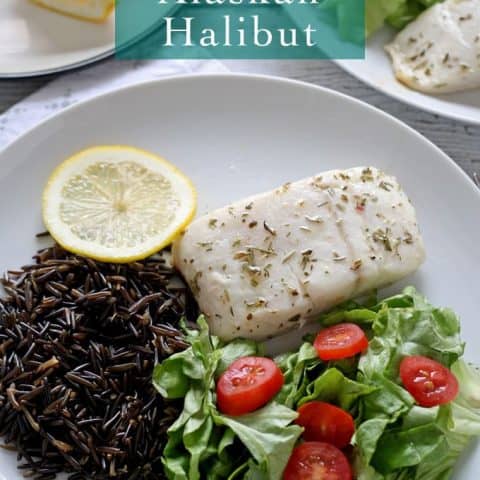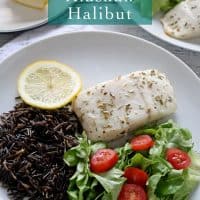 Easy Baked Alaskan Halibut
Yield: 2

Prep Time: 5 minutes

Cook Time: 20 minutes

Total Time: 25 minutes

This easy baked Alaskan halibut recipe can be on the table in under 30 minutes! Serve it with rice and a simple salad.
Ingredients
2 6 ounce fresh halibut filets
4 tablespoons butter
juice of 1 lemon
1 teaspoon sea salt
1 teaspoon herbs de provenance
Instructions
Preheat oven to 400 degrees F.

In a small saucepan, melt the butter over medium heat. When the butter is melted, add the lemon juice, sea salt and herbs de provenance. Stir well and turn off heat when all the ingredients are combined.

Use a brush to grease the bottom of a baking dish with the butter mixture. Rinse the halibut filets and pat dry with a paper towel. Place the filets in the baking dish. Brush more of the butter mixture on the halibut filets, making sure that they are completely covered in butter.

Place the baking dish in the oven for 15 minutes. Halfway through, remove the dish and baste with the butter mixture. After 15 minutes, remove the dish from the oven and baste with the butter one more time.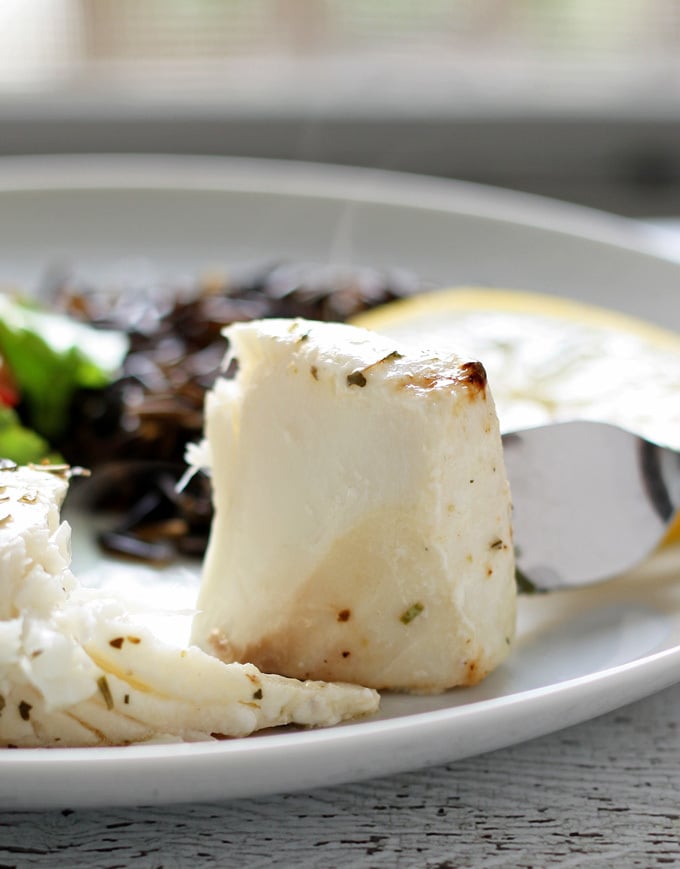 I was selected for this opportunity as a member of Clever Girls and the content and opinions expressed here are all my own.
Looking for more 30-minute meals? Try these easy loaded burrito bowls or this cheesy tomato pasta skillet!