This Brussels sprouts kale salad with bacon, almonds, blue cheese and a lemon garlic vinaigrette is perfect for lunch or a light dinner!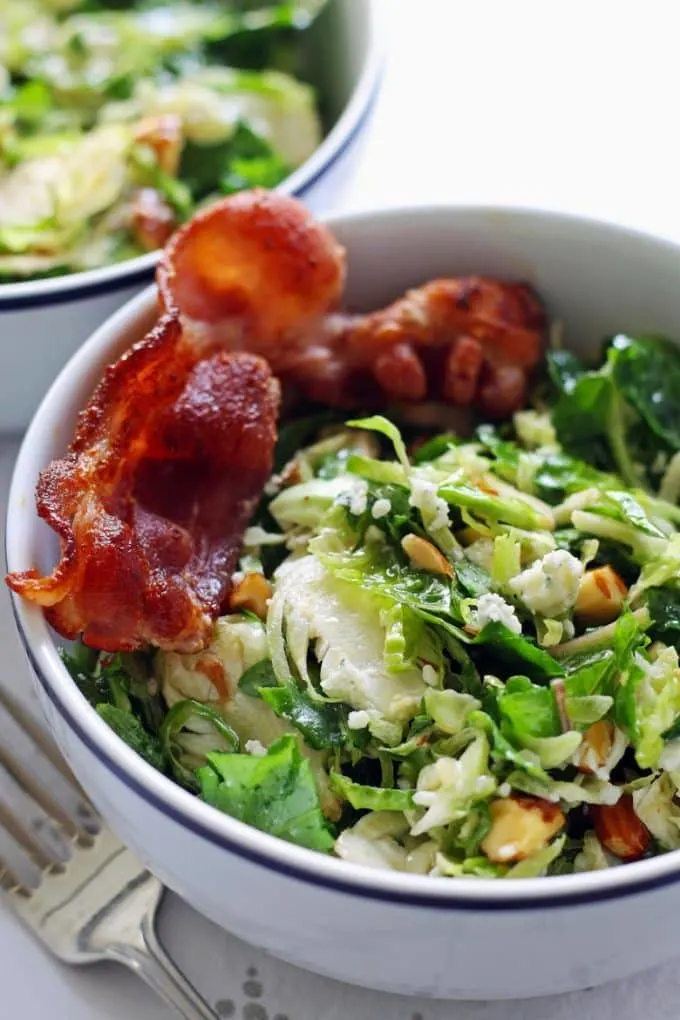 This salad has so much (awesomeness) going on that figuring out where to start and what to talk about is leaving me a little…. hungry. Which is really odd since I have been eating lots and lots of this salad.
It's my new favorite fo' realz.
Don't worry, I'm not going to start slinging slang over here; this salad just makes me so excited. Mr B. has declared it "your best salad yet."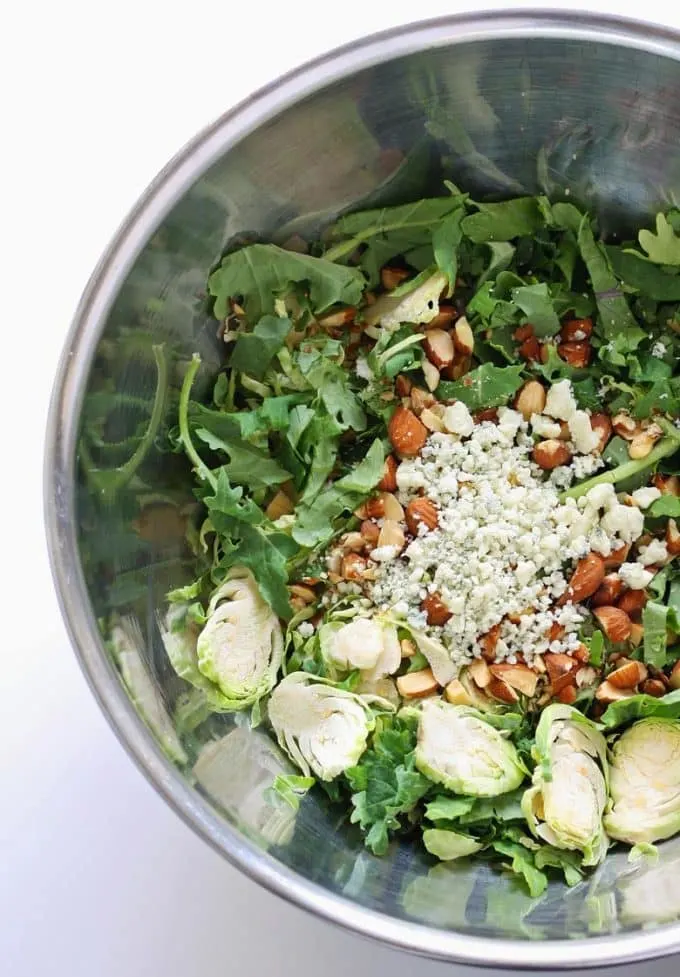 Let's start with the kale.
So… I have never had a kale recipe here on the blog until now. I don't know if you realized that little fact but there is a very good reason. I have an autoimmune disease and while it is totally under control now, there was a year or so when it wasn't.
I became fascinated with the autotimmune protocol/paleo diet in the hopes of feeling like a normal, well person.
I never followed the AIP diet, but I read a lot about it. How I wouldn't be able to eat some of my favorite things like everything in the nightshade family.
Goodbye peppers, hot sauce and tomatoes. Also, no cocktails… goodbye happy hour.
Oh, and goodbye to everything that you exclude if you follow the Paleo diet. (I can't even say goodbye black beans but that would have had to happen too.)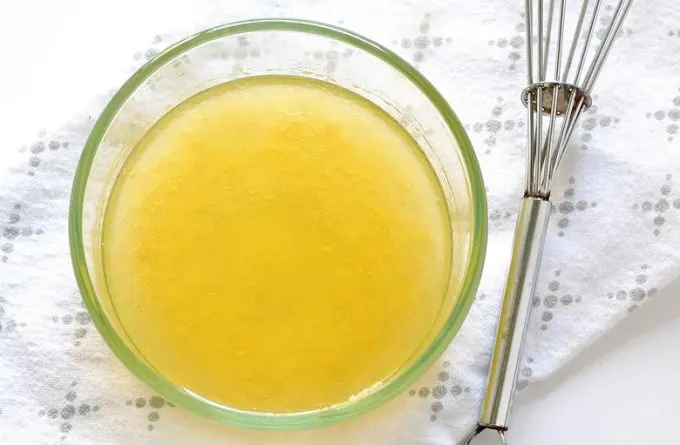 I couldn't get myself to say farewell to any of those things but I found one ingredient on the non-exclusion list that I wasn't upset about giving up. Kale.
So, I read all of that information and studied the AIP diet and then followed none of it. And gave up kale, which I should have been eating more of.
I make no sense, obviously.
Sitting on this computer, working all of the time, has made me sedentary and my clothes aren't fitting as well as they once did… even my yoga pants.
Something's gotta give … and it's me. Working out and eating more salads like this brussels sprouts kale salad have been added to the top of my daily to-do list.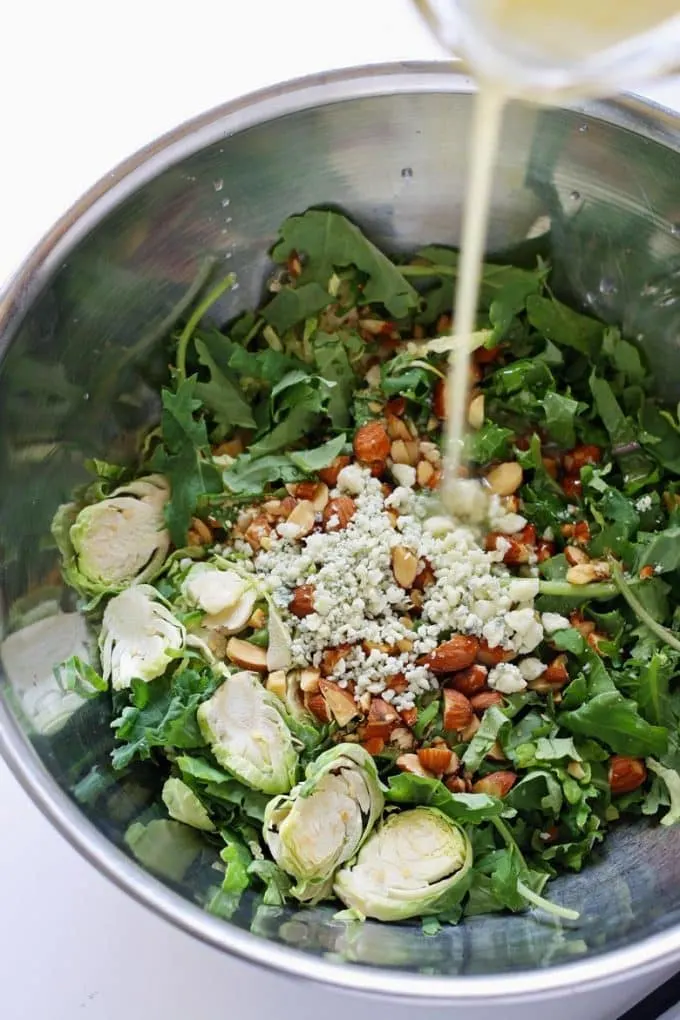 Brussels Sprouts Kale Salad
Yes, I know this salad has both bacon and cheese in it. A girl can't change completely in one blog post.
I limited it to one piece of bacon per helping which will help test your willpower AND feed your bacon cravings. You can do it – you can resist eating all the bacon and just take one piece. (Trying to help you with a bacon mantra or two…)
At Tar-get (pronounce that like its French please), I found a very awesome bag of shaved brussels sprouts. Normally, I would shave them myself but I felt like saving a little time (birthday weekend and all).
I'm not quite ready to share my own video tutorials so I found one for shaving brussels sprouts on YouTube for you, if you need help figuring out where to start. You're welcome.
I chopped up the kale so it was similarly sized to the b-sprouts – I find myself more likely to finish salads if everything is around the same size. And I chopped up the almonds pretty small too.
So, I guess this is kind of a chopped salad but I'm going to just keep calling it a brussels sprouts kale salad.
Mix all of the salad ingredients together and THEN add the salad dressing.
Maybe you only want half a salad – by waiting to add the dressing, you won't get soggy greens. You will thank yourself later for waiting. And maybe reward yourself with another piece of bacon. 🙂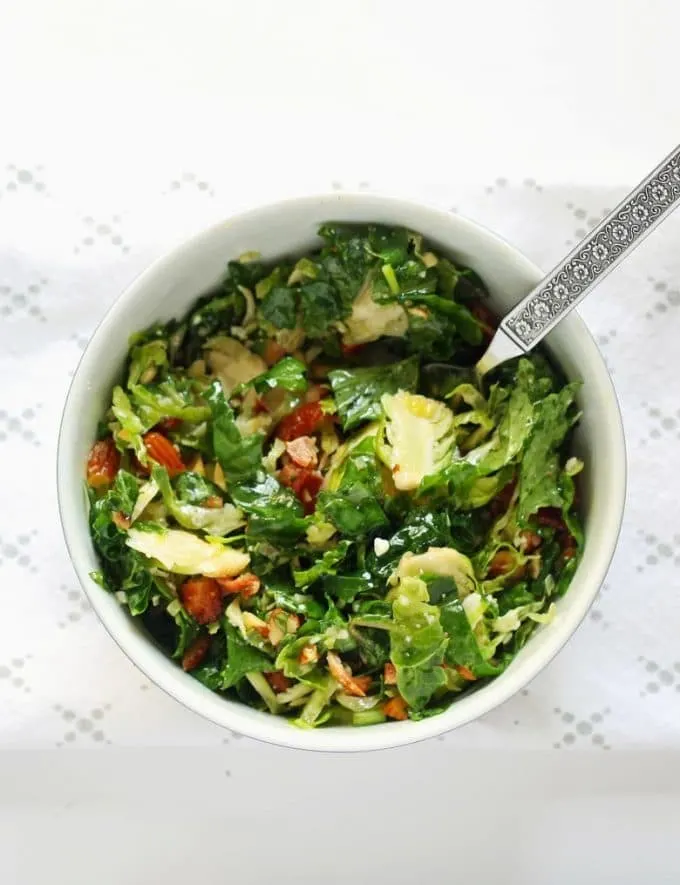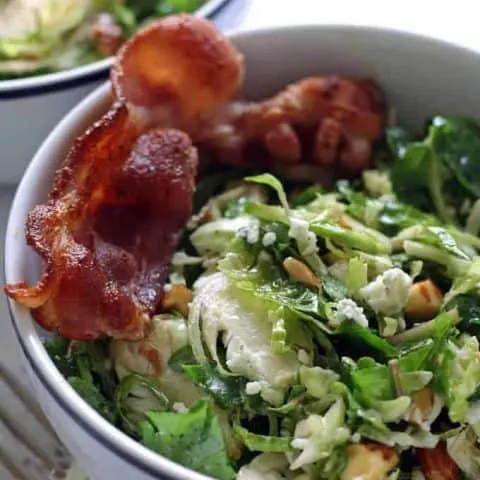 Brussels Sprouts Kale Salad
Brussels sprouts kale salad with bacon, almonds, blue cheese and a lemon garlic vinaigrette. Perfect for lunch!
Ingredients
2 cups chopped kale
2 cups shaved brussels sprouts
1/2 cup chopped almonds
1/2 cup blue cheese crumbles
2 slices cooked thick-cut bacon
1 portion of Lemon Garlic Vinaigrette
Lemon Garlic Vinaigrette
1/4 cup extra virgin olive oil
1/4 cup white wine vinegar
1/8 cup lemon juice
1 teaspoon minced garlic
1/2 teaspoon kosher salt
Instructions
Combine all of the salad ingredients in a medium bowl and toss until well-mixed. Serve with Lemon Garlic Vinaigrette
Lemon Garlic Vinaigrette
In a small bowl, whisk all of the salad dressing ingredients together until well combined.
Recommended Products
As an Amazon Associate and member of other affiliate programs, I earn from qualifying purchases.
SaveSave