This cranberry apple cider mimosa is the perfect easy fall cocktail. Its main ingredient is sparkling cider so it can easily be made into a fauxmosa!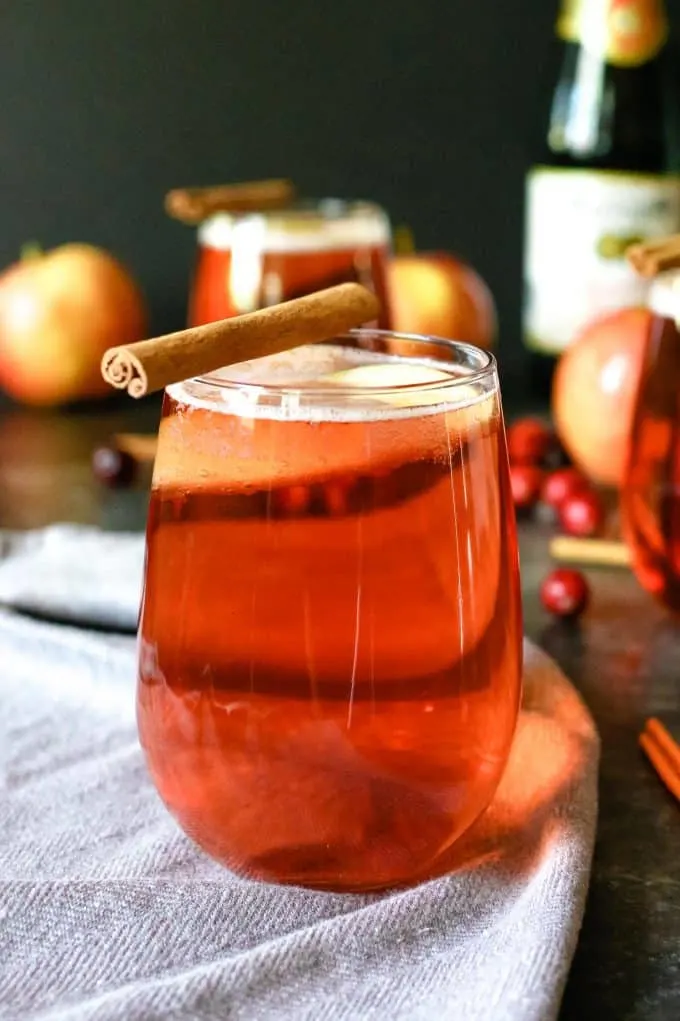 This post is sponsored by Martinelli's – all opinions (and my love for their sparkling apple cider!) are my own.
With the holiday season approaching,
I bet you're starting to think about holiday parties. If you aren't, it's time to start!
We are huge fans of hosting parties and over the years, I've hosted Thanksgiving, Christmas dinner and several other holiday events.
I have an array of go-to recipes for appetizers, dinner and desserts; I've got the turkey and ham, sides and pies down to a tee.
I'm usually running around cleaning, cooking and shopping – I'm sure you can relate.
Things get so busy that sometimes I forget about drinks and send out frantic texts to guests asking them to pick something up.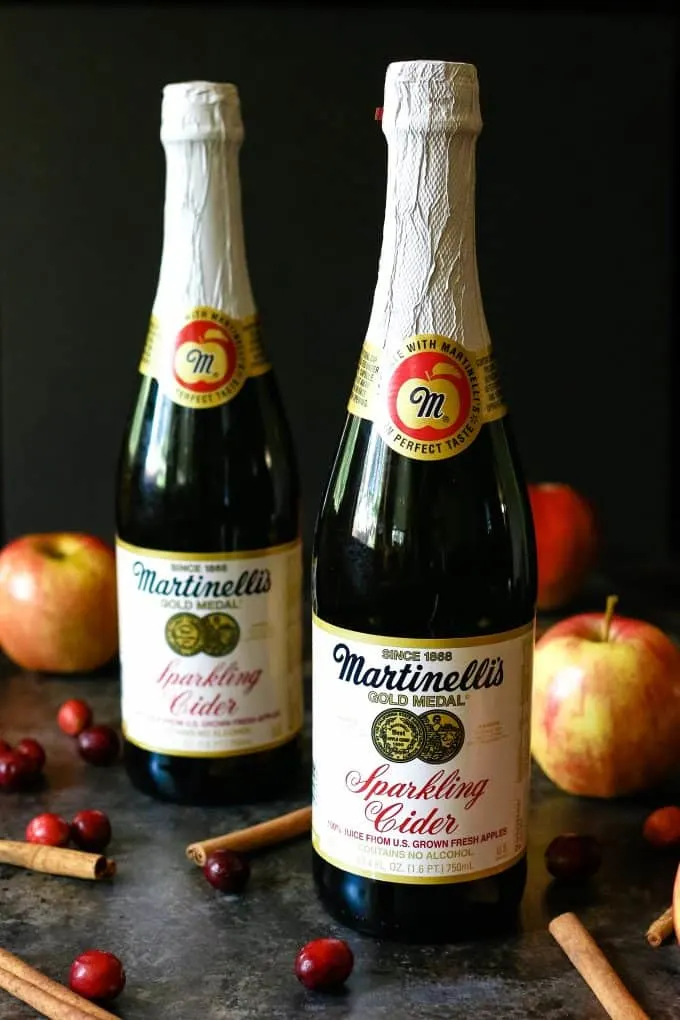 This year I have a plan and it includes these apple cinnamon cranberry mimosas.
Many of my parties now have children (or women expecting children) in attendance so I needed to think out of the box this year.
Martinelli's Sparkling Cider is the perfect solution!
As a kid, my mom would always pick up a bottle or two of Martinelli's sparkling cider so I could partake in New Year's Eve toasts.
Bubbly is especially fun when everyone can join in.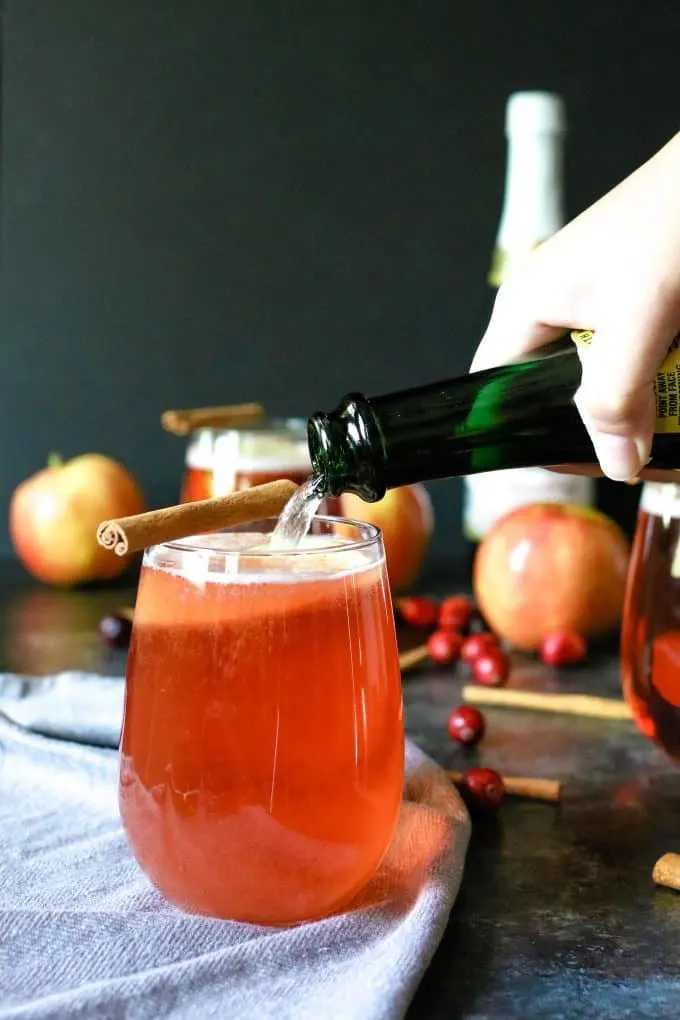 Cranberry Apple Cider Mimosa
This cranberry apple cider mimosa, made with sparkling apple cider instead of champagne, can easily be made into a fauxmosa.
Because vodka is essentially flavorless, the drink will taste exactly the same if you remove it.
Mimosas and fauxmosas for everyone!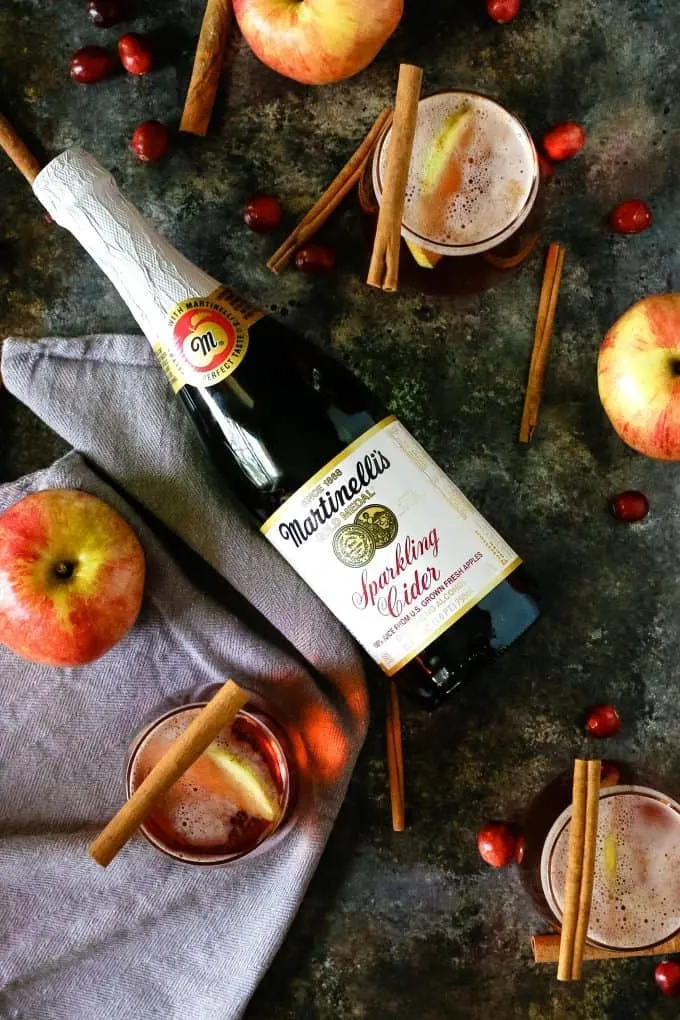 Cranberry Apple Cider Mimosa Ingredients
Cranberry Juice: Cranberry juice provides a vibrant and tart element to the mimosa, adding a fruity flavor and a rich, reddish hue.
Vodka: Vodka is an optional alcoholic addition to the mimosa. It brings a slight alcoholic kick to the drink, but you can omit it if you prefer a non-alcoholic version.
Pinch of Cinnamon: A bit of cinnamon adds a warm and aromatic spice note to the mimosa, complementing the fruity and bubbly elements.
Non-Alcoholic Sparkling Cider: Sparkling cider serves as the base of the mimosa, providing effervescence and a crisp apple flavor. It's a non-alcoholic alternative to traditional champagne or sparkling wine and pairs beautifully with cranberry juice.
These components combine to create a Cranberry Apple Cider Mimosa, a delightful and fizzy beverage with a harmonious blend of cranberry and apple flavors, a hint of cinnamon, and an optional vodka kick for those who prefer it.
It's perfect for celebrating special occasions or simply enjoying a refreshing drink.
How to Make an Apple Cider Mimosa
Add the cranberry juice and vodka to a cocktail shaker and add ice.
Shake it until the liquid is cold (give it a couple of really good shakes) and then strain it into a glass.
Sprinkle some cinnamon in the glass and then top it off with sparkling cider
It's a delicious drink and is so easy to make. You can keep all of the ingredients on hand and you will be ready for any last minute parties.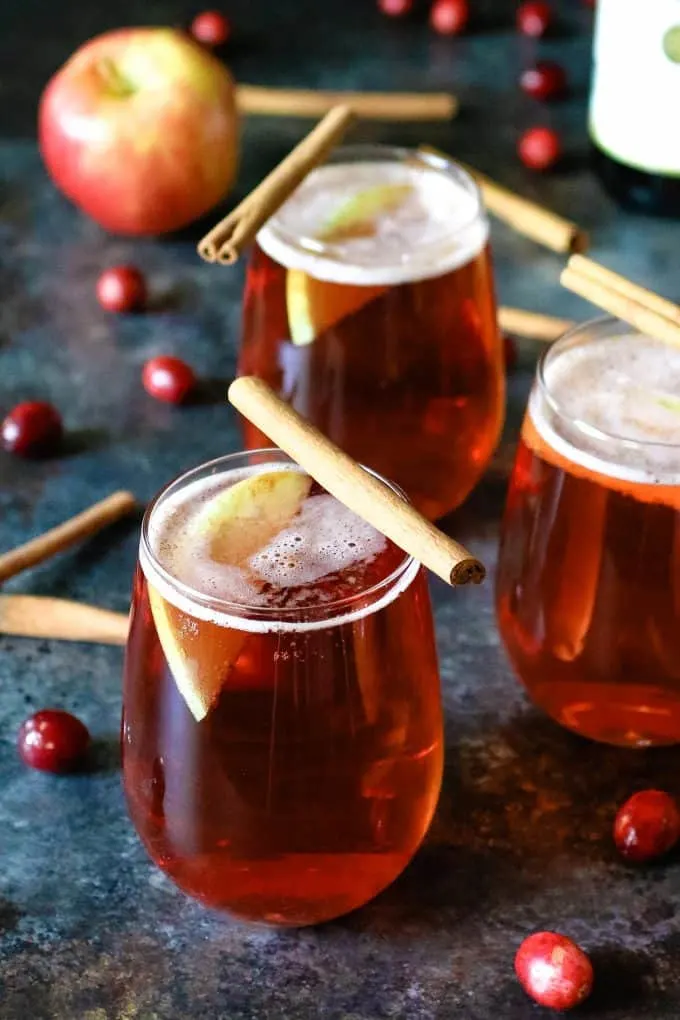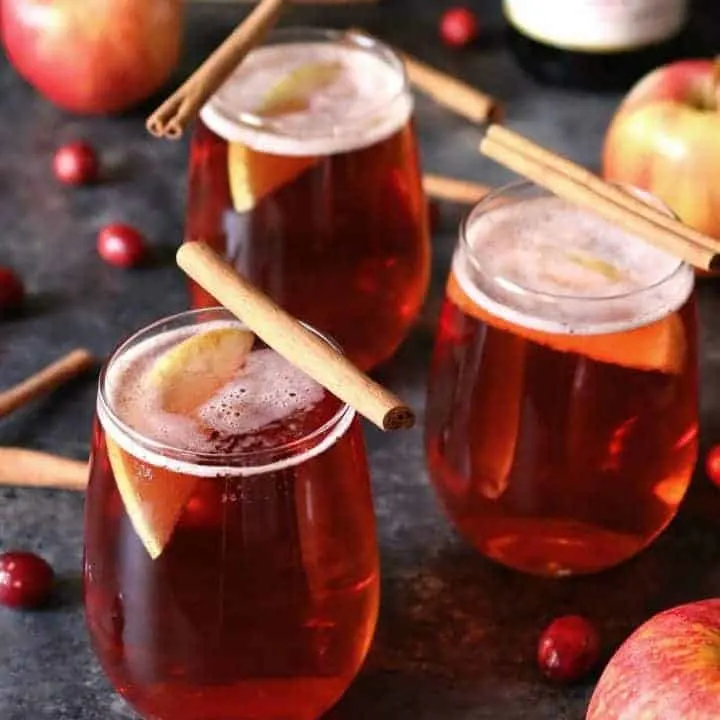 Cranberry Apple Cider Mimosa
This cranberry apple cider mimosa is the perfect easy holiday drink. It's main ingredient is sparkling apple cider so it can also be made into a fauxmosa!
Ingredients
½ cup cranberry juice
1 ½ ounces vodka (optional)
pinch of cinnamon
1 cup non-alcoholic Sparkling Cider
Instructions
In a cocktail shaker filled with ice, add the cranberry juice and vodka.
Strain into a glass.
Add a pinch of cinnamon to the glass and top off with Sparkling Cider.
Nutrition Information:
Yield:

1
Serving Size:

1
Amount Per Serving:
Calories:

265
Total Fat:

0g
Saturated Fat:

0g
Trans Fat:

0g
Unsaturated Fat:

0g
Cholesterol:

0mg
Sodium:

18mg
Carbohydrates:

41g
Fiber:

1g
Sugar:

36g
Protein:

1g
Nutrition information is automatically calculated and may not be correct.