This quick and easy jalapeno cream cheese appetizer recipe is a fun addition to your thanksgiving table! This appetizer with a kick is no-cook and can be ready in 10 minutes.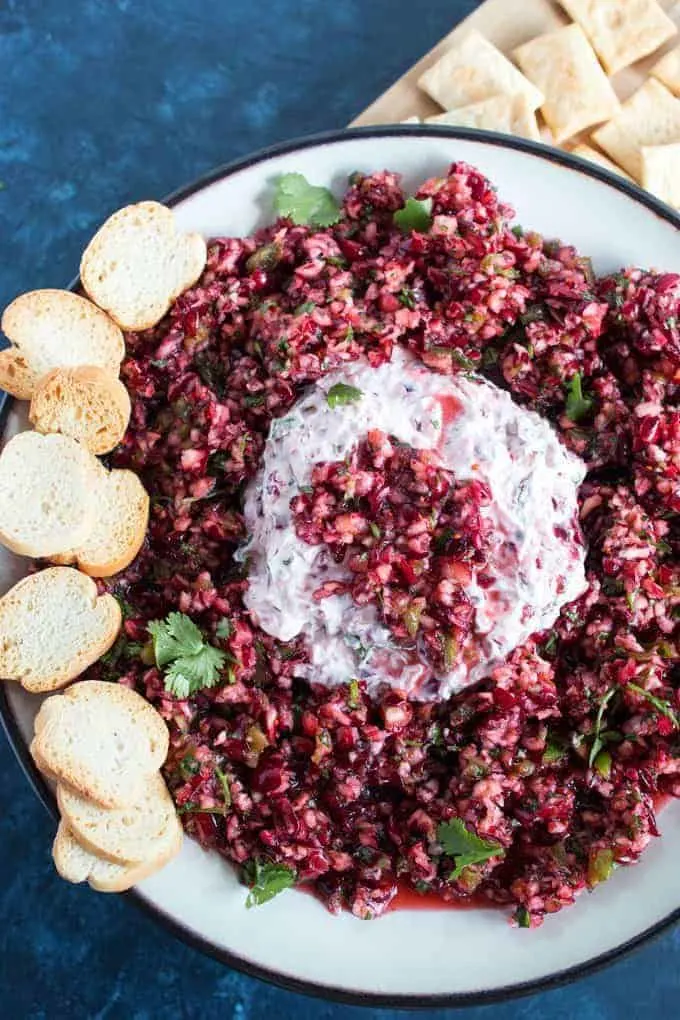 Introducing the cranberry jalapeño salsa cream cheese appetizer, a quick and delightful addition to your Thanksgiving table. This no-cook recipe can be prepared in just 10 minutes, making it a must-have for your holiday party and Thanksgiving dinner.
Picture this: you gather with your loved ones, unveiling this vibrant appetizer. The tangy cranberries mingle with fiery jalapeños, creating a perfect balance of flavors. The creamy cream cheese provides a smooth backdrop, enhancing the overall indulgence of each bite.
With its vibrant colors and enticing aroma, this cranberry jalapeño salsa cream cheese appetizer will become the centerpiece of your Thanksgiving feast. Its effortless preparation allows you to focus on other aspects of your holiday meal while still impressing your guests with this delightful creation.
As you savor each spoonful, the flavors harmonize in perfect balance, leaving a lasting impression. The tartness of the cranberries, the heat of the jalapeños, and the creaminess of the cheese create a taste sensation that will have everyone reaching for more.
So, this Thanksgiving, elevate your culinary prowess with the cranberry jalapeño salsa cream cheese appetizer. It's a guaranteed hit that will leave your guests asking for the recipe and eagerly anticipating your next holiday gathering. Don't miss out on this quick and delightful addition to your Thanksgiving table—it's a culinary masterpiece that will make your holiday celebration truly memorable.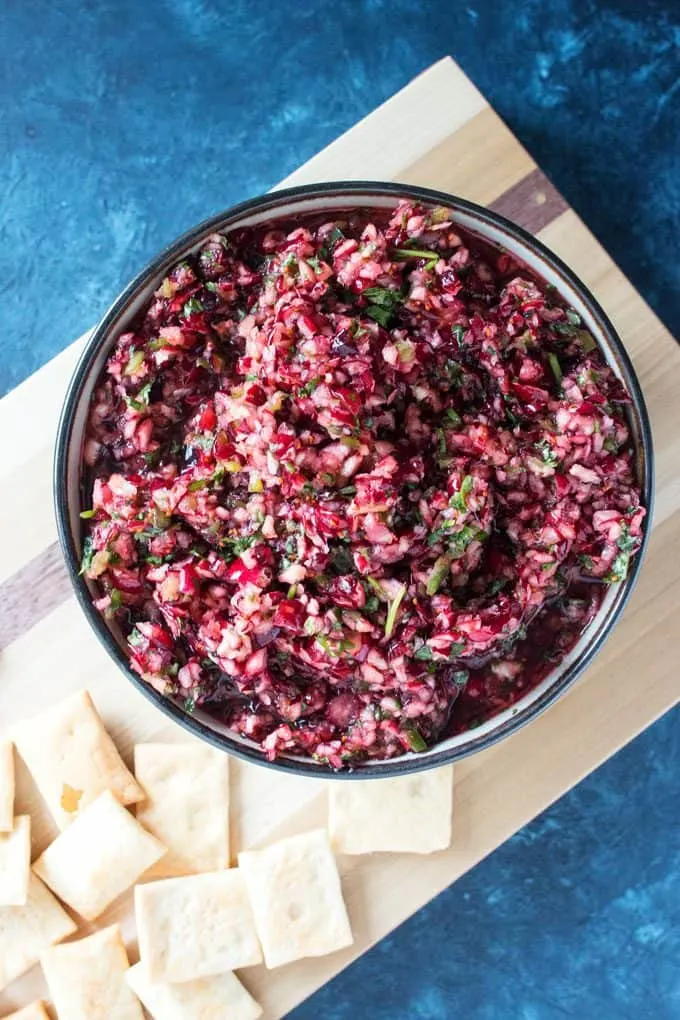 The Ingredients
You'll need the following ingredients for this cranberry jalapeño salsa and cream cheese appetizer. Start by gathering 12 ounces of fresh cranberries, making sure to rinse them thoroughly. Next, prepare a bunch of cilantro leaves, ensuring they are clean and ready to be used. Finally, take 2 jalapeños, remove the seeds, and roughly dice them.
To enhance the flavors, juice 1 medium orange and 1 lime. These citrus juices will provide a refreshing tanginess to the salsa. Additionally, you'll need 1/2 cup of honey to add a touch of sweetness to the mixture. Remember that pinch of kosher salt to balance the flavors!
Lastly, for the creamy base of the appetizer, you'll need 8 ounces of cream cheese. This ingredient will complement the tangy and spicy cranberry jalapeño salsa, creating a delectable combination.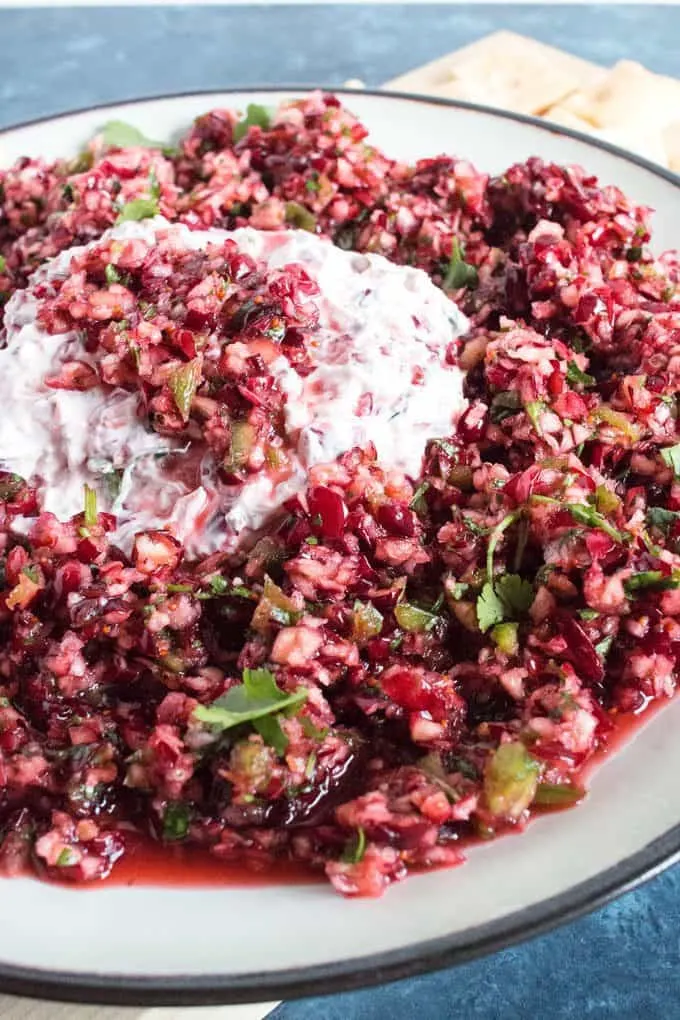 How to Make this Spicy Jalapeño Appetizer
To make this fall-inspired treat, start by preparing the easy cranberry jalapeño salsa recipe. This really is the best cranberry jalapeño salsa for Thanksgiving appetizers. Simply combine all the ingredients, except the cream cheese, in a food processor and blend until well mixed. Set aside most of the salsa, keeping about 1/4 cup for later. Add softened cream cheese to the remaining salsa and pulse until thoroughly combined.
Next, use a spatula to place the cream cheese mixture in the center of a large plate. Shape it into a circular form, using your hands if needed. Then, surround the cream cheese with spoonfuls of the cranberry jalapeño salsa. Voila! Make this spicy jalapeno cream cheese dip for all parties and be ready to impress!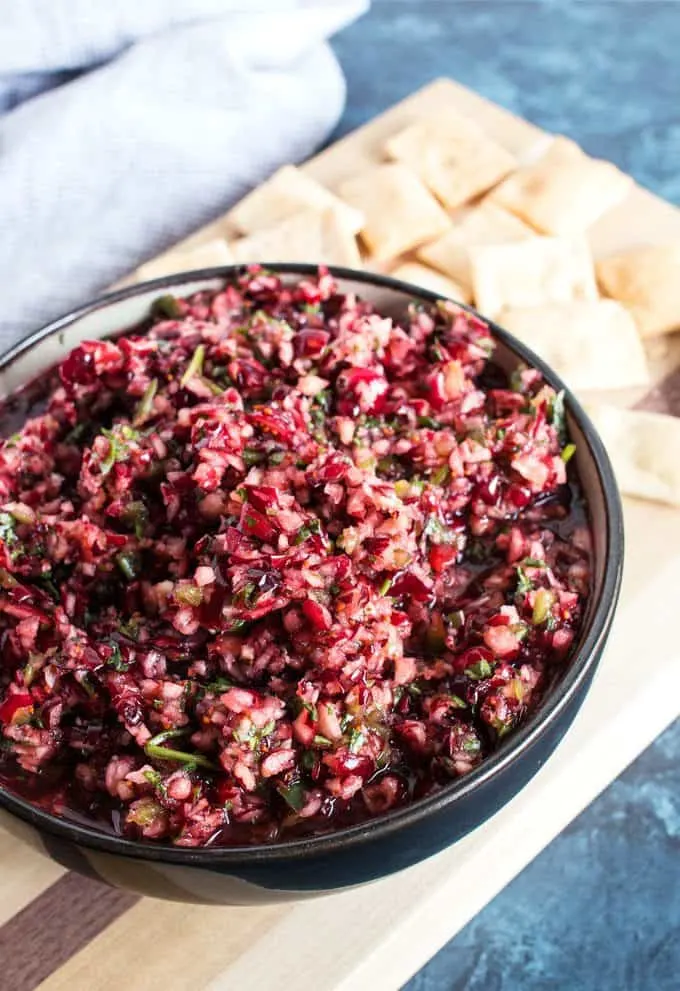 What is the best way to remove jalapeno seeds and membranes?
So, you want to know the best way to get rid of those pesky jalapeno seeds and membranes, huh? Well, here's the deal. Grab yourself a sharp knife or a trusty spoon, and let's get down to business. Start by chopping off the stem end of the jalapeno, then slice it right in half lengthwise.
Now, to tackle those seeds and membranes, take that spoon and gently scrape them out. You can also use the edge of your knife if you're feeling adventurous. Just be careful not to go too wild and slice your finger instead. Oh, and here's a tip: wearing gloves might be a good idea to avoid any burning sensations later on.
Once you've conquered the seeds and membranes, you'll notice the heat level of the jalapeno goes down a notch or two. So, if you're after a milder kick, this trick will do the trick.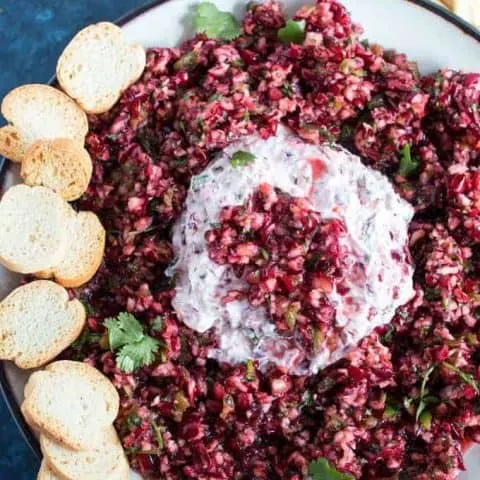 Cranberry Jalapeño Cream Cheese Appetizer
This cranberry jalapeño cream cheese appetizer is the perfect easy addition to your Thanksgiving table! It's no-cook and can be ready in 10 minutes.
Ingredients
12 ounces fresh cranberries, rinsed
1 bunch cilantro leaves
2 jalapeños, seeded and roughly diced
1 medium orange, juiced
1 lime, juiced
1/2 cup honey
pinch kosher salt
8 ounces cream cheese
Instructions
In a food processor, add all ingredients except the cream cheese and pulse until well combined. Remove most of the cranberry jalapeño salsa from the food processor, leaving 1/4 cup. Add the cream cheese and pulse until combined.
In the middle of a large plate, spread the cream cheese mixture. Spoon the cranberry jalapeño salsa around the cream cheese. Serve with chips.
Nutrition Information:
Yield:

8
Serving Size:

1
Amount Per Serving:
Calories:

195
Total Fat:

10g
Saturated Fat:

6g
Trans Fat:

0g
Unsaturated Fat:

3g
Cholesterol:

29mg
Sodium:

103mg
Carbohydrates:

27g
Fiber:

2g
Sugar:

22g
Protein:

2g
Nutrition information is automatically calculated and may not be correct.