This sparkling bourbon pear cocktail is a delicious combination of champagne, bourbon and pear juice. It's easy to make and perfect for any day of the week!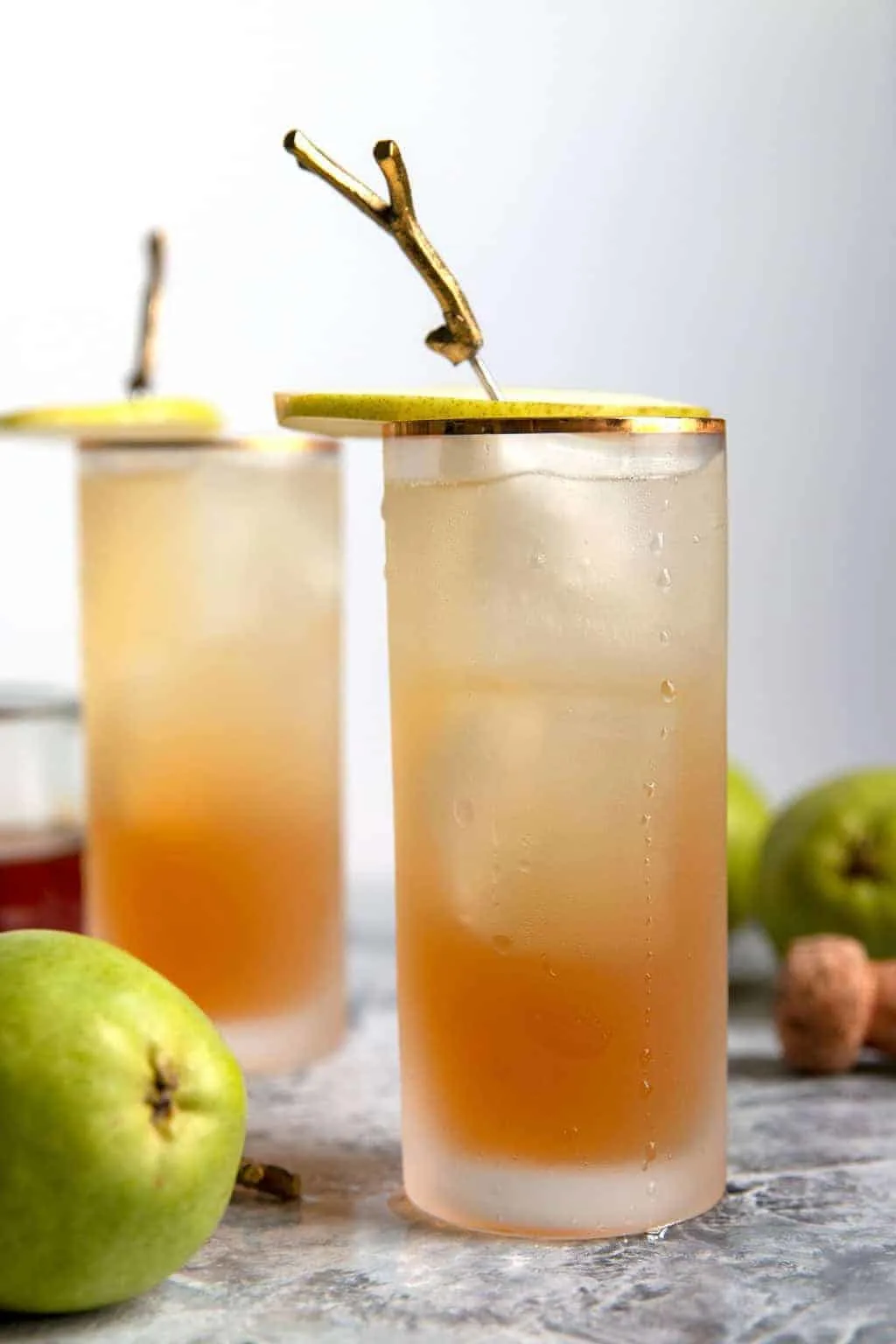 I am and have been a bourbon fan for a very long time. It started many years ago while on a trip to Louisville. That foray down the Bourbon Trail sealed my fate.
Since then, I have tried many bourbons and definitely have a favorite bourbon or two. I've even fallen for several rye whiskeys along the way.
Neat or on the rocks, bourbon – you have my heart.
And the same goes for bourbon cocktails. Can't stop, won't stop.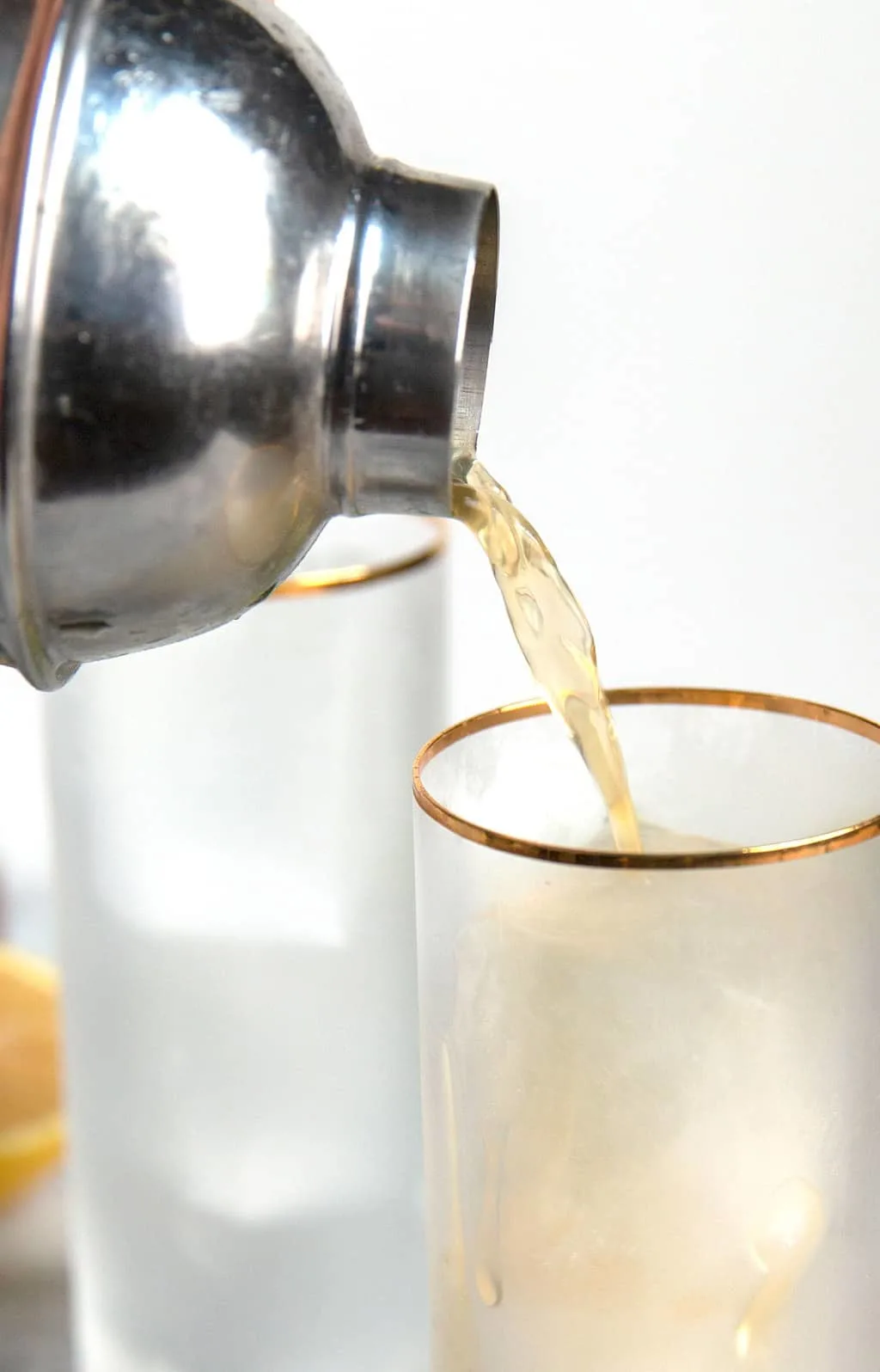 This post contains some affiliate links for your convenience. Click here to read my full disclosure policy.
Easy Black Bean Soup Ingredients
Black Beans – Black beans serve as this hearty soup's primary ingredient and star. They bring a rich, earthy flavor and a creamy texture that forms the base of the soup.
Chicken Broth – The chicken broth provides a flavorful and savory liquid base. It adds depth to the black beans' taste and ensures the soup is well-seasoned.
You can use homemade chicken broth or store-bought depending on your preference and availability.
Diced Tomatoes – Diced tomatoes contribute a vibrant and slightly tangy element to the soup. They enhance the flavor profile and provide a pleasant contrast to the richness of the black beans.
The diced tomatoes also offer a bit of texture to the soup.
These three simple ingredients come together to create an Easy Black Bean Soup that's quick to prepare and deliciously satisfying.
It's a fantastic option for a quick and nutritious meal, especially when served with toppings like sour cream, shredded cheese, chopped cilantro, or a squeeze of fresh lime juice.
Sparkling Bourbon Pear Cocktail
I've been experimenting with bourbon cocktails for the last few months and my favorite right now is this sparkling bourbon pear cocktail. Easy to make and super delicious.
Start by making some cinnamon simple syrup. I used cinnamon simple syrup in my orange red wine spritzer cocktail and make batches of it often. This takes about 10 minutes and then you need to let it cool for another 20-30 minutes or so.
This little break is a great time to prep some appetizers…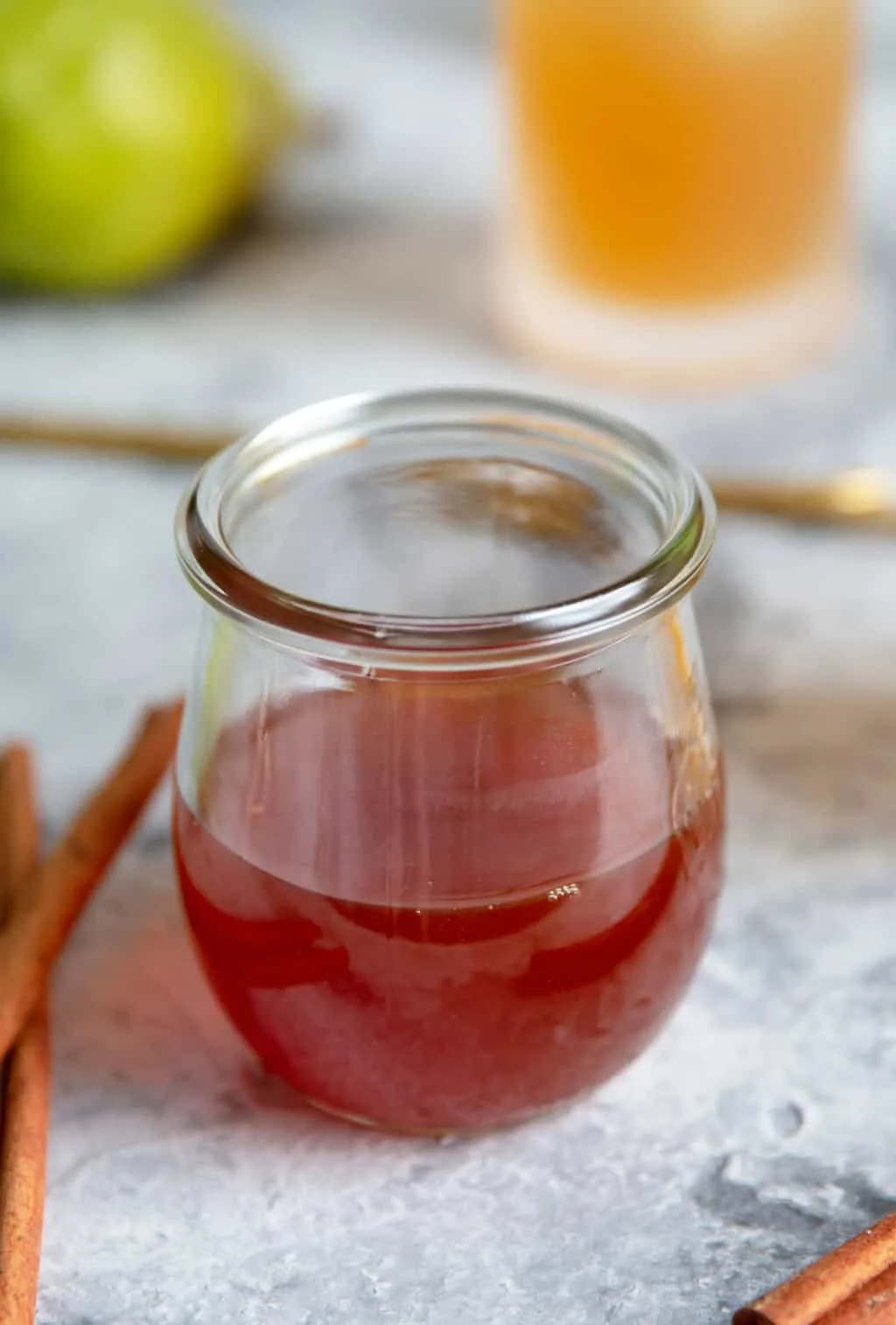 After the simple syrup cools, add it, bourbon, lemon juice, and pear juice to a cocktail shaker. Shake, shake, shake. You know how to do it.
Strain the mixture into a glass filled with ice cubes. I like to use a large, square mold silicone ice cube tray. The ice cubes melt much slower and your drink won't get watered down.
**Cocktail tip – use bottled, filtered, or distilled water in your ice cube trays. The ice cubes will appear clear instead of foggy.**
Top your glass with sparkling wine and voilà! You're ready to enjoy your sparkling bourbon pear cocktail.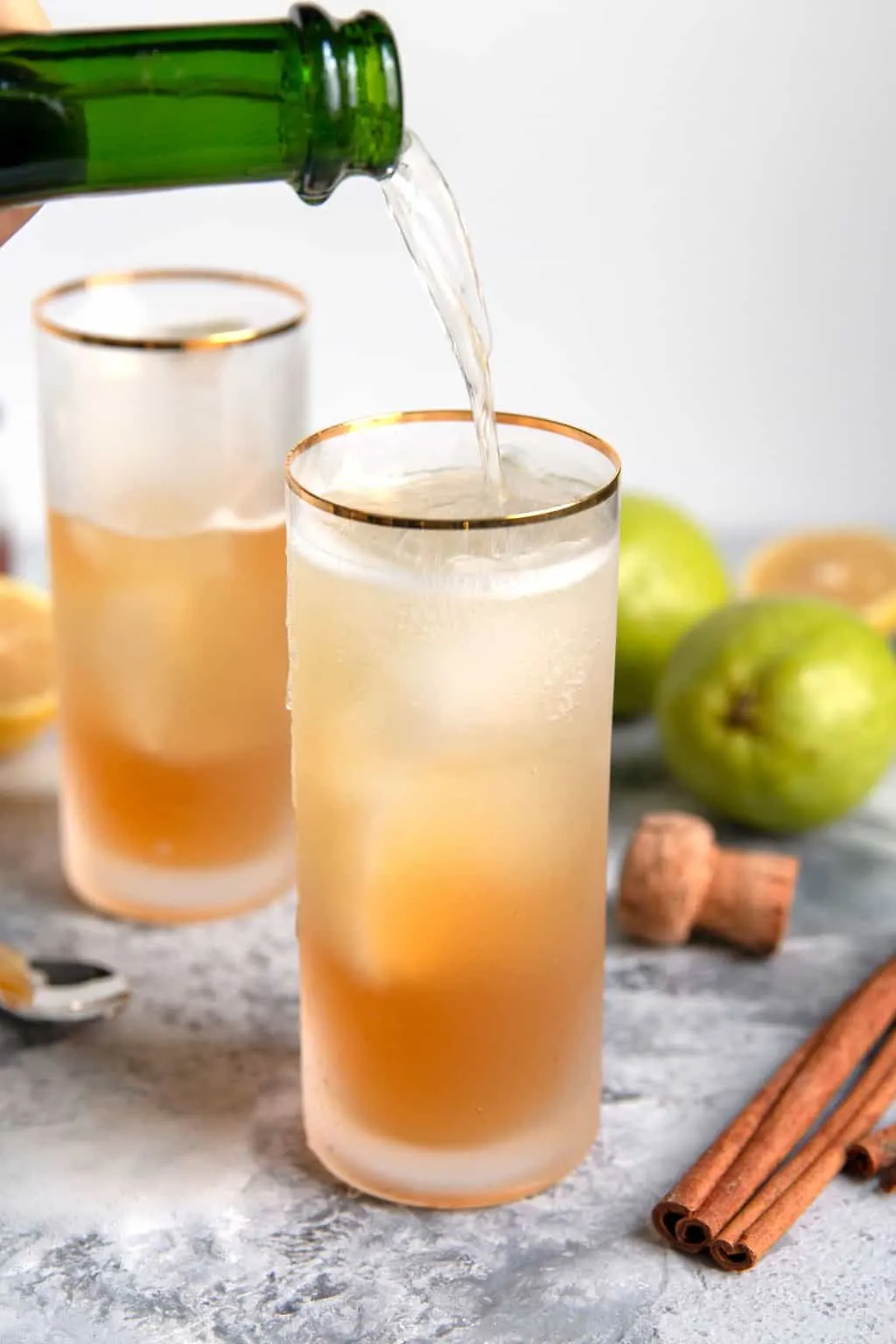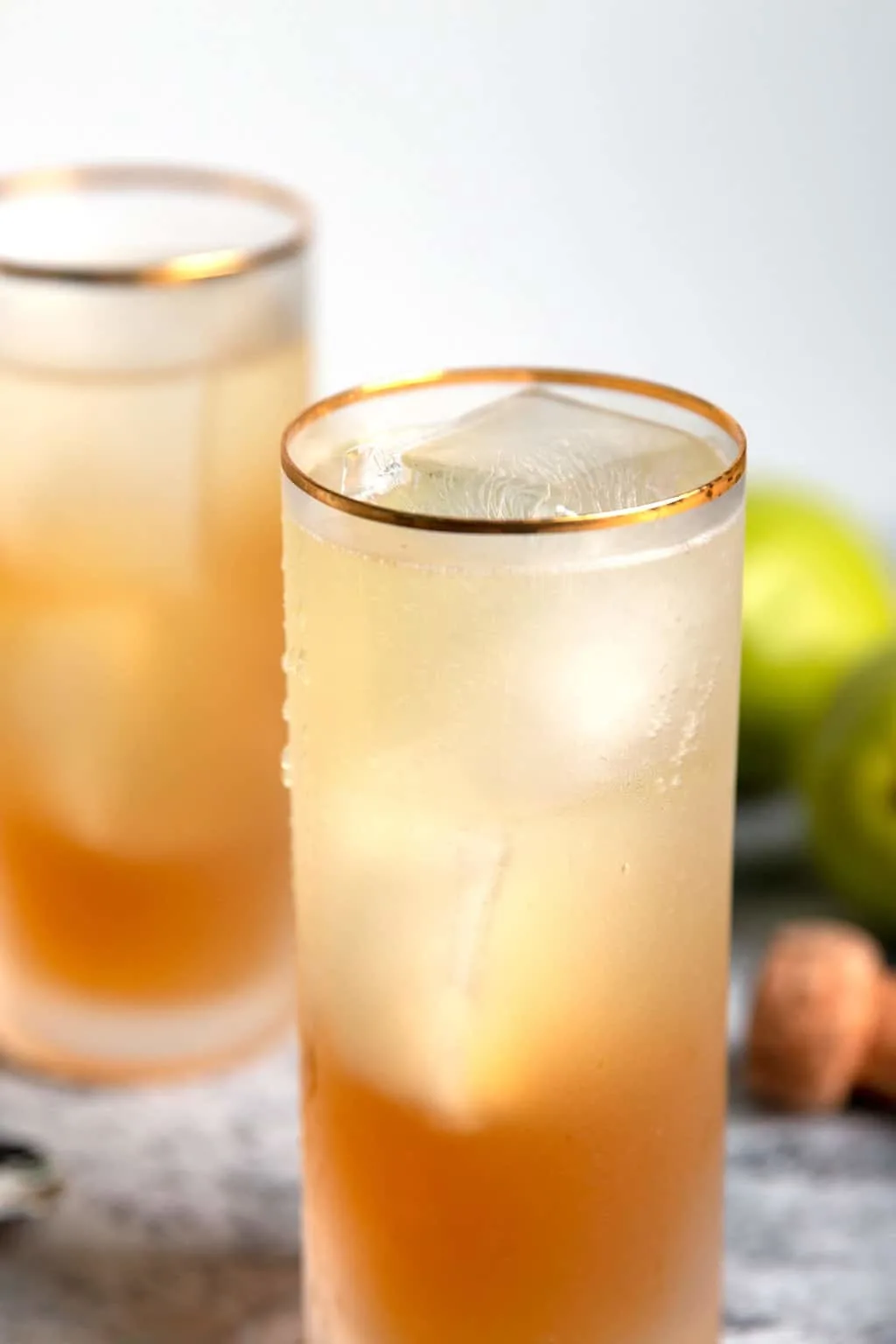 What glass should I use?
You can use many types of glasses for this cocktail. However, I do *not* recommend using champagne flutes or martini glasses. Unless you have tiny ice cubes, there will not be enough room for your drink.
Collins glasses and rocks glasses are my favorite for this drink. Just enough room for ice cubes!
What sparkling wine should I use?
You can use champagne, prosecco, or cava in this drink. This guide to finding great sparkling wines that aren't champagne is fantastic.
I often use cava for sparkling wine cocktails because it is a little cheaper and just as delicious as champagne.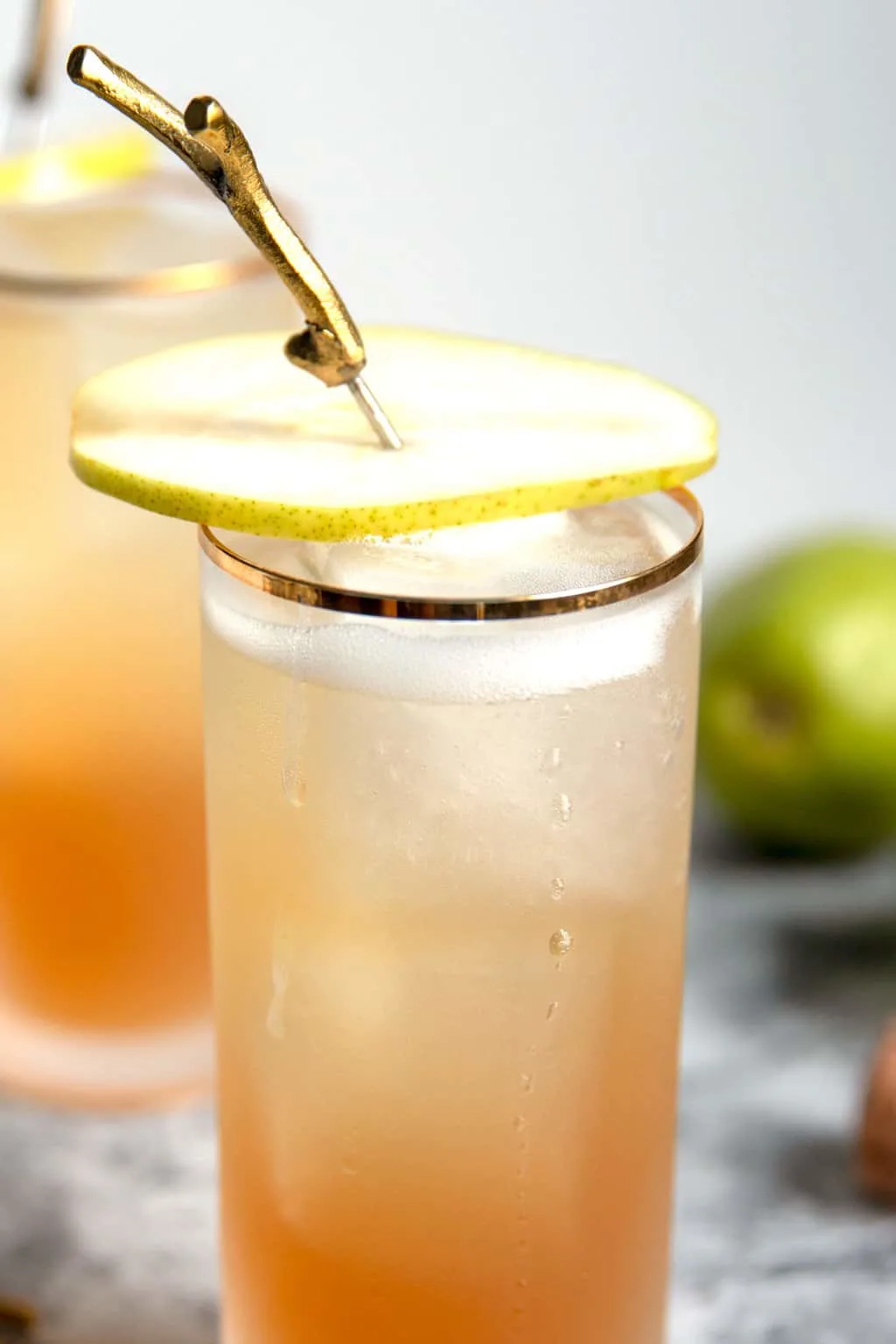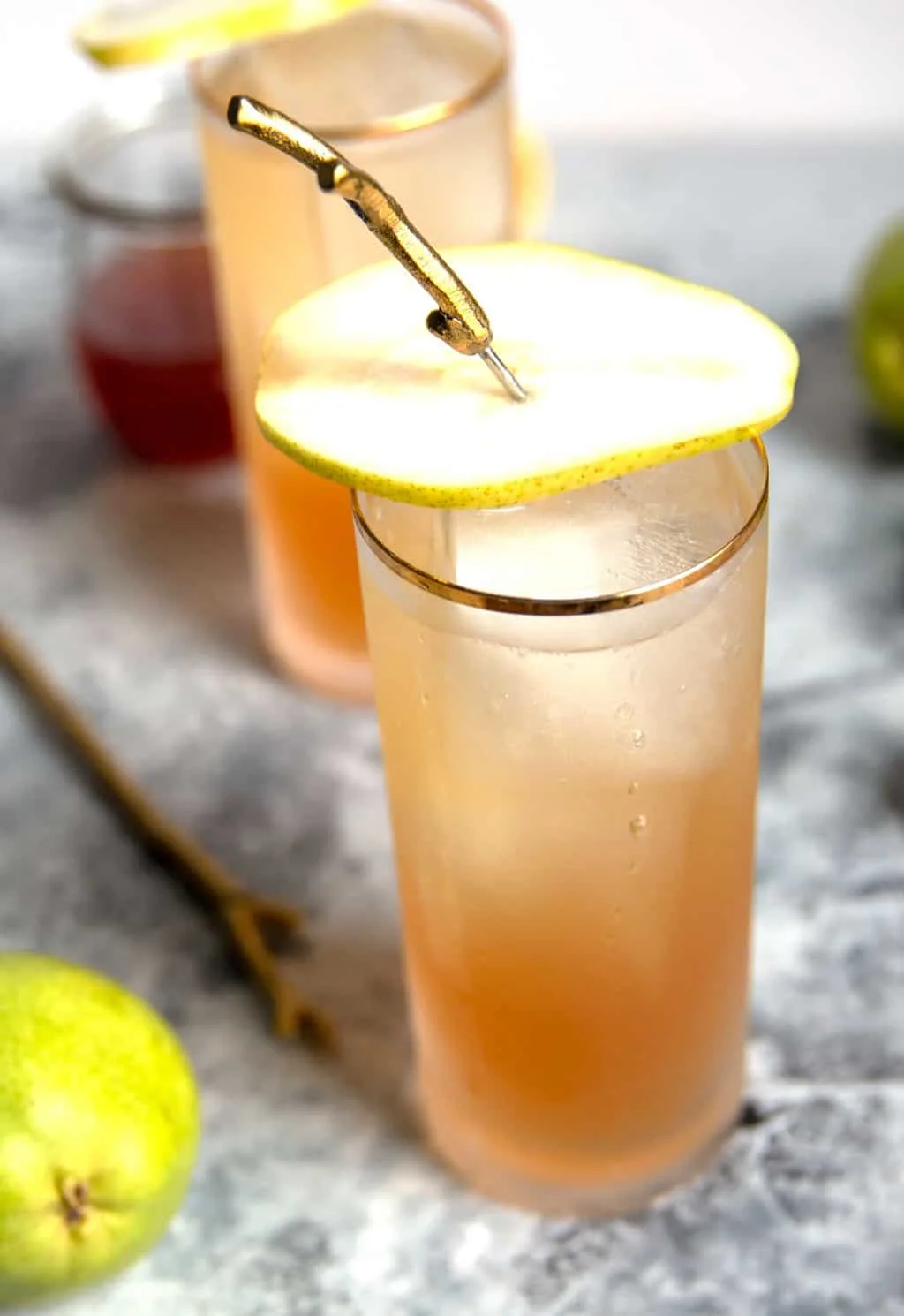 How should I garnish my sparkling bourbon pear cocktail?
Cocktail garnishes aren't necessary but they make cocktails extra special. There is a reason that bars and restaurants do it.
This drink could be garnished with a cinnamon stuck or a pear.
If using a rocks glass, a cinnamon stick would be a great choice. If using a collins glass, I would go with a slice of pear on a cocktail pick.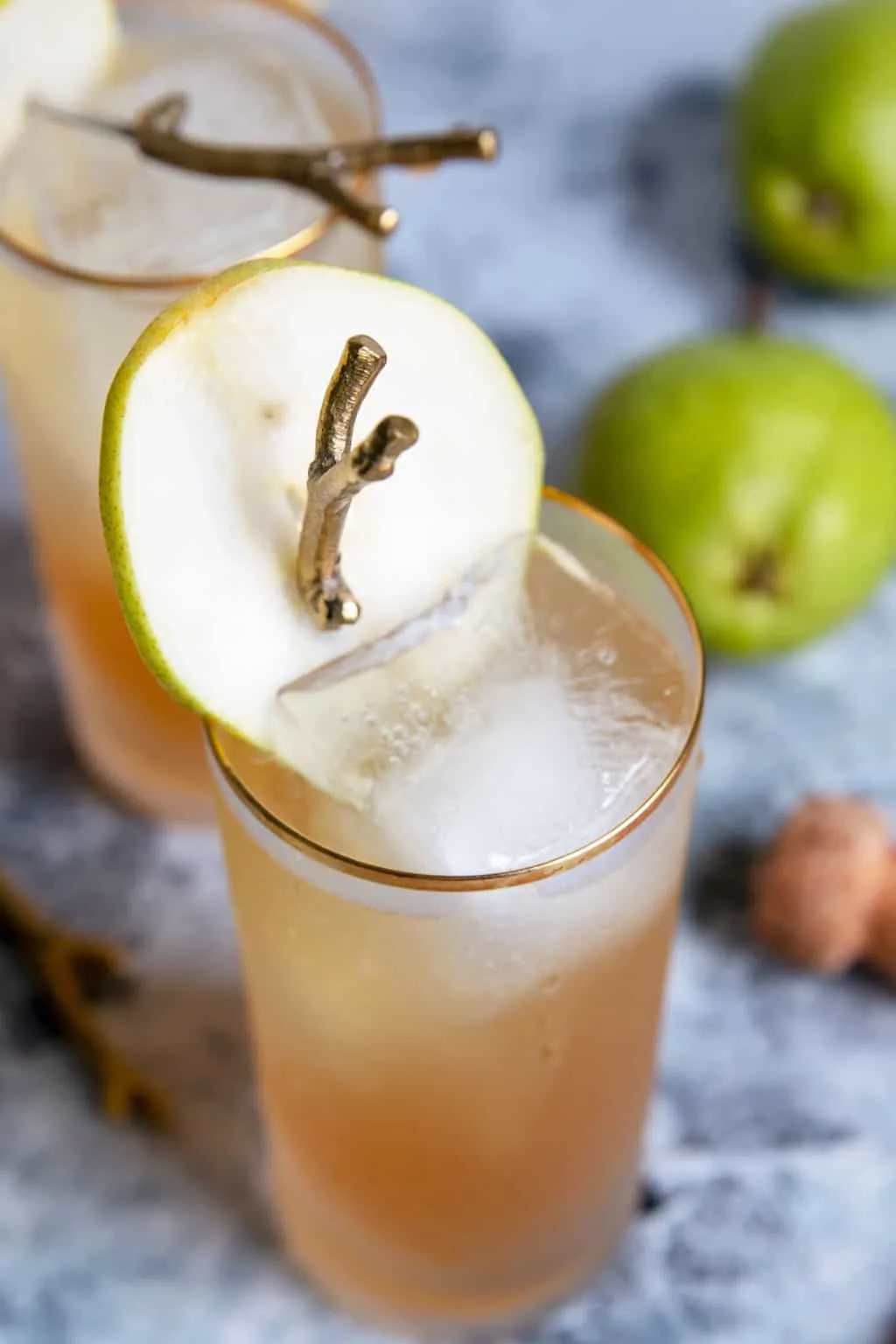 Looking for more easy cocktail recipes?
These are some of my favorites cocktails: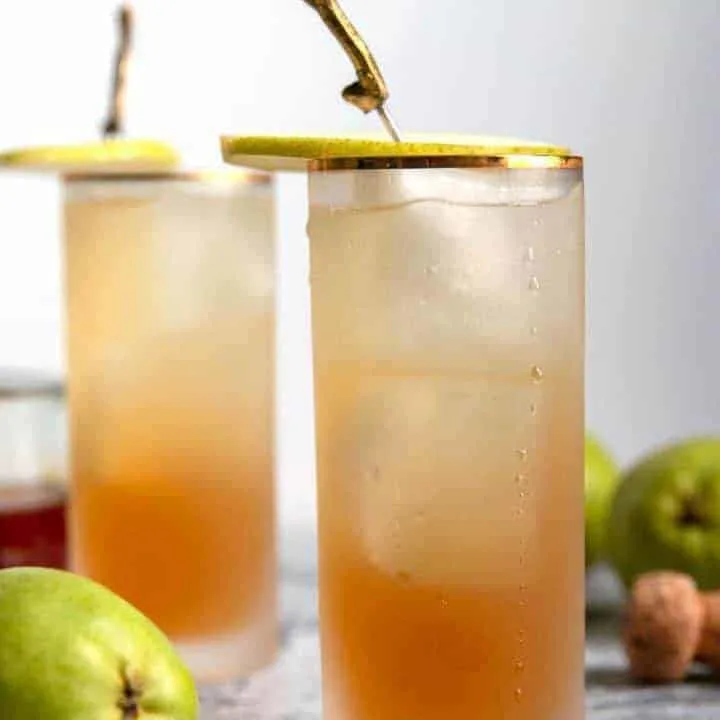 Sparkling Bourbon Pear Cocktail
This sparkling bourbon pear cocktail is a delicious combination of champagne, bourbon and pear juice. It's easy to make and perfect for any day of the week!
Ingredients
Cocktail
3 ounces pear juice
2 ounces bourbon
1/2 ounce lemon juice
1 ounce cinnamon simple syrup
sparkling wine (like champagne, prosecco, or cava)
Cinnamon Simple Syrup
1/2 cup water
1/2 cup granulated sugar
3 cinnamon sticks, broken in pieces
Instructions
Combine pear juice, bourbon, lemon juice, and simple syrup to a cocktail shaker filled with ice. Shake vigorously.
Pour into a glass filled with ice. Top the glass with sparkling wine.
To make the cinnamon simple syrup, combine water, sugar, and cinnamon sticks in a small pot. Bring to a boil and then turn off heat. Pour syrup into a glass or jar and let sit for 20-30 minutes. Strain out the cinnamon sticks and store in a storage container.
Notes
If you're looking for a drink that is less sweet, follow the steps to make cinnamon simple syrup but remove the sugar. Your drink will be slightly watered down but you will get the same cinnamon flavor.
Recommended Products
As an Amazon Associate and member of other affiliate programs, I earn from qualifying purchases.
Nutrition Information:
Yield:

2 cocktails
Amount Per Serving:
Calories:

200