These heart shaped rice krispie pops are the perfect easy Valentine's Day treat for you and your kids! Whip up a batch of rice krispie treats, dip them in chocolate and apply sprinkles!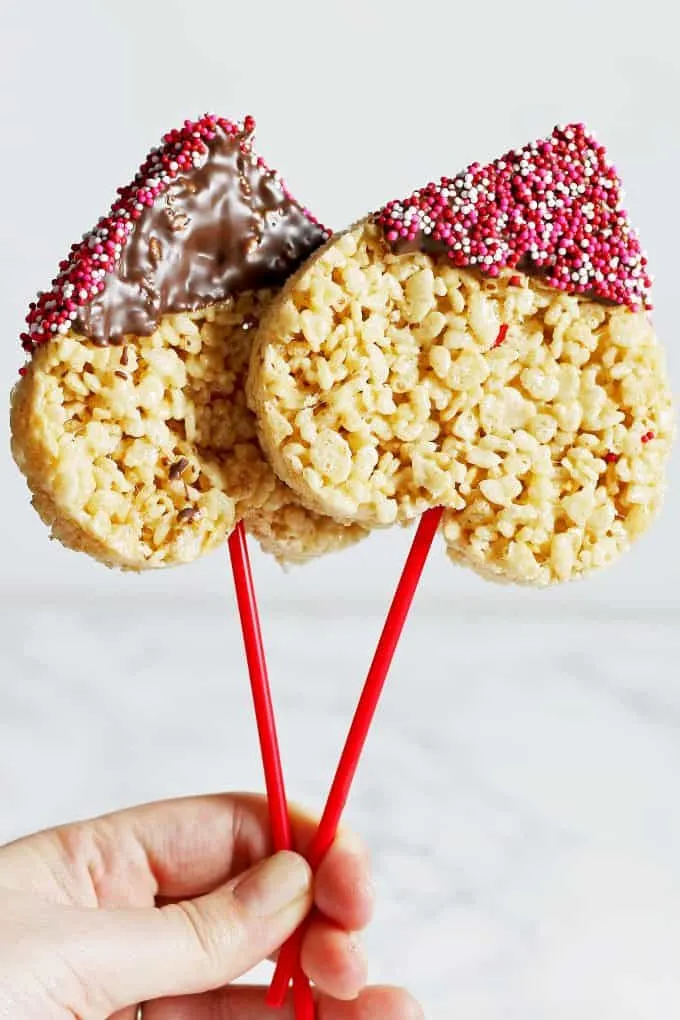 You guys. YOU GUYS.
Valentine's Day is coming up.
I have talked about how we don't really celebrate V-Day here so many times that I think I may have to start celebrating it. Come on, who doesn't like teddy bears, roses and chocolate.
(I could pass on the first two but never on chocolate….)
For all you haters, why don't you change it up this year. Have you ever dreamt about winning the lottery and what you would do with the money?
Well, why don't you imagine what you would do if you could make up your own holiday. Would you keep any of the regular Valentine's Day mumbo jumbo or squash it all?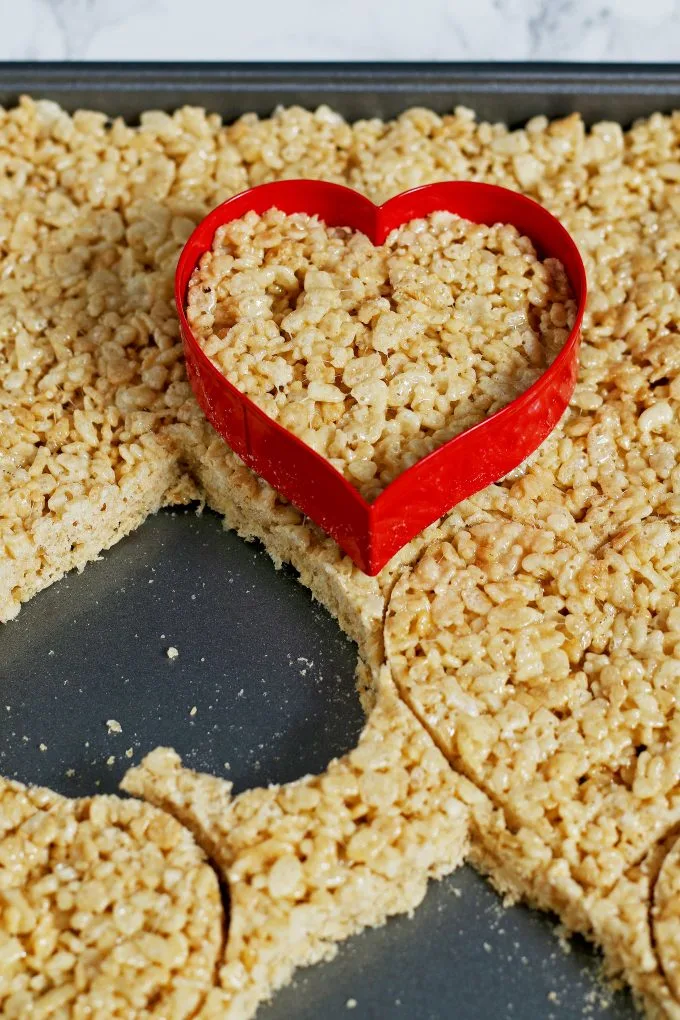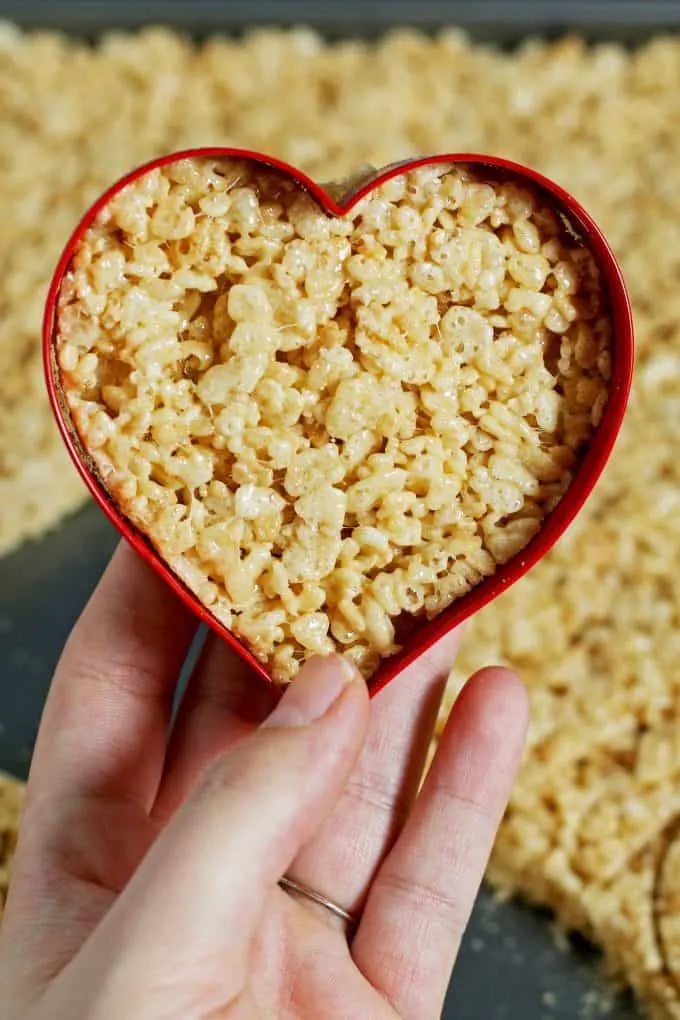 My made up holiday would include chocolate, candy and rice krispie treats. And I'd probably leave the hearts cause they make me all warm and fuzzy.
Heart shaped rice krispie pops, dipped in chocolate and then covered in sprinkles???!! What a great idea for your holiday, Jen!
Heart Shaped Rice Krispie Pops
To make this easy Valentine's Day treat, start by making a batch of rice krispie treats.
Follow the directions on the box of cereal and when you pour out the cereal/marshmallow combination onto a cookie sheet, spread it out in an even, thin layer. Let it cool and check the temperature periodically.
**You want to cut out your shapes while the treats are still a little warm. Believe me, you will thank me for this tip.**
I used a heart cookie cutter for my pops but you could really use any shape cookie cutter. Press firmly and remove the cut treats after you have perforated all of the edges.
Cut strategically. Start in one corner and work your way through the whole sheet so you can get as many cutouts as possible.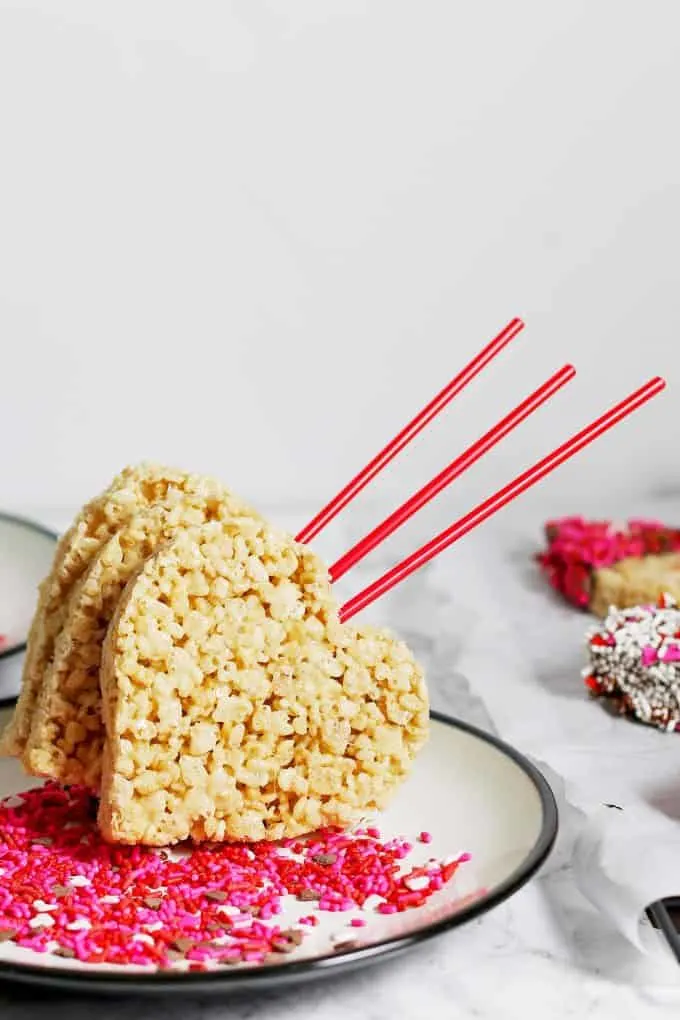 When you have finished cutting the treats, pop them out and set each one aside. Insert a straw or cake pop stick into the end of each heart treat.
Push carefully so that you keep the stick in the center of the treat.
Then set up a double boiler to melt your chocolate. Pour out your sprinkles in small plates and set them near your double boiler.
Also, set up some sheets of parchment paper to place your finished rice krispie pops on.
Use a spoon to pour melted chocolate on your rice krispie pops. You could dip them into the melted chocolate, of course, but you will have so much more control over where the chocolate goes this way.
There are so many options for how you can decorate – you can pour the chocolate on the ends, on one half or just on the edges.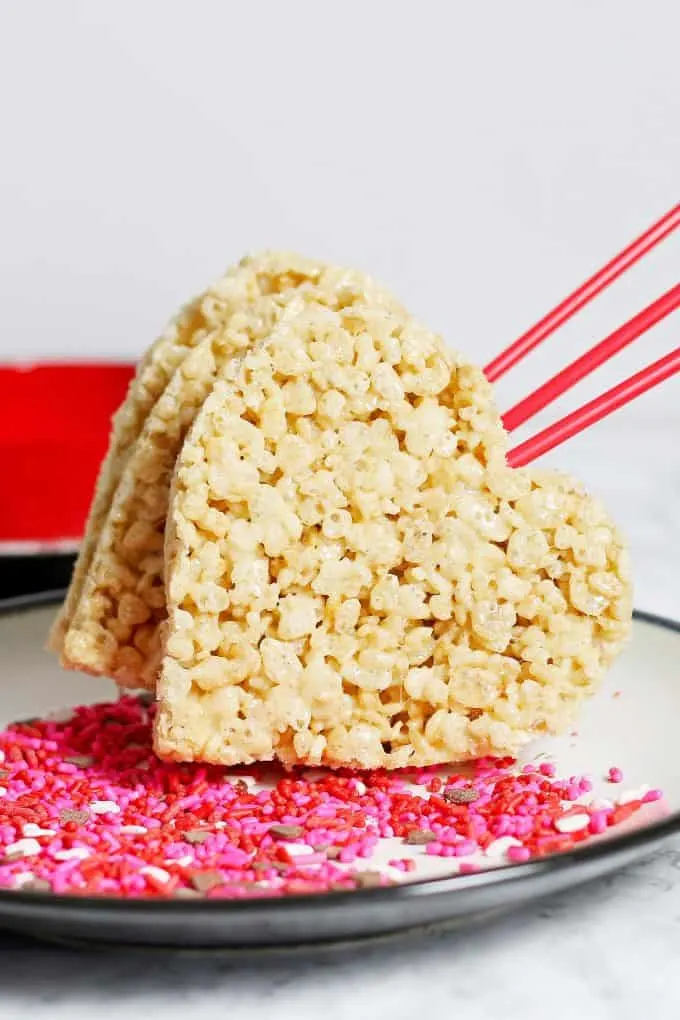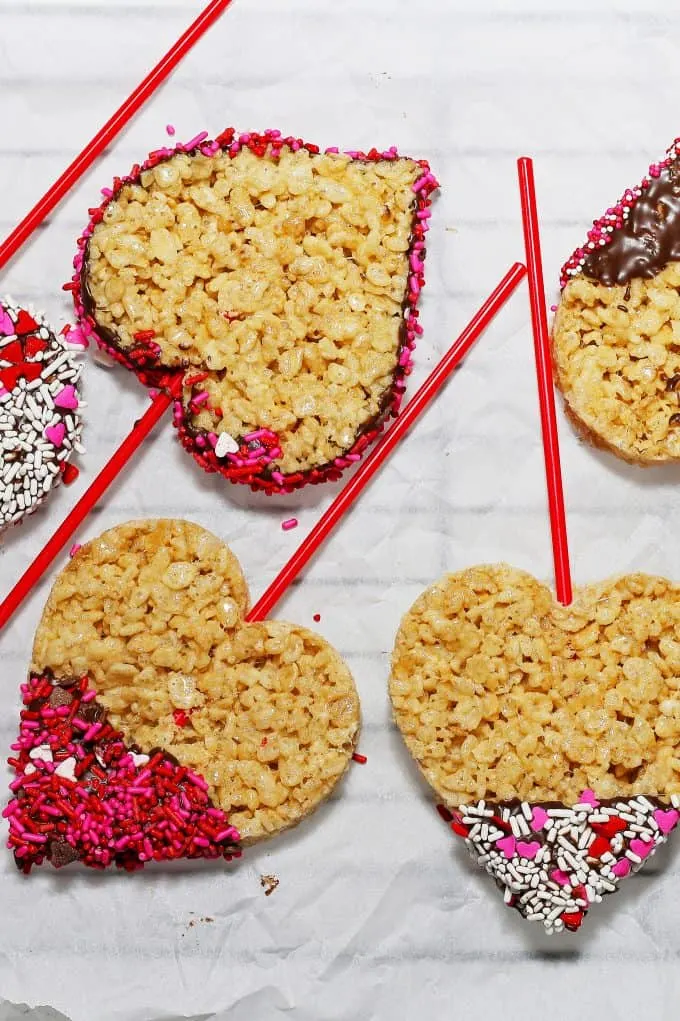 I like to do a little bit of everything and decorate my rice krispie pops in every way possible.
Use the back of the spoon to scrape off any chocoalte drips and then press the chocolate parts of the treats into the sprinkles. If there are any bare spots, hand sprinkle a little here and there as needed.
Then, you can wrap them up in cellophane and give them away as valentines or you can just give them away as is.
This is so easy to do that kids could easily jump in on the fun! The adults should do the cookie cutting and chocolate melting (just in case!)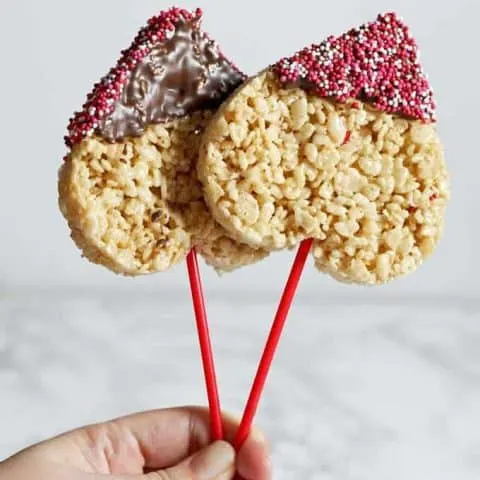 Heart Shaped Rice Krispie Pops
These rice krispie pops are the perfect easy Valentine's Day treat for you and your kids! Whip up a batch of rice krispie treats, dip them in chocolate and apply sprinkles!
Ingredients
3 tablespoons butter
10 ounces marshmallow
6 cups rice krispie cereal
4 ounces melting chocolate
sprinkles
Instructions
Prepare a cookie sheet with cooking spray and set aside. Melt the butter in a large pot. Add the marshmallows and stir frequently until the marshmallows are melted.
Add the rice krispie cereal and stir until the marshmallows and cereal are completely mixed. Pour the mixture onto your prepared pan and set aside to cool.
When the mixture is almost cool, use a cookie cutter to cut out shapes in the prepared treat. Press a stick into the treat to create a rice krispie pop.
Set up a double boiler over medium-low heat and melt the chocolate. Use a spoon to pour the chocolate on the rice krispie pop. Then cover the chocolate with sprinkles and set the rice krispie pops on parchment paper to continue cooling. Repeat.
Recommended Products
As an Amazon Associate and member of other affiliate programs, I earn from qualifying purchases.
Nutrition Information:
Yield:

12
Serving Size:

1
Amount Per Serving:
Calories:

206
Total Fat:

6g
Saturated Fat:

4g
Trans Fat:

0g
Unsaturated Fat:

2g
Cholesterol:

10mg
Sodium:

122mg
Carbohydrates:

37g
Fiber:

0g
Sugar:

20g
Protein:

2g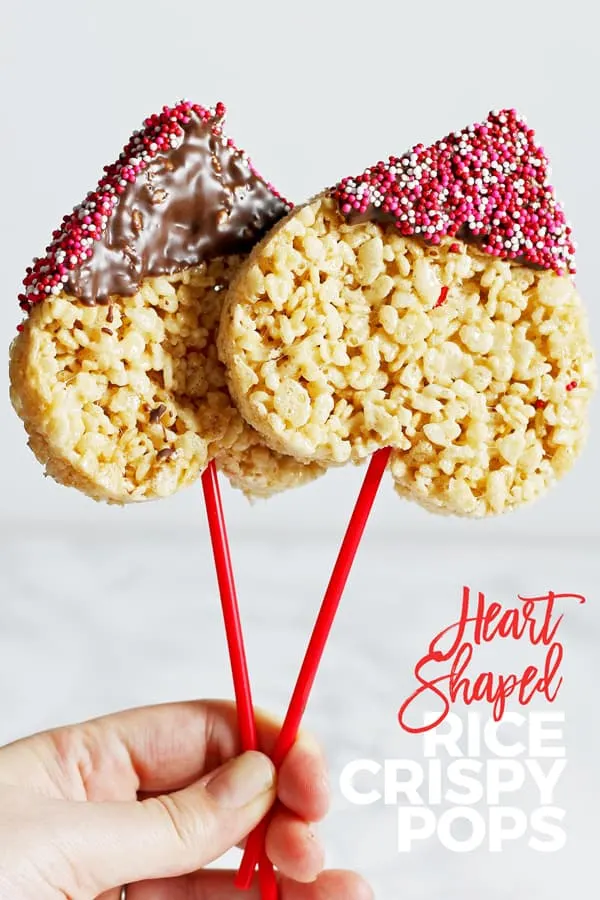 ---
Looking for more Valentine's day recipes?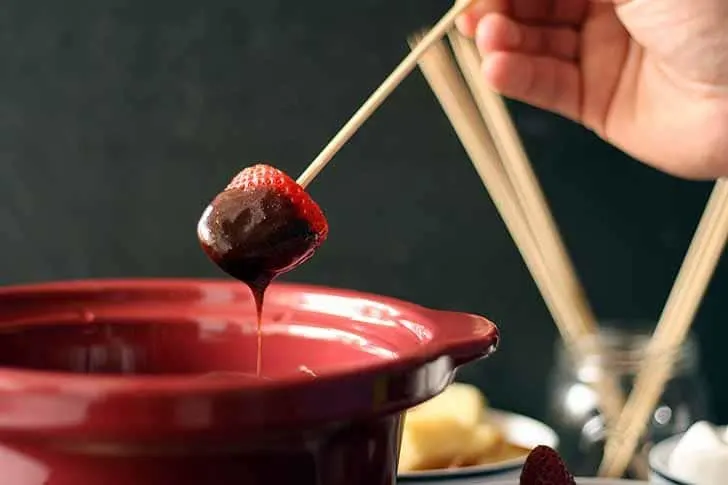 S'mores Chocolate Covered Strawberries