Try this salted chocolate granola when you are looking for a sweet snack or fun dessert!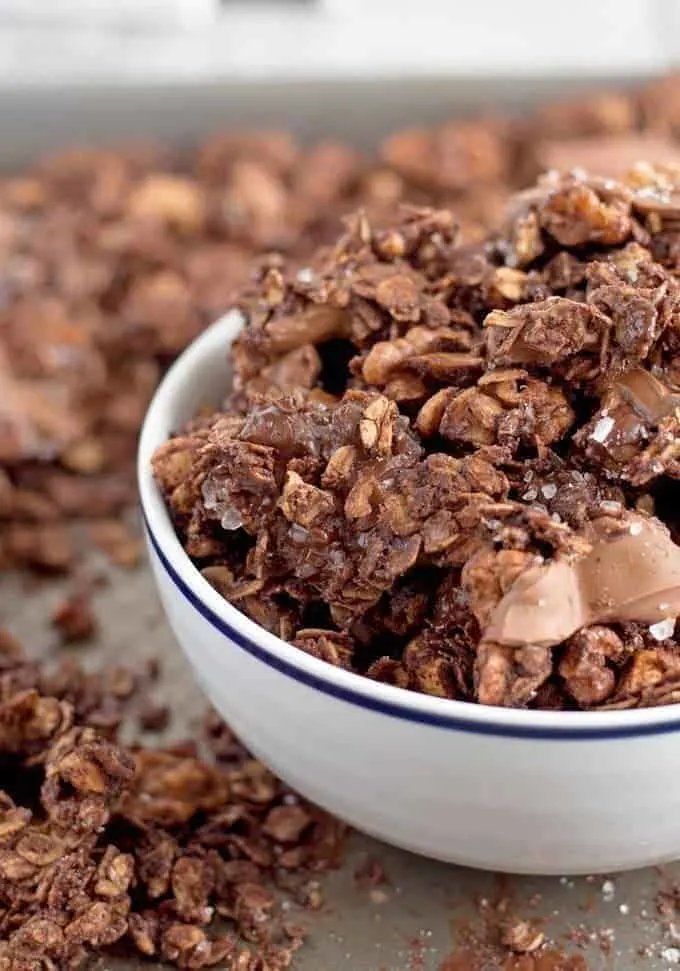 This post is sponsored by Lindt but my love of all things chocolate are my own!
Sometimes my sweet tooth and my salty tooth get cravings at the same time. Did you know that there is a salty tooth? Well, I don't know if there is one "officially" but I can definitely tell you I get salty cravings that are just as serious as my sweet cravings. And my chocolate cravings.
This salted chocolate granola is exactly what you are looking for if all three cravings – sweet, salty and chocolate – hit you at the same time. It doesn't have to be as tragic as it sounds. In fact, it's not tragic at all. Because it is DELICIOUS.
Salted Chocolate Granola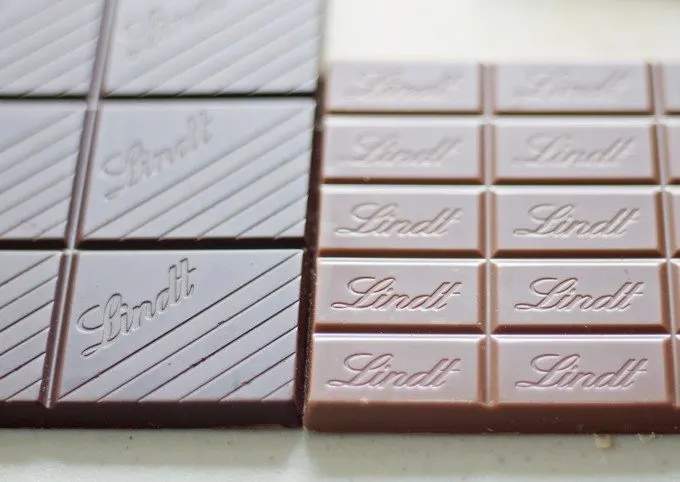 For my Lindt #Choctoberfest collaboration, I decided to make a yummy granola inspired by a recipe I shared on A Night Owl and a Pinch of Yum recipe. I love me some granola.
It's the combination of crunchy oats and nuts, sweet brown sugar and maple syrup, and kosher salt that will get you every time. Top all of that with the creamy deliciousness of Lindt chocolate and … well… you will no longer think of granola as a boring breakfast food. Nope, this granola could be dessert cause it's awesome.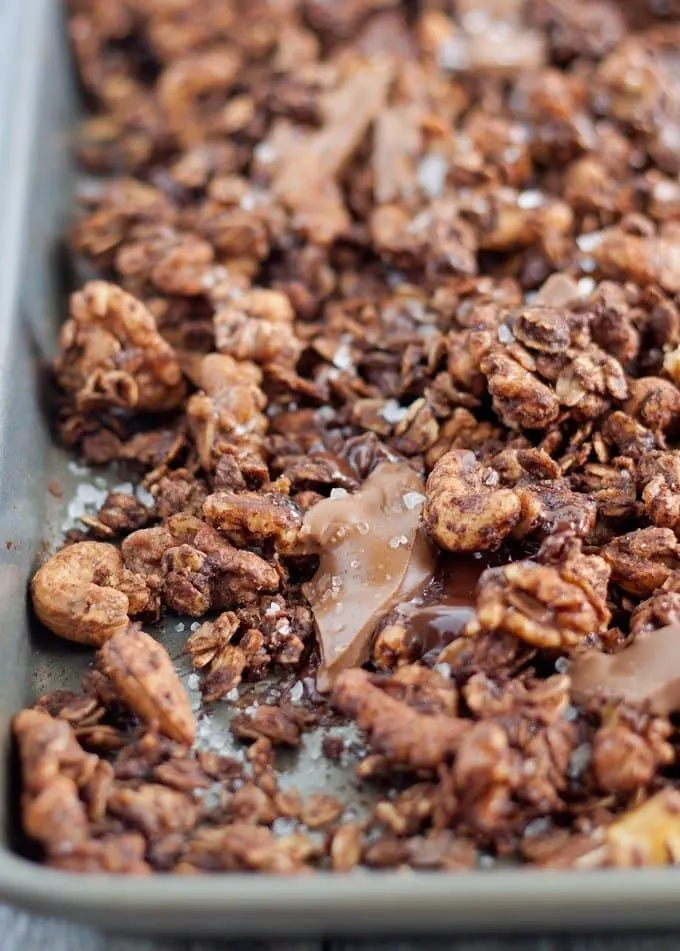 To make this salted chocolate granola, all of your ingredients get mixed together and baked in the oven. Right before the granola is done crisping, remove the pan from the oven and sprinkle your big chunks of chocolate on top.
Then, sprinkle sea salt over the chocolate. When the Lindt chocolate melts, the sea salt sticks to it. Chocolate + salt = heaven. It should have it's own emoji.
You will be very tempted to try it when you finally take it out of the oven for good. But wait. Let it completely cool because sometimes the chocolate melts all of the way and you want it to re-harden if that happens. Once it is completely cool however… well, dig in.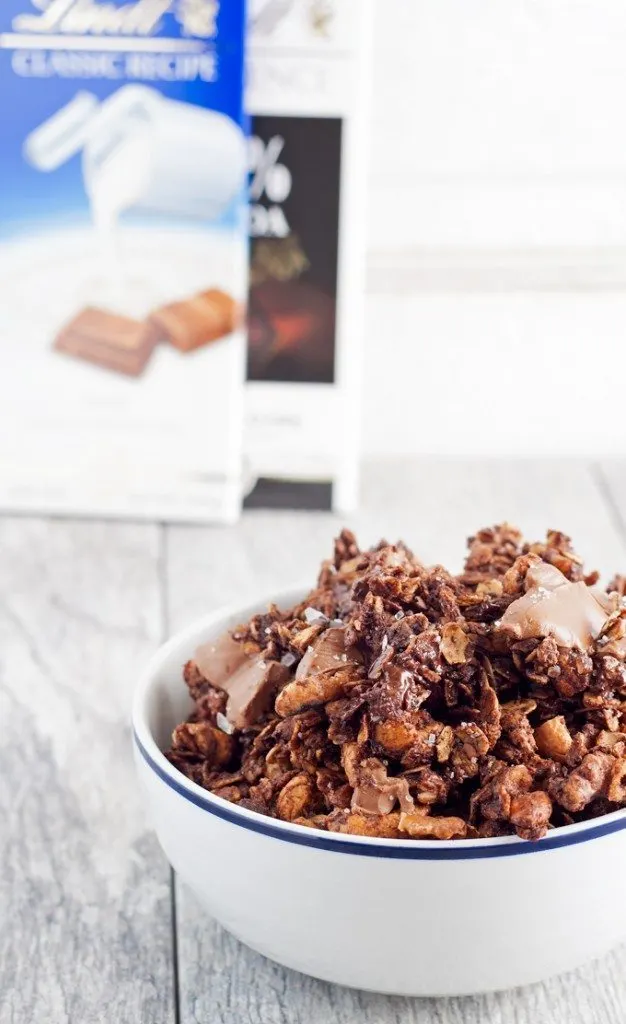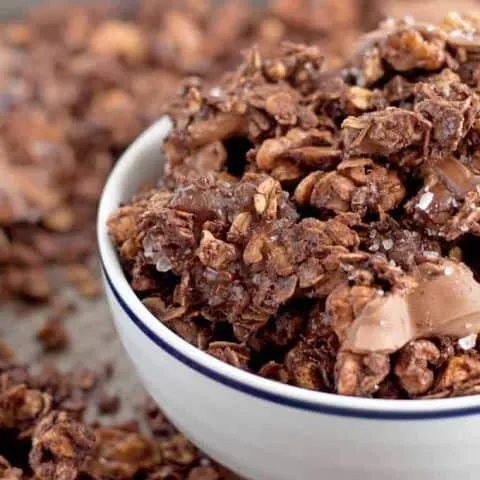 Sea Salt Chocolate Granola
Try this sea salt chocolate granola when you are looking for a sweet snack or fun dessert!
Ingredients
3 cups rolled oats (Old Fashioned Oats)
1 cup chopped walnuts
1 cup chopped cashews
½ cup packed brown sugar
¼ cup unsweetened cocoa powder
¼ teaspoon kosher salt
¼ cup vegetable oil (can substitute coconut oil in liquid form)
½ cup maple syrup
1 teaspoon vanilla extract
2 4.4 ounce bars chocolate (I used 1 milk chocolate and 1 dark chocolate Lindt bar), roughly chopped into chunks
1 tablespoon sea salt
Instructions
Preheat oven to 250 degrees F. In a large bowl, mix together the rolled oats, wants, cashews, brown sugar, cocoa powder and kosher salt. Set aside.
In a small bowl, combine the vegetable oil, maple syrup, and vanilla extract until well mixed. Pour this over the set aside dry ingredients until the dry ingredients are wet. Spread the mixture on a baking sheet and put in the oven.
Bake for 1 hour. Halfway through, remove from the oven and stir the mixture to evenly bake. 5 minutes before baking time is over, remove from oven and sprinkle the chocolate chunks evenly over the top of the granola. Sprinkle the sea salt on top of the chocolate and return to the oven.
Remove from the oven and allow to completely cool before transferring to a container.
Nutrition Information:
Yield:

8
Serving Size:

1
Amount Per Serving:
Calories:

601
Total Fat:

34g
Saturated Fat:

8g
Trans Fat:

0g
Unsaturated Fat:

24g
Cholesterol:

5mg
Sodium:

968mg
Carbohydrates:

68g
Fiber:

6g
Sugar:

37g
Protein:

11g
Nutrition information is automatically calculated and may not be correct.