These spicy apple bacon grilled cheese sandwiches are going to add some heat to your lunch. The sweet and spicy apple relish is my favorite part and pairs perfectly with the cheese and bacon.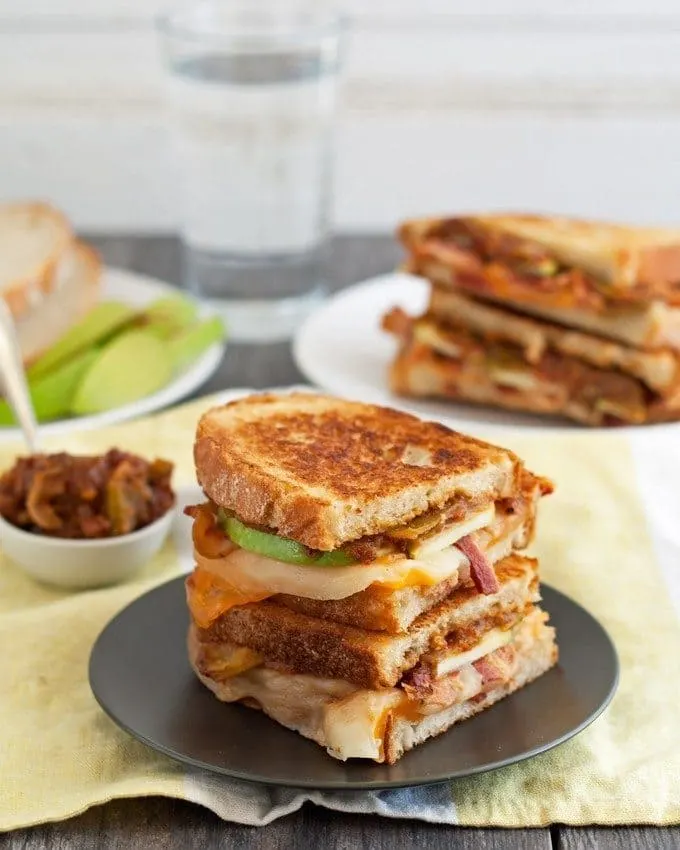 It's time for the third edition of #FreakyFriday!

Back in February, I participated in the first edition of this blog hop and shared these delicious chicken fajitas. Then in June, for the second edition, I shared this awesome slow cooker taco dip.
Mr. B has been thrilled that I joined this blog hop and wants me to do it for all of eternity. Not only did the Honey and Birch headquarters get to eat some really great food, but it was so much fun to make and share another blogger's recipe.
You may be wondering what the Freaky Friday Blog Hop is. Each of us bloggers (there are 15 of us this round!) was secretly given another blog to choose a recipe from to then recreate. Today, we all published our posts at the same time and found out who was assigned our blog.
I find the whole process very exciting – I love being able to pick any recipe I want from a website full of fantastic dishes. Plus, there is a fun anticipation in waiting to see who you is making one of your recipes and seeing what they chose.

And now it is time for the big reveal. My secret Freaky Friday blogger is…… Dini from The Flavor Bender!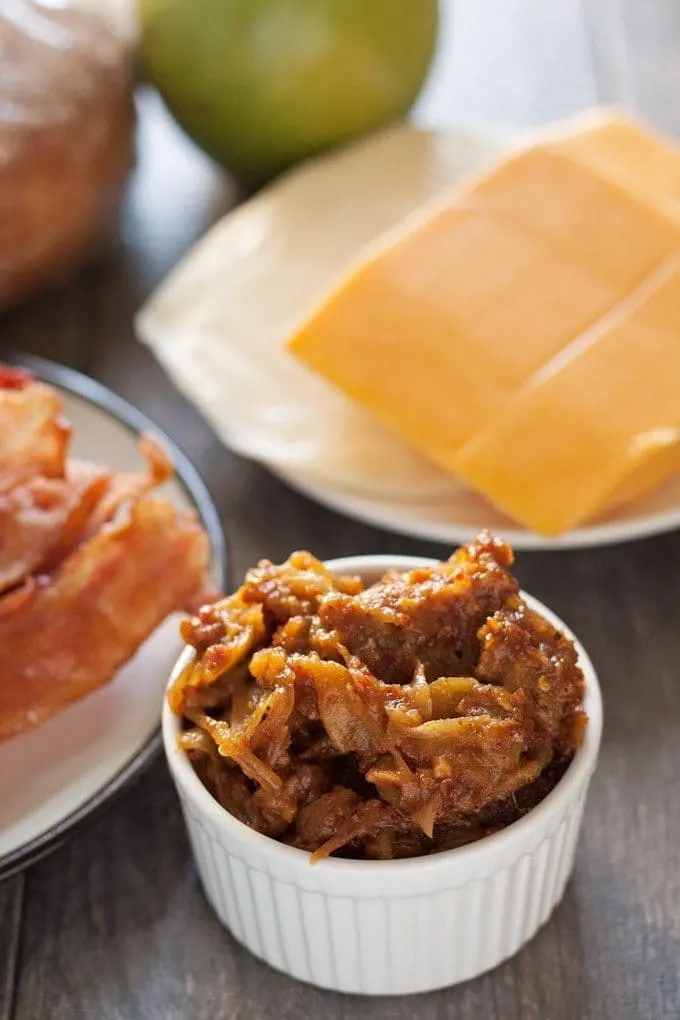 The Flavor Bender
To say that I was excited to be assigned Dini's blog is kind of an understatement. I have been reading Dini's blog for a long time and I have always been impressed with her blogging style and her recipes.
Dini goes in to the most incredible detail when posting recipes – when she publishes a new blog post, I know that I am going to learn the history and the technique. For a self-taught cook like myself, it is perfect. When you make her recipes, you end up with a full stomach and a brain full of knowledge.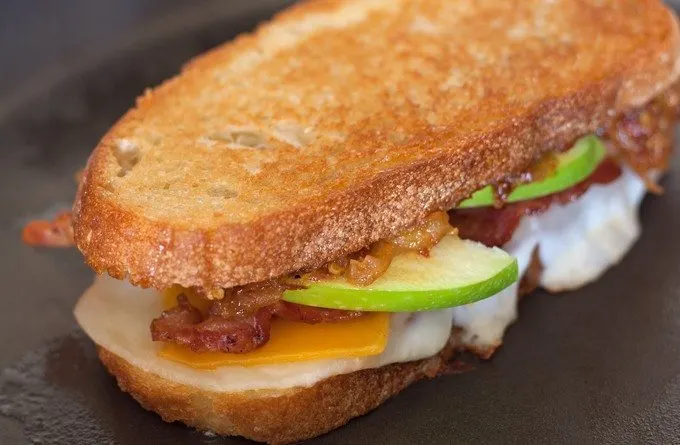 Picking a recipe to make for this blog hop was difficult. I actually made two of the recipes from The Flavor Bender and then picked the recipe with the better photos. The other recipe is her butter chicken recipe – it was delicious and the first time I ever cooked Indian food. I actually served it to Mr. B and his two friends and it received 6 thumbs up!
Some of the other recipes I was tempted to try and have added to my "to-make" list:
and about 50 more. I think you would have a hard time narrowing it down too!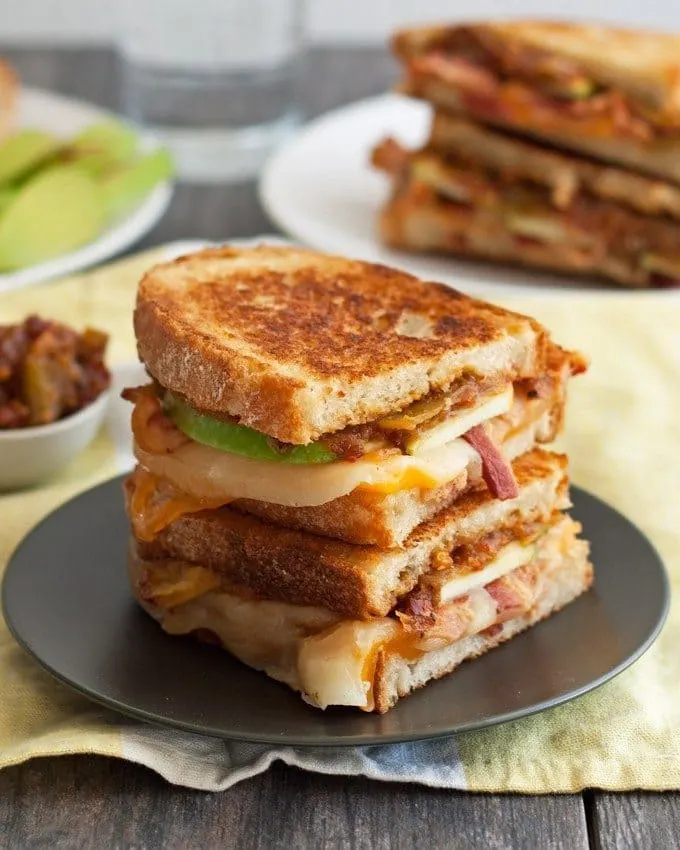 Spicy Apple Bacon Grilled Cheese
Although it was difficult, narrow it down I did and this apple and bacon grilled cheese sandwich was the winner. Holy delicious. I added the word spicy in front because that sweet and spicy apple relish is no joke. I made it as written but I changed the amount in my directions. Mr. B and I are big fans of spicy food and this was a little too spicy for us.
My mouth tried to revolt but I wouldn't let it. Because this grilled cheese sandwich is so good I wanted to eat, like, 10 of them. Make the apple relish a few hours (or a day) before so that it is ready to go when you get hungry.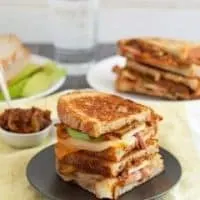 Spicy Apple Bacon Grilled Cheese
These spicy apple bacon grilled cheese sandwiches are going to add some heat to your lunch. The sweet and spicy apple relish is my favorite part and pairs perfectly with the cheese and bacon.
Ingredients
Spicy Apple Relish
2 tablespoons extra virgin olive oil
4 tablespoons granulated sugar
1 teaspoon kosher salt
1 cup thinly sliced white onion (approximately 1/2 of a medium onion)
1 green apple, cored, sliced into small pieces
1 tablespoon dried chili flakes
2 tablespoons coarsely ground pepper
3 tablespoons white wine vinegar
Spicy Apple Bacon Grilled Cheese Sandwich
8 slices of crusty bread
12 cooked pieces of bacon (3 per sandwich)
butter
1 batch of spicy apple relish (recipe above)
1 green apple, cored and cut into 8 slices
8 slices cheddar cheese
8 slices Provolone cheese
Instructions
Spicy Apple Relish
Heat 2 tbsp of oil in a small saucepan. When the oil is hot, add the sugar, salt and onion and cook until the onion is translucent and the sugar has melted.
Add the sliced apple, chili flakes, ground pepper and vinegar and cook on medium heat until the apple softens and the onions and apples start to caramelize (approximately 20 minutes.) Stir frequently to prevent burning. Store in an airtight container in the fridge until ready to use.
Spicy Apple Bacon Grilled Cheese Sandwich
Heat a griddle or pan over medium heat. Butter 2 bread slices on both sides. Place the slices on the pan to slightly brown one side.
Remove the bread from the pan and spread a layer of spicy apple relish on the browned side of one piece. Add 3 slices of green apple on top of the relish. Place 3 pieces of bacon on top of the apples. Top with 2 pieces cheddar and 2 pieces provolone cheese.
Place the 2nd slice of bread on top of the cheese (browned side down)
Return the sandwich to the hot griddle or pan and heat on each side over medium heat for approximately 3 minutes each. When the cheese has melted and the bread is browned, remove the sandwich from the griddle and cut in half to serve. Repeat with the remaining ingredients
Notes
Recipe from The Flavor Bender.
Are you interested in which recipes the other bloggers picked? Check the blogs out here or scroll down to access all of the posts!
A Dish Of Daily Life || A Kitchen Hoor's Adventures || An Affair from the Heart || Aunt Bee's Recipes || Belle of the Kitchen || Cooking on a Budget || Full Belly Sisters || Honey and Birch || LeMoine Family Kitchen || Pic-Nic || The Flavor Bender || The Foodie Affair || The Magical Slow Cooker || Who Needs A Cape || Wildflour's Cottage Kitchen
Please stop by and visit the rest the other blogs participating in Freaky Friday…you just might find a new favorite recipe!
SaveSave