Leftover chicken burrito bowls topped with avocado crema. Full of veggies and flavor, they are the perfect use for leftover chicken!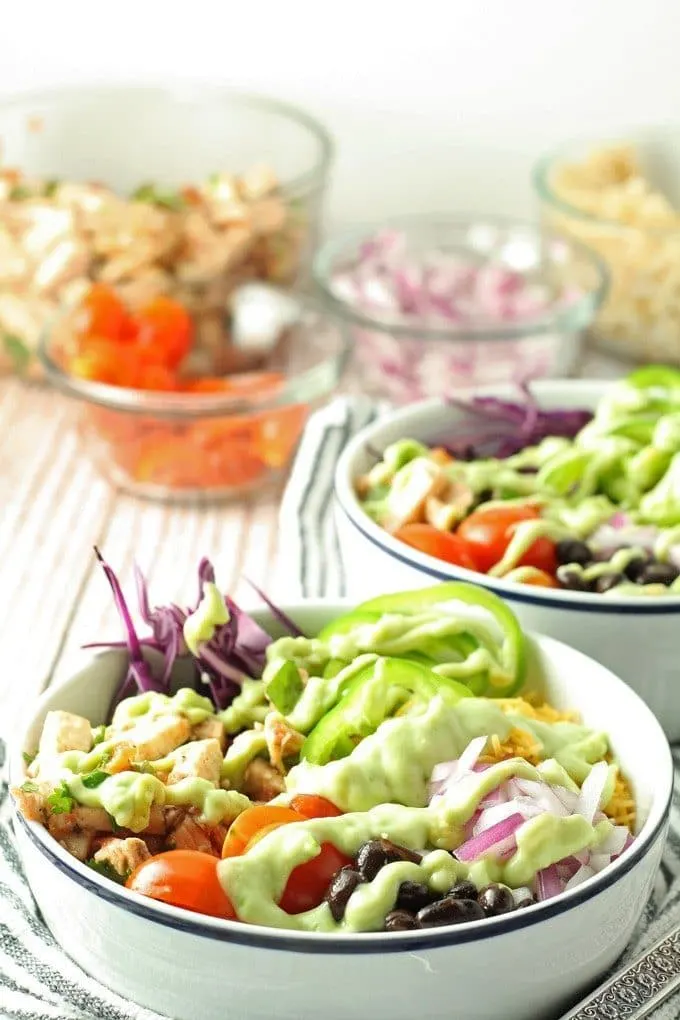 Leftover chicken can get really, really boring. Especially if you found it a little boring to begin with. Plain chicken is better for you but I often want to slather it in a healthy dose of buffalo sauce… a foodie girl can dream. When I see plain leftover chicken in the fridge, I cringe – there has to be a solution that isn't terrible for you!
Turns out there is. I found a solution that is going to make you very, very excited and happy. Cause what makes everyone happy? A burrito of course. It really does, I swear.
And even better, a burrito bowl.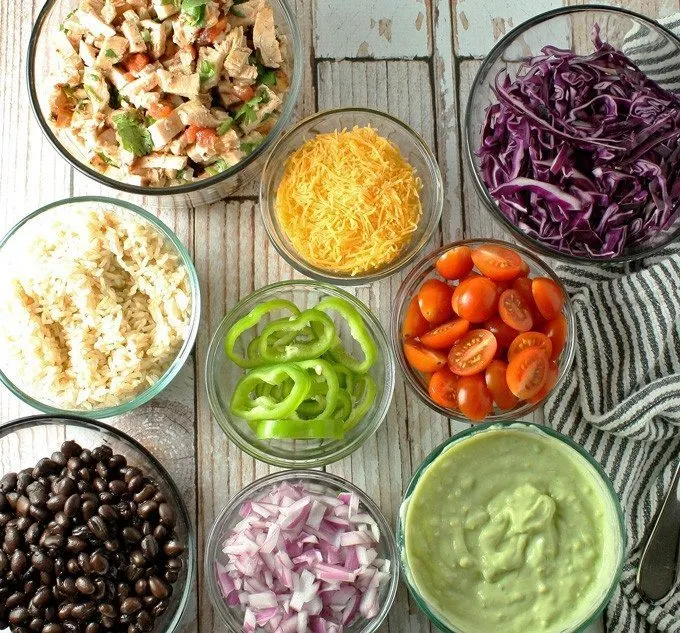 Leftover Chicken Burrito Bowls
This leftover chicken burrito bowl isn't my first. I made loaded burrito bowls a few months ago and they are fantastic.
I want to say this is my sophomore album of burrito bowls… but people tend to complain more about sequels than praise them. And this burrito bowl is the bomb dot com. Obviously, I like my burrito bowls. 🙂
It starts with… leftover chicken.
Bet you didn't see that coming.
Slice up whatever cooked chicken you have in the fridge. Put it in a sealable plastic bag or a small bowl and put in the marinade ingredients. Mix everything up and then stick it in the refrigerator for an hour. My recipe is for a large amount of chicken so increase or decrease accordingly.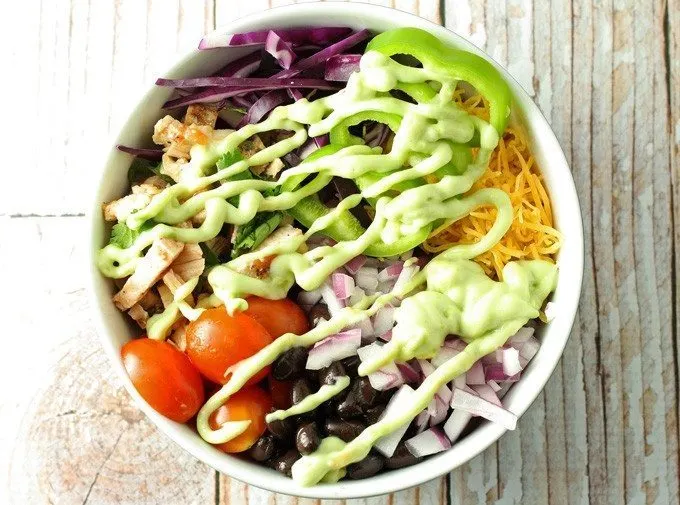 If your chicken is a little overcooked, this is going to help "hydrate" it. If it is bland, it's going to season it. And if it was good to begin with, it's just going to make it even better.
While the chicken/marinade is chilling in the fridge, make your rice and start chopping up your vegetables. When you have about 10 minutes to go with your chilling chicken, mix up the avocado sauce so you're ready to go. Assemble your burrito bowl and enjoy!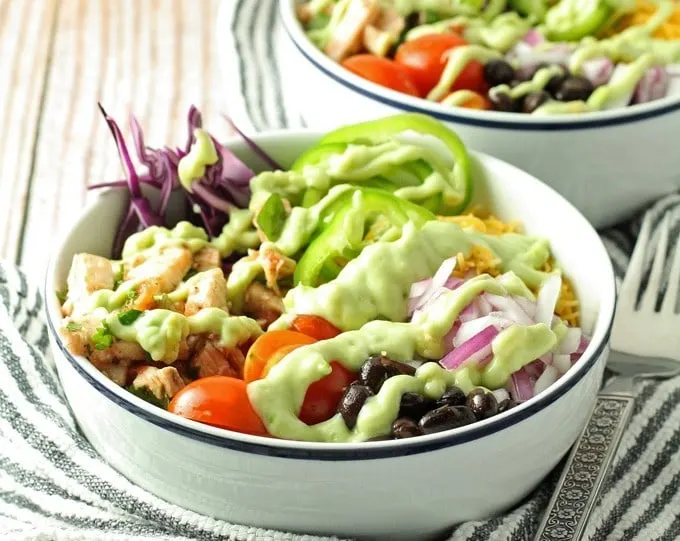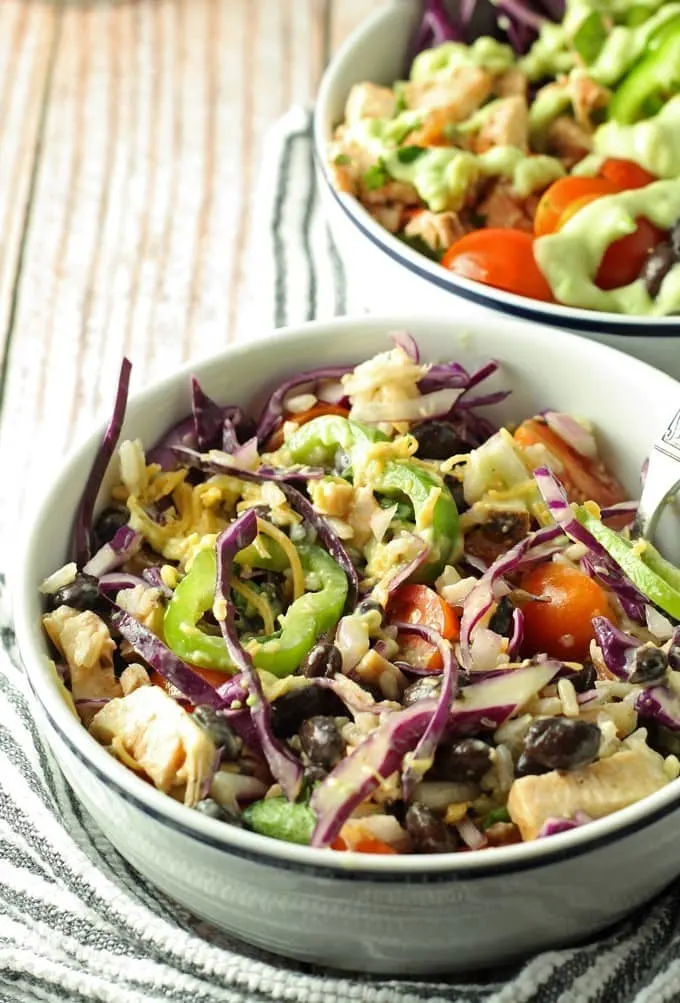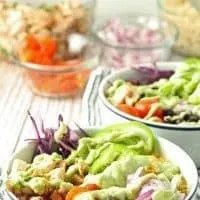 Leftover Chicken Burrito Bowls
Cook Time:
1 hour
10 minutes
Leftover chicken burrito bowls topped with avocado crema. Full of veggies and flavor, they are the perfect use for leftover chicken!
Ingredients
Chicken Marinade
2 pounds cooked chicken breasts, sliced into small chunks
¼ cup chopped cilantro
juice of 2 limes
1 cup tomato based salsa
Avocado Sauce
1 avocado
½ cup fat free yogurt
Chicken Burrito Bowls
marinated chicken
cooked rice
black beans
red cabbage, finely chopped
Anaheim pepper, sliced into rings
cherry tomatoes, halved
red onion, finely chopped
shredded cheese
avocado sauce
Instructions
Chicken Marinade
In a small bowl, combine cooked chicken breasts, cilantro, lime juice and salsa. Stir well, cover and refrigerate for 1 hour.
Avocado Sauce
In a small bowl, smash 1 avocado with a fork until smooth. Add the yogurt and mix together with a whisk or a spoon until smooth and most of the lumps are gone. Refrigerate leftovers.
Chicken Burrito Bowls
In a microwavable bowl, heat the chicken and black beans in 30 second intervals until warm.
To assemble the burrito bowls, layer the bowl ingredients in a small bowl, starting with the rice, then chicken, black beans, red onion, tomato, pepper and onion. Drizzle avocado sauce on top, mix and eat.
Nutrition Information:
Yield:

8
Serving Size:

1
Amount Per Serving:
Calories:

414
Total Fat:

15g
Saturated Fat:

3g
Trans Fat:

0g
Unsaturated Fat:

10g
Cholesterol:

110mg
Sodium:

259mg
Carbohydrates:

27g
Fiber:

7g
Sugar:

8g
Protein:

44g
Nutrition information is automatically calculated and may not be correct.