This homemade onion soup mix is the perfect replacement for store-bought packaged mix. Gluten-free and vegan.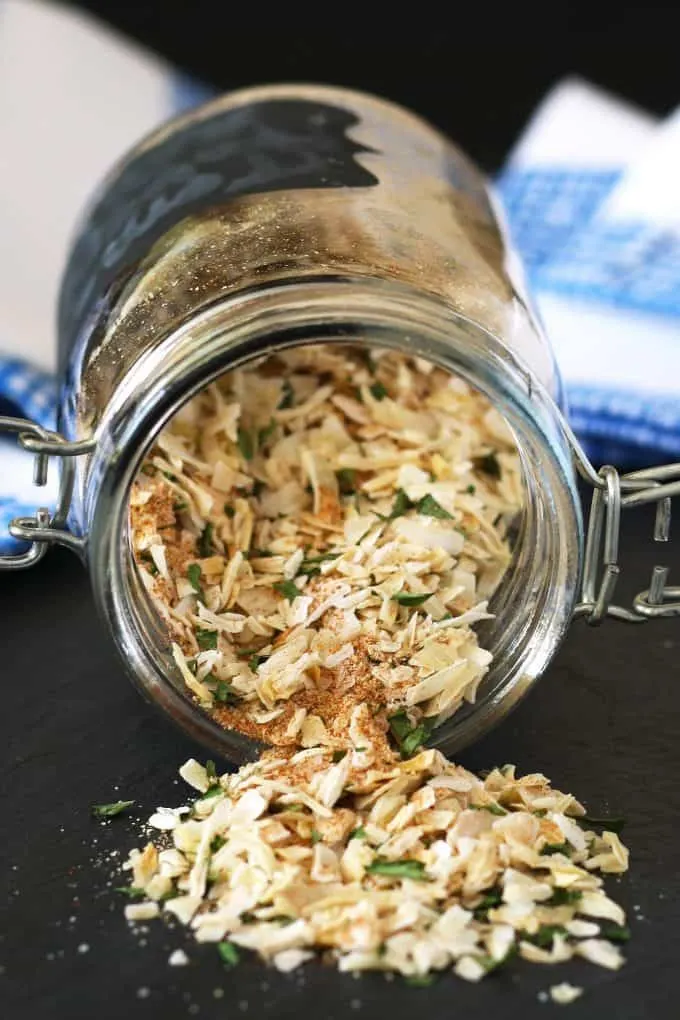 A few weeks ago, I shared my recipe for slow cooker pot roast. Outside of the beef, the main ingredient is dry onion soup mix.
I used to buy the onion soup mix you can get at the grocery store – you know which one I'm talking about.
The square packet in the soup aisle. And then I looked at the ingredient list and kind of freaked out a little bit.
I need to stop looking at ingredient lists or I'm never going to be able to go into a grocery store again.
Chemical after chemical, or at least a bunch of scientific names I couldn't possibly know the meaning of.
Not really my cup of tea right now. Or in this case, my cup of soup.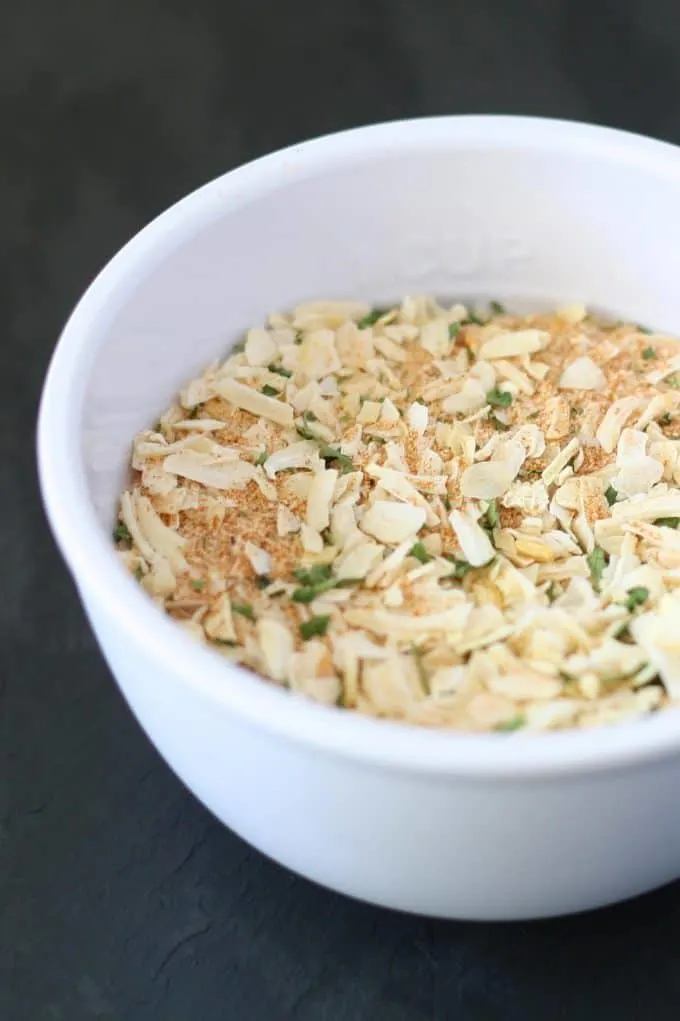 So I got to researching and reading. And re-reading the back of that onion soup mix.
Because there are a few basic ingredients in onion soup mix and they are onion flakes and onion powder. Makes sense…
I didn't want to use any beef bouillon, which you will see in several other homemade onion soup mix recipes. There were a few reasons behind that.
Mainly, I don't think of beef when I think of onion soup.
Also, vegetarians and vegans can use this mix too when it is excluded. This is also gluten-free (unlike the store-bought stuff.)
I came up with this recipe instead. Its perfectly onion-y pungent and is really good with my pot roast.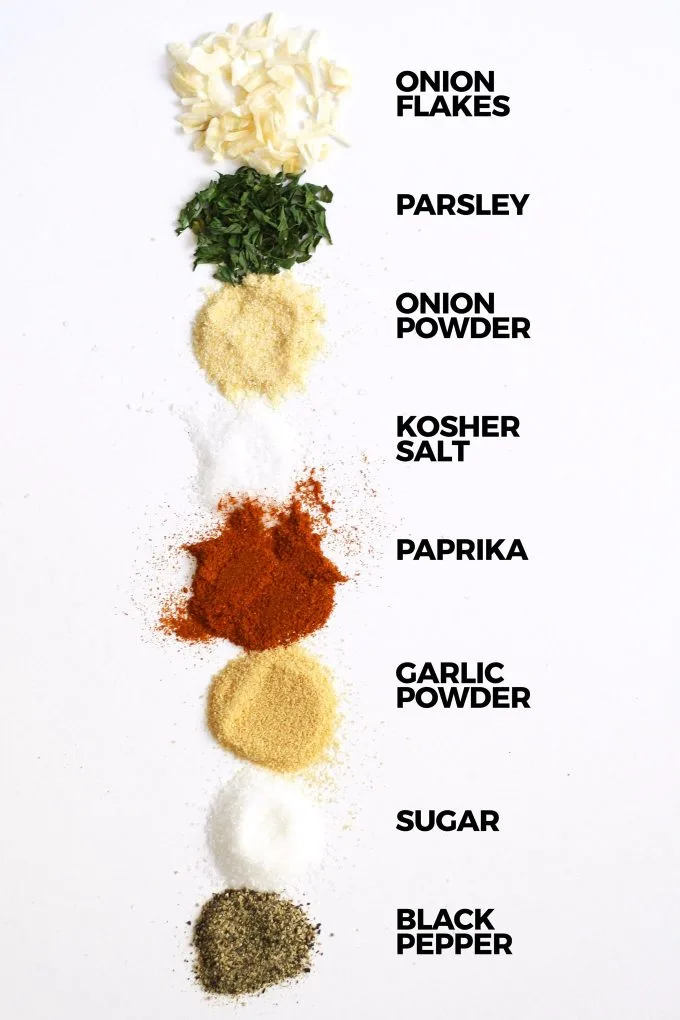 Soup Mix Ingredients – No Beef Bouillon!
Dry Onion Flakes – Dry onion flakes are the foundation for this homemade onion soup mix. They provide a concentrated onion flavor and contribute to the soup mix's distinct texture and aroma.
These flakes will rehydrate when combined with hot liquid, imparting that classic onion soup taste.
Parsley Flakes – Parsley flakes add a subtle herbaceous note to the onion soup mix, enhancing its overall flavor profile.
They provide a touch of freshness and a visual element, making the soup mix more visually appealing.
Onion Powder – Onion powder intensifies the onion flavor in the mix and helps create a consistent onion taste throughout your recipes.
It also adds depth and aroma to the mix, enhancing its versatility in various dishes.
Kosher Salt – Kosher salt acts as a seasoning agent that balances the flavors within the mix.
It brings out the natural tastes of the other ingredients while providing a hint of saltiness to enhance the overall savoriness of your dishes.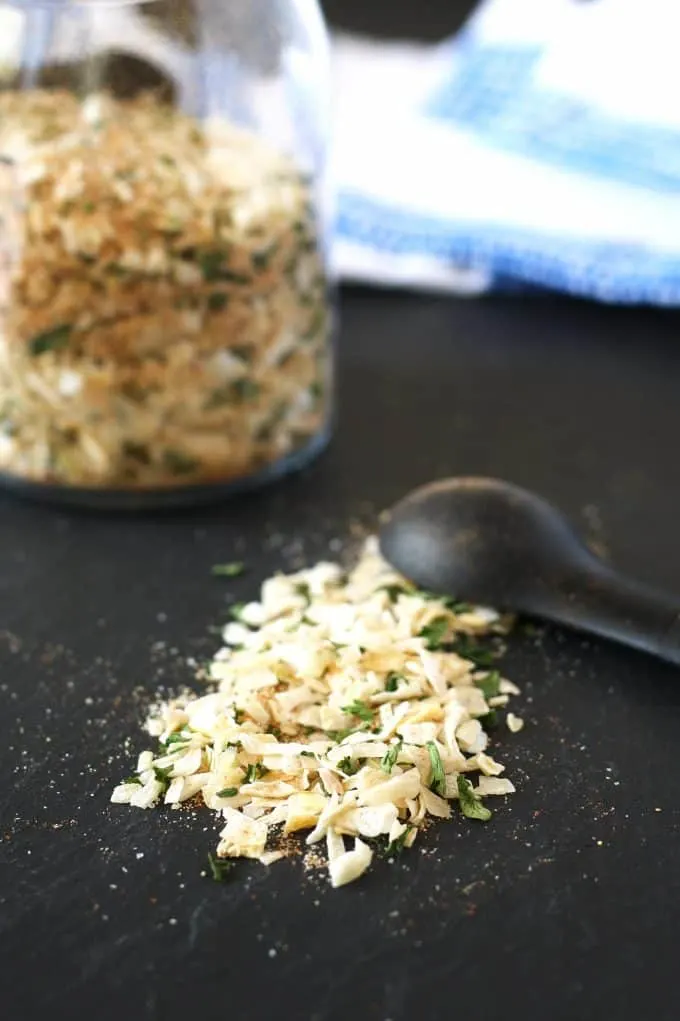 Paprika – Paprika contributes a mild and smoky undertone to the onion soup mix. It adds depth and a touch of color, making the combination visually appealing. The subtle smokiness complements the onion flavor.
Garlic Powder – Garlic powder enhances the mix with aromatic and savory notes.
It elevates the flavor profile by infusing a hint of garlic, making the soup mix versatile for various recipes beyond just onion soup.
Sugar – Sugar brings a touch of sweetness to the mix, balancing the savory elements. It rounds out the flavors, adding a subtle complexity that elevates your dishes.
Black Pepper – Black pepper provides a hint of spiciness and warmth to the onion soup mix. It complements the other seasonings and ingredients, adding a bit of zing to your recipes.
This homemade onion soup mix can be used for making onion soup or enhancing the flavor of a wide range of dishes, from dips and dressings to casseroles and roasts.
Adjust the quantities according to your taste preferences, and enjoy the convenience of having this mix on hand for all your culinary adventures.
How to Store Homemade Onion Soup Mix
Store your soup mix in a sealable container for up to 2 months.
Make sure you give it a good shake before you measure because the smaller spice parts sink to the bottom.
If you are using this recipe to replace a store-bought package, you will need 5 tablespoons of it to equal the same amount in one package.
Once you have mixed up your soup mix, you can use it to make soup, slow cooker pot roast or onion dip.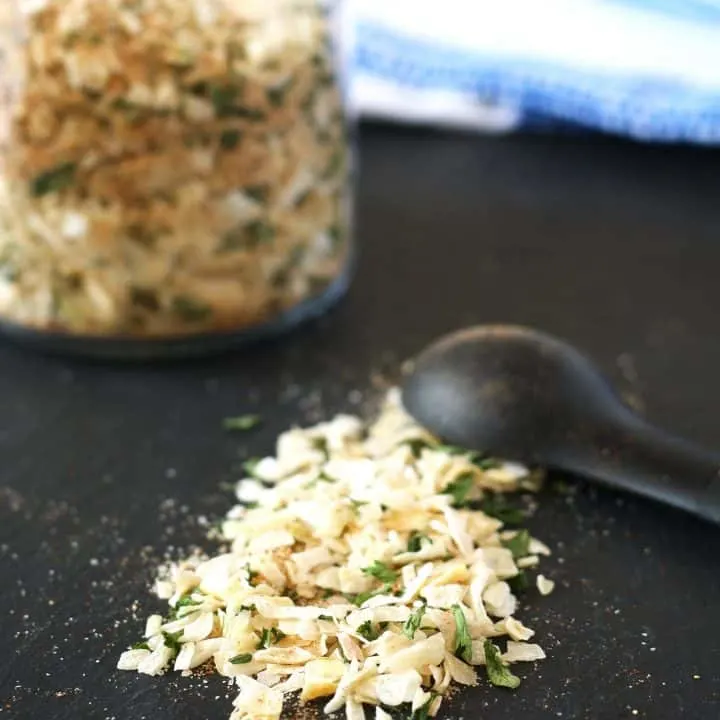 Homemade Onion Soup Mix
This homemade onion soup mix is the perfect replacement for store-bought packaged mix. Store your mix in an airtight container for several months.
Ingredients
½ cup dry onion flakes
3 teaspoons parsley flakes
2 teaspoons onion powder
1 teaspoon kosher salt
1 teaspoon paprika
1 teaspoon garlic powder
½ teaspoon sugar
⅛ teaspoon black pepper
Instructions
Combine all ingredients in a small bowl. Mix well.
Store in an airtight container.
Notes
If using this is as a replacement for a package, use 5 tablespoons of this easy-to-make mix.
Nutrition Information:
Yield:

12
Serving Size:

1
Amount Per Serving:
Calories:

8
Total Fat:

0g
Saturated Fat:

0g
Trans Fat:

0g
Unsaturated Fat:

0g
Cholesterol:

0mg
Sodium:

177mg
Carbohydrates:

2g
Fiber:

0g
Sugar:

1g
Protein:

0g