Change up your parties with this easy green onion dip recipe! Easy to make and full of flavor, serve it with crusty bread or tortilla chips.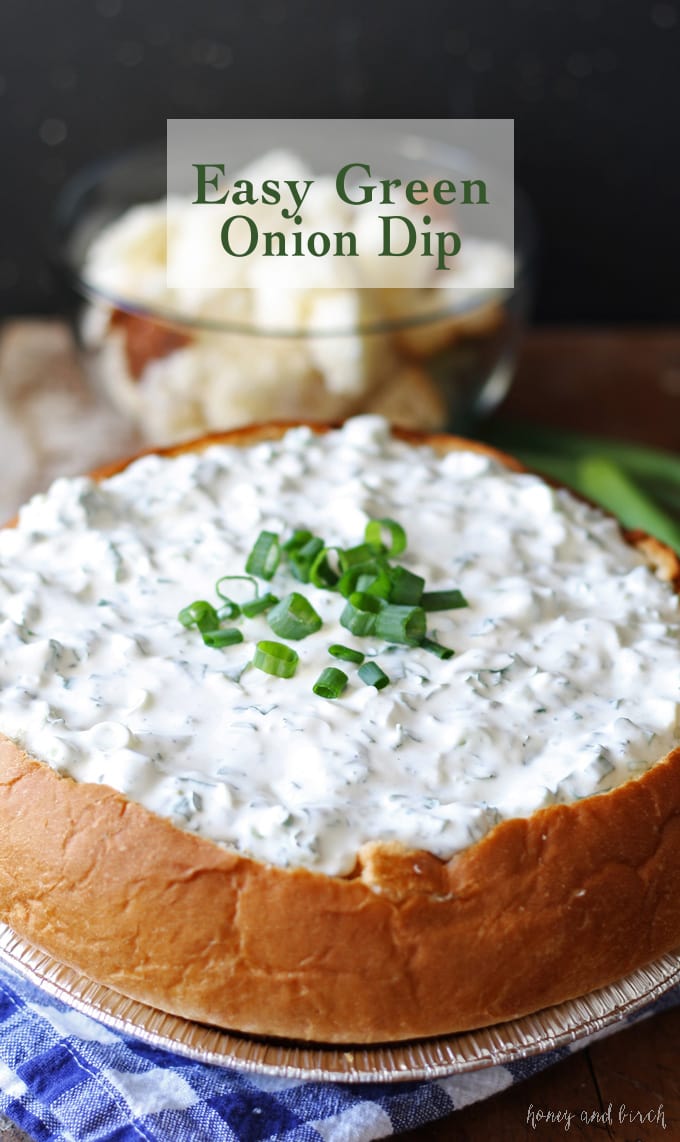 I'm about to go off on a non-food tangent. If you're just here for food, scroll down to the green recipe. A delicious dip/appetizer recipe is coming your way.
If you don't mind a quick tangent, keep reading and eventually you will get to said dip/appetizer.
Anyways, my little tangent is about Chicago sports.
If it weren't for the Chicago Blackhawks winning most of the time, this Bears fan (I'm talking about me) would just throw in the towel for Chicago sports in general.
I don't talk about sports often and that's mostly because I'm a Cubs fan and a Bears fan. And they both had horribly bad seasons (lets not talk about all of the Cubs seasons for the last 100 years or so, okay?)
UPDATE: THE CUBS FINALLY WON!
If it weren't for the every-other-day-or-so Chicago Blackhawks games, the only sports thing I would have to look forward to is the Super Bowl. And game day recipes.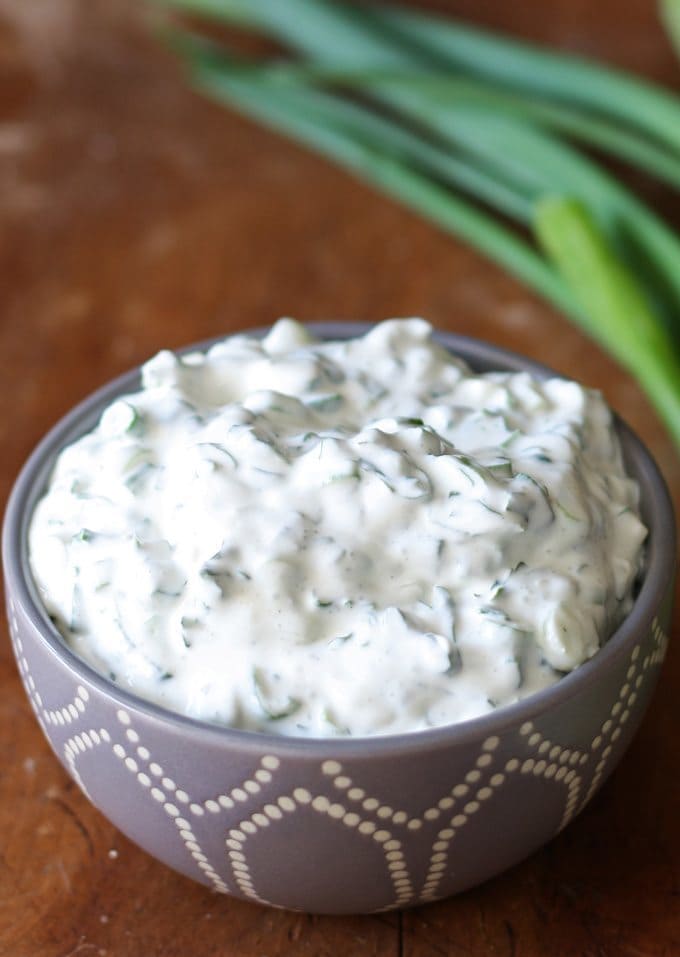 Easy Green Onion Dip Recipe
If you are throwing a Super Bowl party or attending one, it's time to forget about regular old spinach dip and try this easy green onion dip instead.
I'm always on the hunt for easy dip recipes and this one contains so many of the ingredients I love in dips.
One of the things I tend to dislike about spinach dip is the mayo. So this dip doesn't have mayo.
Instead, it contains a nice blend of cream cheese and sour cream – if you're counting calories, feel free to substitute for the lighter versions of each. The flavor comes from the green onions anyway.
I am a huge fan of sour cream cream cheese dip recipes.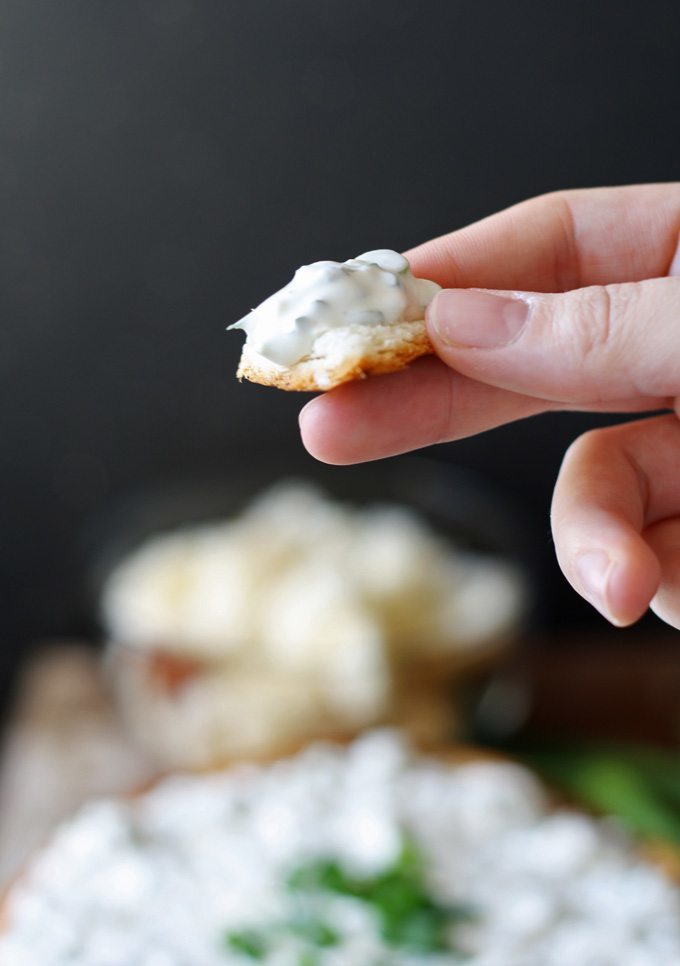 This green onion dip recipe isn't your regular onion dip. There is not a packaged onion dip seasoning or anything like that and I don't think you should add any of that either.
There is so much flavor and it comes from using fresh green onions. I like to serve this dip like it is spinach dip by making a bowl out of a large round bread loaf.
Cut out the top part of the loaf, making sure to not cut all of the way to the bottom. Then dice up the loaf top into cubes to get the dipping started.
If the other party guests are feeling shy about tearing into the bowl itself, get that party started yourself.
Or, go the gluten-free route and serve it with crispy tortilla chips. That's what Mr. B does and he gives it two thumbs up!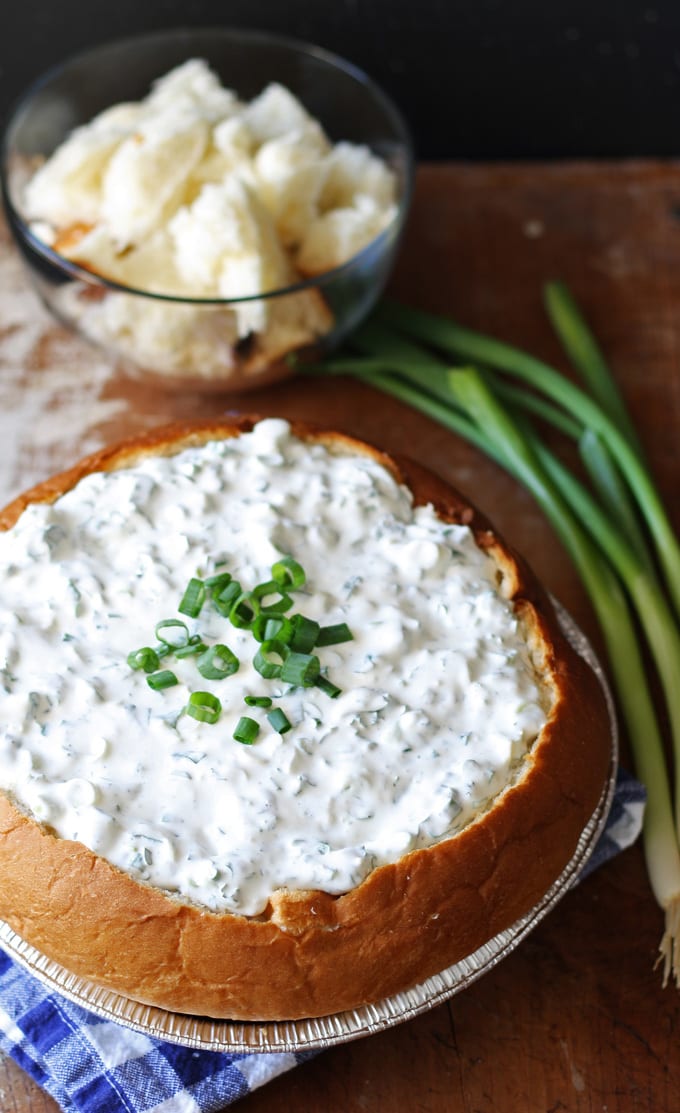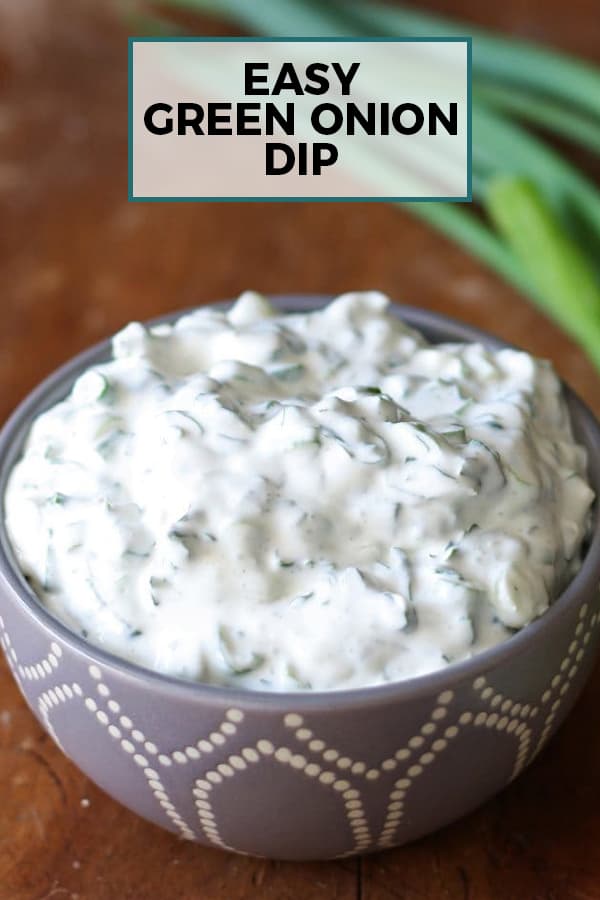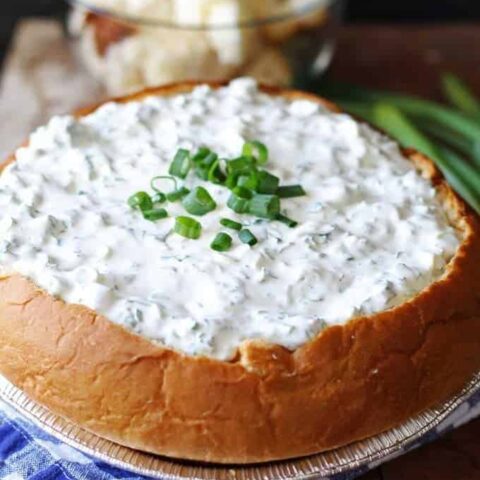 Easy Green Onion Dip
Change up your parties with this easy green onion dip recipe! Easy to make and full of flavor, serve it with crusty bread or tortilla chips.
Ingredients
8 ounces of softened cream cheese
1 cup of sour cream
2 cups of finely diced green onions
1/2 cup diced parsley
2 teaspoons minced garlic
1/2 teaspoon vinegar
salt and pepper to taste
Instructions
In a food processor, pulse the cream cheese and sour cream until well combined. Stir in the remaining ingredients. Cover and refrigerate for 2 hours before serving.
Nutrition Information:
Yield:

12
Serving Size:

1
Amount Per Serving:
Calories:

111
Total Fat:

10g
Saturated Fat:

6g
Trans Fat:

0g
Unsaturated Fat:

3g
Cholesterol:

30mg
Sodium:

94mg
Carbohydrates:

3g
Fiber:

1g
Sugar:

2g
Protein:

2g
---
Looking for more fun appetizers? Try these bacon wrapped dates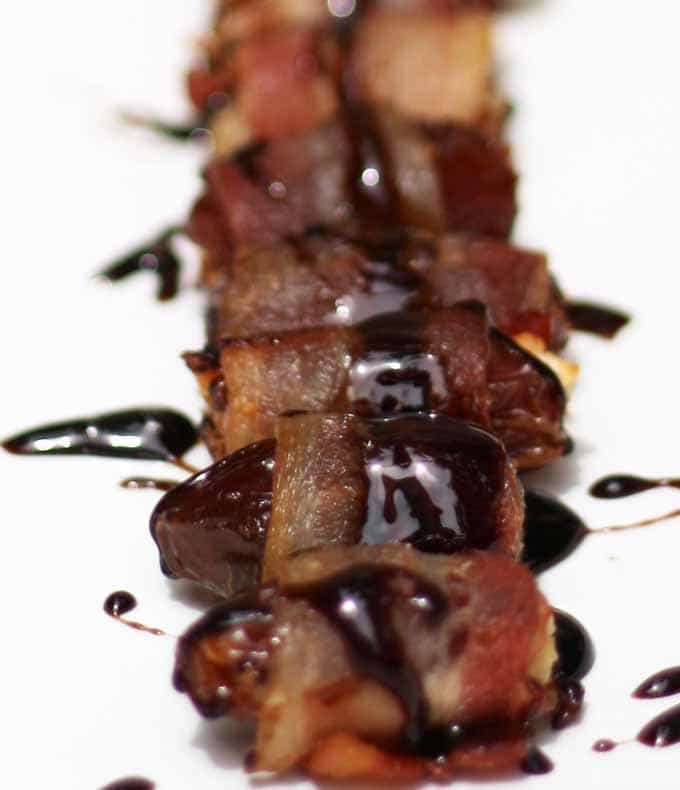 or this 8 layer taco dip!