Change up your parties with this easy green onion dip recipe! Easy to make and full of flavor, serve it with crusty bread or tortilla chips.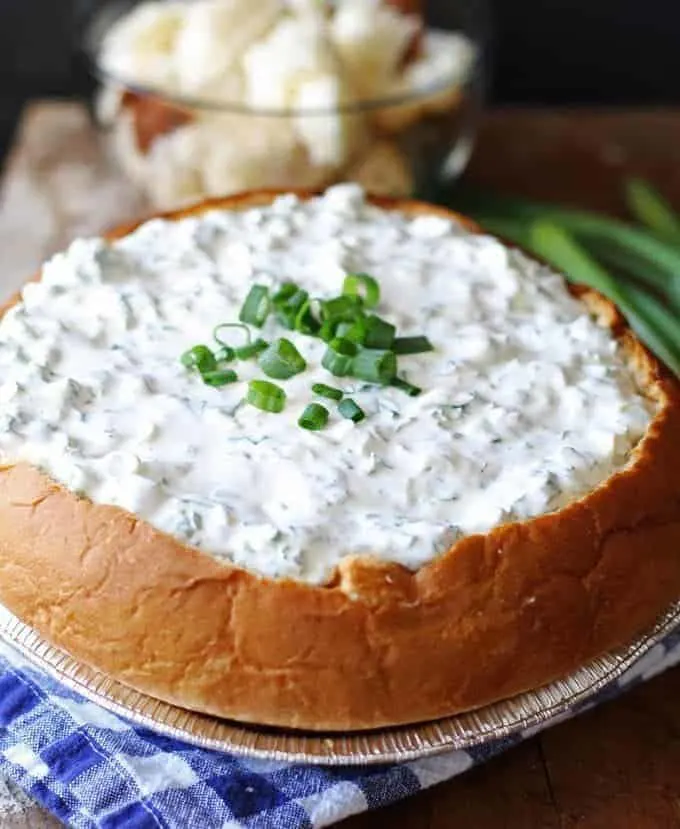 Are you tired of serving the same old dips at your gatherings?
It's time to shake things up at your next party with this creamy green onion dip recipe!
This creamy dip is simple and flavorful, making it the perfect companion for crusty bread or chips.
So whether you're hosting a party or attending one, this fantastic appetizer will elevate your party dip game to a new level. Serve it alongside other easy dip recipes like whipped feta dip, creamy blue cheese dip, or tomato queso dip.
As someone who appreciates uncomplicated recipes, I've handpicked my favorite ingredients for this homemade dip, and guess what?
It doesn't rely on mayo like many creamy onion dip recipes do.
Instead, it boasts a blend of cream cheese and sour cream, allowing you to lighten it up if desired. But the best part of this dip is the vibrant flavor of fresh green onions.
Say goodbye to store-bought seasoning packets because this green onion dip draws its incredible taste from the natural flavors of the green onions themselves.
Easy Green Onion Dip Ingredients
These ingredients create a delicious and versatile Green Onion Dip perfect for dipping chips, crackers, or fresh vegetables.
Its creamy and tangy components and the freshness of green onions and parsley make it an ideal appetizer or party snack.
Feel free to customize the dip by adjusting the seasonings and quantities to suit your taste.
Softened Cream Cheese: Softened cream cheese serves as the creamy and luxurious base for your green onion dip.
Its smooth texture and mild tanginess provide a delightful contrast to the sharpness of the green onions.
Cream cheese contributes richness, thickness, and a hint of sweetness to the dip.
Sour Cream: Sour cream complements the cream cheese by adding a pleasant tartness and creaminess to the dip.
It not only enhances the overall texture but also balances the richness of the cream cheese. Sour cream is a classic component of many dip recipes, contributing a tangy and refreshing element.
Green Onions: Green onions are the show's star, bringing a bold and unmistakable onion flavor to the dip.
The finely diced green onions add freshness, crunch, and a delightful pop of color. Their mild onion flavor and slight peppery notes elevate the dip's overall taste.
Diced Parsley: Diced parsley contributes a vibrant and herbaceous touch to your green onion dip.
It enhances the dip's visual appeal while infusing it with a mild, earthy, and slightly peppery flavor.
Parsley complements the green onions, adding a layer of complexity to the dip's taste profile.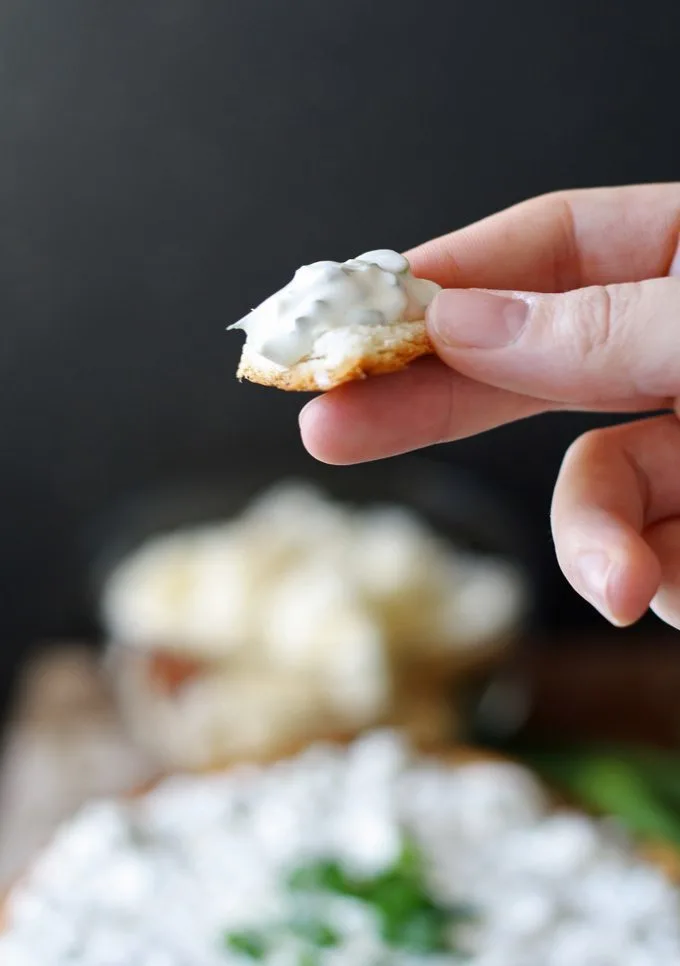 Minced Garlic: Minced garlic is the aromatic component that provides depth and a savory kick to your green onion dip.
It adds a hint of spiciness and a delightful garlic aroma. Garlic's presence elevates the dip, making it more flavorful and satisfying.
Vinegar: A small amount of vinegar, such as white wine or apple cider vinegar, introduces a touch of acidity to the dip.
This acidity brightens the flavors, balances the richness of the dairy ingredients, and enhances the overall taste.
Salt and Black Pepper: Salt and pepper are the essential seasonings that allow you to fine-tune the dip to your preference.
They enhance the flavors, ensuring a well-balanced and savory taste. Adjust the amounts according to your taste buds, but start with a pinch of salt and a dash of pepper, then taste and adjust as needed.
How to Make Green Onion Dip
To begin making your Easy Green Onion Dip, you'll want to grab your food processor.
Add the softened cream cheese and sour cream to the food processor's bowl. Pulse these two ingredients until they are well combined, and the mixture achieves a smooth and creamy texture.
This step is essential for creating the dip's base, ensuring a uniform and velvety consistency.
Once your cream cheese and sour cream are smoothly blended, it's time to introduce the remaining simple ingredients.
Begin by adding the finely diced green onions, providing a bold and unmistakable onion flavor to the dip. Next, incorporate the chopped parsley and the minced garlic.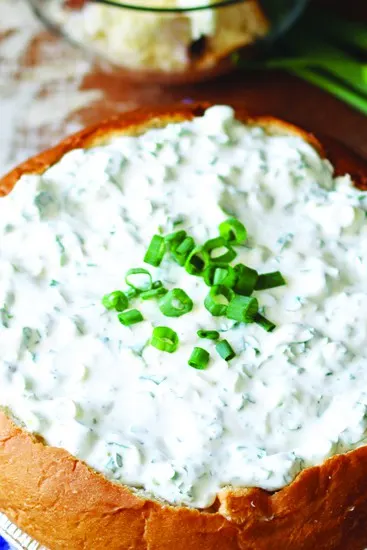 Lastly, pour in the vinegar, adding a touch of acidity that brightens the flavors. Give these ingredients a good stir, mixing thoroughly until evenly distributed throughout the creamy base.
It's essential to refrigerate the mixture to allow the flavors of the dip to meld and intensify.
Transfer the dip to a plastic-wrapped covered container and place it in the refrigerator for at least 2 hours before serving.
This refrigeration period is crucial for the dip's ingredients to harmonize and reach their full potential, creating a more delicious and well-rounded flavor profile.
Chilling the dip also helps it achieve a firmer consistency, making it easier to scoop and enjoy.
After this brief refrigeration period, your Easy Green Onion Dip is ready to be served.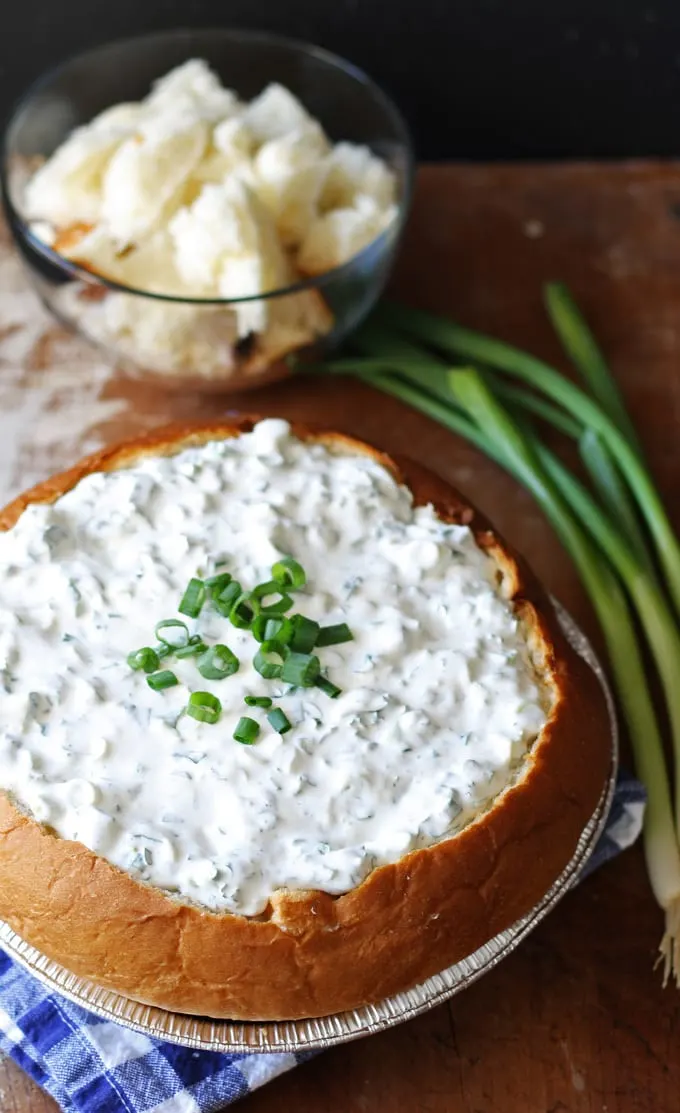 Green Onion Dip Ingredient Alternatives
Looking to put a unique twist on your green onion dip?
Explore these alternative ingredient options to create a flavor-packed variation of this classic recipe. Any way you put it, though, this is a simple homemade green onion dip with fresh ingredients.
Goat Cheese: Instead of softened cream cheese, use tangy goat cheese for a creamy and distinctive taste.
Plain Greek Yogurt: If you prefer a lighter option, swap out the sour cream with Greek yogurt to add a refreshing and tangy element to your dip.
Chives: For a different twist, replace the diced green onions with an equal amount of fresh chives, offering a more pronounced and herbaceous flavor. Fresh herbs are always an excellent addition to a flavorful dip.
Cilantro: If you're feeling adventurous, swap the parsley with an equal amount of fresh cilantro, infusing your dip with a vibrant and zesty kick.
Roasted Garlic: To enhance the savory profile, experiment with roasted garlic instead of minced garlic, delivering a more profound and more complex taste.
Lemon Juice: If you want a touch of acidity, substitute the vinegar with freshly squeezed lemon juice for a bright and refreshing note.
Get creative with these alternative ingredients, and savor the exciting new flavors they bring to your green onion dip!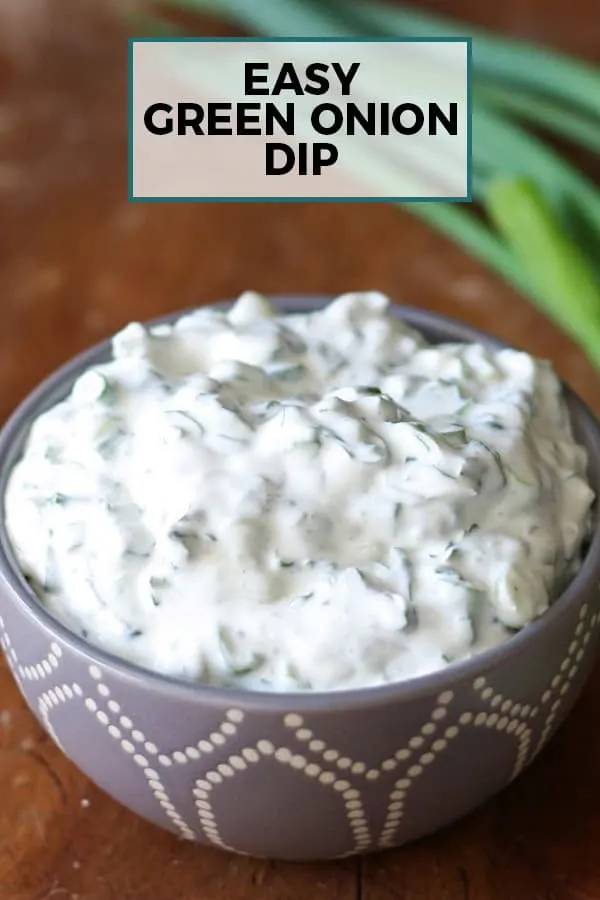 How to Serve this Easy Dip Recipe
I recommend transforming a round loaf of bread into a unique bread bowl to present it in style.
Simply remove the top part of the loaf, ensuring the base remains intact, and cut the top into bite-sized cubes for convenient dipping.
If some of your guests hesitate to dive into the bread bowl, take the initiative and start the party yourself.
You can also provide crispy potato chips, tortilla chips, pita chips, bagel chips, and butter crackers.
If you want a gluten-free, healthier alternative, serve with fresh-cut veggies like carrot sticks, bell peppers, and celery sticks. Raw vegetables are my favorite dippers.
Storing Leftover Green Onion Dip
Put any leftover dip in an airtight container or a large bowl. Use any leftovers within 3 days.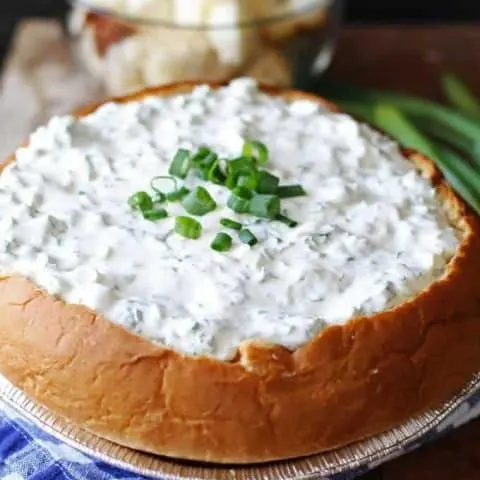 Easy Green Onion Dip
Change up your parties with this easy green onion dip recipe! Easy to make and full of flavor, serve it with crusty bread or tortilla chips.
Ingredients
8 ounces of softened cream cheese
1 cup of sour cream
2 cups of finely diced green onions
½ cup diced parsley
2 teaspoons minced garlic
½ teaspoon vinegar
salt and pepper to taste
Instructions
In a food processor, pulse the cream cheese and sour cream until well combined.
Stir in the remaining ingredients.
Cover and refrigerate for 2 hours before serving.
Nutrition Information:
Yield:

12
Serving Size:

1
Amount Per Serving:
Calories:

111
Total Fat:

10g
Saturated Fat:

6g
Trans Fat:

0g
Unsaturated Fat:

3g
Cholesterol:

30mg
Sodium:

94mg
Carbohydrates:

3g
Fiber:

1g
Sugar:

2g
Protein:

2g