Blueberry lemon bars – my version of the classic lemon bar recipe, using my homemade blueberry lemon curd.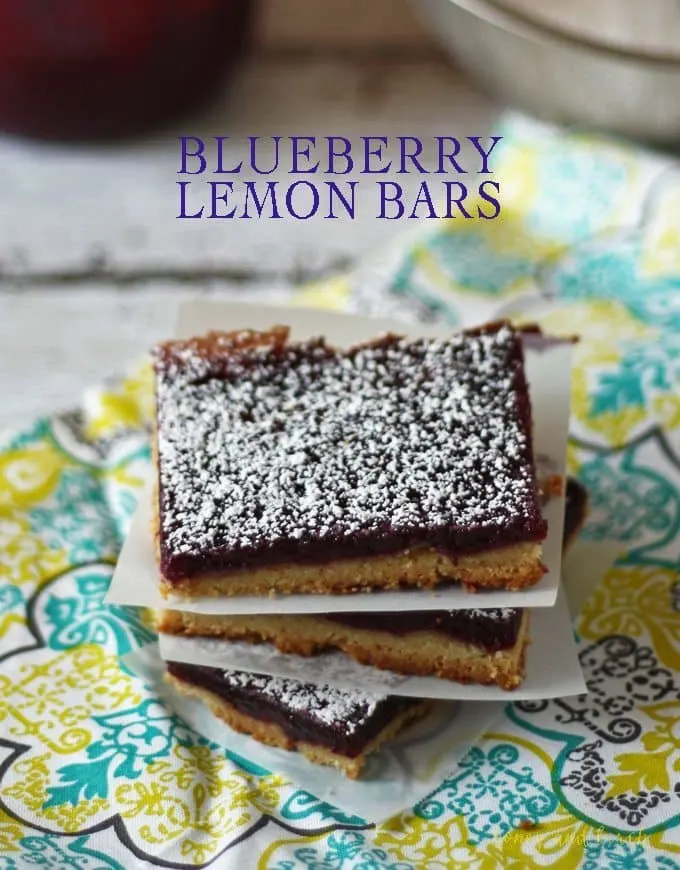 On New Year's Day I shared one of my newest recipes for blueberry lemon curd. It is delicious and I had a hard time resisting the call of the curd. It is yummy enough that I seriously wanted to eat it by large spoonfuls. Alas, I stopped myself.
Mainly because I used most of it for this delicious recipe for blueberry lemon bars. Yummy yum yum.
Lemon bars are one of those classic desserts that don't really need much reworking. Like chocolate chip cookies, they are quite perfect in their basic form. For that reason, I started this recipe with the base of the Good Housekeeping cookbook's very basic lemon bars. I think it's a shortbread base – 3 ingredients only, that bakes into a nice crusty crust in the bottom of a baking dish.
Then, instead of making a lemon curd from scratch and pouring it on top, I used my already made blueberry lemon curd. And the world stopped.
Because it was magnificent. (just kidding, the world didn't stop.)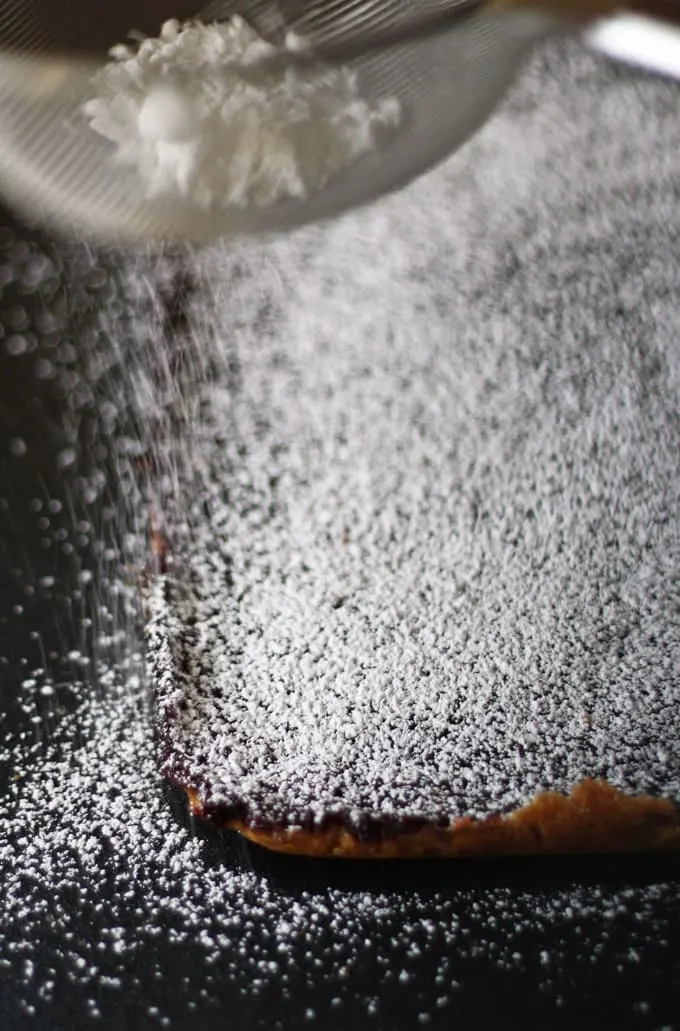 You may be wondering, why mess with a good thing? Well, mainly because Mr. B. doesn't like lemony, citrusy desserts. And I do. So this combination – sweet blueberries and tart lemons – makes us both happy. The devoured blueberry lemon bars are proof that I am not exaggerating in the least.
I am not entirely happy with these pictures, but it's too late to retake them – we ate all of the bars. Mr. B. brought a big container of them to work and cut them into little pieces so all of his coworkers could share them. And then he came home and we ate all of the rest. And then… I went to edit my pictures and realized I liked 3 of the 30 or so that I took. Oh well. 🙂
I was going to remake them and retake the pictures but I didn't want to wait any longer to share this with you. You are very welcome.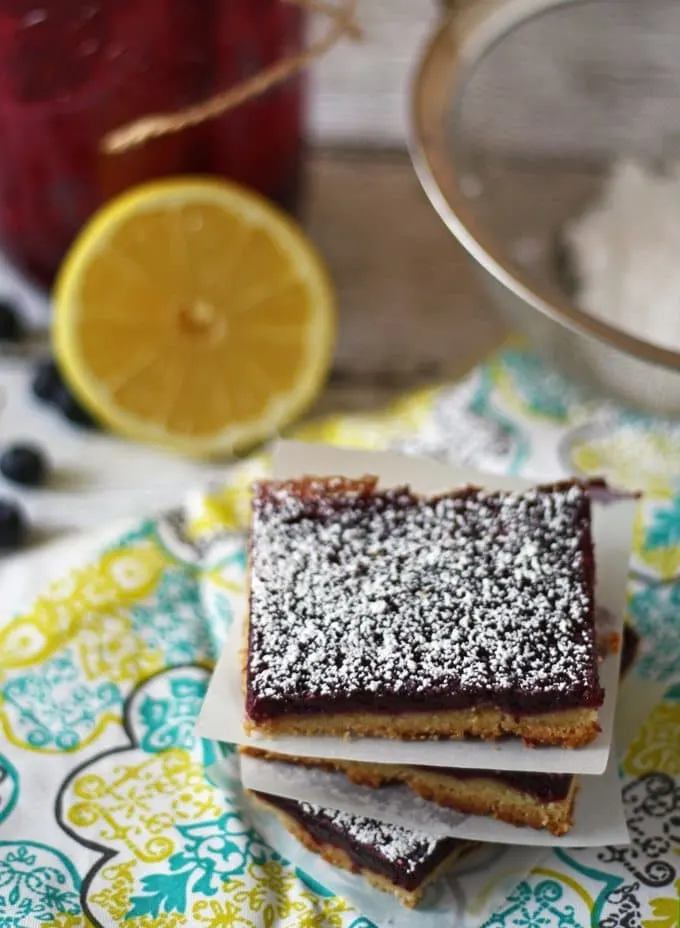 Blueberry Lemon Bars
This recipe is special because of the blueberry lemon curd, but if you don't want to make it you are not out of luck. Replace it with any curd – homemade or store bought. You know me, I'm always making stuff from scratch.
When you're cutting your blueberry lemon bars, here my tips for you. One, use a really sharp knife. Two, heat it with hot water and wipe it down before you cute. And three, do that for each cut.
Then you will have perfect bars to eat!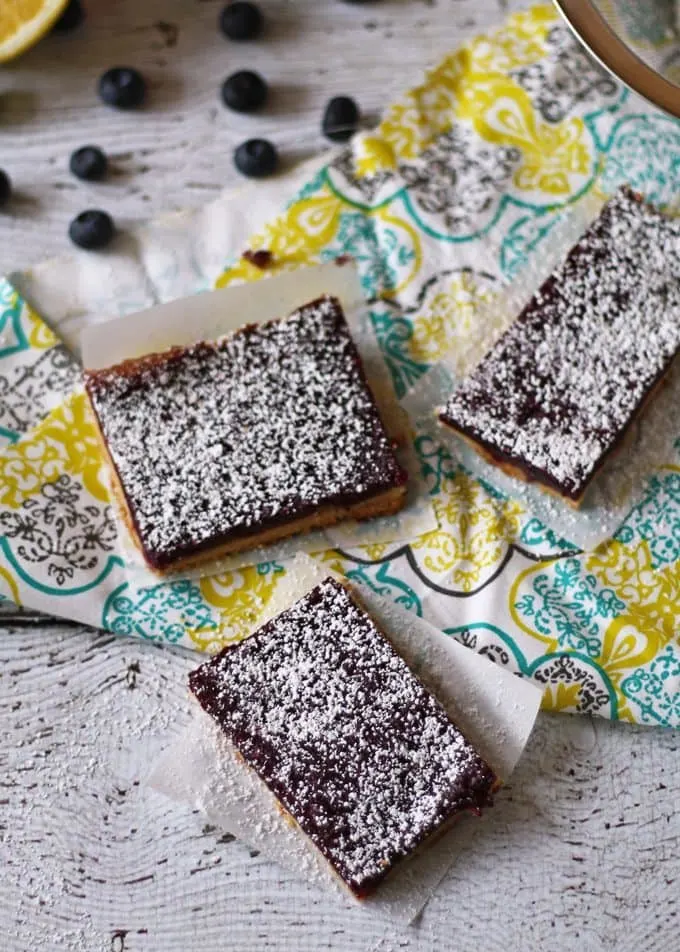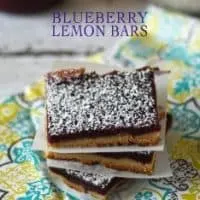 Blueberry Lemon Bars
Blueberry Lemon Bars using homemade blueberry lemon curd - delicious
Ingredients
1 ½ cup all purpose flour
½ cup confectioner's sugar
¾ cups unsalted butter, room temperature
additional confectioner's sugar to dust on finished bars
Instructions
Preheat oven to 350 degrees. Line a 9x13 baking pan with foil. Lightly grease the foil.
In a food processor, pulse the flour, confectioner's sugar and butter until ingredients are combined and the butter is pea sized.
Pour the dough into the prepared pan and press it into the bottom of the pan. Bake until lightly browned, about 15-17 minutes.
Remove from oven and pour the blueberry lemon curd in an even layer across the top of the crust. Bake for an additional 15-20 minutes or until the filling is set.
Remove from oven and allow to cool completely. When cool, sprinkle the top with additional confectioner's sugar. Then cut into bars.
Notes
Revised from The Good Housekeeping Cookbook.
Nutrition Information:
Yield:

10
Serving Size:

1
Amount Per Serving:
Calories:

265
Total Fat:

14g
Saturated Fat:

9g
Trans Fat:

0g
Unsaturated Fat:

5g
Cholesterol:

37mg
Sodium:

3mg
Carbohydrates:

34g
Fiber:

1g
Sugar:

18g
Protein:

2g
Nutrition information is automatically calculated and may not be correct.