Make these black bean sloppy joes when you're looking to change up Meatless Monday night! They're easy to make and my new favorite from-scratch recipe. It's vegetarian and vegan!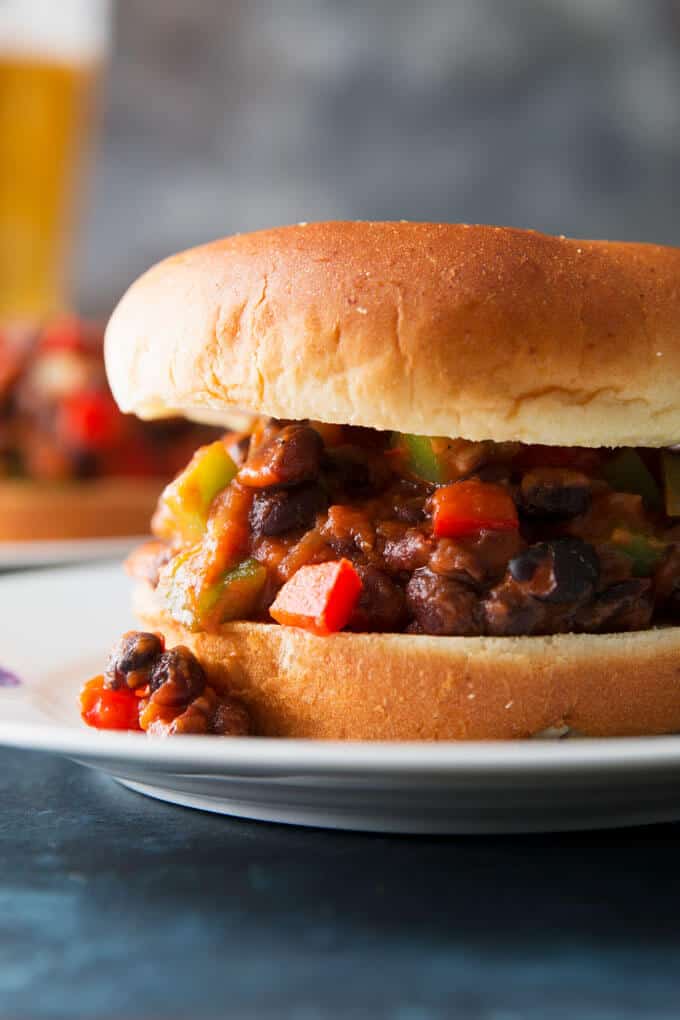 This post is in collaboration with Peapod and FromthePod.com. All thoughts and opinions are my own. Thank you for supporting our sponsors!
Easy dinners have been on my mind a lot this week. So have recipes from my childhood. You may have seen my porcupine meatball recipe last week – this was a huge favorite of mine when I was a kid.
My mom also used to make sloppy joes a lot. I think I liked eat them because they were so messy and this one dinner that is very aptly named.
She went the canned route – you know what I'm talking about. Now, when I make them I go homemade sloppy joes all the way. I have made them with meat and veggies but my new favorite recipe is for black bean sloppy joes.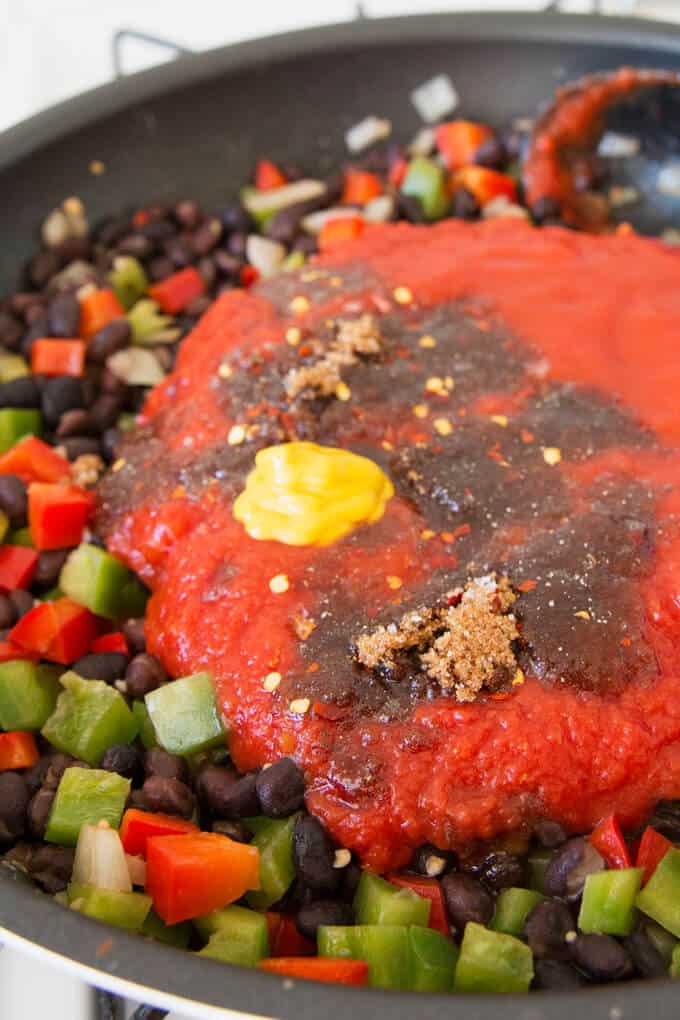 Black Bean Sloppy Joes
Black bean sloppy joes are so easy to make from scratch that you'll wonder why you haven't been making them this way the whole time. Dice up your vegetables, sauté them in a pan with the black beans and add all of your spices.
It doesn't take long for the flavors to simmer together and for a smooth sweetness to develop. The secret is really that little bit of brown sugar!
The hardest part about this recipe is waiting to eat it. I like to let the sauce sit for a little bit so it can thicken. Then I spoon it over hamburger buns and eat away. I have even been known to spoon it over tortilla chips.
Kind of like sloppy Joe nachos.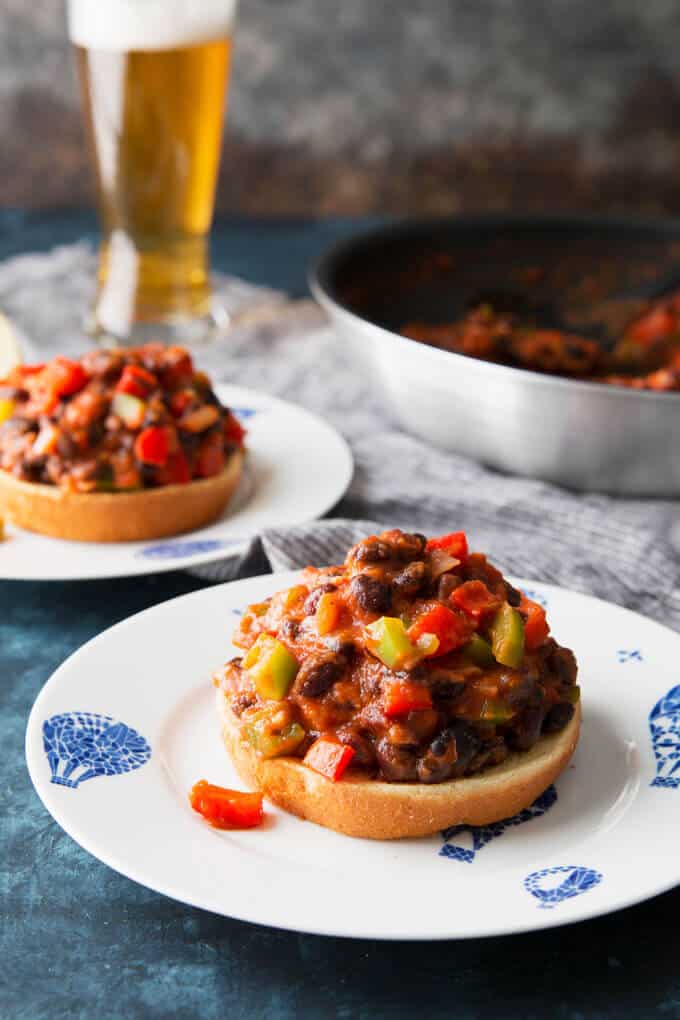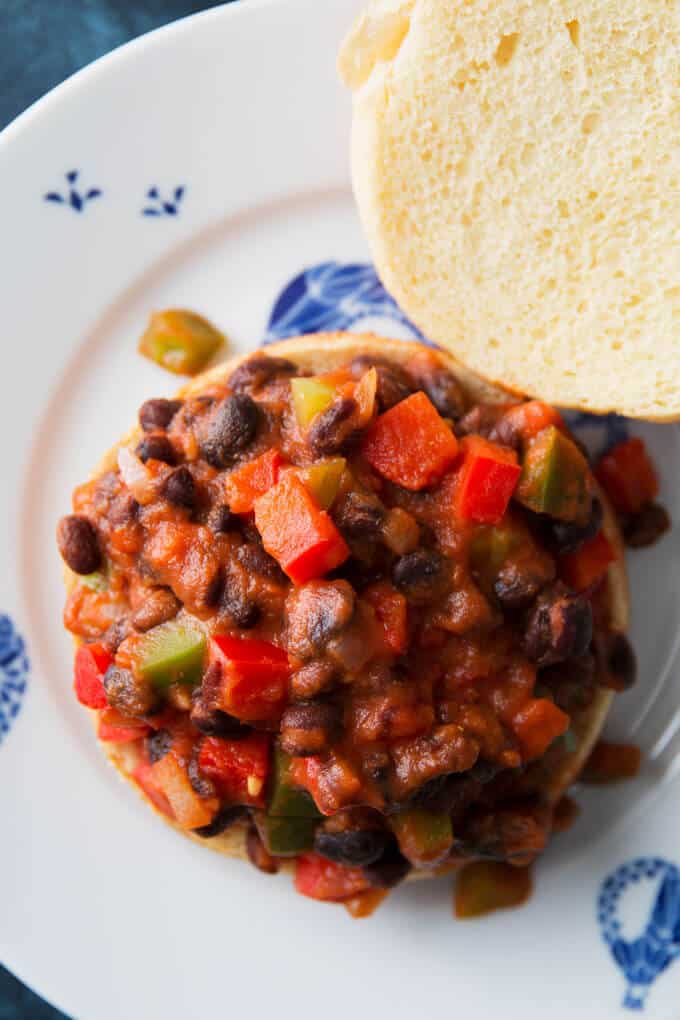 Want to save even more time? Get all of your ingredients from Peapod!!
I created this recipe as part of my partnership with Peapod and the recipe website FromthePod.com. I'm part of a group of great food bloggers creating easy weeknight recipes.
I love that you can go to any of the recipes on their website and have that recipe's ingredients put right in your shopping cart. Then all you have to do is unselect the items you already have in your kitchen.
Get this recipe over on Peas from the Pod!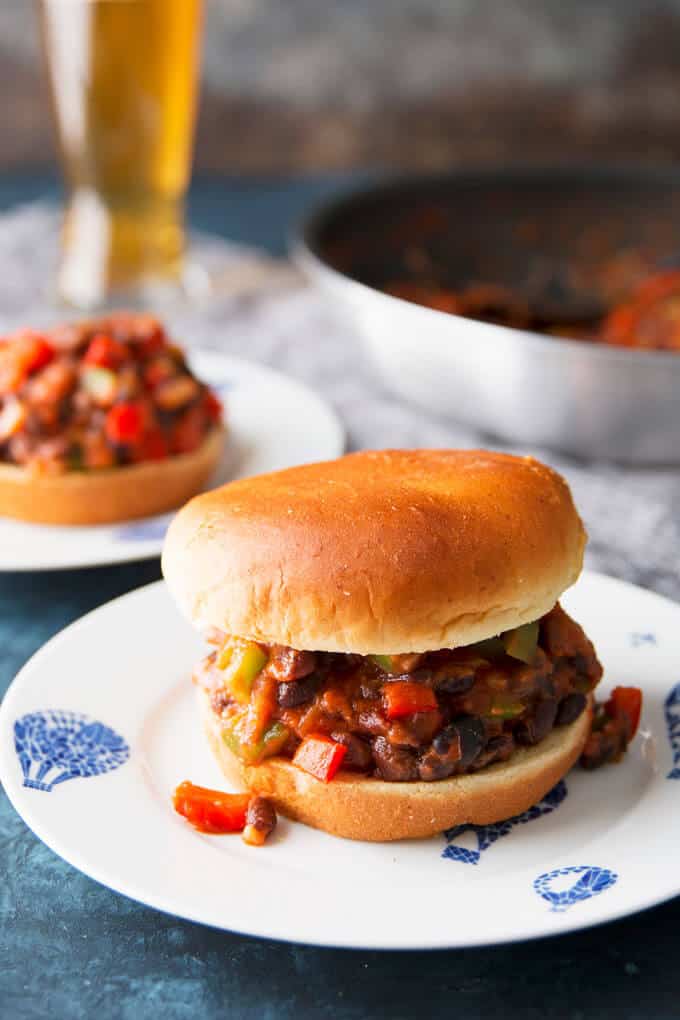 Looking for more vegetarian recipes? Try these: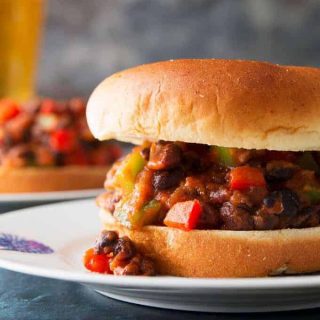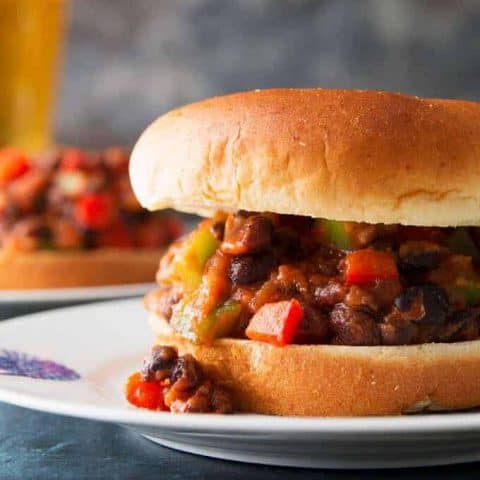 Black Bean Sloppy Joes
Yield: 8 servings

Prep Time: 5 minutes

Cook Time: 25 minutes

Total Time: 30 minutes

Make these black bean sloppy joes when you're looking to change up Meatless Monday night! They're easy to make and my new favorite from-scratch recipe. It's vegetarian and vegan!
Ingredients
2 tablespoons extra virgin olive oil
1 small yellow onion, diced
2 cloves garlic, minced
15 ounce cans black beans, rinsed and drained
1 green pepper, seeds removed and diced
1 red pepper, seeds removed and diced
14 ounce can crushed tomatoes
8 ounce can tomato sauce
2 tablespoons brown sugar
1 teaspoon yellow mustard
1/2 teaspoon kosher salt
1/4 teaspoon black pepper
1/4 teaspoon crushed red pepper flakes
8 hamburger buns
Instructions
In a large skillet, heat the olive oil over medium heat. When hot, add the onion and garlic, stirring frequently, and sauté until the onions are translucent.

Add the black beans, green pepper, and red pepper and cook for 5 minutes (until the peppers have softened). Add the remaining ingredients and stir well. Cook for 10 minutes, stirring occasionally, until the sauce is hot. Turn off heat and let rest for 5 minutes before serving.

Serve on hamburger buns.
Recommended Products
As an Amazon Associate and member of other affiliate programs, I earn from qualifying purchases.
Nutrition Information:
Yield: 8 Serving Size: 1 sandwich
Amount Per Serving: Calories: 274 Total Fat: 6.2g Saturated Fat: 1.1g Trans Fat: 0g Unsaturated Fat: 0g Cholesterol: 0mg Sodium: 942mg Carbohydrates: 49g Fiber: 8g Sugar: 8g Protein: 10.9g




Join the newsletter!
Subscribe to get our latest content by email.