Looking for a fall cocktail? Try this autumn spiced rum cider cocktail – the perfect blend of spiced rum, spiced apple cider and hard cider. Plus cinnamon and star anise!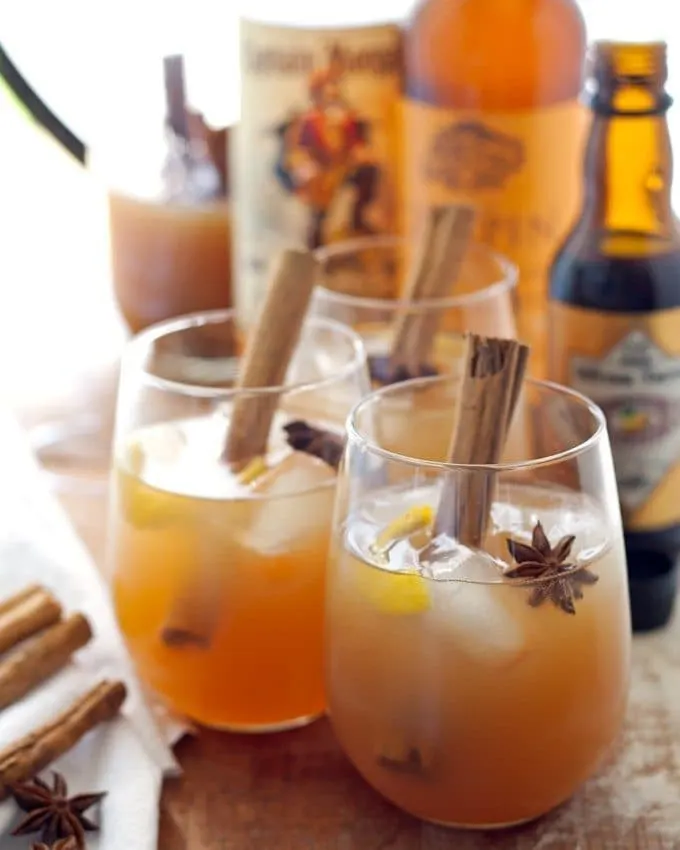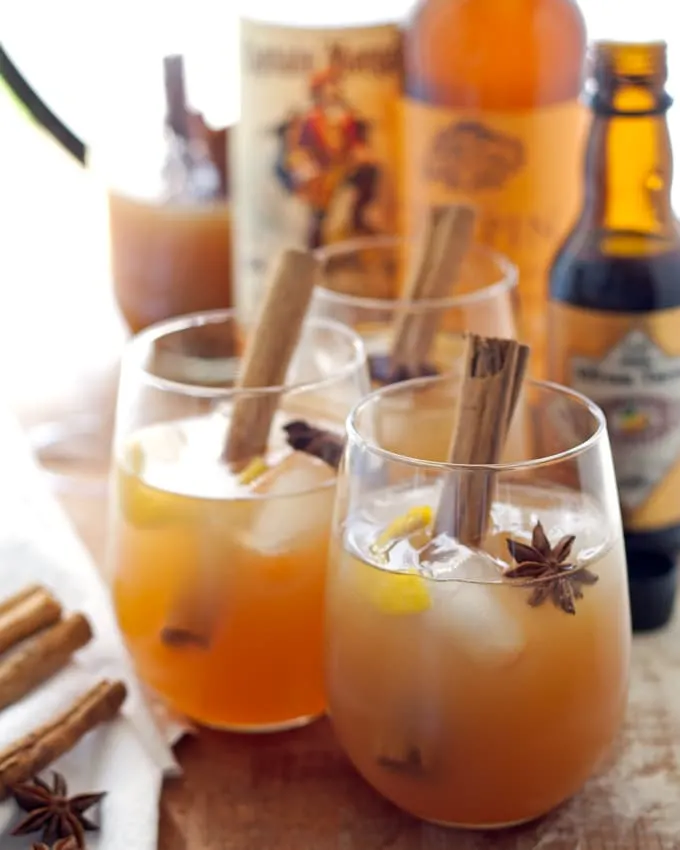 Autumn is finally here and with that brings lots of seasonal treats.
I know that everyone always talks about pumpkin when the weather gets cooler. I am usually one of those people.
This year, however, I have really been focusing on apples.
Some of my favorite apple recipes include spiced apple muffins, savory apple, chicken, and cheddar galette (apples for dinner!), and spicy apple and bacon grilled cheese sandwich.
Autumn Spiced Rum Cider Cocktail
This autumn spiced rum cider cocktail is a delicious blend of some of my favorite ingredients and fall flavors.
This cocktail is the answer when you are looking for spiced rum cocktails, hard cider cocktails, or spiced rum cider.
First, you have to spice up the cider.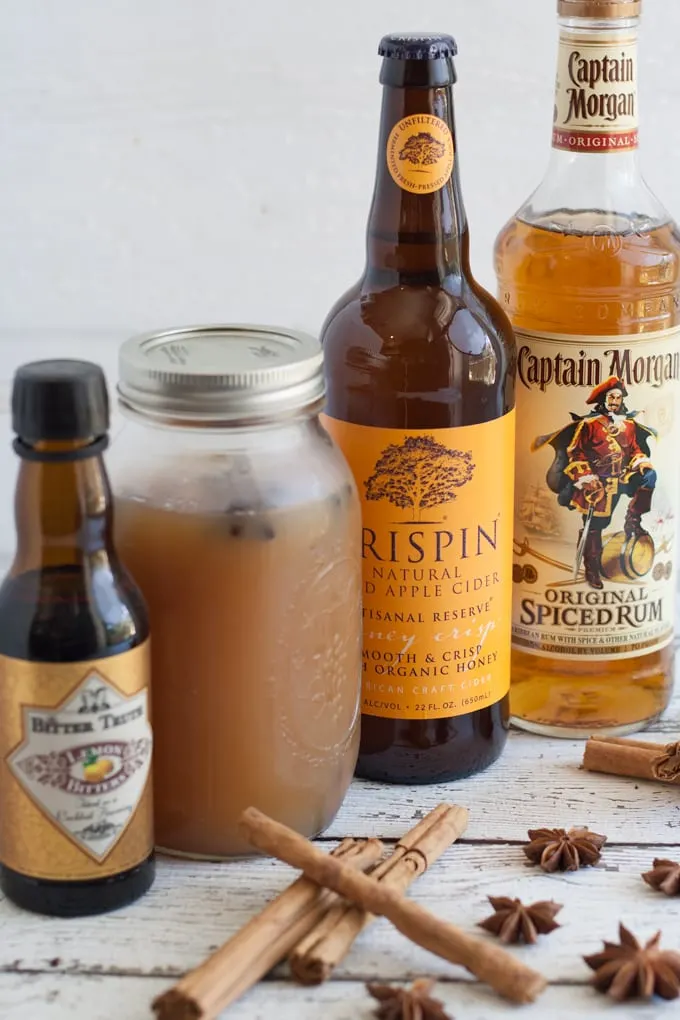 This post contains some affiliate links for your convenience. Click here to read my full disclosure policy.
Easy Black Bean Soup Ingredients
Black Beans – Black beans serve as this hearty soup's primary ingredient and star. They bring a rich, earthy flavor and a creamy texture that forms the base of the soup.
Chicken Broth – The chicken broth provides a flavorful and savory liquid base. It adds depth to the black beans' taste and ensures the soup is well-seasoned.
You can use homemade chicken broth or store-bought depending on your preference and availability.
Diced Tomatoes – Diced tomatoes contribute a vibrant and slightly tangy element to the soup. They enhance the flavor profile and provide a pleasant contrast to the richness of the black beans.
The diced tomatoes also offer a bit of texture to the soup.
These three simple ingredients come together to create an Easy Black Bean Soup that's quick to prepare and deliciously satisfying.
It's a fantastic option for a quick and nutritious meal, especially when served with toppings like sour cream, shredded cheese, chopped cilantro, or a squeeze of fresh lime juice.
How to Make Spiced Apple Cider
Begin crafting your spiced apple cider by gathering the essential ingredients: non-alcoholic apple cider, cinnamon sticks, and star anise.
These components infuse your cider with delightful, warm, and spicy flavors.
To take the spice level further, add optional spices like nutmeg or cloves for extra depth and complexity.
Select a sealable container for your cider mixture, such as mason jars. This container will allow you to infuse the flavors effectively.
Carefully pour the apple cider into your chosen container. Follow this with the cinnamon sticks and star anise, ensuring they are evenly distributed within the cider.
If you've chosen to include additional optional spices, now is the time to add them, customizing the blend to your desired taste profile.
Once all the ingredients are nestled together, seal the container tightly to keep those beautiful flavors locked in.
Now comes the patient part – refrigerate the container for at least 1 hour. This resting period allows the spices to mingle and infuse their warm and aromatic essence into the apple cider.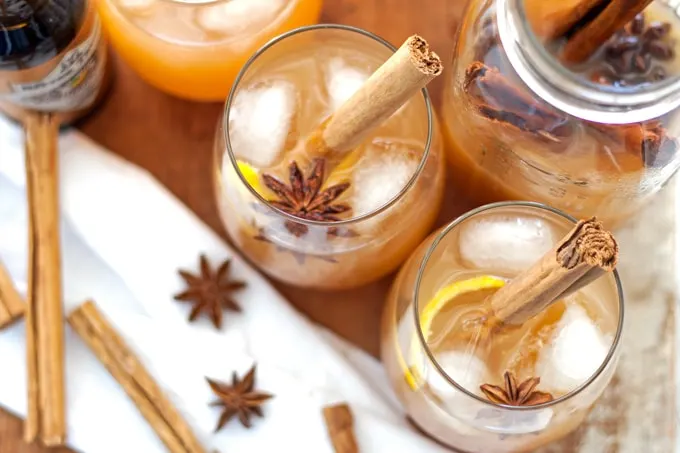 What ingredients do I need to make this autumn spiced rum cocktail?
Spiced Rum – Spiced rum is the star of this cocktail, infusing it with its warm and complex flavors. It typically contains a blend of spices like cinnamon, cloves, and nutmeg, which add depth and richness to the drink.
I tend to buy Captain Morgan or The Kraken, but Meyers is also a great choice.
Spiced Apple Cider – Spiced apple cider forms this cocktail's fruity and aromatic base.
It's apple cider enhanced with warm spices such as cinnamon and cloves, making it the perfect autumn-inspired element for the drink.
Hard Cider – Hard cider, with its effervescence and subtle apple notes, contributes a refreshing and bubbly quality to the cocktail.
It complements the spiced rum and spiced apple cider, adding complexity and a bit of sweetness.
Lemon Bitters – lemon bitters provide a zesty and citrusy kick to the cocktail. Just a few dashes can brighten up the flavors, adding a delightful contrast to the warm and spiced elements.
It's the finishing touch that elevates the drink.
These ingredients, when combined, create an autumn-inspired cocktail that's a harmonious blend of rich, warm spices from the spiced rum and spiced apple cider, the crisp and bubbly character from the hard cider, and the refreshing zing of lemon bitters.
How to make an Autumn Spiced Rum Cocktail
Preparing the Base: To craft your Autumn Spiced Rum Cocktail, add ice to a rocks glass, ensuring the drink is chilled. Pour the spiced rum over the ice.
Follow with the spiced apple cider and stir well to create a flavorful foundation.
Adding the Bubbly Element: Gently top your drink with hard cider to introduce effervescence and complexity.
The hard cider's natural apple notes and subtle fizz complement the spiced rum and cider, creating layers of flavor and texture that reflect the season's spirit.
Final Touches: For a finishing touch, add 2-3 dashes of lemon bitters to your cocktail, providing a zesty, citrusy kick that enhances the overall flavor profile and adds a delightful contrast to the warm, spiced elements.
Your cocktail is ready to be enjoyed. Whether sipping it on a cozy evening or serving it at a fall gathering, it's a seasonal delight that captures the season's spirit in every sip.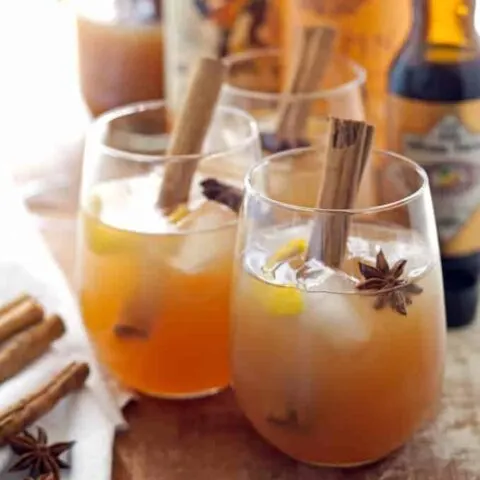 Autumn Spiced Rum Cider Cocktail
Total Time:
1 hour
5 minutes
Looking for a fall cocktail? Try this autumn spiced rum cider cocktail - the perfect blend of spiced rum, spiced apple cider and hard cider. Cinnamon and star anise!
Ingredients
Spiced Apple Cider
4 cups apple cider
3 cinnamon sticks
3 star anise
Optional
Cocktail
1 1/2 ounces spiced rum
1/2 cup spiced apple cider
1/2 cup hard cider
2-3 dashes lemon bitters
Instructions
To make the spiced apple cider, combine the apple cider, cinnamon sticks and star anise in a sealable container like a mason jar. If using optional spices, add them now. Seal the container and refrigerate for at least 1 hour. Shake well before using.
To make the autumn spiced rum cider cocktail, fill a rocks glass with ice. Pour the spiced rum and spiced apple cider over the ice. Stir well. Top with hard cider and lemon bitters.
Recommended Products
As an Amazon Associate and member of other affiliate programs, I earn from qualifying purchases.
Nutrition Information:
Yield:

1
Serving Size:

1
Amount Per Serving:
Calories:

784
Total Fat:

3g
Saturated Fat:

1g
Trans Fat:

0g
Unsaturated Fat:

1g
Cholesterol:

0mg
Sodium:

57mg
Carbohydrates:

141g
Fiber:

6g
Sugar:

117g
Protein:

2g