Celebrate with this delicious and easy-to-make Christmas sangria recipe and add a sangria bar station to your next holiday party. Winter cocktail, anyone?!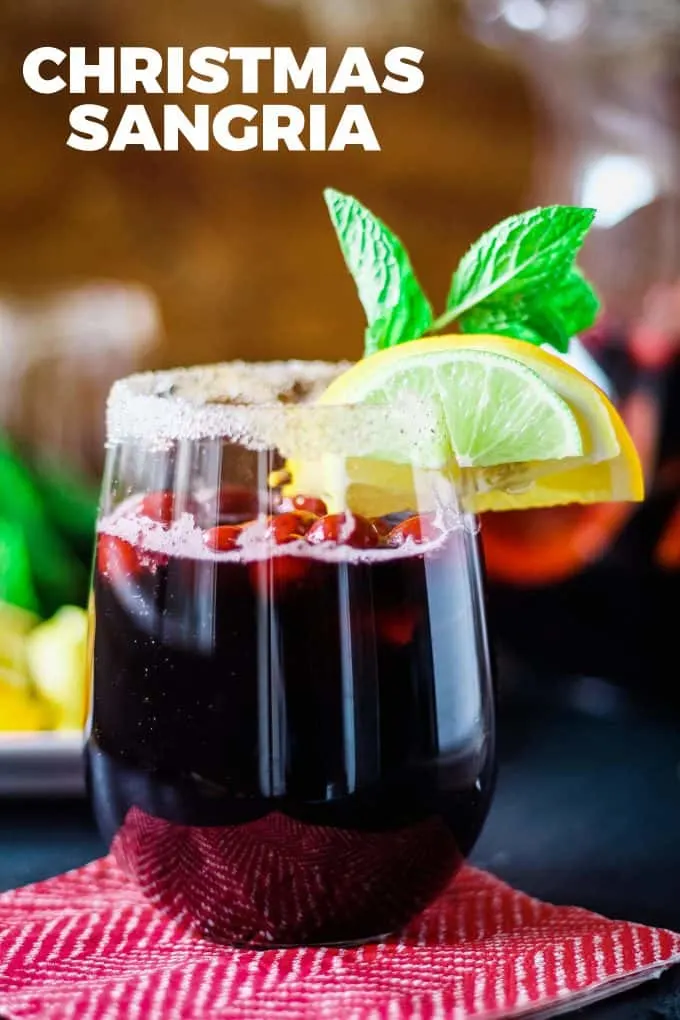 This Christmas Sangria recipe is about to change boxed sangria for you forevvver. Ever had a boxed sangria that's missing something? I know I have. Because of that, I use them as my sangria base.
I can hear the glass clinking in cheers already just thinking about it!
You really don't need to do anything else except chill the boxed sangria, so if you are short on time you can just pour it in a glass. Most are blended with a selection of fruit already but why not make it a little better.
Can I use wine instead of prepared sangria?
You sure can. If that is the route you want to go, check out these red wine recommendations from The Kitchn.
BUT, the reason I use boxed or bottled sangria is that it leaves the decision making out of the picture. Think of the time you'll save when your not searching for the perfect red wine for sangria.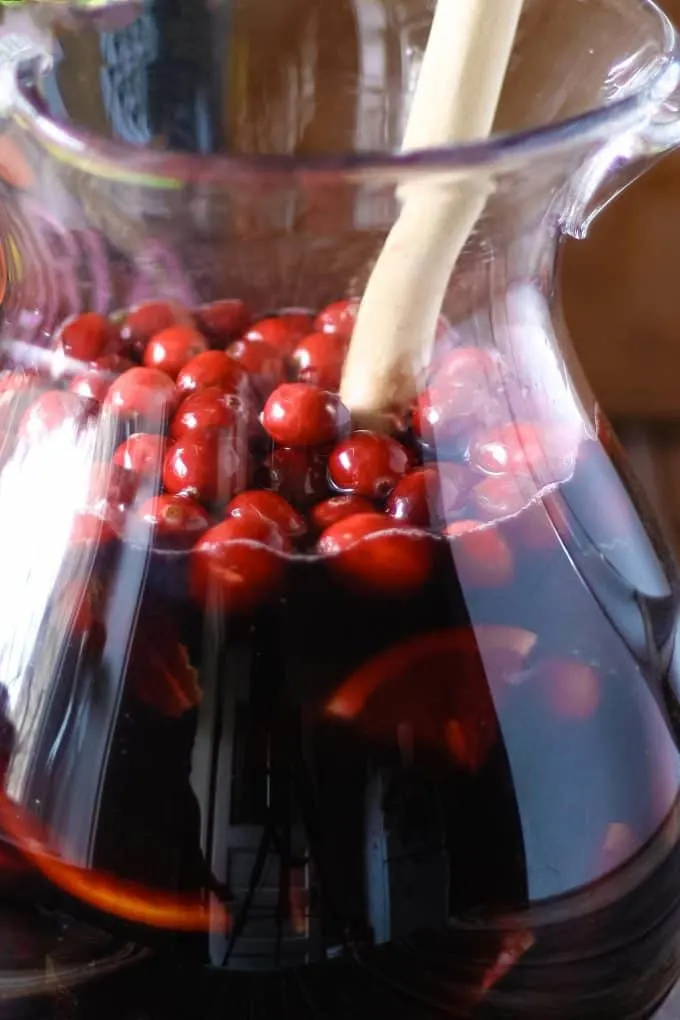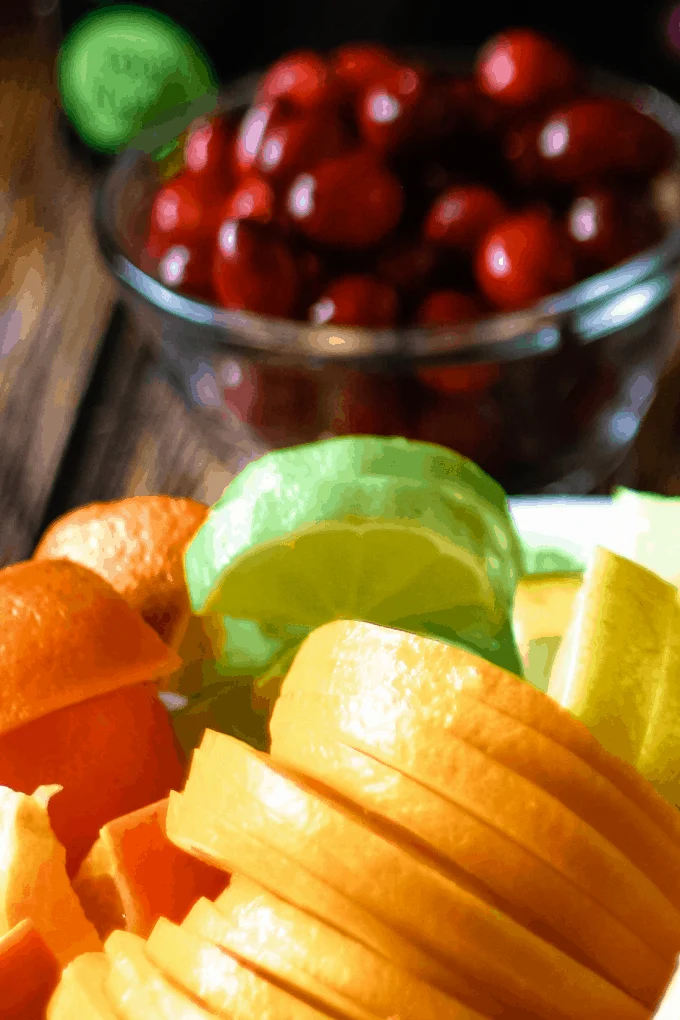 Christmas Sangria Recipe
My favorite winter sangria recipe includes the flavors of winter citrus, cranberries and mint.
If you aren't having a party and don't want to rim glasses, add the spices directly to the pitcher.
But, it is so much more fun with a rimmed glass so I say go for it even if you're just having a glass at the end of a long day.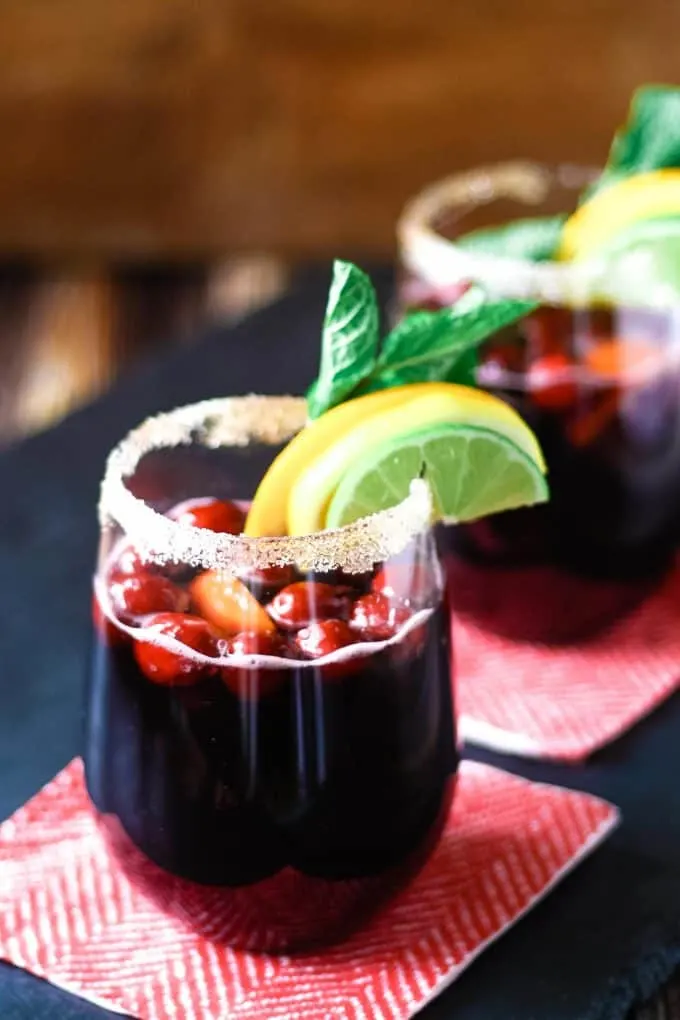 Create A Sangria Bar Station
If you do have the time, and you have people coming over, you can set up a sangria bar station.
Adding a sangria bar station is an easy way to spice up any holiday party.
All of the prep can be done ahead of time, including fancying up your glasses. You can mix up your sangria and slice up your fruit hours before your guests arrive. All you need is a fridge to keep things cold and fresh.
Also, adding a bar station to your party will give you more time to socialize. You'll have more fun at your party if you're talking to people and not spending all of your time mixing your guests' drinks.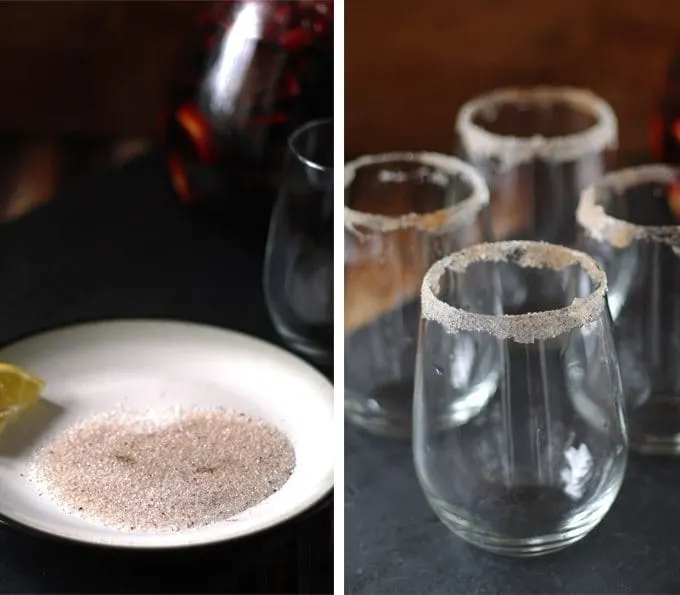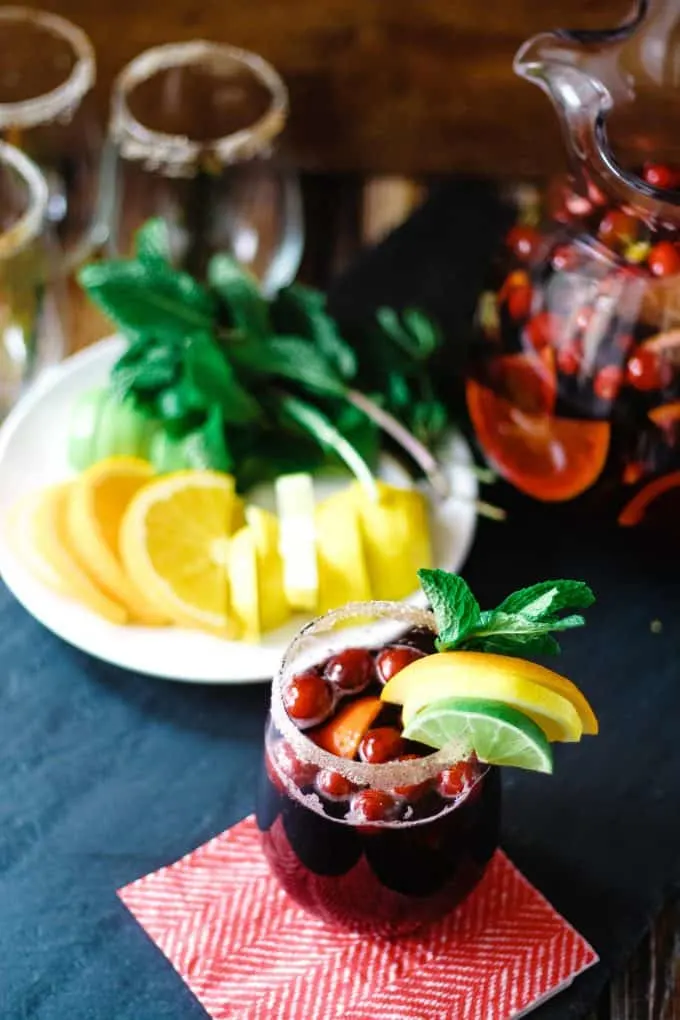 After you prepare your sangria, clear a space to set up your bar station. You don't need a lot of room – you can just use the corner of a table if you don't have a lot of space.
Cut up some extra fruit for garnishes and place some fresh mint on a small plate or tray. Then rim all of your glasses with a mix of sugar and spices ahead of time.
Add a sign if you want, or just direct everyone to the sangria bar when they arrive.
Looking for more winter cocktails?
Try these!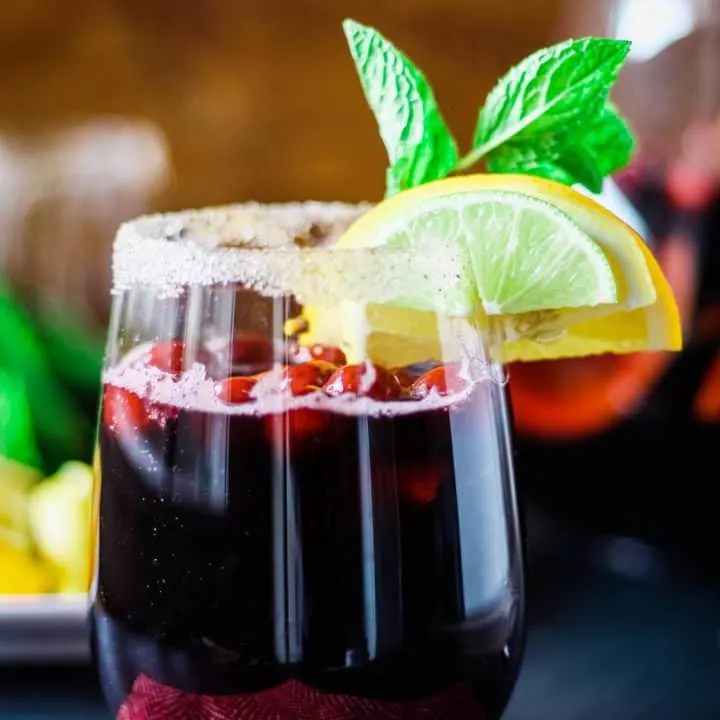 Christmas Sangria
Celebrate with this delicious and easy-to-make Christmas sangria recipe and add a sangria bar station to your next holiday party. Winter cocktail, anyone?!
Ingredients
Christmas Sangria
6 cups prepared sangria or red wine
1 cup cranberries
1 orange, sliced in half and then sliced
1 lemon, cut into wedges
1 lime, cut into wedges
1 tangerine, cut into wedges
1 cup fresh mint leaves
ginger ale
Spiced Sugar to Rim Glasses
2 tablespoons sugar
1/8 teaspoon ground cinnamon
pinch of ground nutmeg
Optional Garnishes
lemon slices
lime wedges
mint leaves
orange slices
Instructions
In a large pitcher, combine the prepared sangria, cranberries orange slices, lemon wedges, lime slices, tangerine wedges, and mint leaves. Mix well with a long handled spoon and refrigerate for 1 hour before serving.
To rim the glasses, rub a lemon or lime wedge along the edge of a glass. On a small plate, mix together the sugar, cinnamon, and nutmeg. Then rub the wet part of the glass in the sugar. Shake off the excess and put aside.
If you are not rimming the glasses, add the spices to the pitcher before stirring in Step 1.
When serving, carefully pour sangria into the pre-rimmed glasses. Fill halfway. Using the long-handled spoon, spoon some of the fruit from the sangria into the glass. Top off the glass with ginger ale. Then garnish with some of the cut-up fruit and a spring of mint.
Nutrition Information:
Yield:

8
Serving Size:

1
Amount Per Serving:
Calories:

212
Total Fat:

0g
Saturated Fat:

0g
Trans Fat:

0g
Unsaturated Fat:

0g
Cholesterol:

0mg
Sodium:

18mg
Carbohydrates:

28g
Fiber:

3g
Sugar:

19g
Protein:

1g
Originally published December 2014, updated December 2019.
---
This post contains some affiliate links for your convenience. Click here to read my full disclosure policy.
---