This Christmas sangria recipe with red wine will get you in the holiday spirit. This simple recipe is perfect for your next Christmas party! Winter cocktail, anyone?!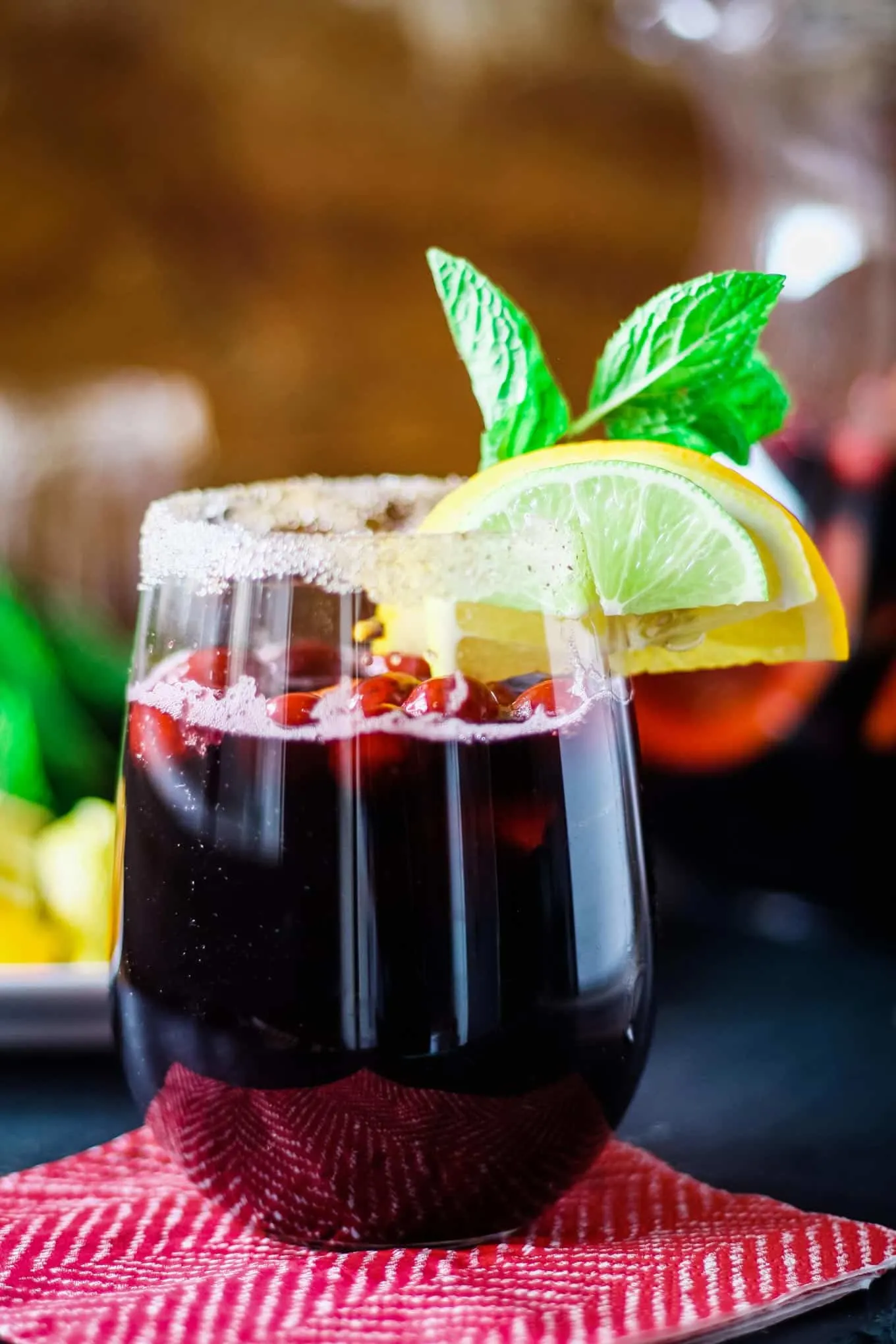 Red wine Christmas sangria is the perfect cocktail recipe for the holiday season.
If you're looking for a big-batch cocktail, as an excuse to bust your punch bowl, or the perfect drink for holiday parties, this easy recipe is the one.
This festive Christmas sangria is an excellent addition to Christmas dinner or celebrating the new year.
I can hear the glass clinking in cheers already just thinking about it!
This holiday cocktail is delicious. It mixes red wine, fresh citrus, and bubbly liquids (think ginger ale or club soda.)
You can even elevate your party by setting up a sangria station – find the details below!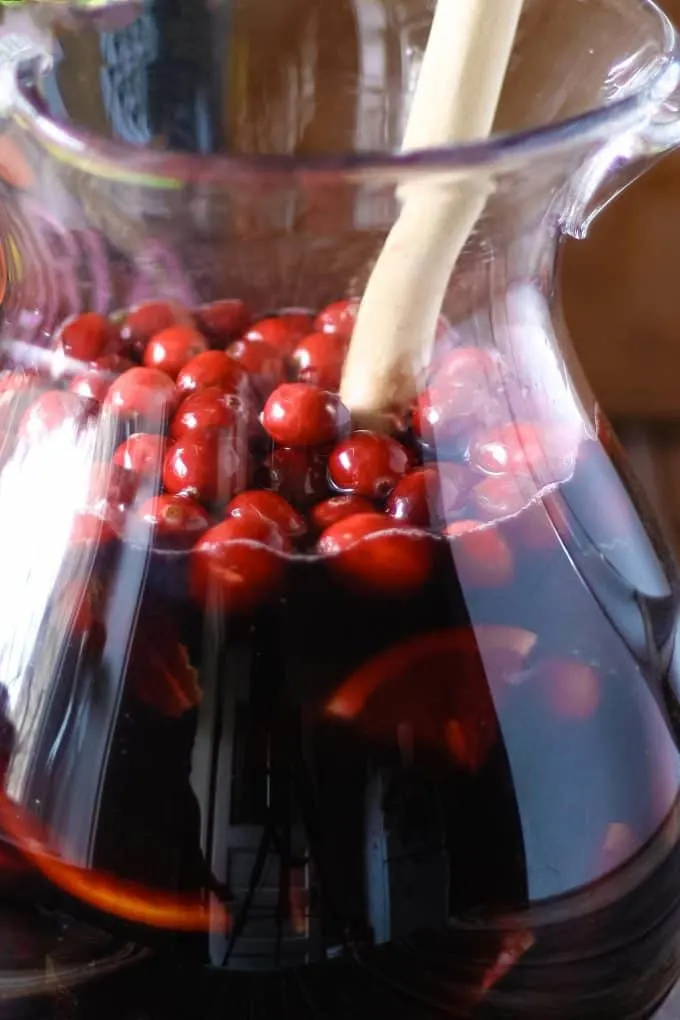 Christmas Sangria Recipe
My favorite winter sangria recipe includes winter citrus fruit, fresh cranberries, and mint flavors. This easy cocktail recipe is a festive drink.
You will want to serve it on Christmas Eve and Christmas Day. The fruit juices and spices mix well together, creating the perfect balance.
The main ingredient is red wine, so use the best red wine in your price range.
You can use the entire bottle of wine for this red sangria recipe; this will really get you and your guests in the holiday spirit.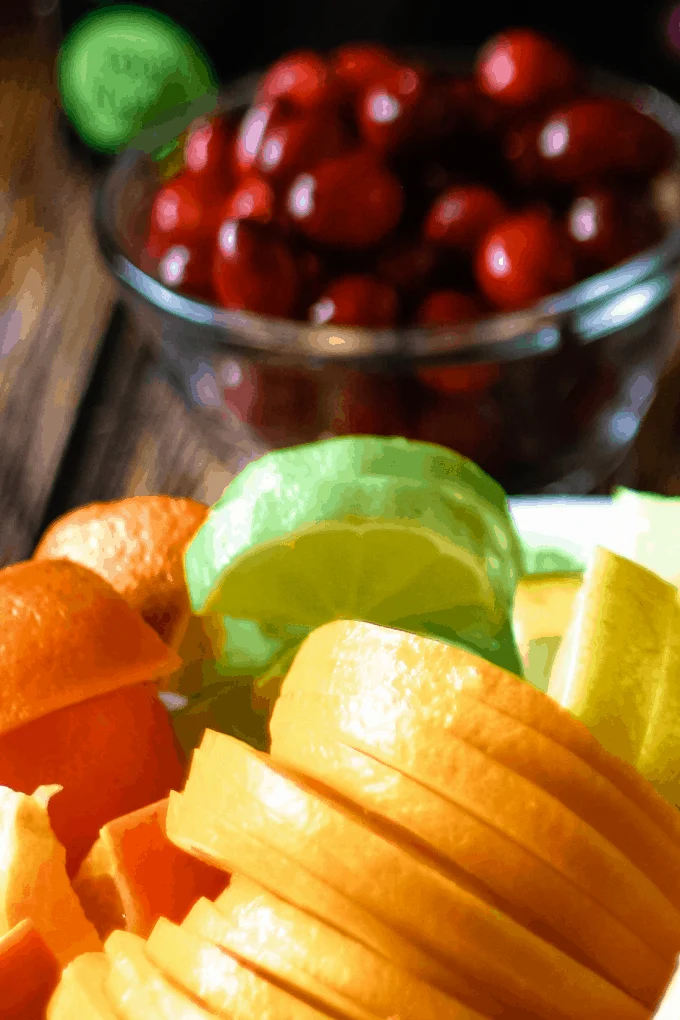 Christmas Sangria Ingredients
Dry Red Wine: Choose a robust and dry red wine, such as Cabernet Sauvignon or Pinot Noir, to serve as the base for your sangria. The bold flavors will meld well with the fruity and citrusy elements.
Orange Juice or Orange Liqueur: Adding a citrusy component, either in the form of fresh orange juice or an orange liqueur like Grand Marnier, enhances the overall brightness and sweetness of the sangria.
Fresh Cranberries: These festive berries bring a burst of color to your sangria and contribute a tart and refreshing taste.
Orange: Sliced oranges add a juicy sweetness to the mix and provide an attractive visual element.
Lemon: Lemon wedges contribute a zesty and slightly tart flavor, balancing the sweetness of the fruits and wine.
Lime: Lime wedges bring a citrusy and tangy kick, adding depth to the flavor profile.
Tangerine: Tangerine wedges introduce a sweet and vibrant citrus note, complementing the other fruits.
Fresh Mint Leaves: Fresh mint leaves impart a fragrant and herbal aroma, elevating the overall freshness of the sangria.
Ginger Ale: The effervescence of ginger ale adds a sparkling touch to your sangria, enhancing its festive and celebratory character. Adjust the amount to achieve your preferred level of fizziness.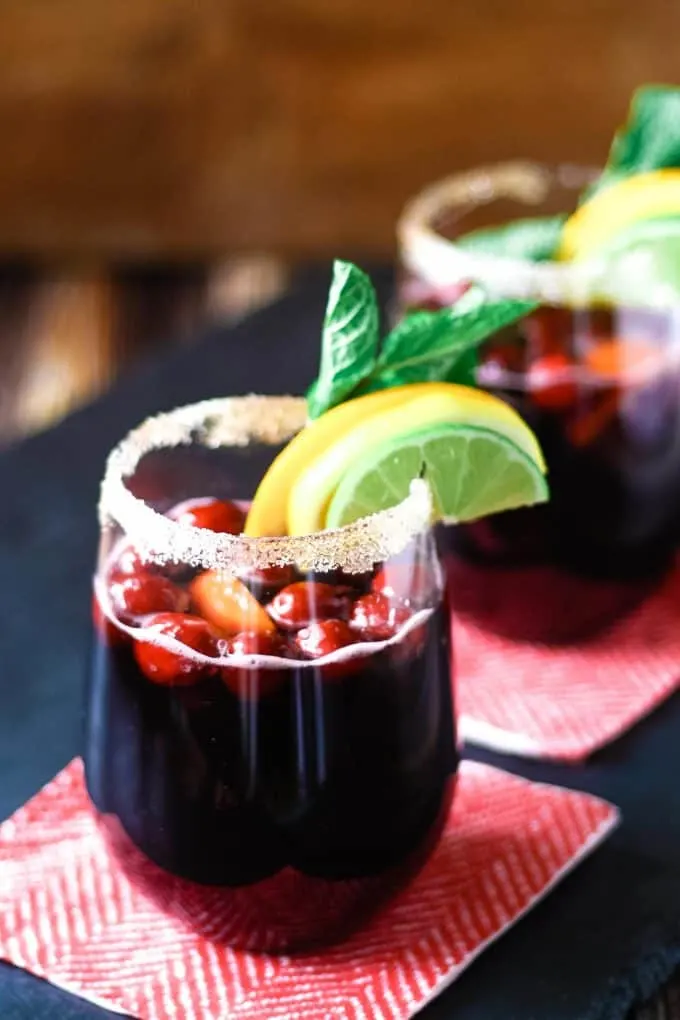 Red Wine Christmas Sangria Ingredient Substitutions
Dry Red Wine: You can experiment with different red wine varieties based on your preference. Try a Merlot, Cabernet Sauvignon, or Zinfandel for unique flavor profiles.
Fresh Cranberries: Consider using other seasonal berries like raspberries, blueberries, or pomegranate seeds for a variation in color and taste.
Orange, Lemon, Lime, Tangerine: Winter fruit is usually citrusy. Feel free to mix and match citrus fruits based on availability and personal preference. Grapefruit, blood oranges, or clementines are good options.
Fresh Mint Leaves: Substitution: Swap fresh mint with basil or rosemary sprigs for a different herbal note. Alternatively, use a few drops of mint extract if fresh mint is unavailable.
Ginger Ale: Sparkling water or club soda can replace ginger ale for a less sweet version. Add a splash of ginger syrup or ginger-flavored kombucha for a hint of spice.
Spices​: You can add star anise, cinnamon sticks,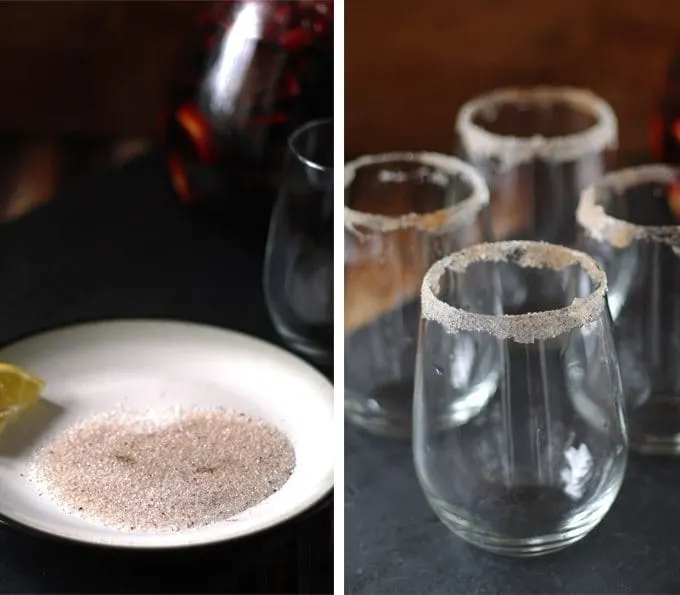 Create A Sangria Bar Station
If you have the time and people are coming over for the holidays, you can set up a sangria bar station.
Adding a sangria bar station is an easy way to spice up any holiday party.
The prep can be done beforehand, including fancying up your glasses. Mix up your sangria and slice your fruit hours before your guests arrive.
All you need is a fridge to keep things cold and fresh.
Also, adding a bar station to your party will give you more time to socialize.
You'll have more fun at your party if you're talking to people and not spending all of your time mixing your guests' drinks.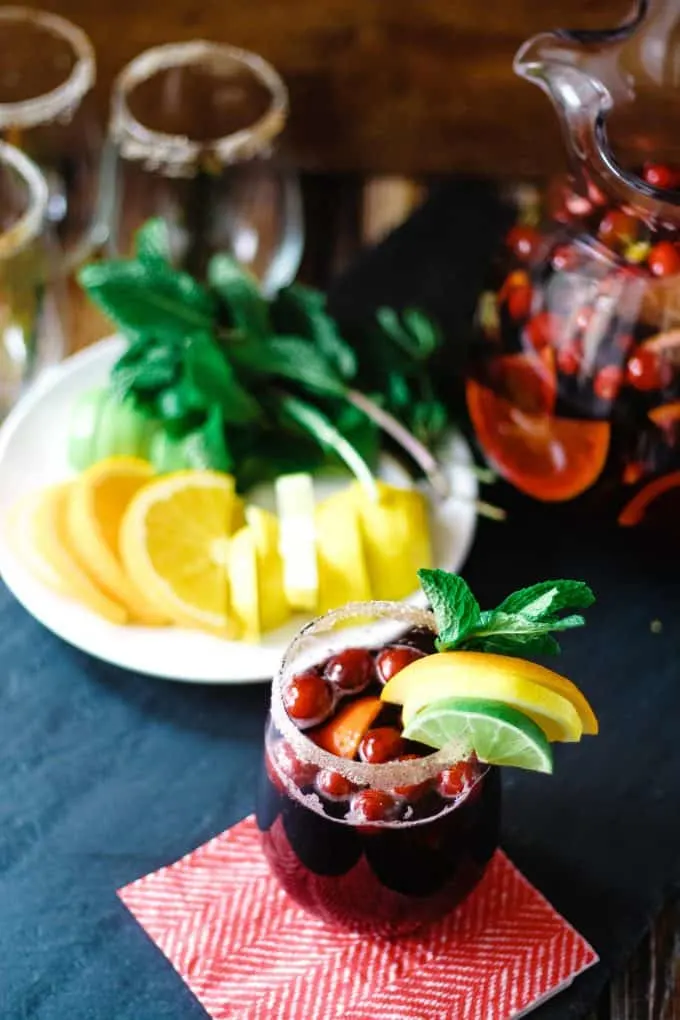 After you prepare your red wine sangria, clear a space to set up your bar station.
You don't need a lot of room – you can just use the corner of a table if you don't have a lot of space.
Grab your stemless wine glasses and rim them ahead of time. Rub a lemon or lime wedge along the edge of each glass.
Then, on a small plate, mix 1 tablespoon of white sugar, ¼ teaspoon of cinnamon, and a pinch or two of ground nutmeg.
Rub the moistened rim in the sugar mixer, shake off any excess, and put the glasses aside.
Add a sign if you want, or just direct everyone to the sangria bar when they arrive.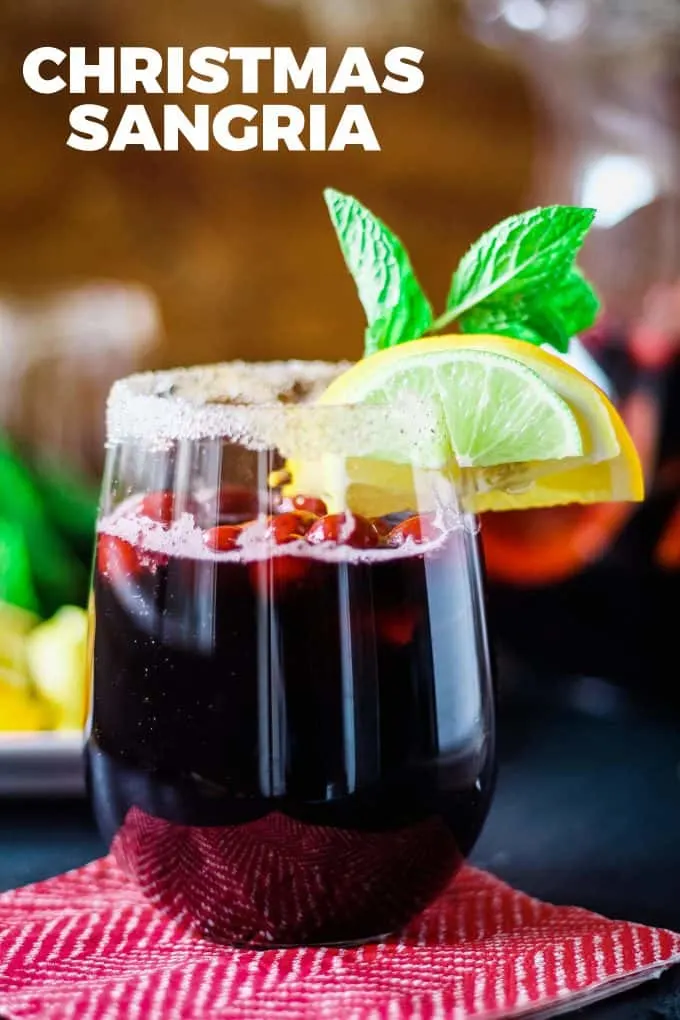 Looking for more winter cocktails?
Try these!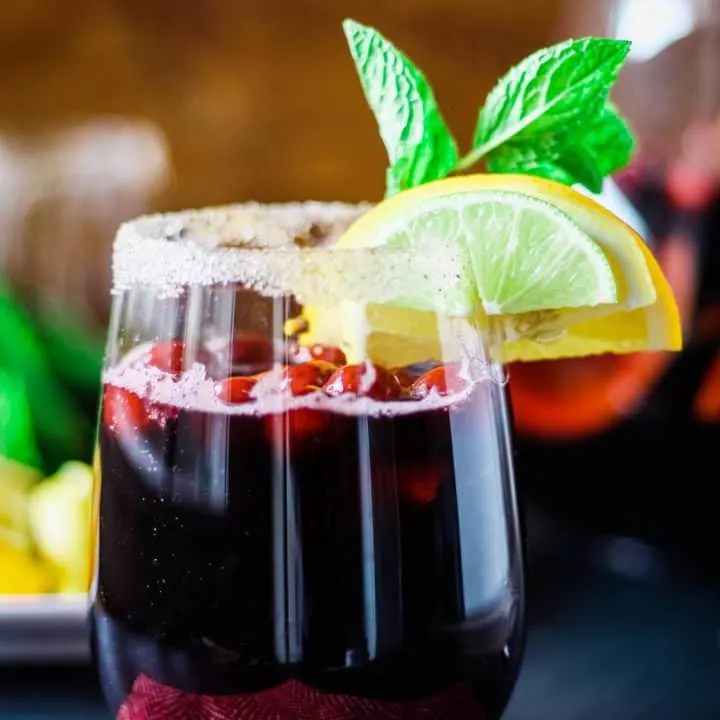 Christmas Sangria
Celebrate with this delicious and easy-to-make Christmas sangria recipe and add a sangria bar station to your next holiday party. Winter cocktail, anyone?!
Ingredients
6 cups dry red wine
1 cup orange juice or orange liqueur
1 cup fresh cranberries
1 orange, sliced in half and then sliced again
1 lemon, cut into wedges
1 lime, cut into wedges
1 tangerine, cut into wedges
1 cup fresh mint leaves
2 tablespoons white sugar
¼ teaspoon ground cinnamon
1-2 pinches of ground nutmeg
ginger ale
Optional Garnishes
lemon slices
lime wedges
mint leaves
orange slices
cinnamon sticks
Instructions
Combine the red wine, fresh cranberries, orange slices, lemon wedges, lime slices, tangerine wedges, and mint leaves in a large pitcher or punch bowl.
Mix well with a long-handled wooden spoon and refrigerate for 1 hour before serving.
When serving, carefully pour sangria into the pre-rimmed glasses. Fill halfway.
Spoon some of the fruit from the sangria into the glass using the long-handled spoon.
Top off the glass with ginger ale.
Then, garnish with some cut-up fruit and a spring of mint.
Nutrition Information:
Yield:

8
Serving Size:

1
Amount Per Serving:
Calories:

240
Total Fat:

0g
Saturated Fat:

0g
Trans Fat:

0g
Unsaturated Fat:

0g
Cholesterol:

0mg
Sodium:

13mg
Carbohydrates:

25g
Fiber:

2g
Sugar:

16g
Protein:

1g
Nutrition information is automatically calculated and may not be correct.