My Thanksgiving dinner tips and a recipe for cinnamon snack mix – perfect for parties or snacking!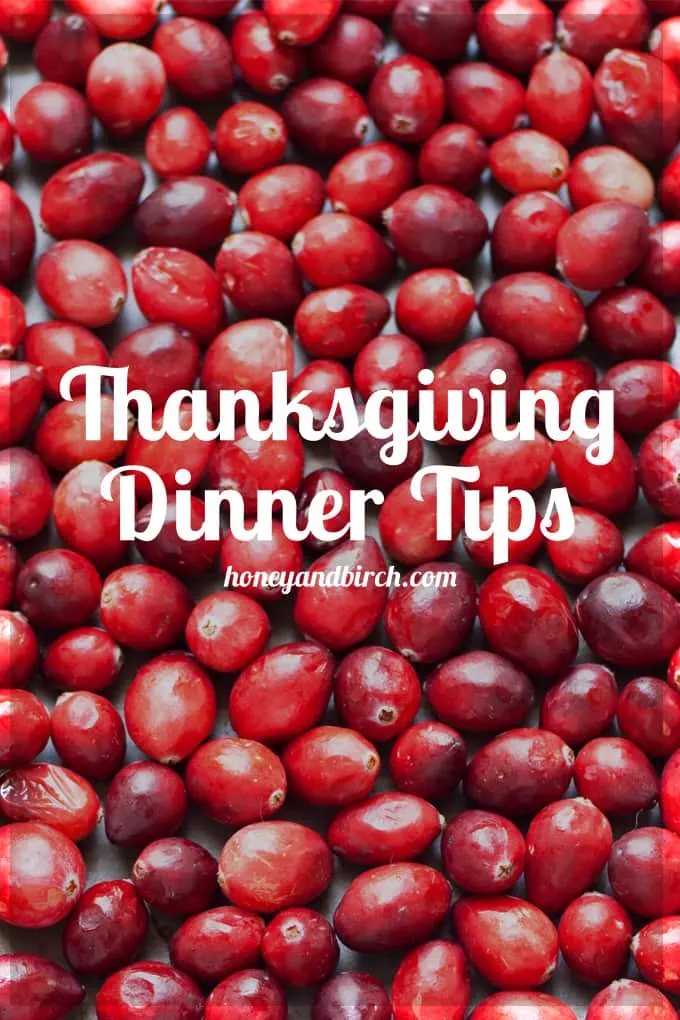 With Thanksigiving right around the corner, I bet there is more than one of you freaking out a little about hosting this year. I remember the first holiday dinner I hosted very well. It went okay because I'm a control freak and wouldn't let anyone help me. I ran around, frantically making sure everyone was eating and enjoying themselves.
I didn't even notice that the dog snuck off with my perfectly cooked turkey.
Now when I host I try to do as much planning as I can ahead of time. How else am I going to keep an eye on the dog? Read on below for a few more Thanksgiving Dinner Tips and a fun and delicious recipe for cinnamon snack mix.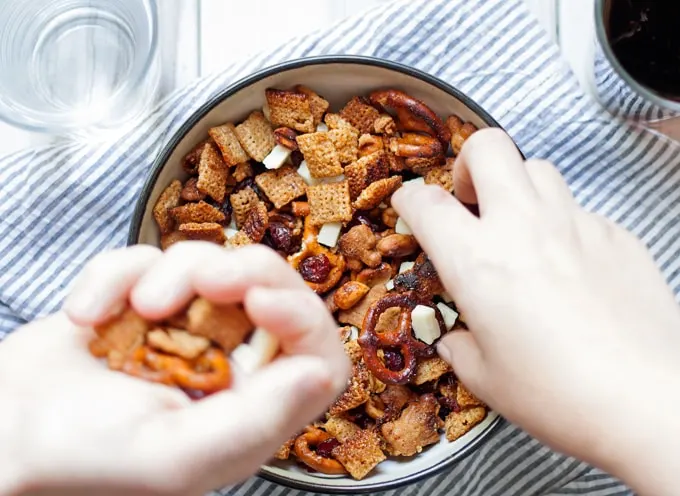 Thanksgiving Dinner Tips
Make lots of lists. From guest lists to grocery lists, I have found list making is my friend when it comes to hosting Thanksgiving dinner.
Start with your guest list – if you aren't sure who is coming, now is the time to start making phone calls to family members or friends. And since it is Thanksgiving, ask if anyone is bringing a guest with them. Why not open your home to that new boyfriend or that new neighbor from out of town?
Once you have a rough guest list, you can make your menu and grocery lists.
Make food ahead of time. Some recipes, like stuffing or cranberry sauce, can be made days in advance and stored in the freezer. Stock up on Hefty freezer bags when you do your grocery shopping and plan an afternoon a few days in advance to get some of your meal prep done.
If you are making any dips, cut up your veggies and store in Hefty storage bags for one less task to do on Thanksgiving Day.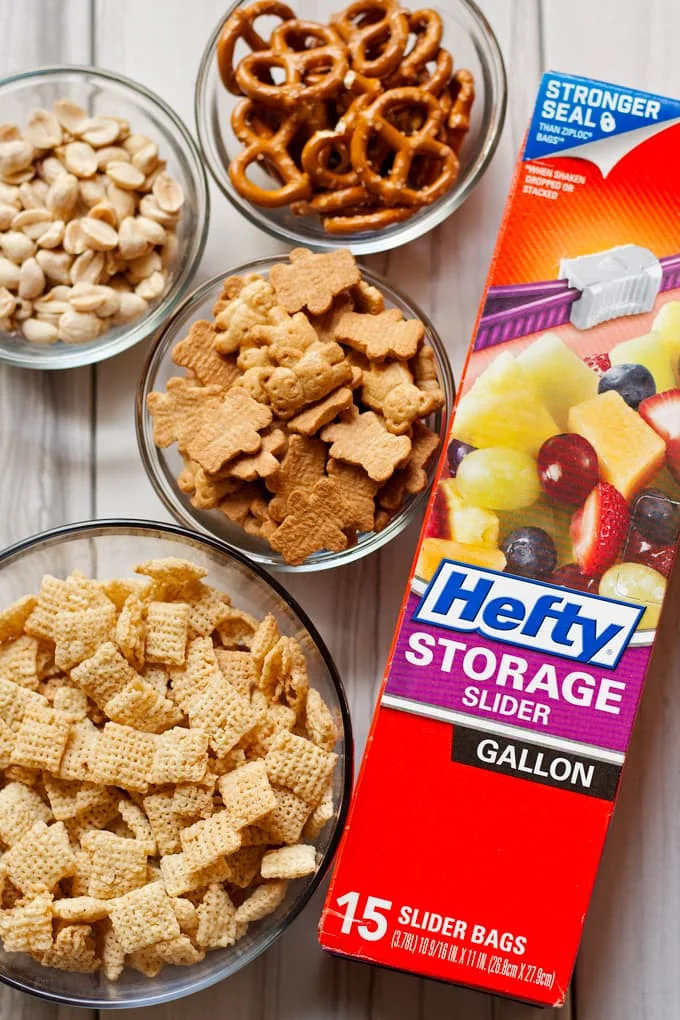 Eat. You may think this is a silly tip, but come Thanksgiving day you may find yourself getting tired midday if you don't remember to eat something in the morning.
Snack on the below recipe for cinnamon snack mix when you're looking for an energy boost midday. It's always a crowd pleaser, so make a double batch and serve it alongside your holiday appetizers!
Plan for leftovers. My family is full of big eaters but we are also big cooks. Because of that, there is never a shortage of leftovers.
We used to rotate plastic containers depending on who was hosting but have gravitated towards doling out leftovers in Hefty storage or freezer bags. Their flexible nature makes them the perfect container for a myriad of leftover sizes and shapes and makes fitting them in the fridge or freezer an easy task.
Cinnamon Snack Mix
This recipe for cinnamon snack mix is a delicious blend of crunch, salty and sweet with the added delcisious spice of cinnamon. It can easily be doubled or tripled and makes a great snack or Thanksgiving appetizer thanks to the addition of dried cranberries!
This is a recipe you can add to your make-ahead list and freeze it for future snacking in a Hefty® Freezer Slider Bag!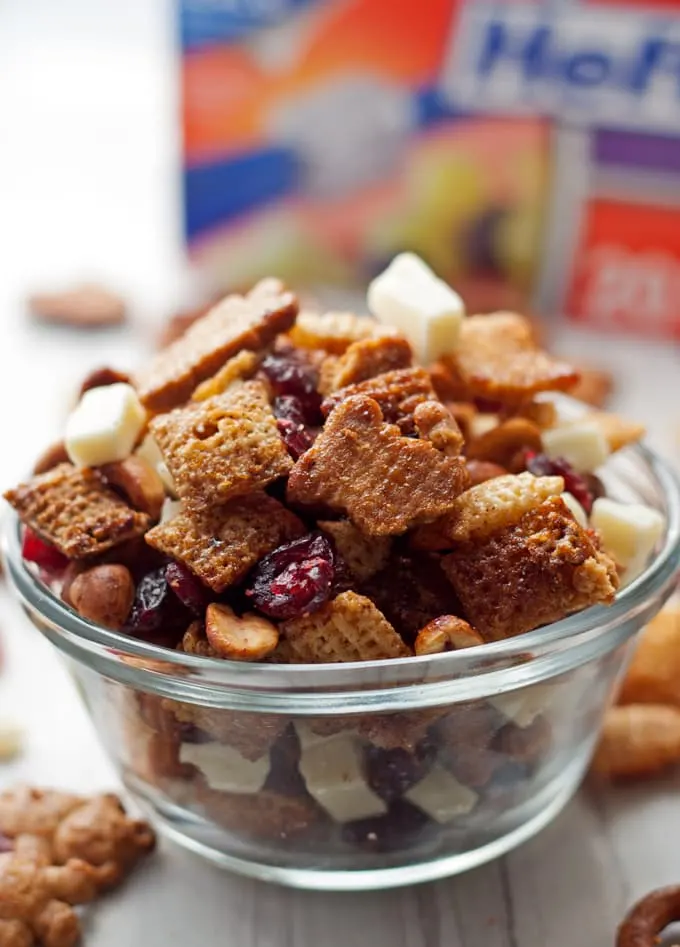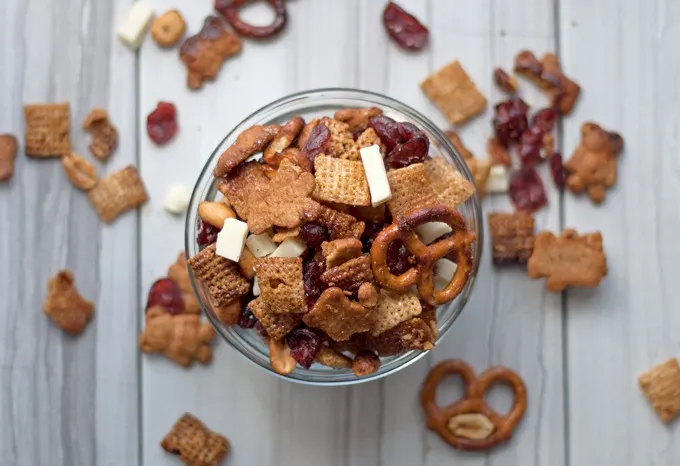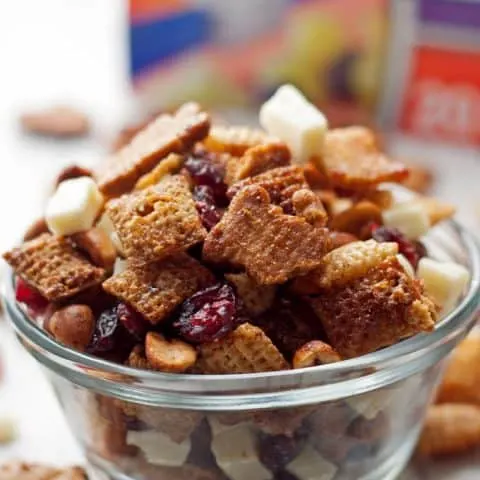 Cinnamon Snack Mix Recipe
Try this cinnamon snack mix recipe - full of rice cereal, pretzels, graham crackers, cranberries and white chocolate!
Ingredients
2 cups rice cereal
1 cup graham cracker bears
½ cup small pretzels
½ cup unsalted peanuts
¼ cup melted salted butter
¼ cup agave nectar
1 teaspoon cinnamon
½ cup white chocolate chips or chunks
½ cup dried cranberries
Instructions
Preheat oven to 350 degrees.
In a gallon Hefty storage bag, combine the rice cereal, graham cracker bears, pretzels and peanuts. Shake well until well mixed.
In a small bowl, combine the melted butter, agave nectar and cinnamon with a whisk. Pour butter mixture over the cereal mixture inside the storage bag and shake well. Pour out of bag and onto a baking sheet.
Bake in the oven for 10 minutes, stirring once at 5 minutes. Remove from oven and allow to cool. Split the snack mix into two Hefty quart storage bags, breaking up the snack mix with your hands through the plastic. Add the white chocolate and dried cranberries to the bags and shake well.
Eat immediately or store in Hefty freezer bags to enjoy later.
Nutrition Information:
Yield:

6
Serving Size:

1
Amount Per Serving:
Calories:

397
Total Fat:

20g
Saturated Fat:

9g
Trans Fat:

0g
Unsaturated Fat:

9g
Cholesterol:

23mg
Sodium:

240mg
Carbohydrates:

51g
Fiber:

3g
Sugar:

29g
Protein:

6g
Nutrition information is automatically calculated and may not be correct.