Add this recipe for oatmeal cranberry cookies to your holiday cookie rotation! They are easy to make, chewy and delicious!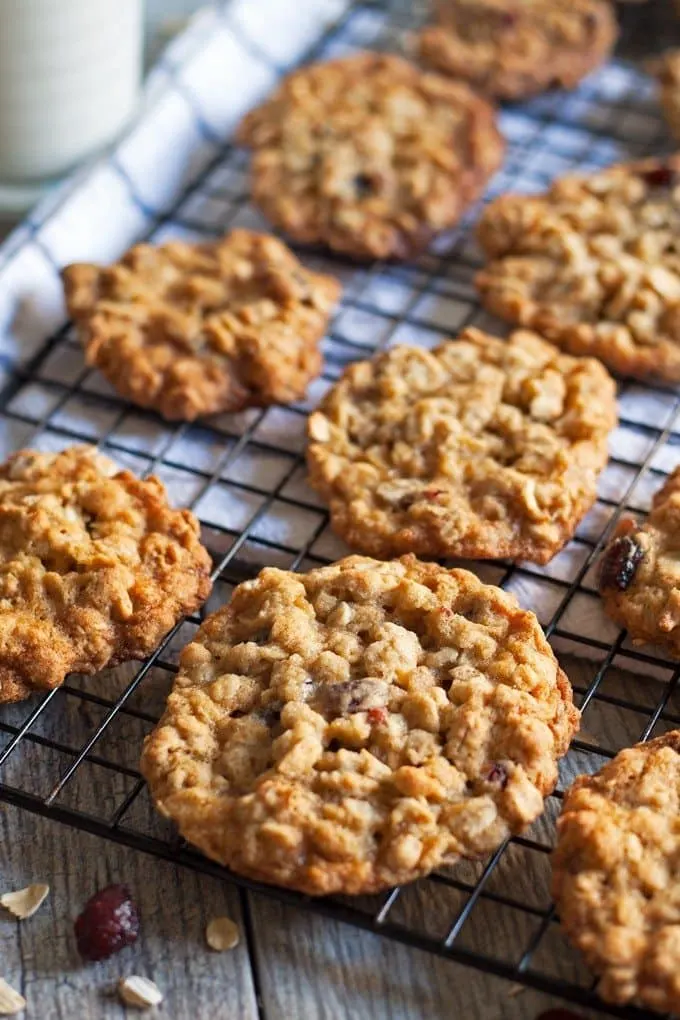 Thank you Bob's Red Mill for sponsoring this post! Sparkle up your holiday season with more delicious recipes at BobsRedMill.com!
I'm kind of excited that Christmas is around the corner. Last year, we got very busy and I realized, on December 21st, that we hadn't put up the tree yet. The Christmas boxes weren't brought up from the basement last year and I won't let that happen again.
The only thing I did that resembled Christmas was make a batch of butterscotch spice cookies.
I am already in the holiday spirit, planning out our decorations and making Christmas cookies! When I was a kid, my mom and aunt would get all the cousins together at my aunt's house and we would spend a full day making cookies.
She still has the wooden table that we used to roll out dough for sugar cookies and that we all crowded around, both while prepping cookie dough and afterwords, while we anxiously waited for the cookies to bake and chill.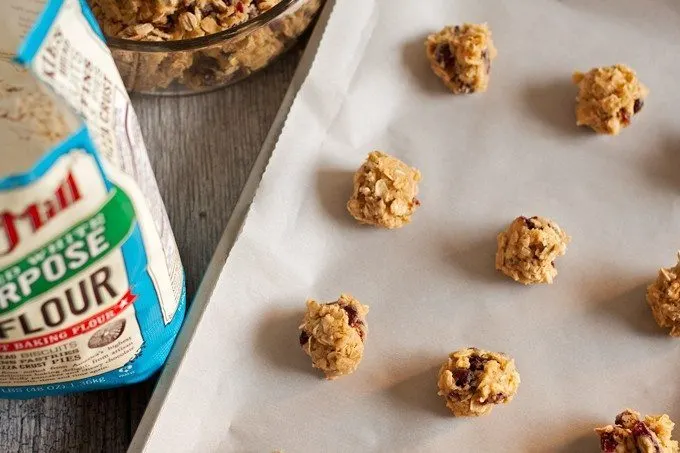 Christmas isn't Christmas unless some delicious cookies are baked.
This year is a great year to try out a few new holiday cookie recipes and maybe create some memories for your family too. Instead of rushing and sticking with your same old boring recipes, try a new recipe out. Like this recipe for oatmeal cranberry cookies.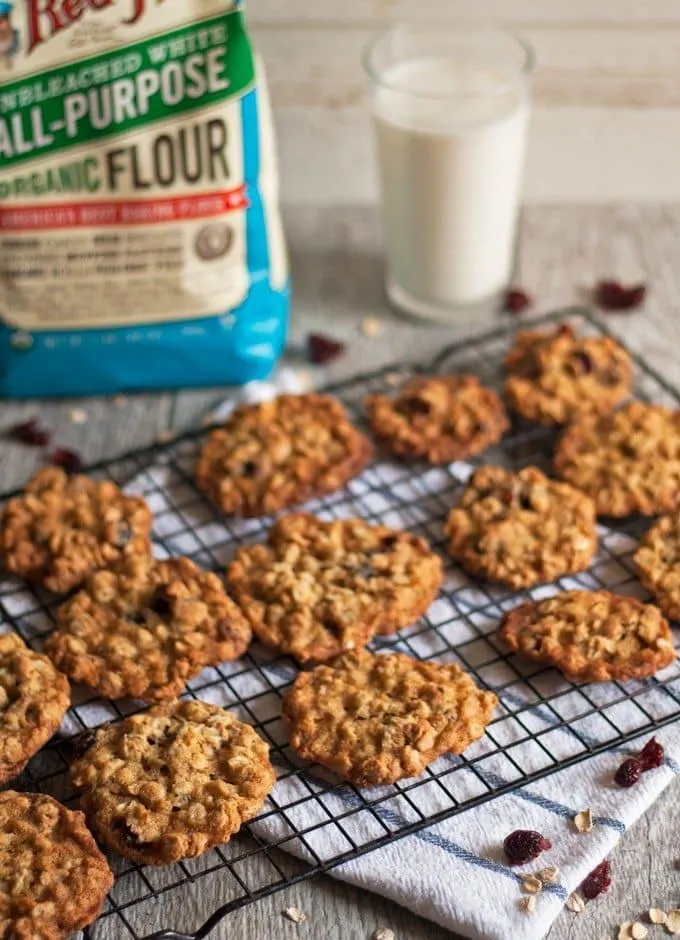 Oatmeal Cranberry Cookies
I made these delicious, chewy oatmeal cookies with Bob's Red Mill Organic Unbleached White Flour. This kitchen staple is versatile and perfect for all of your baking needs, holiday and year-round.
Bob's Red Mill Organic Unbleached White Flour is freshly milled from Organic hard red wheat and is not enriched with any additives. Professional bakers use this high protein flour and it produces high, well-textured loaves of bread and light, airy baked goods!
It's my go-to organic white flour!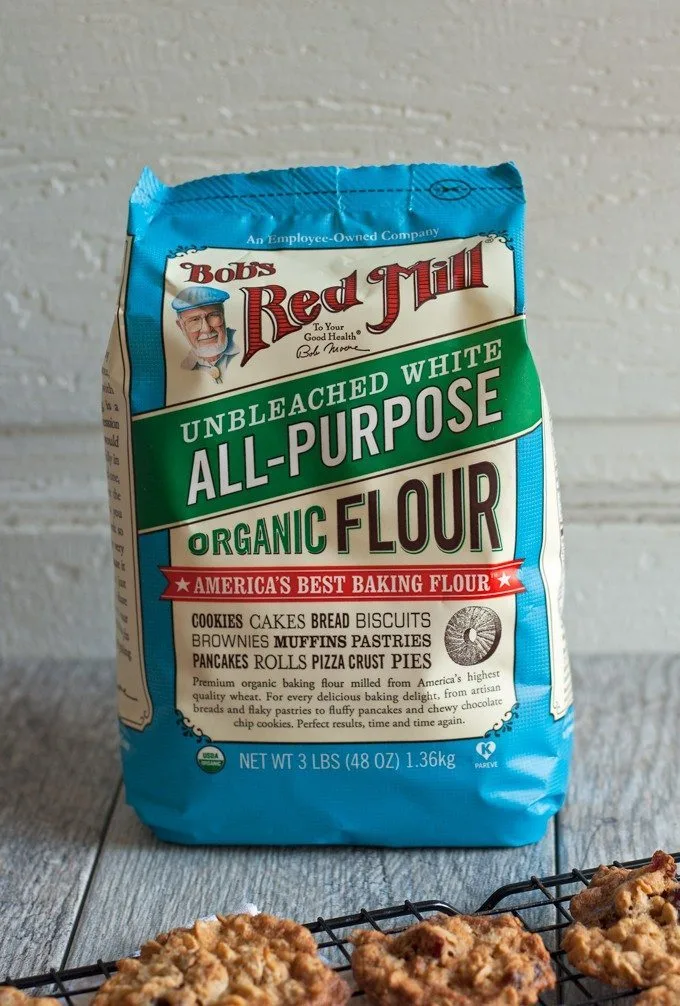 Once you have your flour, it's time to whip up some dough. You need an electric mixer (either stand mixer or hand mixer) for part of this recipe, but kids could totally get in on the fun by whisking together the dry goods or stirring in the quick oats by hand.
Place the cookies on baking sheets and then pop them in the oven.
When you pull these cookies out of the oven, you are going to want to eat one right away. Wait. As long as you don't over-bake them, they are going to be chewy and delicious when you let them cool. And, if you do over-bake them… well, you will then have crispy and crunchy oatmeal cookies instead!
This oatmeal cookie recipe is going to be added to your Christmas cookie list for sure!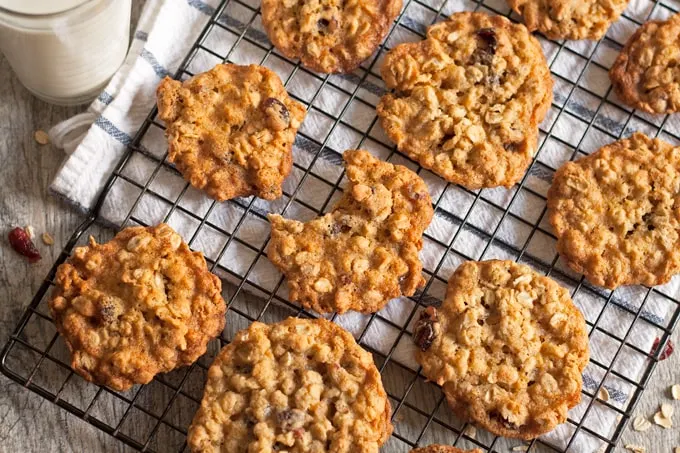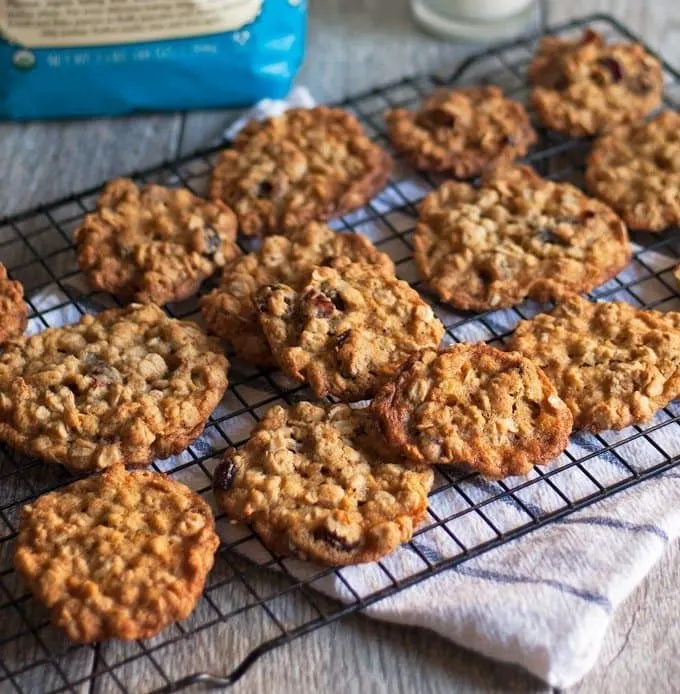 Looking for more cookie recipes? Try my sea salt double chocolate cookies or butterscotch spice cookies! You can never have too many cookies.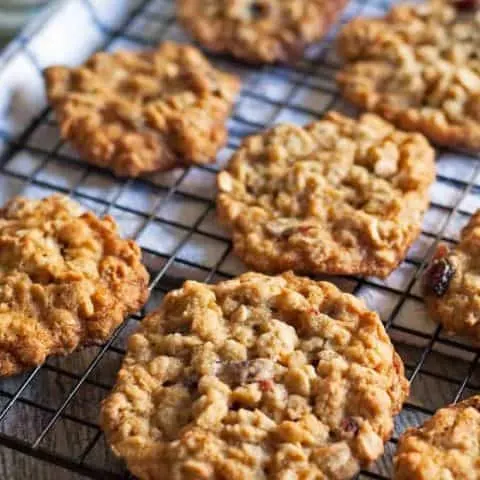 Oatmeal Cranberry Cookies
Total Time:
1 hour
3 minutes
Add this recipe for oatmeal cranberry cookies to your holiday cookie rotation! They are easy to make, chewy and delicious!
Ingredients
1 1/2 cups Bob's Red Mill Organic Unbleached All Purpose White Flour
2 teaspoons baking soda
3/4 cup white sugar
3/4 cup packed brown sugar
1 1/2 cups unsalted butter, softened
2 large eggs, room temperature
2 teaspoons vanilla extract
3 cups old fashioned oats, uncooked
1 cup dried cranberries
Instructions
Preheat oven to 350 degrees. Line cookie sheets with parchment paper and set aside.
In a small bowl, combine the flour and baking soda and whisk together.
In the bowl of a stand mixer, cream the white sugar, brown sugar and butters together until smooth. Add the eggs, one at a time, until mixed in. Add the vanilla extract, then reduce speed to low. Gradually beat in the flour mixture until just combined. Stir in the oats and cranberries until wet.
Measure rounded tablespoons of dough and place them on your prepared cookie sheets about 2 inches apart. Bake for 12 minutes, or until the tops are golden. Remove from oven and allow to cool for 2 minutes, then transfer to a wire rack to cool.
Makes 48-54 cookies.
Nutrition Information:
Amount Per Serving:
Calories:

1441
Total Fat:

76g
Saturated Fat:

45g
Cholesterol:

276mg
Sodium:

690mg
Fiber:

9g
Sugar:

99g
Protein:

17g