If you're looking for a quick lunch salad, try this spinach salad with balsamic poppy seed dressing. It's loaded with fruit, feta and walnuts!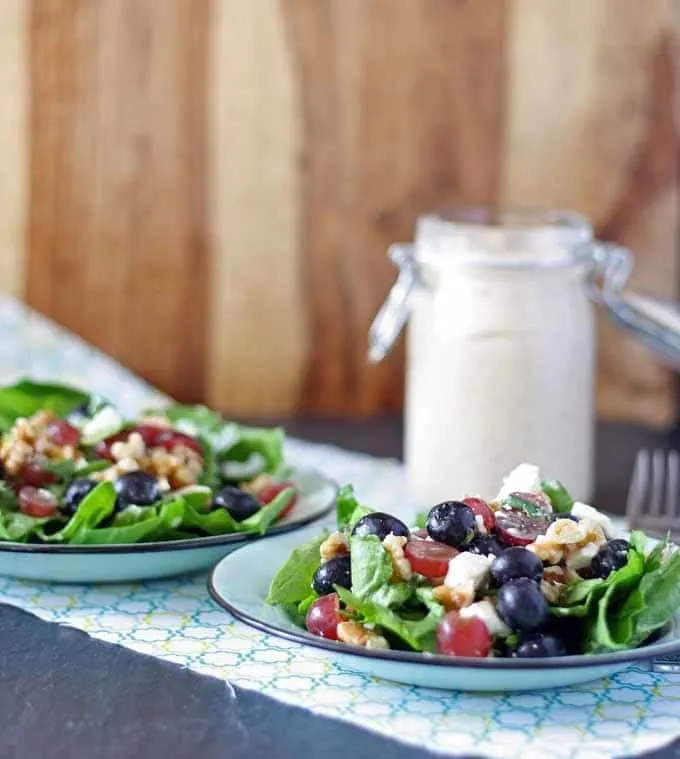 Sometimes life is a little crazy (or boring) and you just don't want to cook. That's where I was at this Thursday afternoon. It's not a familiar feeling – I like being in the kitchen usually, experimenting over the stove top. It's also not a nice feeling.
I feel guilty every time I don't want to cook – food blogging has done that to me. Even ordering takeout brings out a little of the Catholic guilt that was instilled into me as a kid.
Hunger usually prevails and I have to make something to eat or starve.
I went through the refrigerator and freezer, trying to figure out what I could make with what was on hand – bonus points for needing just a little bit of work. It was a tossup between a frozen pizza and this salad. One would require me to turn on the oven and the other would require some turning of a whisk.
Whisking won out thanks to fresh ingredients versus frozen, and this recipe was born.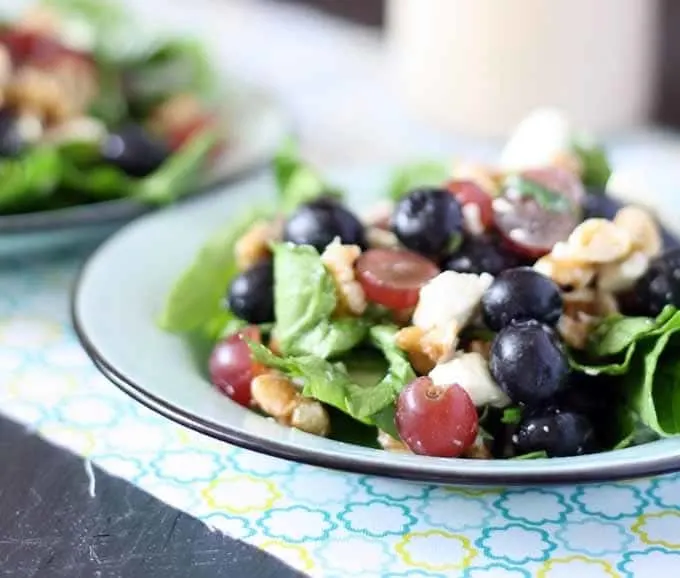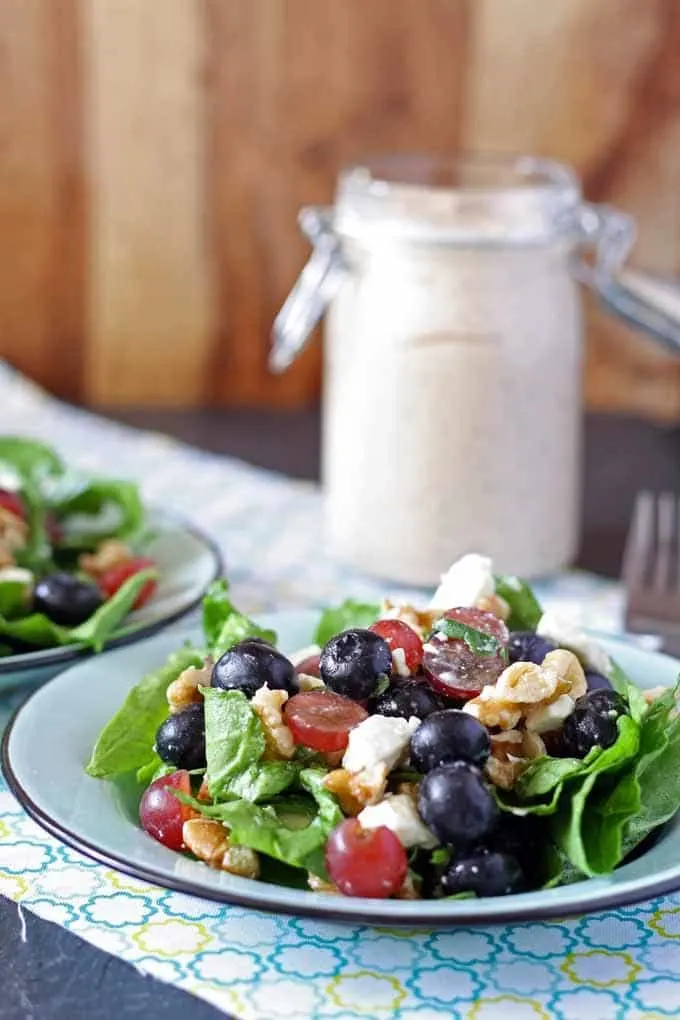 I read somewhere once that you should have a colorful plate and you can't get much more colorful than this salad. Brightness and color comes from the vibrant spinach leaves and grapes.
They are balanced out by the deep undertones of the blueberries and the neutral tones of the feta and walnuts. To top it all off is the balsamic poppy seed dressing and its so good you will want to eat it on its own.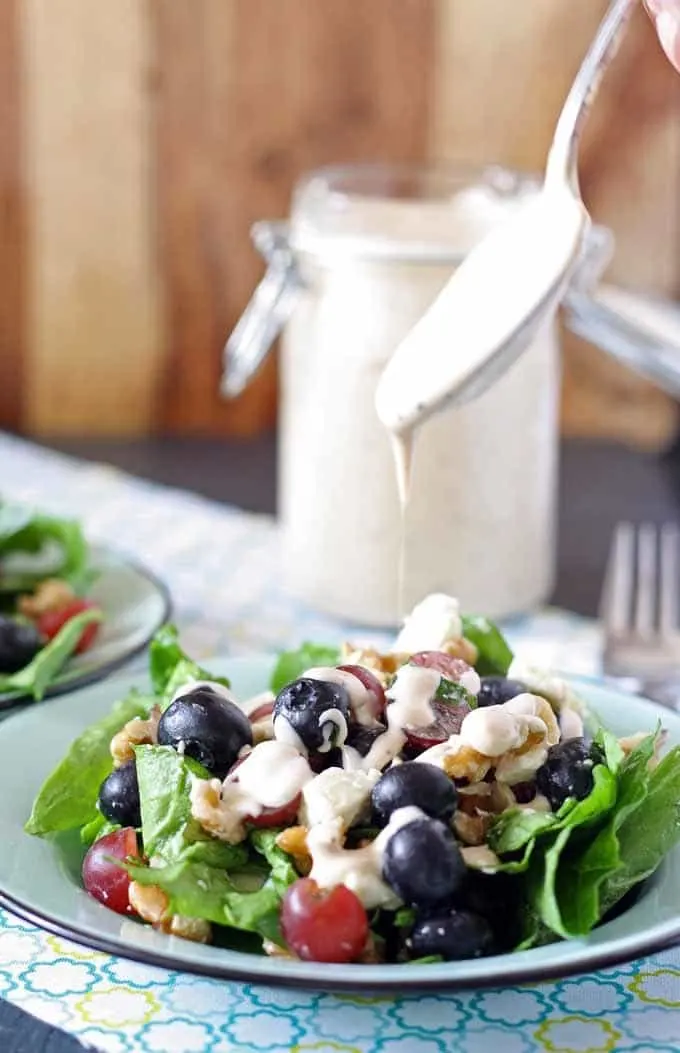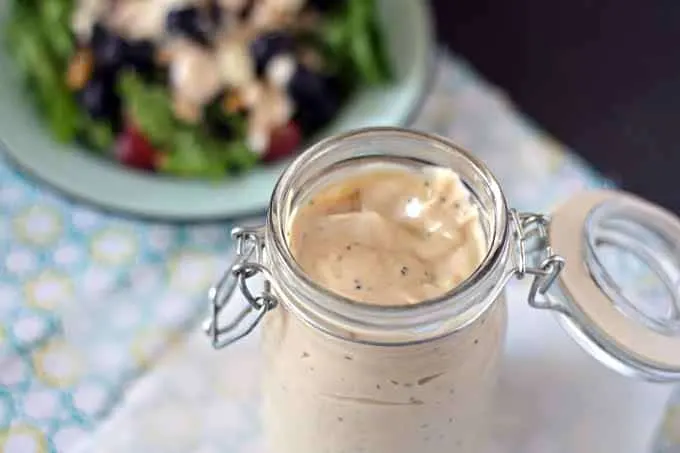 This recipe will make about 4 large salad portions – if you serve the salad without the dressing and then put the leftovers in the fridge, it shouldn't get too wilty.
Think leftovers, or maybe even stick it in your morning smoothy. If anyone tries the smoothie thing, let me know how it goes!
Depending on how much salad dressing you put on a salad, this recipe will make alot of dressing. I drizzle the dressing or dip my fork into it, so there is a mason jar of leftovers sitting in the fridge.
If you like your salad to swim, I still think there will be enough in one batch for you. Either way, if there are leftovers, fridge them!
I'm making up verbs now.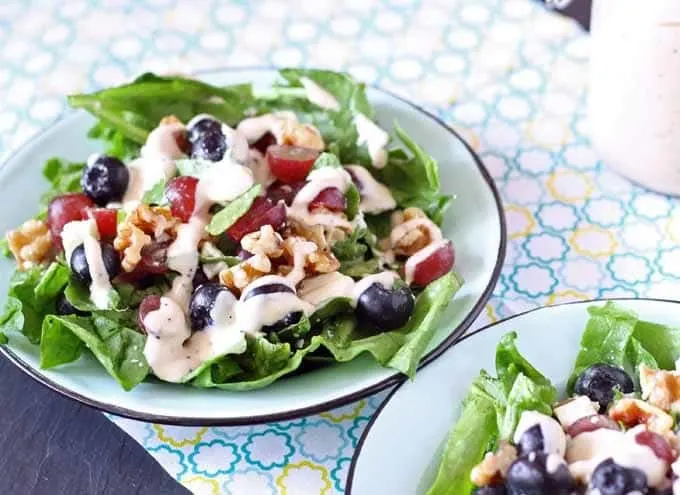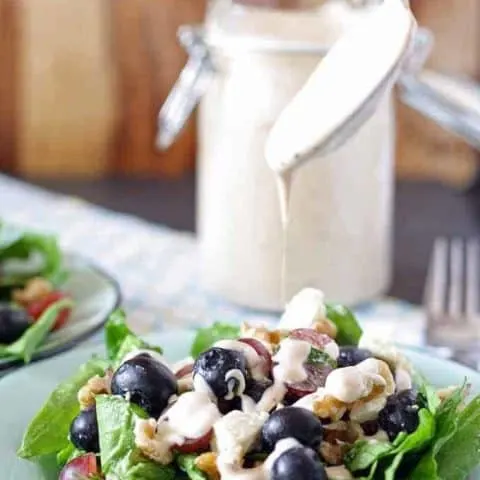 Spinach Salad with Balsamic Poppy Seed Dressing
If you're looking for a quick lunch salad, try this spinach salad with balsamic poppy seed dressing. It's loaded with fruit, feta and walnuts!
Ingredients
Salad Dressing
1 cup low fat mayo
6 teaspoons agave nectar
4 teaspoons balsamic vinegar
1/2 teaspoon poppy seeds
Salad
2 cups spinach
1/2 cup grapes, halved
1/2 cup blueberries
1/2 cup walnuts, chopped into 1/2 inch pieces
1/2 cup feta cheese
Instructions
To Make the Dressing
In a small bowl, combine all ingredients. Mix well with a wire whisk.
If you'd like a thinner consistency, add water in 1/4 teaspoon increments until desired consistency is reached.
To Make Salad
In a large bowl, combine the spinach, grapes, blueberries, walnuts and feta cheese. Spoon onto four plates and drizzle with salad dressing.
Refrigerate leftover salad dressing.
Recommended Products
As an Amazon Associate and member of other affiliate programs, I earn from qualifying purchases.
Nutrition Information:
Yield:

2
Serving Size:

1
Amount Per Serving:
Calories:

368
Total Fat:

28g
Saturated Fat:

6g
Trans Fat:

0g
Unsaturated Fat:

20g
Cholesterol:

26mg
Sodium:

734mg
Carbohydrates:

25g
Fiber:

4g
Sugar:

15g
Protein:

8g