A delightful chocolate chip cookie experiment. What's better: chocolate chip cookies or duck fat chocolate chip cookies?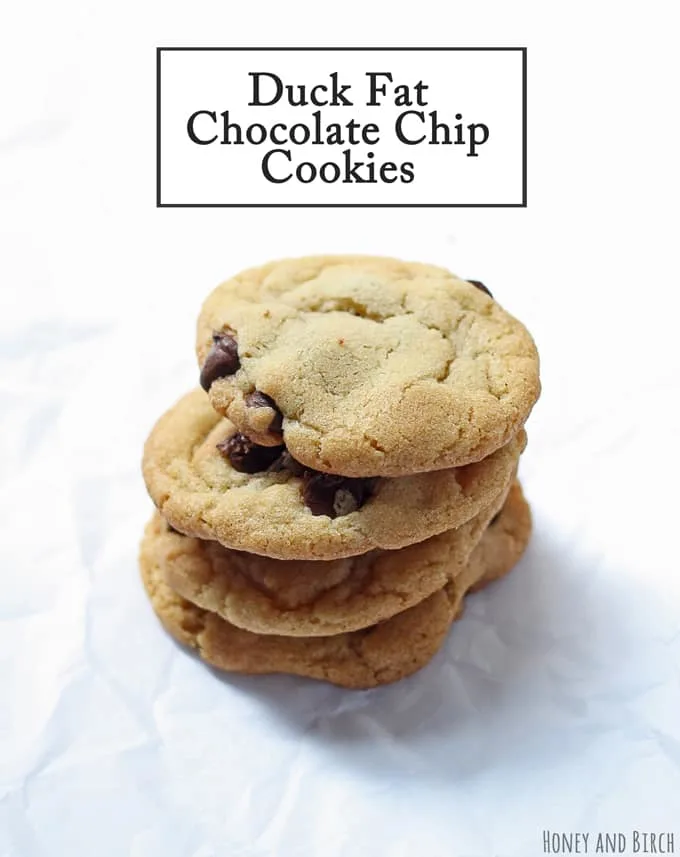 I had a little Maple Leaf Farms duck fat leftover after making my cornbread recipe, so I decided to do a little duck fat experiment this week. I put on my apron and oven mitts (the kitchen equivalent to lab coat and goggles) and got to experimenting.
Hypothesis: Duck fat chocolate chip cookies taste better than regular chocolate chip cookies.
I mixed up 2 batches of chocolate chip cookie dough. They were exactly the same except one batch is half duck fat, half butter and the other batch is all butter.
I wrapped up each batch individually in plastic wrap and put it into the refrigerator for ½ hour before baking.
Duck Fat vs Butter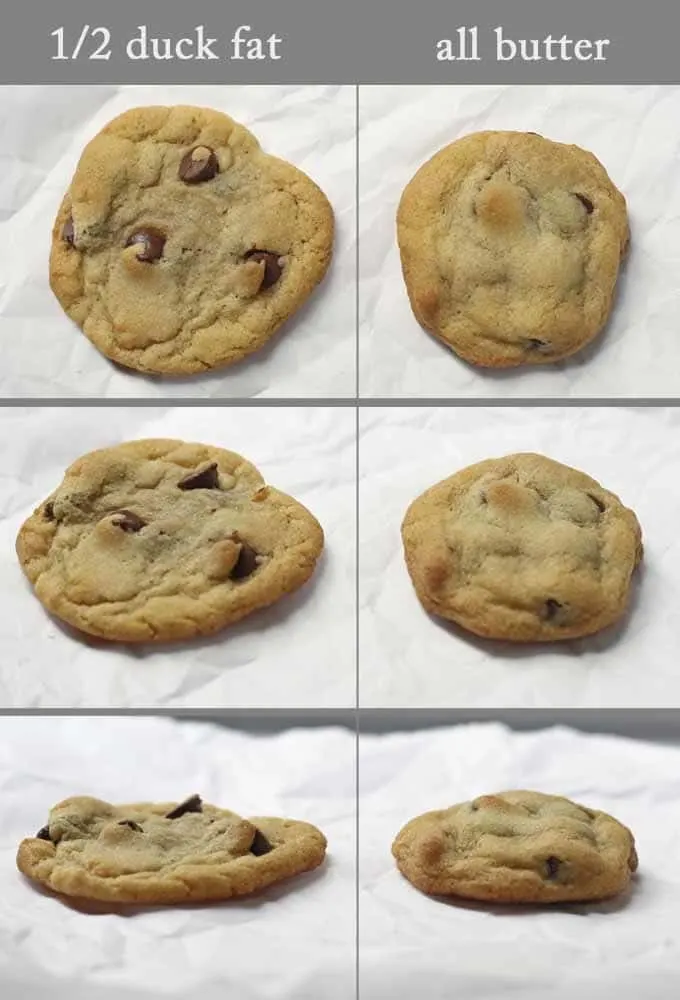 The differences were noticeable right away – when I spooned the dough onto cookie sheets, the duck fat dough was greasier than the regular dough.
It also didn't want to hold the chocolate chips. (Keep that in mind when you make these cookies.)
I used the same tablespoon to spoon out the dough so that each cookie would be roughly the same size. Each cookie sheet had ½ a dozen of each kind of cookie dough so that I could truly say that they had the same "baking" conditions.
My biology teacher would be proud to see that I remembered so much about experiments. I was proud. 🙂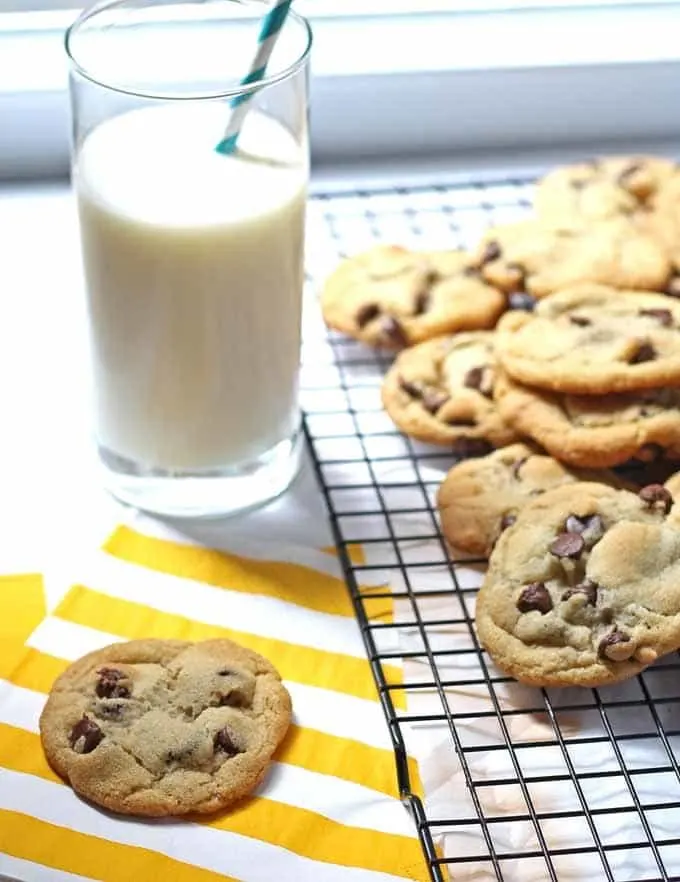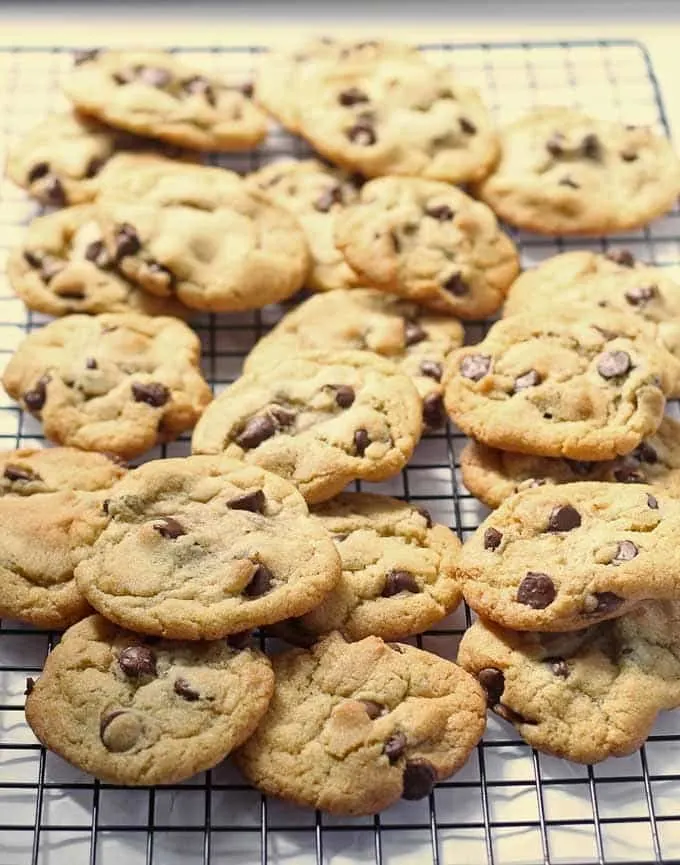 You can see in the picture above that the duck fat chocolate chip cookies spread out more. They are flatter and the chocolate chips are more visible in the cookie. The regular cookies are more compact, thanks to the time in the refrigerator.
Taste tests were run and I really like them both. Duck fat chocolate chip cookies are a nice change to a cookie that can sometimes be boring.
Chocolate chip cookie lovers – please don't hate me for saying that. But you have to admit that while the same old traditional thing is nice sometimes, it is also safe and boring. Change is good!
So the conclusion to my experiment is – duck fat chocolate chip cookies are the best! Mr. B. likes them, so does our neighbor. Mr. B. is bringing them into work today so I won't know the conclusion to that part of my experiment until later but I have a feeling that my conclusion will hold true.
The regular cookies are good too – if you're looking for a good chocolate chip cookie recipe, this one is pretty darn delicious. You could always substitute the duck fat for butter.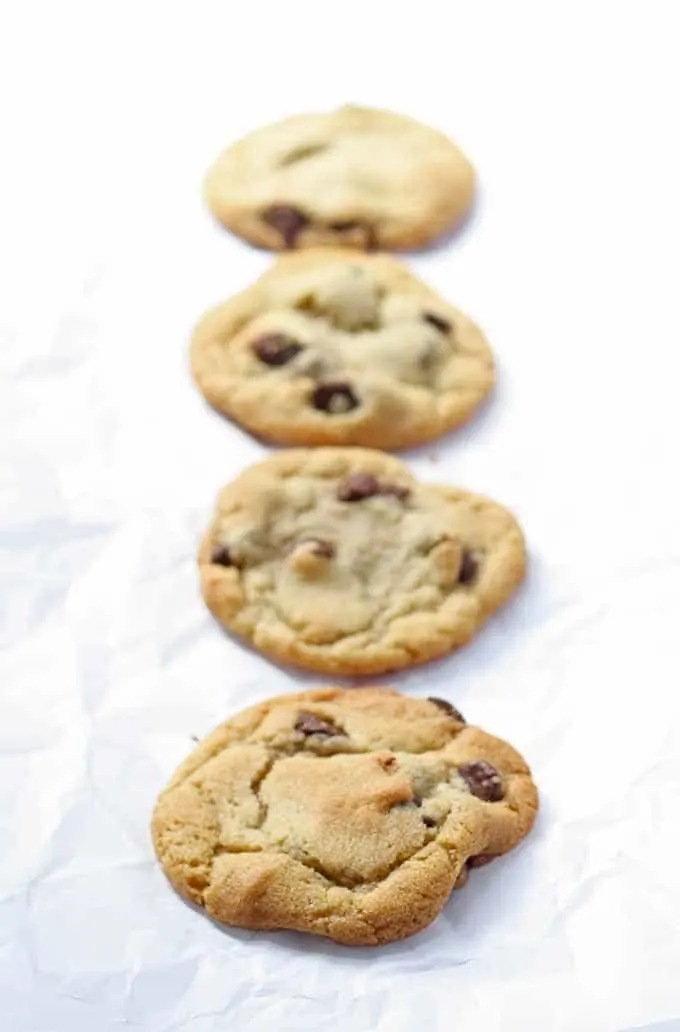 Duck Fat Chocolate Chip Cookies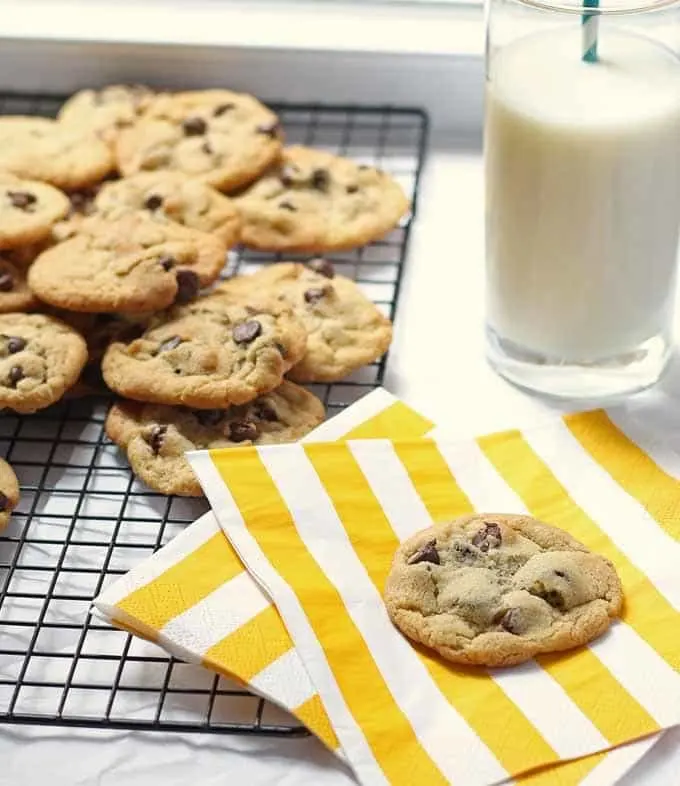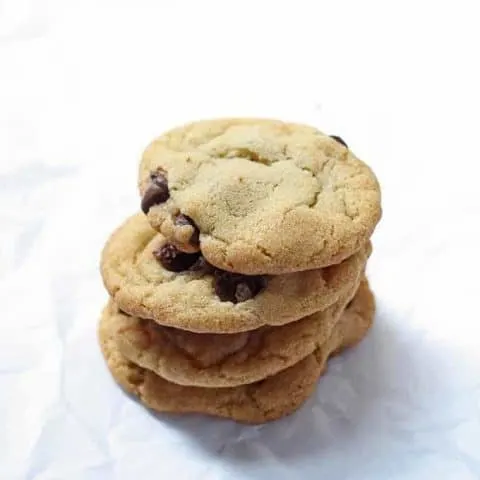 Duck Fat Chocolate Chip Cookies
Chocolate chip cookies made with butter and rendered duck fat.
Ingredients
1 ¼ cup flour
½ teaspoon baking soda
½ teaspoon salt
½ cup brown sugar
½ cup white sugar
¼ cup duck fat
¼ cup butter
1 large egg
1 teaspoon vanilla extract
1 cup semisweet chocolate chips
Instructions
Combine the flour, baking soda and salt in a small bowl. Stir with a whisk and set aside.
In the bowl of a stand mixer, beat the duck fat, butter, brown sugar and white sugar.
When combined add the egg and vanilla extract . Mix until well combined.
Beat in the flour mixture until just combined.
Turn off the mixer and with a wooden spoon add the chocolate chips.
Wrap up the cookie dough in plastic wrap and refrigerate for at least 30 minutes.
While that the dough is chilling, preheat the oven to 375 degrees. Line 2 cookie sheets with parchment paper or use cookie sheet liners.
Use a tablespoon to drop the cookie dough onto the prepared cookie sheets. Drop them equal distance apart.
Bake for 10-12 minutes, until the edges are slightly browned. Transfer to a wire rack to cool.
Notes
Adapted from The Good Housekeeping Cookbook.
Nutrition Information:
Yield:

6
Serving Size:

2 cookies
Amount Per Serving:
Calories:

514
Total Fat:

26g
Saturated Fat:

13g
Trans Fat:

0g
Unsaturated Fat:

11g
Cholesterol:

60mg
Sodium:

362mg
Carbohydrates:

70g
Fiber:

2g
Sugar:

47g
Protein:

5g
Nutrition information is automatically calculated and may not be correct.
SaveSave