If you find yourself with a cup of cherries, make these easy baked cherry vanilla bean doughnuts! You won't be able to eat only one.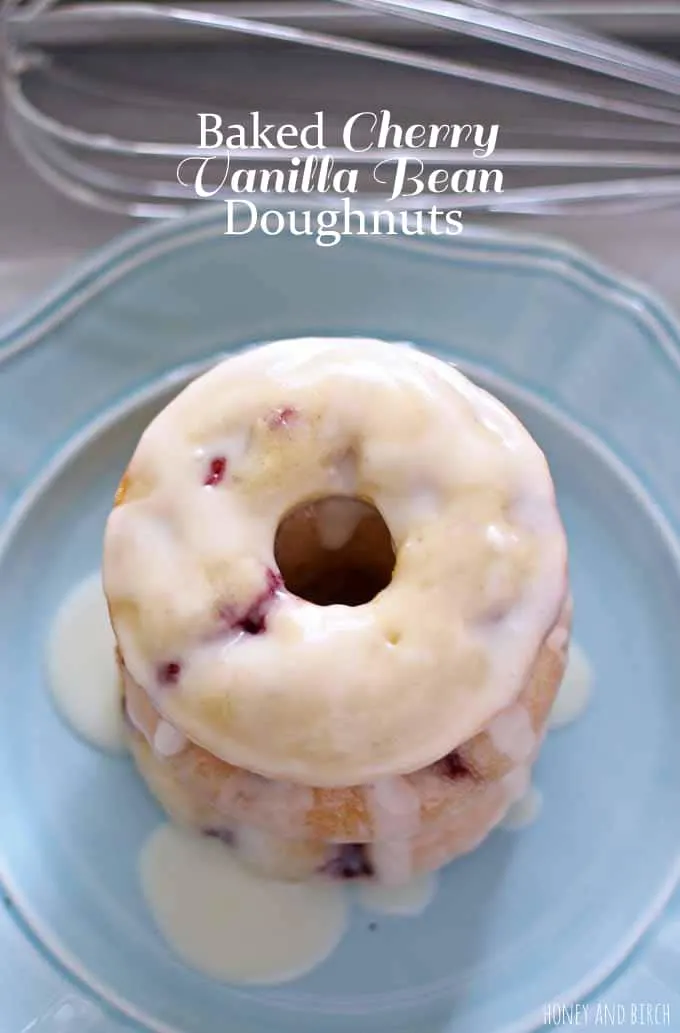 Do you like doughnuts? Cause I sure do!
I overbought cherries (again!) so I decided to make doughnuts out of them. There's nothing like doughnuts to make a bad day better.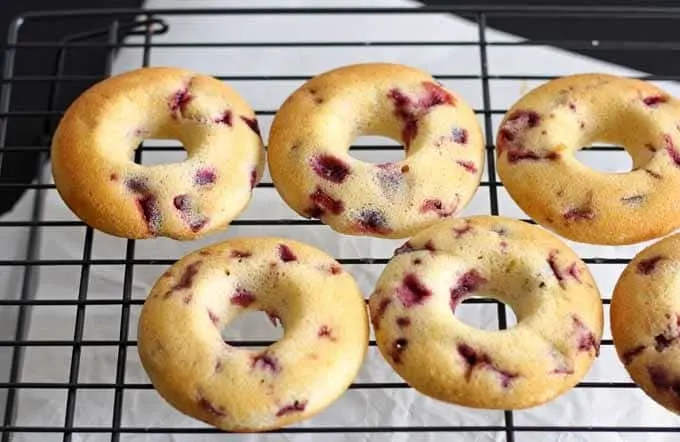 My bad day wasn't serious or anything. Just one of those days. It started off pretty blah with a to-do list longer than anyone's list should ever be. Crossed off a few items and then Mr. B and I decided to try out a new recipe.
We bought a pizza stone for the grill a few weeks ago and decided it was a good day to try it out for the first time. I concocted a weird sounding but delicious tasting-in-my-head pizza recipe – the ingredients are really not important because the pizza really sucked. My mental palette failed me.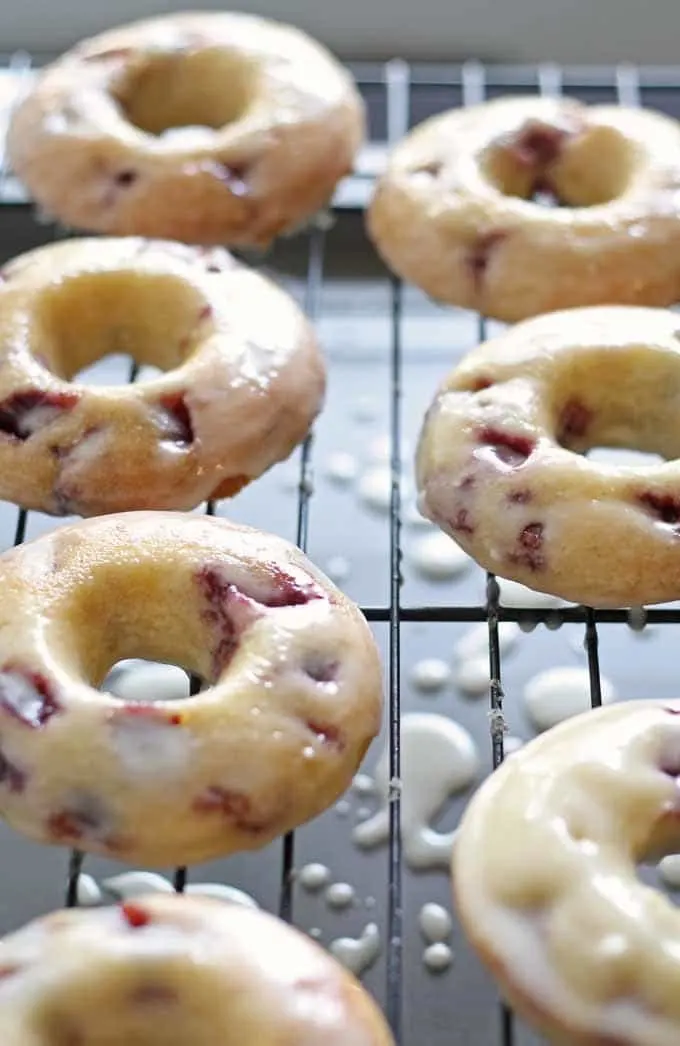 The imitation mozzarella cheese that Mr. B. bought by accident also failed me. People, don't buy imitation mozzarella cheese. Seriously. It looks normal, but doesn't melt and has a freaky texture when you eat it. I don't know how he confused them. But I can assure you neither one of us will ever buy imitation cheese again (on accident or on purpose).
On top of that, I forgot to put oil or flour (whatever is supposed to make the pizza unsticky) on the pizza stone, and we couldn't even saw the pizza off of it. The combination of unmelted fake cheese and pizza pieces went into a bowl and we tried to eat it. Our neighbor politely declined our offer to try my experiment and I don't blame him one bit.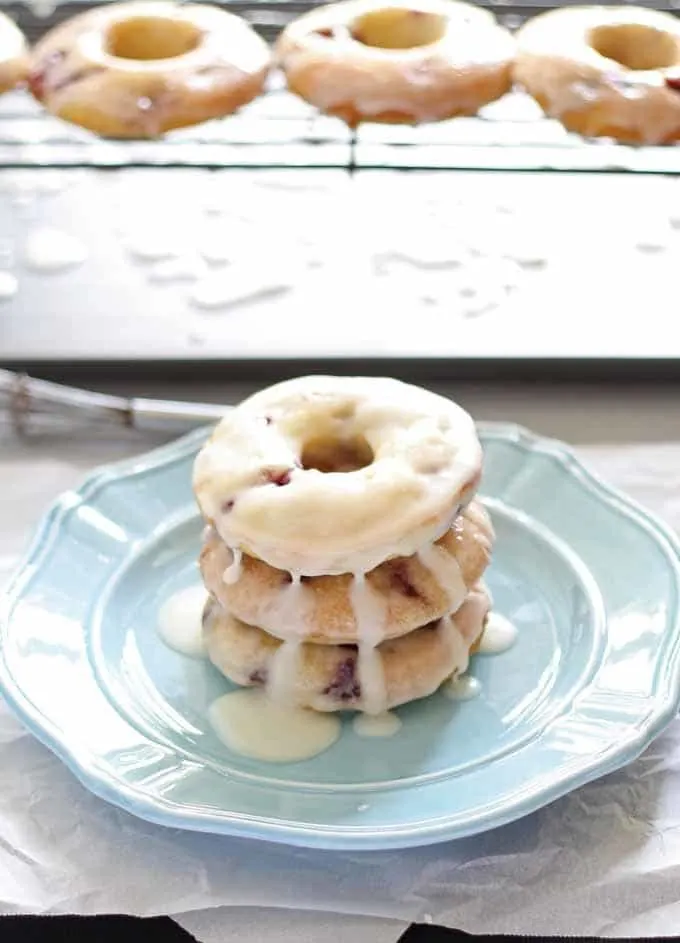 I was bummed (and hungry), so I decided to make doughnuts. Lesson of the day – any spectacular kitchen fail can be quickly cleared up by a good doughnut.
We don't really fry things in my household (high cholesterol and blood pressure must be thwarted!), so baked doughnuts are how we do it here. Not that baking them makes them healthy but in my head they're slightly better for you.
These baked cherry vanilla bean doughnuts are really easy to make. The cherries' flavor definitely takes over the doughnut but a very vanilla glaze helps bring out the vanilla beans. They're really easy to make and all you really need is a doughnut pan – I picked up mine at HomeGoods awhile ago but I see them there all of the time. I only have one – if you're out and about buying one, consider buying two. Just saying.
Before you begin mixing the dough, prep your cherries and vanilla beans. At least that's what works for me – I chopped up all my cherries and scraped my vanilla beans and then the whole prepping/baking process was fast. After the finished doughnuts cool, the glaze mixes up super fast and then you're ready to glaze and eat.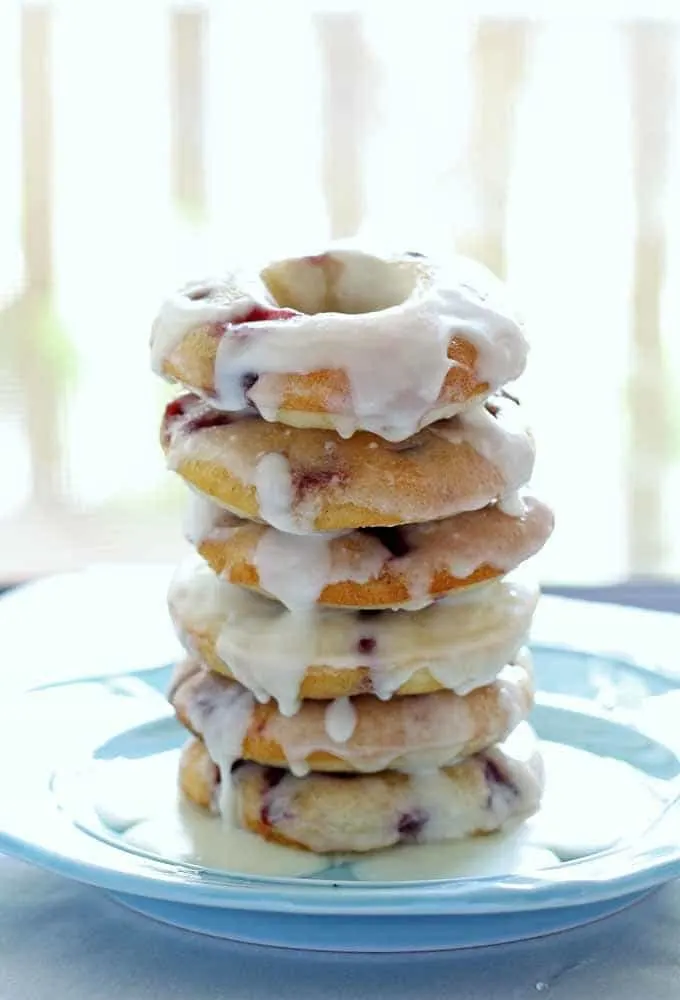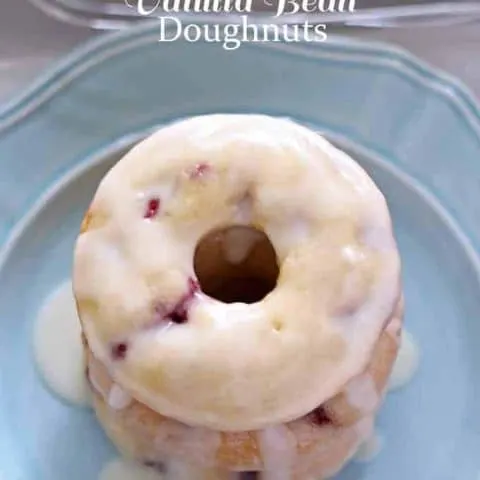 Baked Cherry Vanilla Bean Doughnuts
Additional Time:
5 minutes
If you find yourself with a cup of cherries, make these easy baked cherry vanilla bean doughnuts! You won't be able to eat only one.
Ingredients
Doughnuts
1 cup all purpose flour
½ cup sugar
½ cup milk
4 tablespoons butter
1 teaspoon baking powder
1 teaspoon vanilla extract
½ teaspoon white vinegar
¼ teaspoon salt
2 vanilla beans, cut down the middle, scrapped of seeds
1 large egg
1 cup cherries, pitted, cut into eight pieces
Glaze
1 ½ cups powdered sugar
3 tablespoons melted butter
2 teaspoons vanilla extract
1 tablespoons milk
Instructions
Doughnuts
Preheat oven to 350 degrees. Grease the doughnut pan with extra butter or cooking spray and set aside.
In a small bowl, whisk together the flour, sugar, baking powder and salt. Set aside.
Combine the milk, butter, vinegar, vanilla extract, vanilla seeds and egg in a small saucepan over medium heat. Stir constantly until the butter melts.
Add butter mixture to flour mixture and with a wooden spoon, stir to combine. When the mixture is combined, fold in the cherries.
Spoon or pipe the mixture into the prepared doughnut pan. Bake for 13-14 minutes until the finished doughnuts edges come off the pan. Remove from oven and let cool for 1 minute, then finish cooling on rack. If using the same pan again, wait 5 minutes before filling the pan a second time.
Vanilla Glaze
Combine all ingredients in a small bowl with a wire whisk. Wait 1-2 minutes for the glaze to thicken before dipping the doughnuts in the glaze.
Notes
Doughnut recipe adapted from Diethood. br]Glaze recipe adapted from [Cooking Classy.
Nutrition Information:
Yield:

12
Serving Size:

1
Amount Per Serving:
Calories:

206
Total Fat:

7g
Saturated Fat:

5g
Trans Fat:

0g
Unsaturated Fat:

2g
Cholesterol:

34mg
Sodium:

150mg
Carbohydrates:

33g
Fiber:

1g
Sugar:

24g
Protein:

2g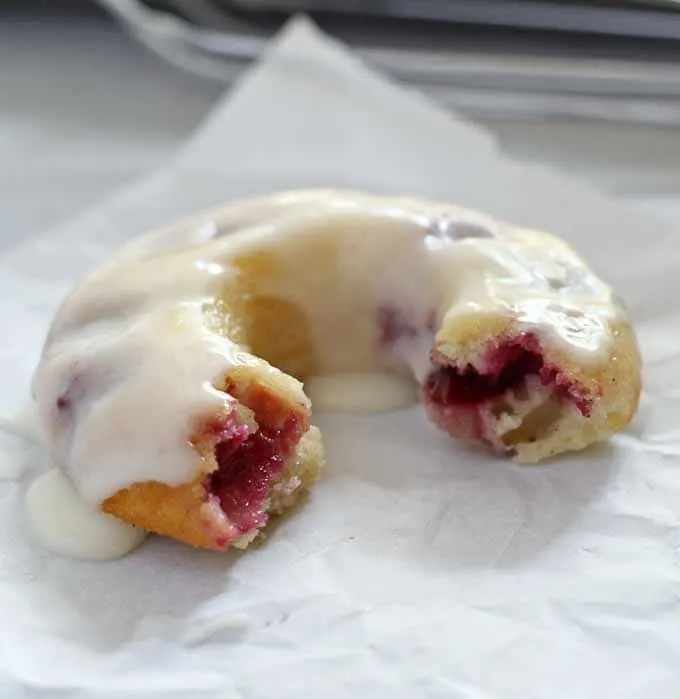 I hope on your next bad day, you make these doughnuts! They definitely make a bad day better. 🙂
SaveSave