Before summer is over, try this Honey Vanilla Bean ice cream with Raspberry Swirls! Perfect for the dog days of summer!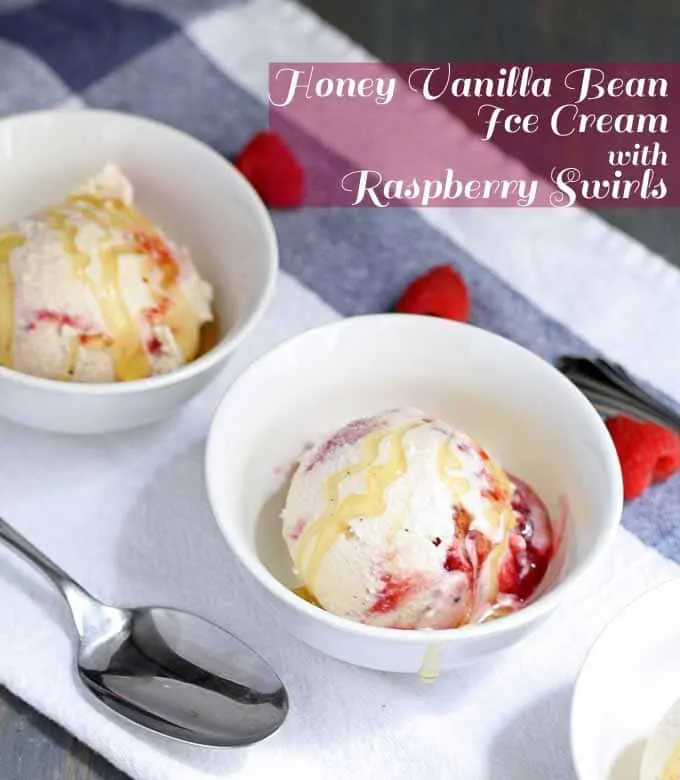 Back in July, I had a birthday. "What?!?!" you say. "This is the first I'm hearing about it."
Yeah, yeah – I let this one slip by. Not that I am against turning 32, it's a fine age. I'm just not as into the celebrating as I used to be. I went to lunch with Mr. B at a neighborhood place and then to dinner with my family. Lots of lobster. And it was a delightful, low-key birthday.
Why am I rehashing the day for you? Because my mom got me an ice cream maker for my birthday. Best gift ever – she really knows me. Duh 🙂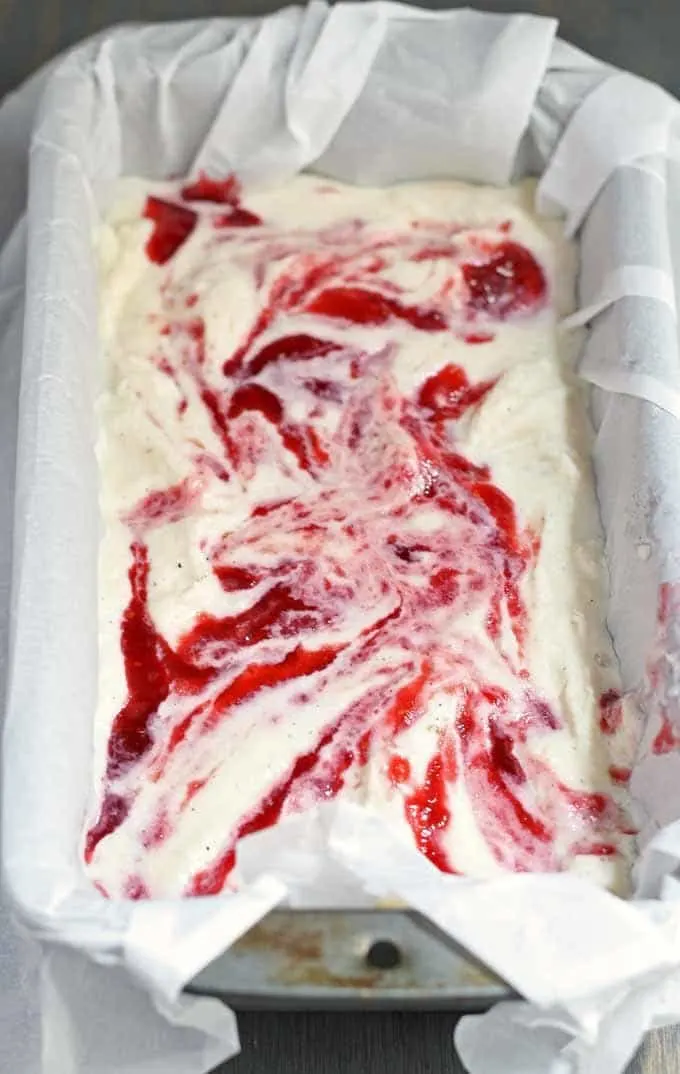 So far, I have made peanut butter chocolate chip ice cream and this very delicious honey vanilla bean ice cream. If you don't have an ice cream maker yet, make the investment. Jump on Amazon right now and pick up this Cuisinart ICE-30BC Pure Indulgence 2-Quart Automatic Frozen Yogurt, Sorbet, and Ice Cream Maker (affiliate link.) If you're an Amazon prime member, today it is only $63.59.
Maybe get a couple of ice cream recipe books like The Perfect Scoop: Ice Creams, Sorbets, Granitas, and Sweet Accompaniments or Jeni's Splendid Ice Creams at Home (affiliate links), check out a few blogs. Lots of people are getting creative with ice cream nowadays and it is spectacular. I've been using this gift as a tool to learn more about food.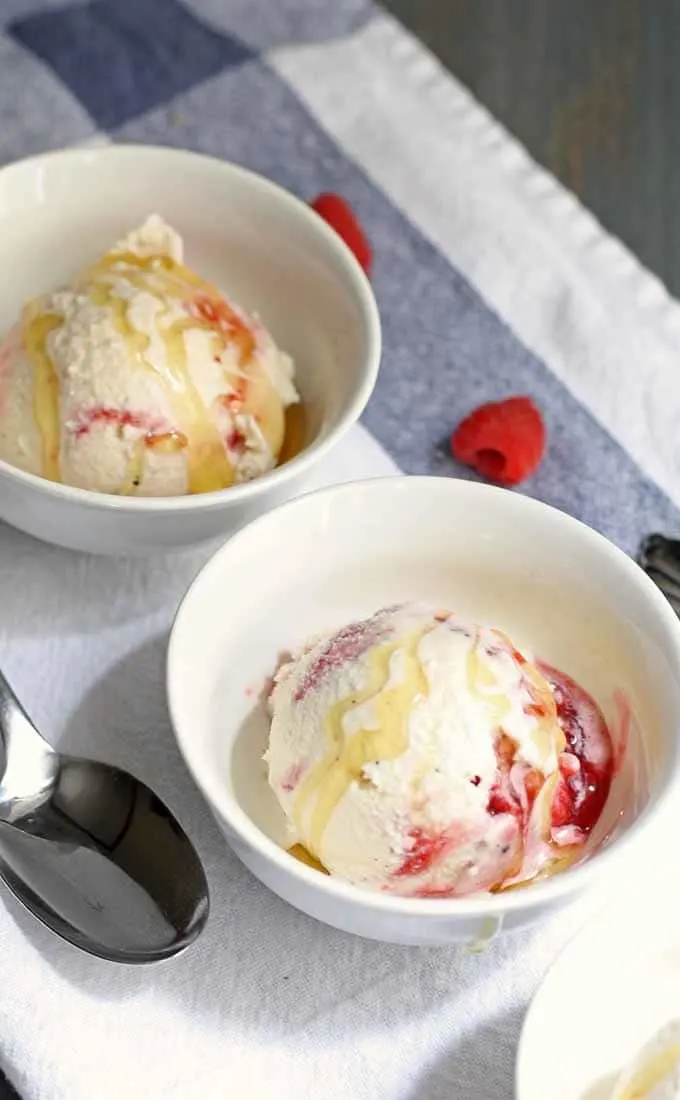 The most important thing I have learned about making ice cream is when a recipe says cold, it means COLD. If you don't let your ingredients and the freezer bowl get really, really cold, your ice cream isn't going to be firm enough. I found out the soft er… hard way.
The first (and only) time I made that mistake, it was more like creamy soft serve. Still delicious, but not what I was looking for. At least I figured out what I did wrong so I could share it with you.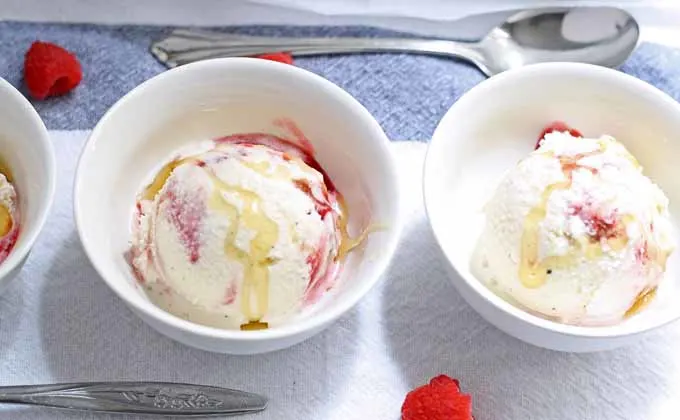 The ice cream I am sharing today doesn't contain any refined sugar. I substituted sugar with honey in both the ice cream and the raspberry syrup. Still, it is sweet like ice cream should be. Mr. B. said it changed his life (no he didn't.)
If you're making this ice cream, I suggest putting the freezer bowl in the freezer overnight and making the syrup and liquid the night before. This will give everything a chance to get really cold before you get your ice cream machine churning.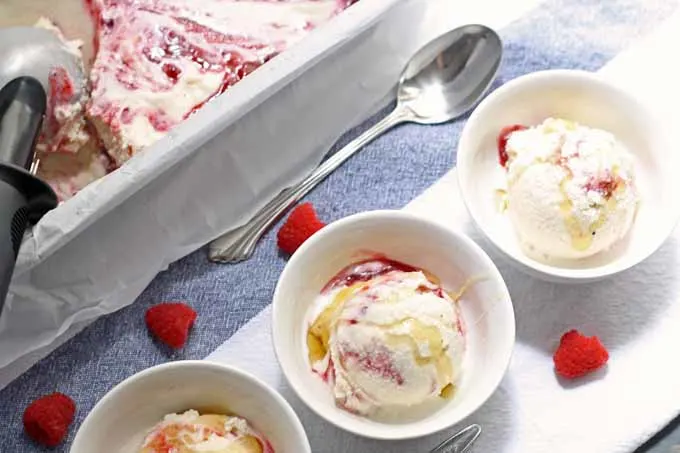 Once you're ready to rock (meaning you have followed the recipe below and are set to start eating,) grab your honey and any leftover raspberries or raspberry syrup you have. Pick one and drizzle it over the scoops to add a little extra of that flavor to your dessert. Or if you're feeling especially saucy, add a little of each. For these pictures, I chose to drizzle just the honey on top.
And I almost devoured all three bowls.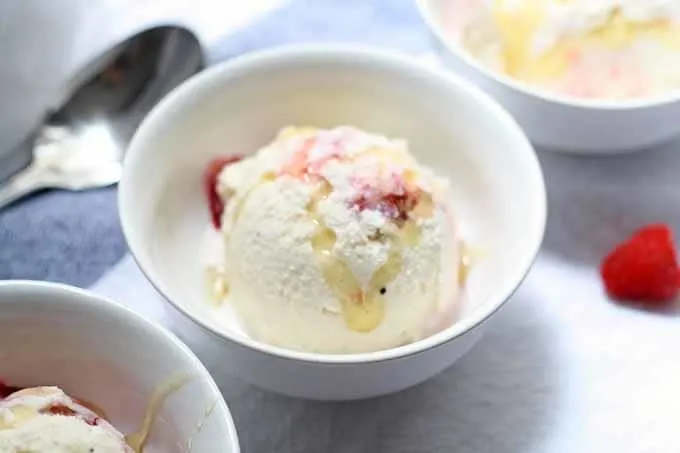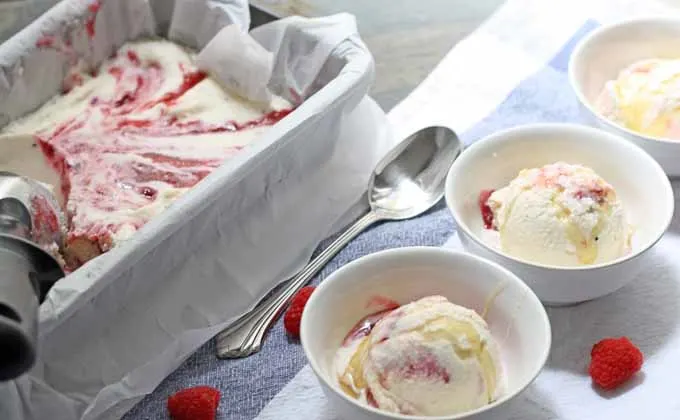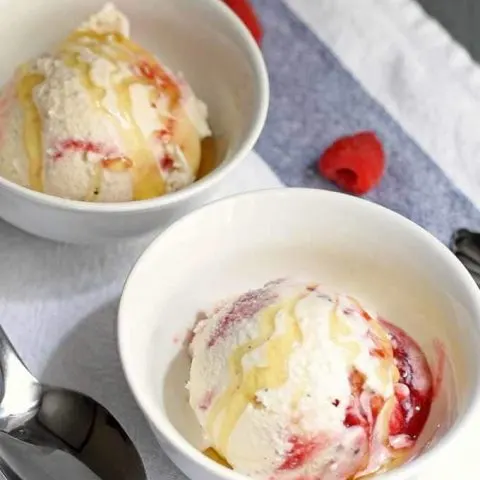 Honey Vanilla Bean Ice Cream with Raspberry Swirls
Easy vanilla bean ice cream with strips of honey and raspberry swirls.
Ingredients
Honey Vanilla Ice Cream
2 vanilla beans
2 cups heavy cream
1 cup whole milk
½ cup honey
Raspberry Syrup (for the swirls)
2 cups fresh raspberries
½ cup honey
Serve With
honey
fresh raspberries
extra raspberry syrup
Instructions
Honey Vanilla Ice Cream
Split the vanilla beans lengthwise and scrape out the seeds. Add the vanilla bean pods, vanilla bean seeds, cream, milk and honey to a saucepan.
Heat while constantly stirring. Bring to a boil, cover and cool. Refrigerate until cold
Raspberry Syrup
Combine raspberries and honey in a small saucepan. Turn heat to high and bring to a boil, then simmer over low heat.
Keep at simmer until raspberries are soft. Use a fork to smash the berries. If you want a smooth sauce, put in a blender.
Pour sauce through a fine mesh sieve into a bowl, to remove the seeds.
Refrigerate until cold.
To Make Honey Vanilla Ice Cream with Raspberry Swirls
Line a bread pan with parchment paper.
Remove the vanilla bean pods from the milk mixture and pour into the ice cream maker. Churn for 20-25 minutes, or until the ice cream has formed and is firm.
Sprinkle raspberry syrup into the bottom of the bread pan.
Pour half of the ice cream into the bread pan.
Sprinkle more syrup on top of the ice cream. Use a knife to swirl the syrup.
Repeat with the remaining ice cream mixture and more syrup.
Freeze for 4 hours before serving. Serve with drizzled honey, fresh raspberries and leftover raspberry syrup.
Nutrition Information:
Yield:

6
Serving Size:

1
Amount Per Serving:
Calories:

507
Total Fat:

30g
Saturated Fat:

19g
Trans Fat:

1g
Unsaturated Fat:

9g
Cholesterol:

94mg
Sodium:

42mg
Carbohydrates:

61g
Fiber:

3g
Sugar:

58g
Protein:

4g
Nutrition information is automatically calculated and may not be correct.