Ricotta beef dip – a cross between pizza and lasagna without the carbs! Ricotta and pizza sauce are combined with ground beef for this easy appetizer.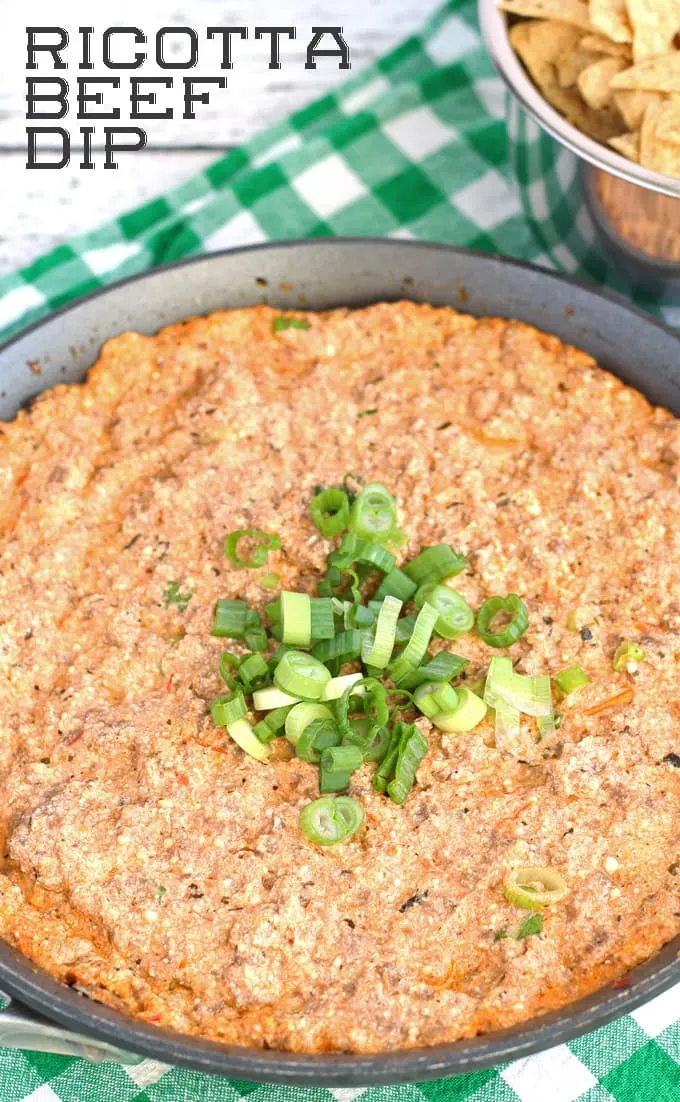 I went to the gym yesterday!
This wouldn't seem that momentous or deserving of an exclamation point except for the fact that I haven't gone to the gym in a very long time. Like, months and months…err…a year. I'm so embarrassed to type that here. I did run a few times with the dog over the summer but not enough to go shout to the clouds about it. I really don't like working out. I have a hard time motivating myself to get off my butt and working at home does NOT help. Having to go to a wedding next month and not fitting into any of my dresses does… but that's a story for another day.
Yesterday, I was feeling a little frustrated with some "shtuff" going on with a client. It was 11am… so no wine. Yes, it is 5 o'clock somewhere but that argument was not going to work with me yesterday. I still had a ton of work today and cooking at some point… so definitely no wine. I have read that you can do two (well, three if you count wine) things to help you relax. One is to do yoga and there was no way I was going to be able to shut my brain off for any period of time. The other is workout.
Holy bejeezus. I really really need to get back to the gym again before 2016 because it shouldn't be that hard to bike 5 miles on a stationary bike. I pushed through it but I am hurting already. I kind of like the pain, though not in a 50 shades kind of way.
And then, in what I imagine is typical fashion for someone who doesn't like to work out, I came home and ate dip.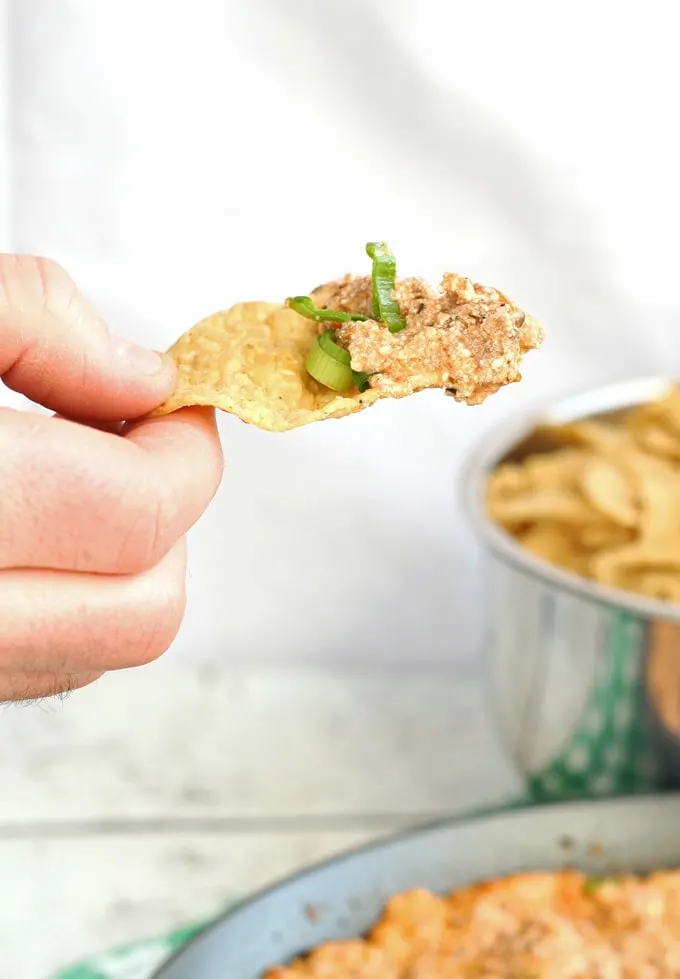 Ricotta Beef Dip
Some recipes I come up with after careful planning. Others, I make with the leftover ingredients in the kitchen. You know what I'm talking about. That cheese that got lost in the back of the fridge or that can of "something" that you find on a shelf in the pantry.
Well, the ricotta in this dip was an accidental purchase. Stores really shouldn't put the marscapone and the ricotta next to each other. Thankfully, I noticed right before I dropped the ricotta into my tiramisu. That would have been a disaster.
The can of "something" I am referring to here is a can of pizza sauce I bought one day when I was making English muffin mini pizzas. I ended up making sauce from scratch and the backup sauce became back-of-the-pantry sauce.
This recipe is very, very easy. Perfect to make for those college basketball viewing parties that are coming up – they are bound to be "mad" and you're going to need some grub. Make this easy dip and make everyone happy.
A cast iron skillet would be perfect for this – you can serve it directly out of the skillet and that will also minimize cleanup. If you're looking to keep this weird, yet delicious, pizza/lasagna cross gluten-free, then serve it with some corn chips. That's how we ate it. And loved it.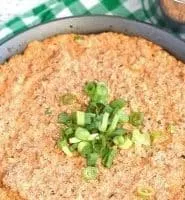 Ricotta Beef Dip
Ricotta beef dip - a cross between pizza and lasagna without the carbs.
Ingredients
2 pounds lean ground beef (can substitute turkey)
15 ounces pizza sauce
16 ounces ricotta cheese
2 tablespoons Italian seasoning
1 cup of diced green onions
salt to taste
Instructions
Brown the ground beef in a large skillet over medium heat. When the meat is browned all of the way through, drain off the excess fat and return to the stove.
Add the pizza sauce, ricotta cheese and Italian seasoning and stir well. Cook over medium heat until hot (about 15 minutes), then stir in the green onions. Season with salt to taste and serve hot.
Nutrition Information:
Yield:

12
Serving Size:

1
Amount Per Serving:
Calories:

251
Total Fat:

13g
Saturated Fat:

6g
Trans Fat:

0g
Unsaturated Fat:

5g
Cholesterol:

79mg
Sodium:

290mg
Carbohydrates:

6g
Fiber:

1g
Sugar:

2g
Protein:

27g