Celebrate National Margarita Day or Cinco de Mayo with a Meyer lemon pomegranate margarita.
Margaritas make me think of warm weather, more than any other drink. Also, it's the only way I drink tequila now – I put away my tequila shots once I left college.
I know I have been sharing a lot of cocktails with you the last few months – I hope you don't mind. Don't worry, there will be some non alcoholic beverages shared here soon. But in the meantime, make a margarita.
Meyer Lemon and Pomegranate Margarita
I made a meyer lemon simple syrup for this margarita and it is very easy to make yourself. Start there (the instructions are in the recipe.) Once your simple syrup has cooled down, you can mix up a few margaritas.
The pomegranate portion is going to come in the form of pomegranate liqueur and pomegranate seeds as garnish. You can eat them if you like – totally up to you. Some antioxidants with your tequila sounds like a plan to me.
I added a little lime juice because I wanted a little of that specific sour taste you can only get from limes. Feel free to substitute more meyer lemon juice instead if you don't feel like buying limes.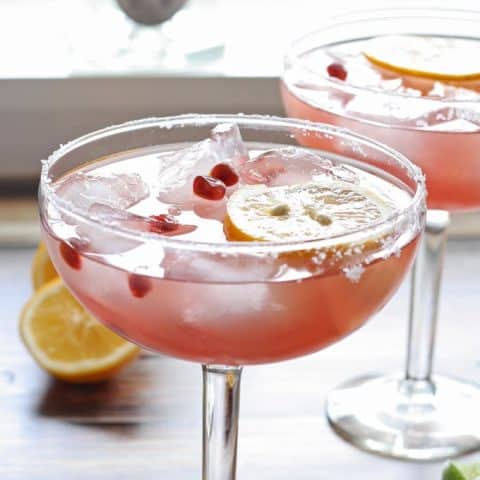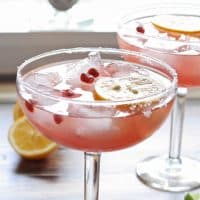 Meyer Lemon and Pomegranate Margarita
Ingredients
2 ounces white tequila
1 ounce pomegrante liqueur
1 ounce meyer lemon simple syrup
1 ounce meyer lemon juice
1/2 ounce lime juice
coarse salt for rimming the glass
pomegrante seeds and meyer lemon slices for garnish
Meyer Lemon Simple Syrup
1 cup sugar
1 cup water
1/2 cup meyer lemon juice
zest of 1 meyer lemon
Instructions
Rim the edge of a margarita glass (or glass of your choice) with a meyer lemon. Pour some course salt on a small plate and roll the edge of the glass in the salt. Set aside.
In a shaker, combine the tequila, pomegranate liqueur, meyer lemon simple syrup, meyer lemon juice, and lime juice with some ice cubes. Shake for 10-15 seconds, then strain into margarita glass over some ice cubes. Garnish with pomegranate seeds and meyer lemon slices.
Meyer Lemon Simple Syrup
In a small saucepan, combine the sugar, water, meyer lemon juice and lemon zest. Bring to a boil, then strain into a glass bowl. Set aside and use when cooled.