This fire chicken recipe is the perfect blend of Szechuan peppercorns and dried habanero peppers!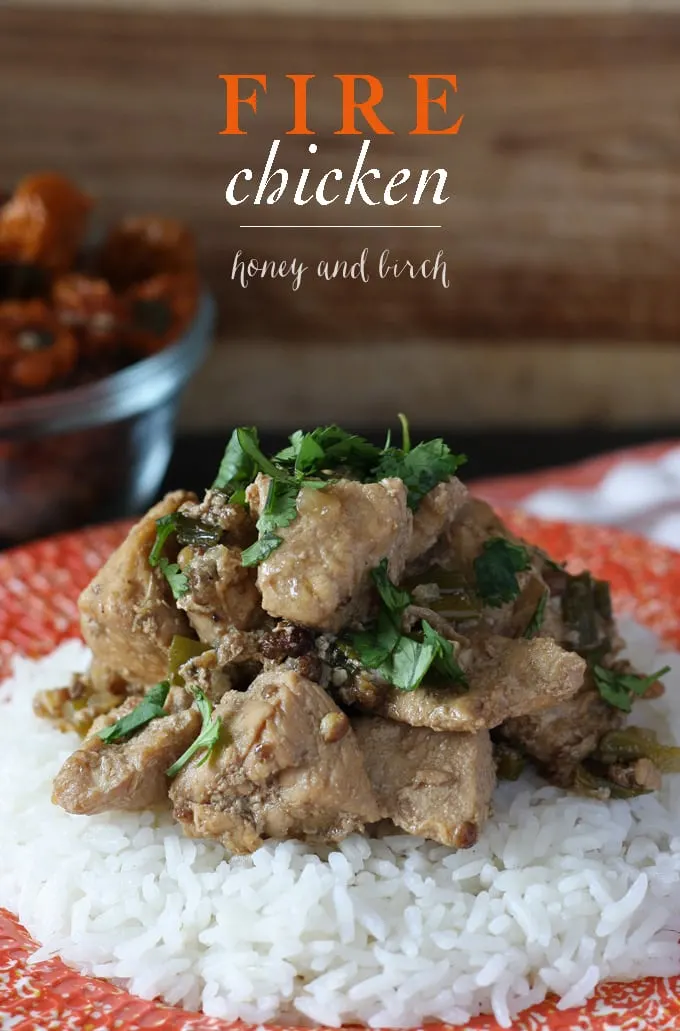 Last week, I had the pleasure of attending the launch party for CookGirl. It was a fantastic, very intimate event held in the event space of Little Goat. If you are familiar with the dining scene in Chicago, then you probably know this restaurant – it is the more casual, but just as delicious, sister restaurant to Girl and the Goat, both run by celebrity chef Stephanie Izzard.
Who just happened to be in attendance at the event…. Fan girl alert! I kept trying to sneak pics of her while she and her team were preparing the meal. The other celebrity chefs ate at the table next to me (I sat with the other bloggers and the PR people) and luckily for them, my back was to them. Otherwise, this paparazzi member would have been snapping picks of them while they ate their goat empanadas.
As can be expected of any celebrity event, the food was amazing. I've had the pleasure of eating at Little Goat several times, but have yet to eat at Girl and the Goat. Several of the items we were served were on the menu across the street and got me looking for a reservation asap. Seriously. I made a reservation. Mr. B needs to try this.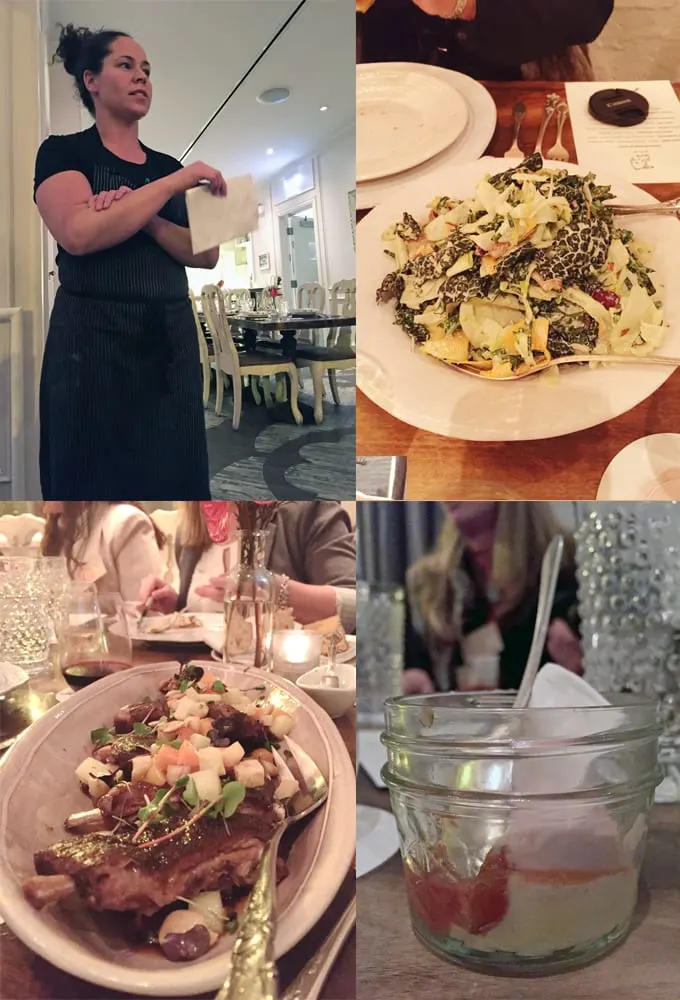 What does all of this have to do with my Fire Chicken recipe? Well, my shellfish allergy is so limiting and there were several delicious smelling dishes I couldn't eat. Gah. After the event, I went home and did a little restaurant research. The realization hit me – I will probably never be able to get sushi with the girls again. Or eat at any of my favorite Thai and Chinese restaurants.
It's not that they won't have clean kitchens or be unsafe with their food prep. It's that the risk of cross contamination is so great that it isn't worth it. Food allergies suck but going to the emergency room sucks more.
I guess that just means I will have to start preparing more Asian inspired dishes at home.
Szechuan Peppercorns
This recipe is inspired by two things. First, the Cookgirl launch event. Stephanie Izard gave a speech before dinner was served and talked about her time traveling in China with her husband. I want to be a celebrity chef, in my head, so I also want to cook with things she might cook with, like Szechuan peppercorns.
Secondly, another celebrity chef prompted me to buy these peppercorns in the first place – Sara Moulton. When I was at Duck University, she spoke in detail about them and made a casual remark that everyone knows what they are and what they taste like. I was embarrassed to admit that while I had surely eaten them many times in dishes, I had no idea what they looked like on their own. Let alone what they tasted like.
When I got home, back in June, I set out to remedy that and bought a bag of Szechuan peppercorns off the Internet. If you can't find it at home, find it online. (My motto!)
And then they sat in my office in a box marked herbs until I reorganized the office the other day. The timing couldn't have been more right. This fire chicken recipe was born in my head.
Fire Chicken Recipe
Start off by first thumbing through your Szechuan peppercorns. You want to make sure the stems and black seeds are discarded and that only the husks remain. After that, I toasted them for 5 minutes in a pan and set them aside.
I let them cool just a bit and then smashed the toasted peppercorns to crunch them up a bit. Real technical stuff. I also chopped up some dehydrated Habanero peppers I had lying around (remember this recipe, and this one?). Don't fret if you don't happen to have a lifetime supply of dehydrated Habaneros – substitute another dried pepper or even a fresh Habanero. If you use fresh, make sure you dice it up really, really well. A chunk of Habanero will make this fire chicken recipe go from good to bad really fast.
Otherwise, follow the directions in the recipe and you will right as rain. Serve with rice and don't forget the cilantro – it really helps balance out the spiciness.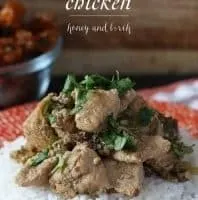 Fire Chicken Recipe
Fire Chicken Recipe - the perfect blend of Szechuan peppercorns and dried habanero peppers!
Ingredients
1 tablespoon vegetable oil
2 garlic cloves, minced
2 pounds of chicken, diced into 1 inch chunks
1/4 soy sauce
1/4 cup rice vinegar
2 tablespoons honey
1 tablespoon ginger paste
1 1/2 tablespoons toasted Szechuan peppercorns, smashed into pieces
1 habanero pepper, finely diced (I used dried but fresh are fine too)
1/2 cup chopped green onion
salt to taste
cilantro
Instructions
Heat the oil in a large skillet over medium heat. Add the garlic and saute for 1 minute, then add the chicken. Cook over medium until the chicken is no longer pink in the center.
Add the soy sauce, rice vinegar, honey and ginger paste to the skillet. Stir well and cook for 10 minutes. Then add the Szechuan peppercorns, habanero pepper and green onion. Stir and cook for an additional 5 minutes. Add salt to taste.
Serve each portion with cilantro.
Nutrition Information:
Yield:

8
Serving Size:

1
Amount Per Serving:
Calories:

296
Total Fat:

17g
Saturated Fat:

4g
Trans Fat:

0g
Unsaturated Fat:

11g
Cholesterol:

107mg
Sodium:

183mg
Carbohydrates:

7g
Fiber:

1g
Sugar:

5g
Protein:

28g