Treat yourself to homemade red wine risotto. All you need is 30 minutes and this exquisite dinner can be on the table!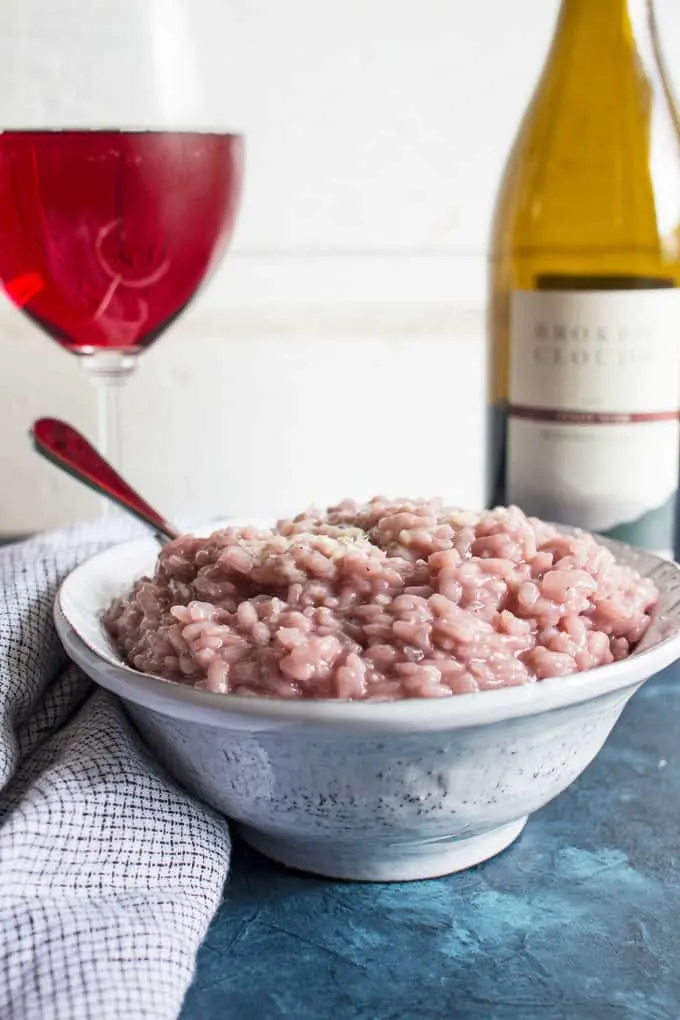 This post was brought to you in partnership with ALDI. All opinions are my own.
My hometown of Harwood Heights is a little island nook in the city sea of Chicago. We share the same public transportation, proximity to downtown and the fun perks of a big city, but we get to be all on our own. I couldn't wait to move to Chicago when I turned 18, but Harwood Heights will always feel like home.
It's fun to go back and visit my mom there as so much has changed since I moved out over 15 years ago. Places from my childhood are gone and the village has replaced them with better stores and restaurants.
The last time I was there, I had to make a stop at the newly remodeled ALDI. Everything is so fresh and modern inside!
Tall ceilings, wide aisles – the store was really busy but I was able to see all of the fresh ingredients and variety of products.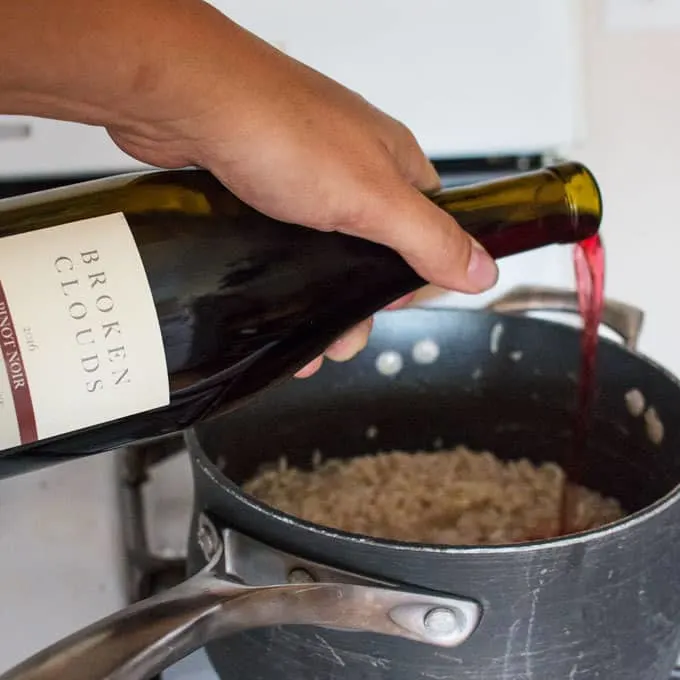 The first thing I saw was arborio rice and it definitely sparked my creative recipe juices. It is a difficult product to find so I was thrilled to see Earthly Grains Arborio Rice at ALDI as a Special Buy this week, so it's only available for a limited time. I took another few steps and came across the wine section, and the idea for red wine risotto was born.
I decided to use the Broken Clouds Pinot Noir for my risotto. The notes of red berries make this a wine perfect for special occasions and every day meals. I definitely love a glass of this wine with my tacos!
In a survey of 40,000 people by TNS, it won Product of the Year in the Wine category. I am a big believer of cooking with the wine that you drink (versus using a cooking wine) and this was a win-win for me. Great wine equals great food!
I walked up and down the aisles and found every single ingredient I needed for my risotto recipe. Arborio rice, onions, garlic, fresh parmesan cheese and red wine, of course.
Everything I needed to make a restaurant-quality dish but with less hassle and half the price.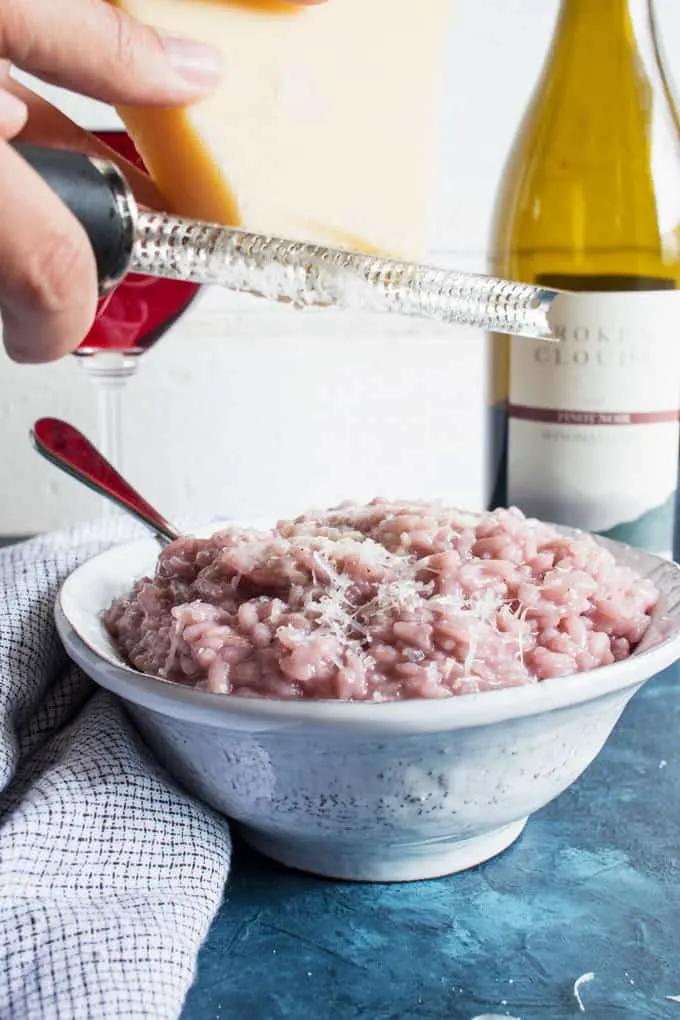 Making risotto is much easier than many people think. It does take a little patience but mainly that is because you'll be stirring. I like to use the time between stirs to wash a few dishes or read a few pages of a book.
30 minutes really flies when you're doing something else!
Before you know it, the rice is going to absorb all of the stock and wine and you'll be ready to stir in that parmesan cheese. And then it's time to eat.
I hope you'll consider stopping at one of the newly remodeled ALDI stores to get all of the ingredients too!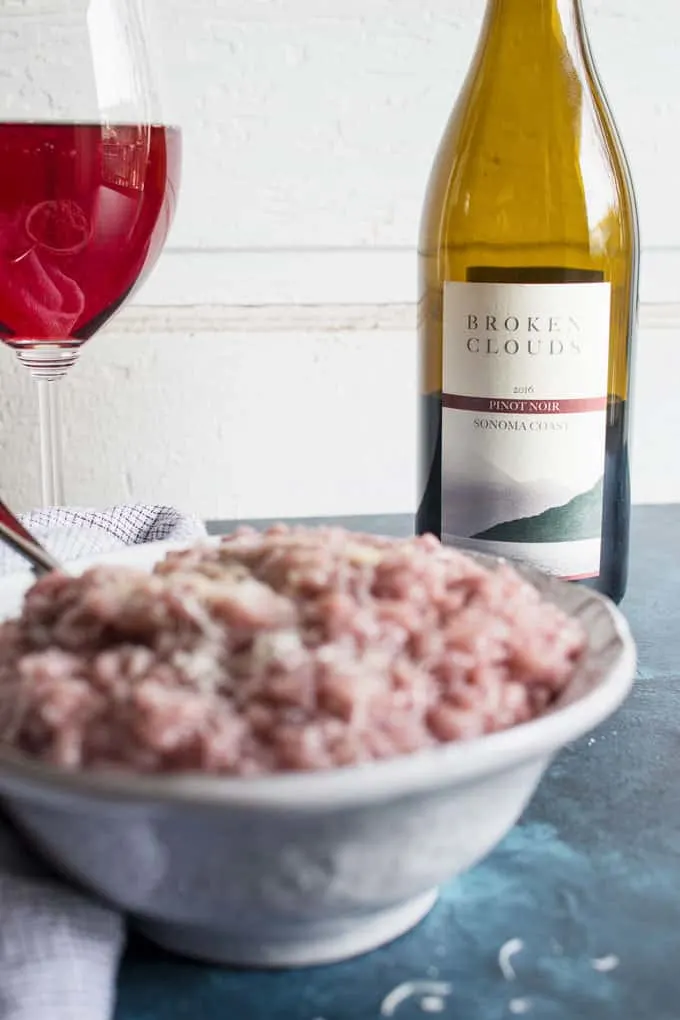 Looking for rice dishes? Try these:
Looking for more risotto recipes? Try these: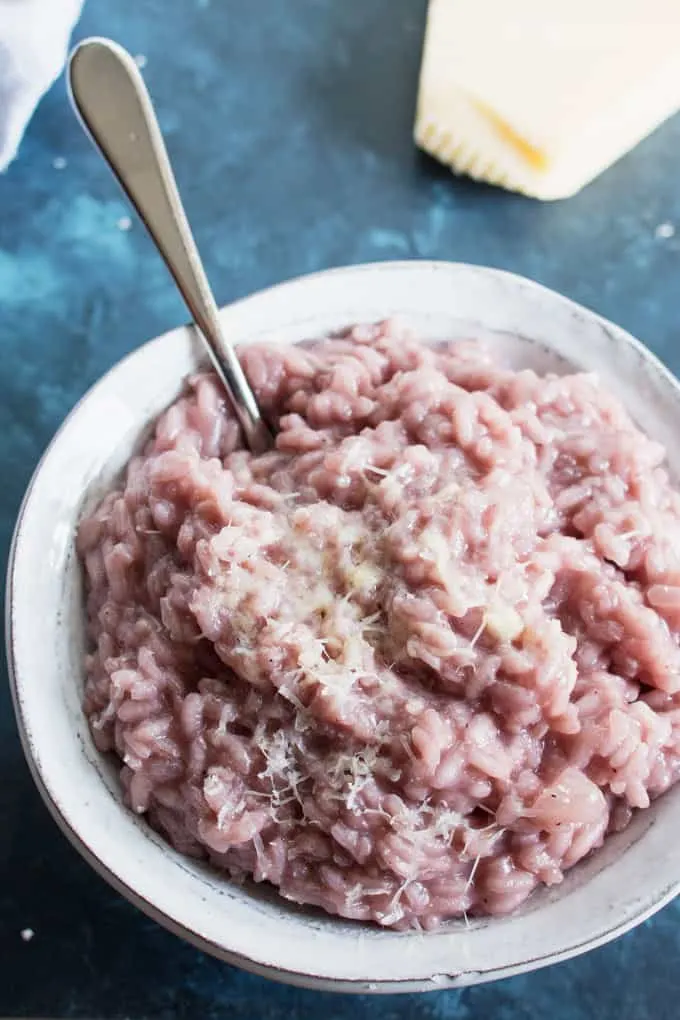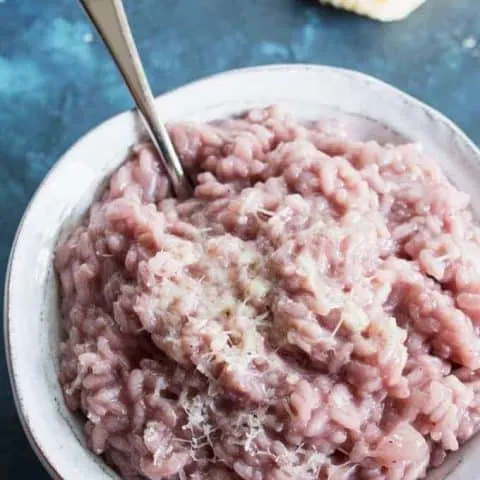 Red Wine Risotto
Treat yourself to homemade red wine risotto. All you need is 30 minutes and this exquisite dinner can be on the table!
Ingredients
¼ cup SimplyNature Organic Extra Virgin Olive Oil
1 medium onion, finely chopped
3 garlic cloves, minced
1.5 cups Earthly Grains Arborio Rice
2 cups Chef's Cupboard Chicken Stock
2 cups red wine (I recommend Broken Clouds Pinot Noir)
½ cup grated Priano Parmesan Cheese
salt and pepper to taste
Instructions
Place a medium saucepan on medium heat. Add the olive oil and when hot add the onion and garlic. Simmer until the onions are clear. Add the arborio rice and cook in the hot oil for 1 minute. Add ¼ cup chicken stock, stirring gently.
Simmer, alternating between adding ¼ cup additions of stock and red wine as the rice absorbs each addition. Repeat until rice is tender. Stir in Parmesan cheese and season with salt and black pepper
Notes
Price and availability may vary.
Nutrition Information:
Amount Per Serving:
Calories:

566
Total Fat:

19g
Saturated Fat:

5g
Cholesterol:

13mg
Sodium:

760mg
Fiber:

3g
Sugar:

4g
Protein:

14g