This easy homemade spaghetti and meatballs recipe is perfect for busy weeknights. Prep the meatballs the day before and then pop them in the oven when it's time for dinner!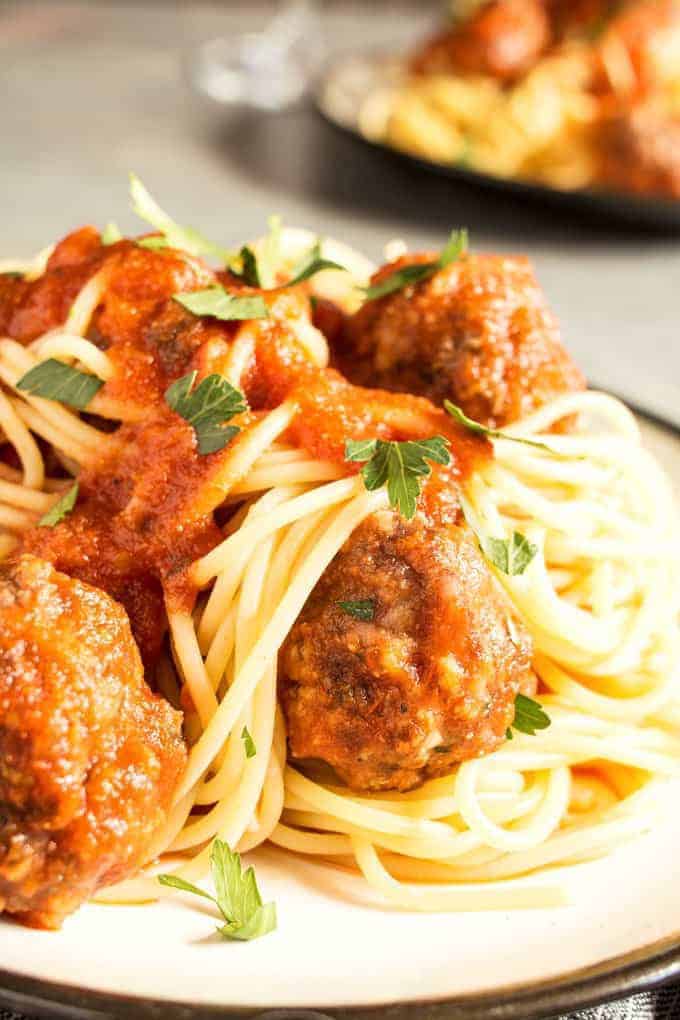 This post is in collaboration with Peapod and FromthePod.com. All thoughts and opinions are my own. Thank you for supporting our sponsors!
When I was a kid, my mom made spaghetti a lot. It was easy, cheap and pretty good for those days when you needed to get dinner on the table quickly. My mom worked a lot – her full-time day job and then nights and weekends to take care of my siblings and I.
It's still a wonder to me how she put in all of those hours, helped us with our homework and somehow had dinner on the table still.
When I started planning my Easy Weeknight Meal Plan for Peapod, I knew I had to include this easy homemade spaghetti and meatballs recipe. It's just the kind of meal my mom would have made for us and one she would love now.
Not that I'm a creative eater now, but I definitely wasn't then. It was noodles, marinara sauce and maybe a sprinkle of parmesan cheese. Now, I still want to eat spaghetti sometimes but I needed to step it up.
Enter these delicious meatballs.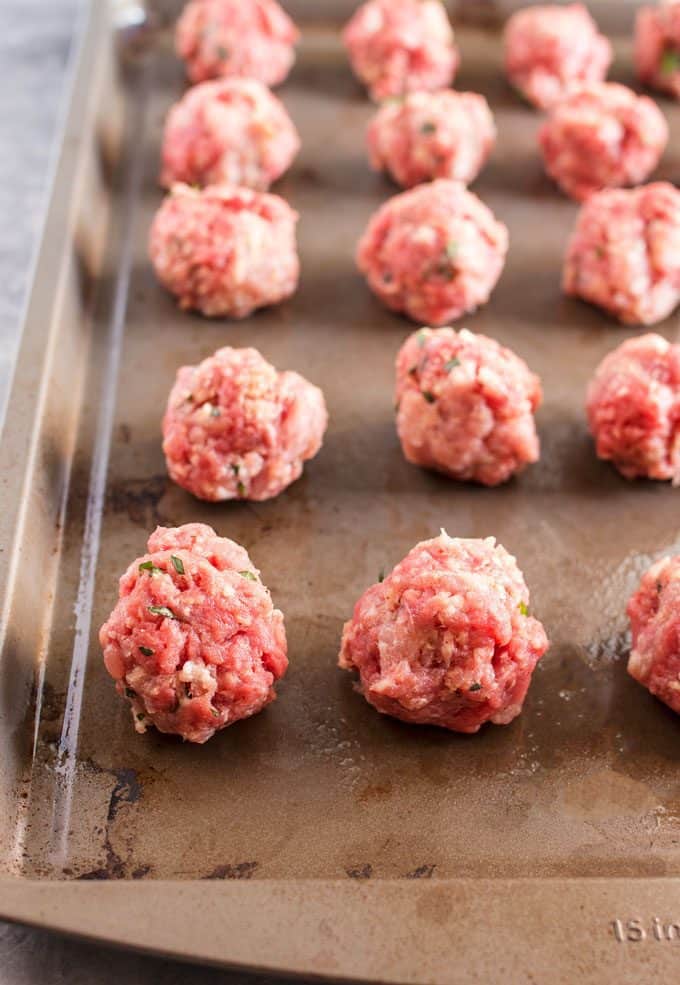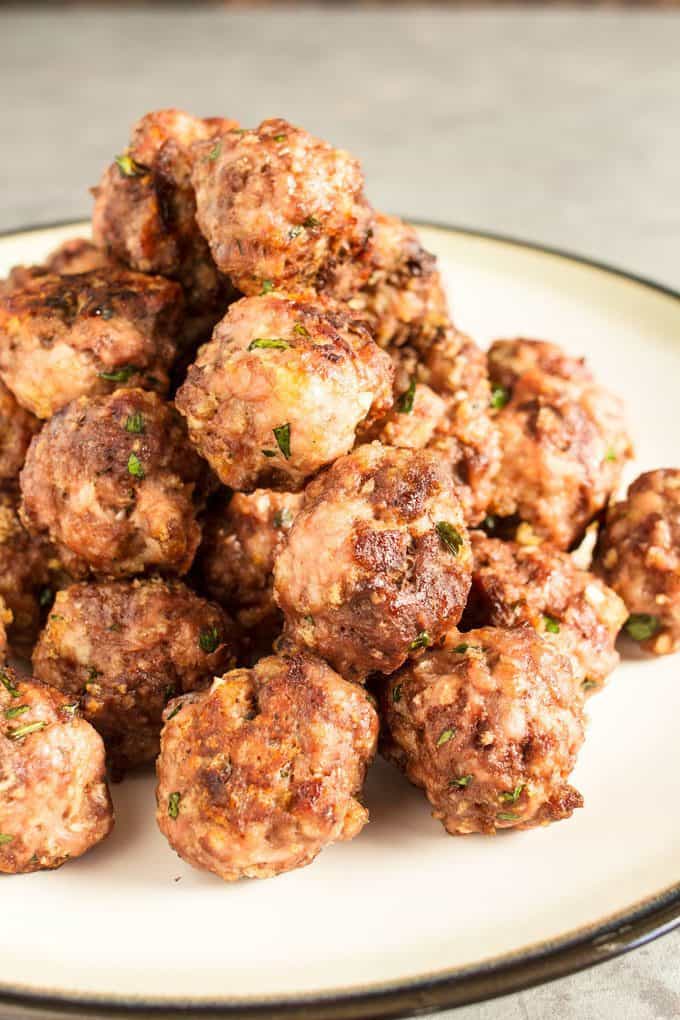 Easy Homemade Spaghetti and Meatballs
This meatball recipe is really easy to make and you're going to be so happy to make them. You can prep the meatballs the night before and then throw them in the oven when you get home from work.
Also, this makes enough meatballs for some serious leftovers. I like to put all of the meatballs in the hot sauce, use half of them with the spaghetti, and save the rest for the next day. Some French bread and some mozzarella slices and you have easy open faced meatball sandwiches.
I created this recipe as part of my partnership with Peapod and the recipe website FromthePod.com. I'm part of a group of great food bloggers creating awesome recipes with Peapod in mind.
This recipe for easy homemade spaghetti and meatballs is part of a weekly meal plan I created. I'll be sharing two more recipes from my meal plan this week, or go to FromthePod.com now for the entire plan.
I love that you can go to any of the recipes on their website and have that recipe's ingredients put right in your shopping cart. Then all you have to do is unselect the items you already have in your kitchen.
For this recipe, head over to FromthePod.com.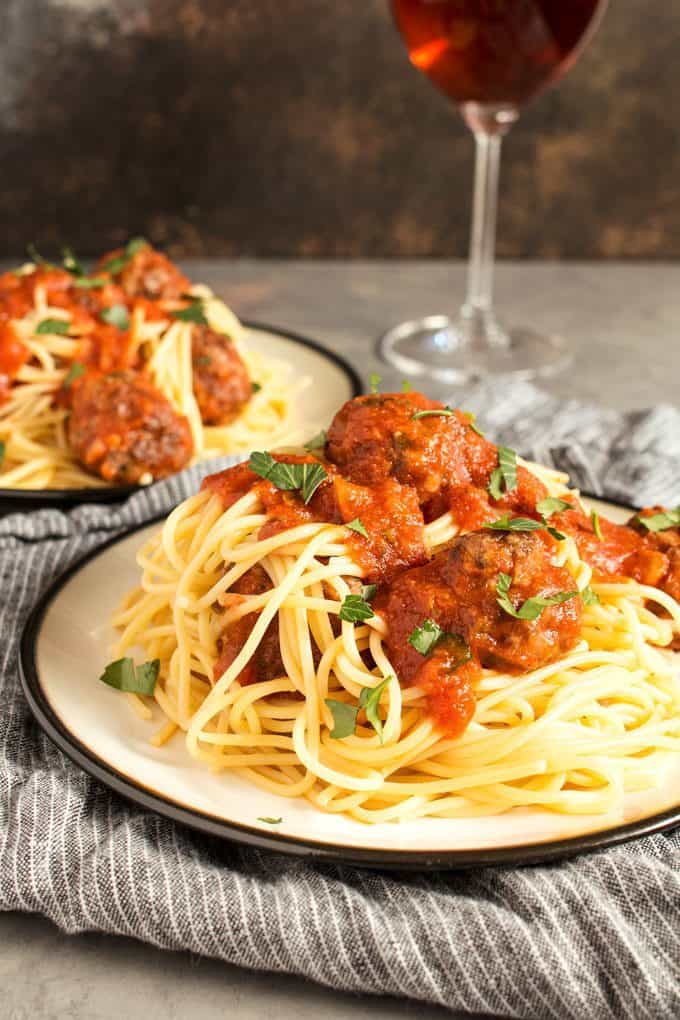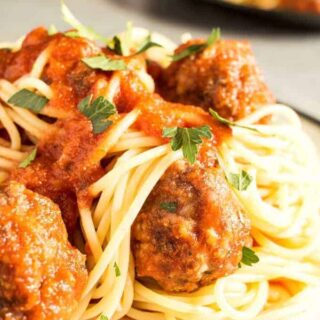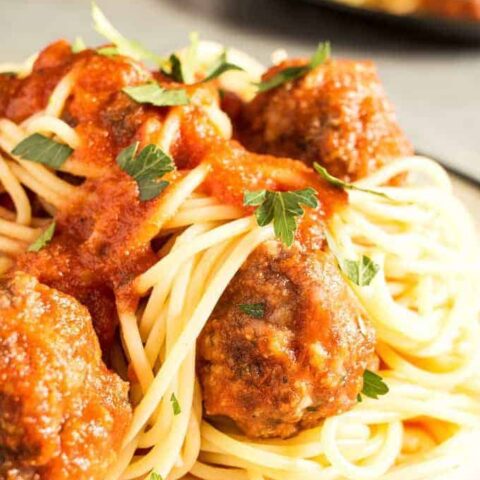 Easy Homemade Spaghetti and Meatballs
Yield: 40 meatballs

Prep Time: 20 minutes

Cook Time: 30 minutes

This easy homemade spaghetti and meatballs recipe is perfect for busy weeknights. Prep the meatballs the day before and then pop them in the oven when it's time for dinner!
Ingredients
1 pound ground beef
1 pound ground pork
1 large egg, beaten
3/4 cup panko bread crumbs
2 cloves garlic, minced
1 tablespoon minced parsley
1/2 teaspoon grated nutmeg
1/2 teaspoon kosher salt
1/4 teaspoon black pepper
1 (16 ounce) package spaghetti noodles
1 (24 ounce) jar pasta sauce
Instructions
Preheat oven to 400ºF. Spray a large cookie sheet with cooking spray.

Mix together ground beef, ground pork, egg, panko bread crumbs, garlic, parsley, nutmeg, salt and pepper in a large mixing bowl.

Form into 1-inch balls and place on prepared cookie sheet.

Bake in preheated oven for 15-20 minutes, or until meatballs are browned and cooked through.

Bring a large pot of water to boil and cook spaghetti noodles to package directions. Remove from heat and drain, setting aside.

Heat pasta sauce in a medium saucepan. When hot, add cooked meatballs and toss in sauce.

Serve cooked spaghetti noodles with the cooked meatballs.
Nutrition Information:

Amount Per Serving: Calories: 115 Total Fat: 5g Saturated Fat: 2g Cholesterol: 21mg Sodium: 113mg Fiber: 1g Sugar: 1g Protein: 6g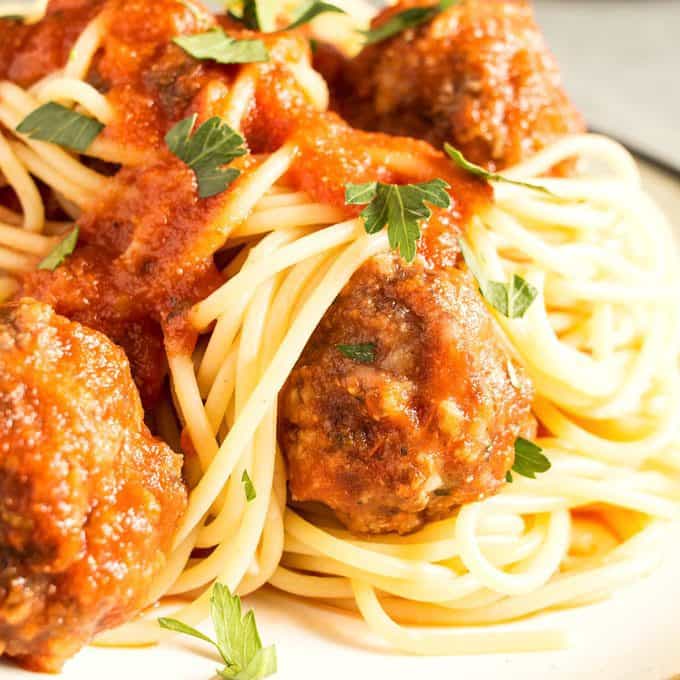 Join the newsletter!
Subscribe to get our latest content by email.