This recipe for shrimp fried rice with sweet soy sauce is gluten-free and delicious!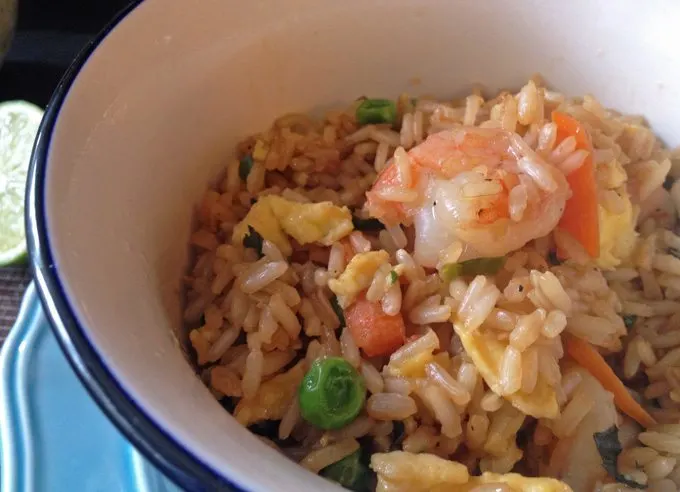 I am currently on the hunt for delicious gluten-free recipes. I have made a few things so far that are GF: Mustard Lime Chicken and Creamy Crockpot Chicken, Mushrooms and Peas. As with dairy free, the largest problem I'm predicting to have is with baking. So I'm not going to bake. Ha.
No, but seriously, I am not sure we will even be able to do our 4 week GF test until after we get back from our trip because even if there are gluten-free friendly restaurants in Poland, neither one of us speak or read Polish. I'm not sure I'm comfortable risking Mr. B's eating contaminated food. And then we'd have to do the test all over again.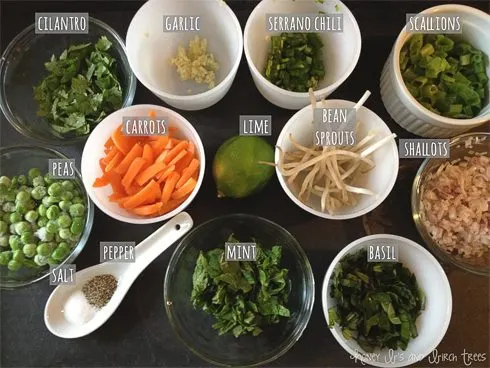 Speaking of Poland, I ordered the following books from Amazon and they arrived today: Lonely Planet Polish Phrasebook, Frommer's Krakow Day By Day (Frommer's Day by Day – Pocket) and Lonely Planet Krakow Encounter. I'm SO excited! I already know that we're going to go to Auschwitz for at least half a day and 3 days are wedding related. There's also a bachelorette party in the middle there – I'm beyond excited now that my trip is nearing so close.
This recipe is gluten-free, and pretty easy once you get everything cut up. Work fast so things don't over cook. You could probably cook the shrimp in the pan with the veggies, but I cooked them alone and then removed them so they don't over cook – overcooked shrimp are gross. Also, if the soy sauce gets hard and sticky in the pot, just heat it up again before you add it to the rice.
Shrimp Fried Rice with Sweet Soy Sauce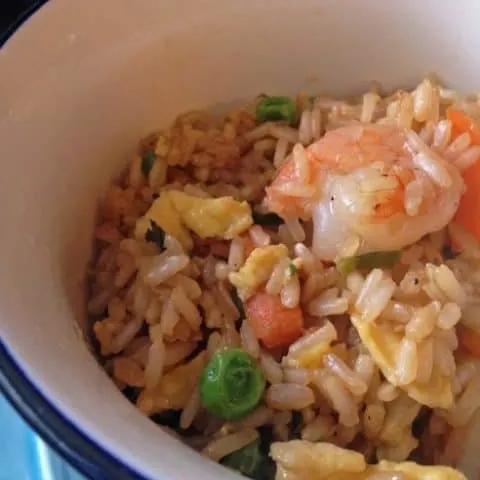 Shrimp Fried Rice with Sweet Soy Sauce
This recipe for shrimp fried rice with sweet soy sauce is gluten-free and delicious!
Ingredients
1/4 cup low sodium soy sauce
1/4 cup dark brown sugar
4 tablespoons vegetable oil, divided
4 large eggs, lightly beaten
2 pounds fresh shrimp, tails removed and de-veined
3 finely chopped shallots
2 garlic cloves, minced
1 chopped serrano chile
1/2 cup chopped scallions
1/2 cup diced carrots
1/2 cup frozen peas
1/4 cup bean sprouts
4 cups cooked brown rice
1/4 teaspoon salt
1/4 teaspoon black pepper
1/3 cup fresh basil leaves
1/3 cup fresh mint leaves
1/3 cup fresh cilantro
limes
Instructions
Mix the soy sauce and brown sugar in a saucepan over medium heat. Bring it to a boil and simmer until reduced to approximately 1/4 cup. Turn off heat and set aside.
Heat 1 tablespoon vegetable oil in a large skillet or wok. Pour eggs into the pan and cook for approximately 2 minutes (until set) and remove from pan.
Add 1 tablespoon oil to pan and add raw shrimp. Cook for 2-3 minutes per side, until cooked through, and remove from pan. Increase the heat to high and add the remaining 2 tablespoons of oil to the pan. Add shallots, garlic and serrano and stir-fry for 1 minute.
Add the scallions, carrots, peas and bean sprouts and cook for 2 minutes. Add the cooked rice, stir-fry for 3-4 minutes. Add the soy sauce, shrimp, cooked eggs, salt and pepper and combine.
Turn off heat and add the basil, mint and cilantro. Sprinkle with fresh lime juice before serving.
Notes
Adapted from Cooking Light magazine.
Nutrition Information:
Yield:

6
Serving Size:

1
Amount Per Serving:
Calories:

501
Total Fat:

14g
Saturated Fat:

2g
Trans Fat:

0g
Unsaturated Fat:

11g
Cholesterol:

410mg
Sodium:

713mg
Carbohydrates:

49g
Fiber:

5g
Sugar:

11g
Protein:

46g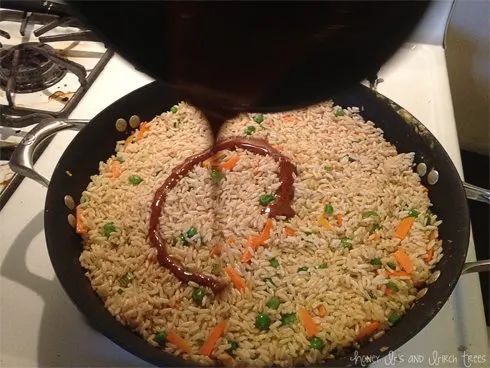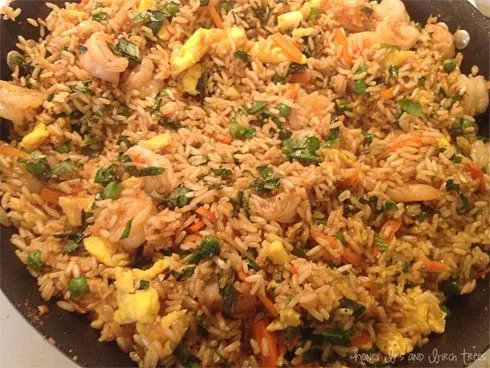 SaveSave