These sea salt double chocolate cookies are a crowd favorite. You can't say no to extra chocolate with sea salt in cookie form!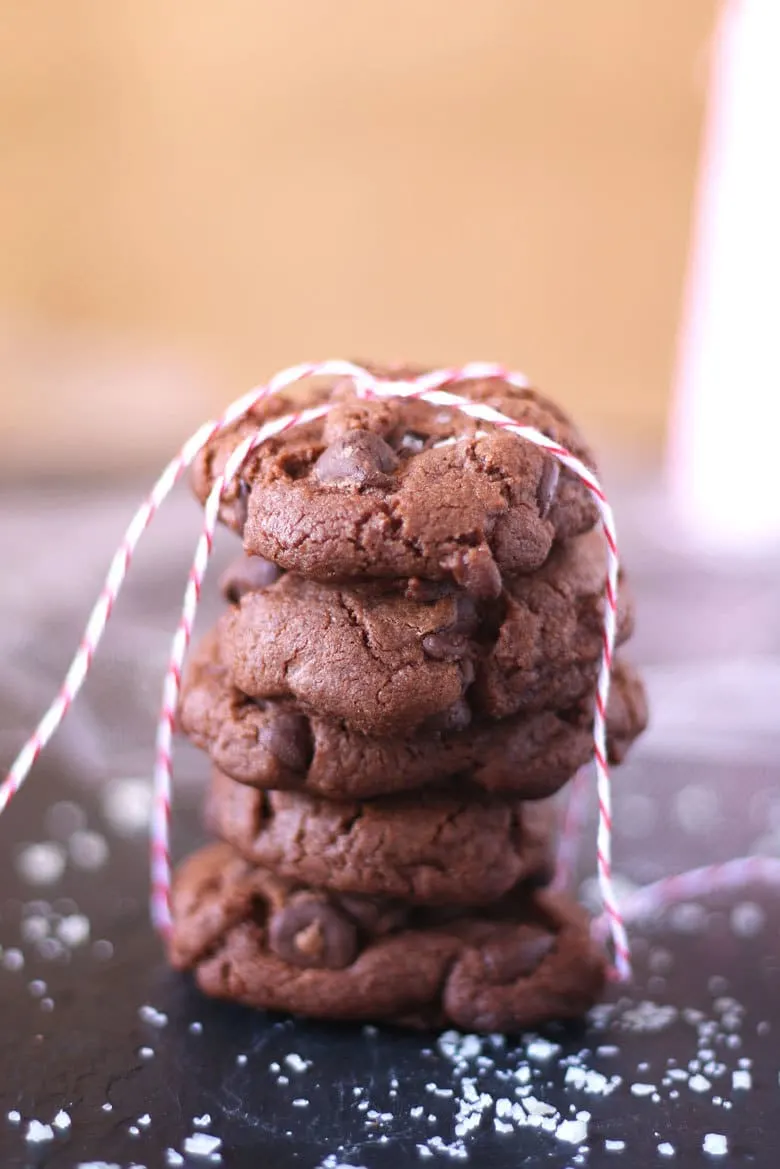 Do you know what's better than chocolate? Lots of chocolate topped with sea salt.
I know, I know. It's not for everyone. The sea salt, that is.
But I doubt anyone will deny that chocolate on chocolate is a bad thing.
I made these sea salt double chocolate cookies for a cookie swap I participated in two years ago and they were a hit. I made them again for two separate family Christmas parties and there wasn't a single cookie leftover.
That is saying a lot because my family Christmas parties are definitely heavy on the desserts.
I even saw them being used for an online cookie swap from another blogger. To me, that means these cookies are some kind of special.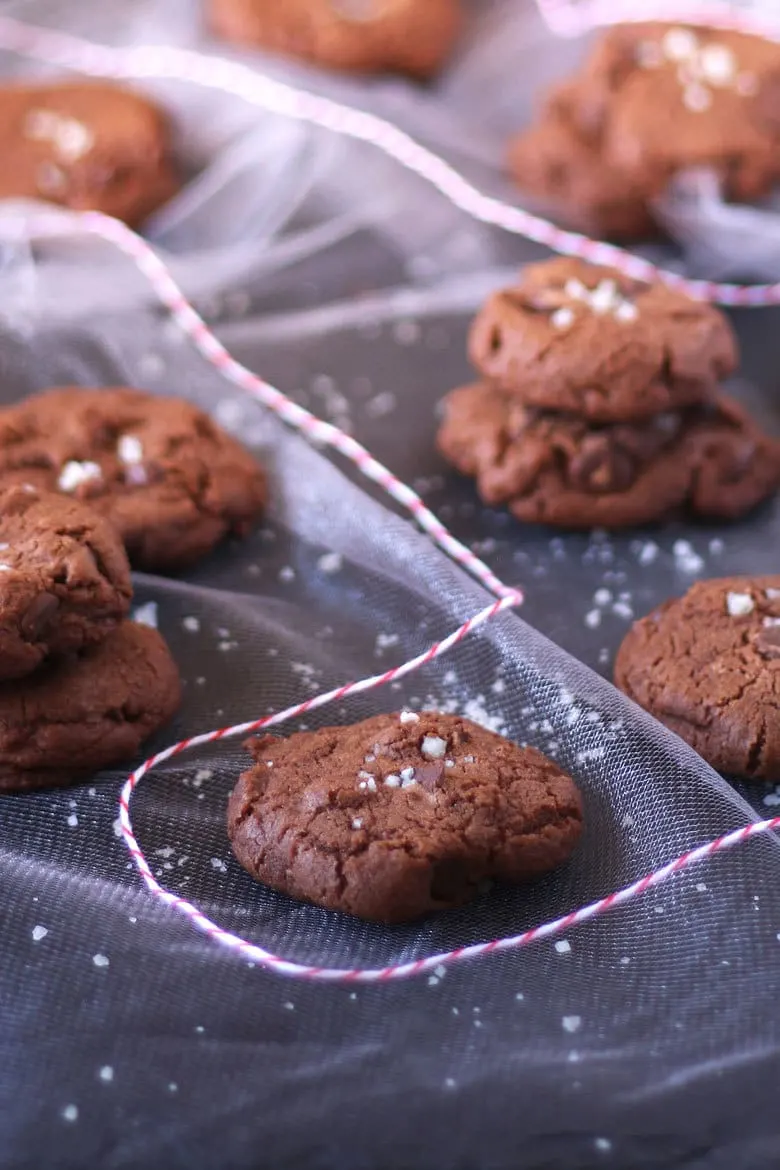 Sea Salt Double Chocolate Cookies
Sea salt double chocolate cookies are very easy to make. If you use the same amount of cookie dough as I did (detailed in the recipe directions,) they should be done baking in under 10 minutes.
Using melted butter is my "quick cookie trick." I often want to make cookies in a hurry but don't have time to wait for butter to soften. No need to wait with this recipe.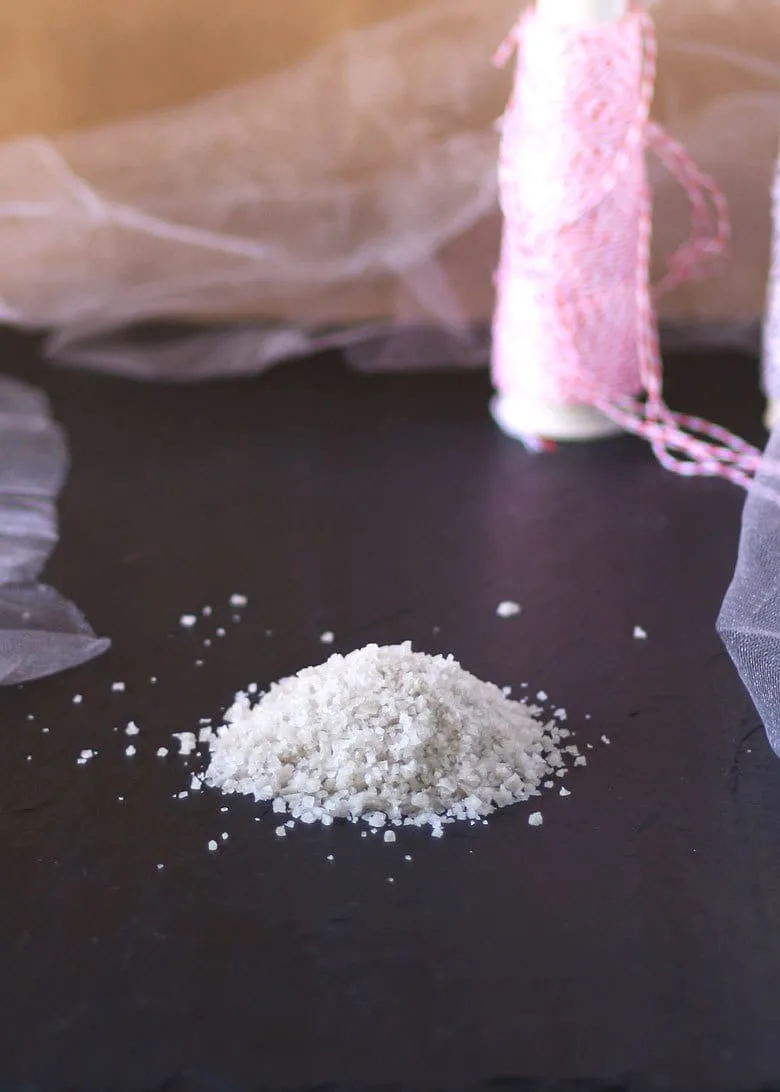 I used a gorgeous, grey Celtic sea salt for these cookies. If you want to buy it, Whole Foods has it or you can get it on Amazon (Celtic Sea Salt Fine Ground Shaker Jar, 8 Ounce
– affiliate link.)
I use it in cooking a lot and it fell out of the cupboard while I was trying to figure out what I wanted to bake. I took that as a sign.
I had a few hiccups when I was making these and detailed them in another baking post – rather than go through it all over again (I'm trying to move on!) head over there if you are interested.
Note to self: don't lose your recipe notes.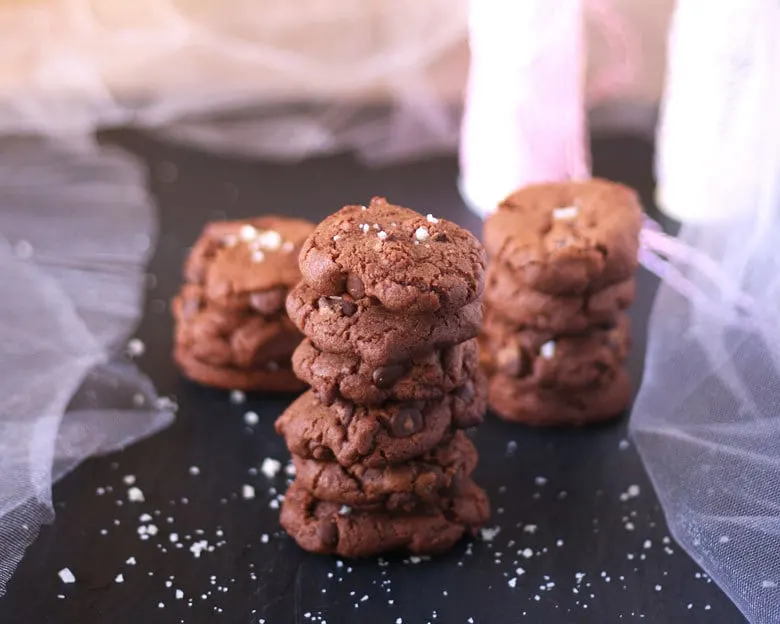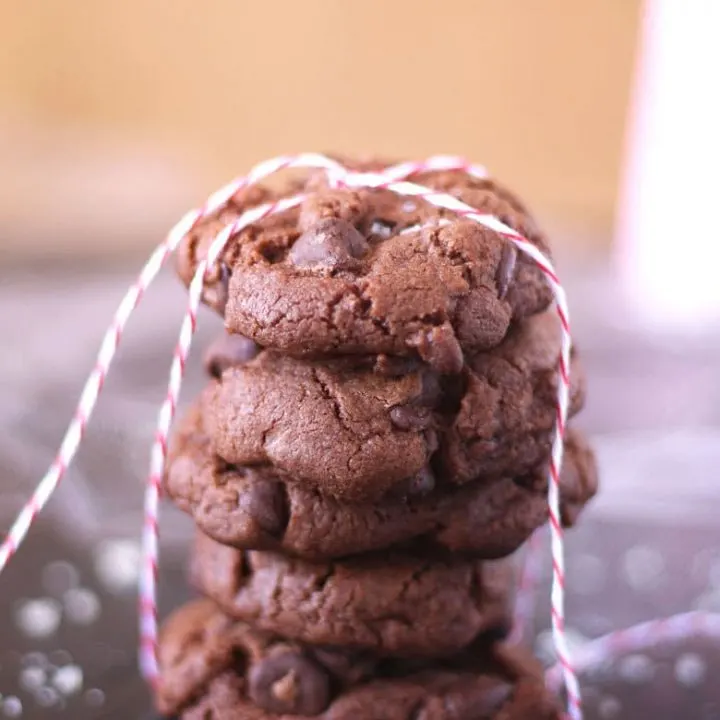 Sea Salt Double Chocolate Cookies
These sea salt double chocolate cookies are a crowd favorite. You can't say no to extra chocolate with sea salt in cookie form!
Ingredients
1¼ cup all-purpose flour
¼ cup dutch cocoa powder
½ teaspoon baking soda
½ teaspoon salt
½ cup white sugar
½ cup brown sugar
½ cup unsalted butter, melted
1 large egg
1 teaspoon vanilla extract
1 cup semi-sweet chocolate chips
sea salt for sprinkling
Instructions
Pre-heat the oven to 375 degrees. Line baking sheets with parchment paper or silicone baking sheets.
In a medium bowl, combine the flour, cocoa powder, baking soda and salt with a whisk. Set aside.
In the bowl of a stand mixer, cream together the white sugar, brown sugar and melted butter on high. When that is well mixed, reduce the speed to low and add the egg and vanilla extract. When this is well combined, slowly add the set-aside flour mixture until just combined. Then fold in the chocolate chips using a spatula.
Using a tablespoon measuring spoon, measure out the dough. Place the cookie dough one inch apart. Press the top of each cookie with a spoon or the flat side of a knife to flatten the cookie, just a little. Sprinkle the top of each cookie with a little bit of sea salt.
Bake for 9-10 minutes, or until the cookie edges look browner than the dough. Remove from the oven, let cool on baking sheet for 10 minutes, then let them finish cooling on a baking rack.
Nutrition Information:
Yield:

12
Serving Size:

2 cookies
Amount Per Serving:
Calories:

130
Total Fat:

6g
Saturated Fat:

4g
Trans Fat:

0g
Unsaturated Fat:

2g
Cholesterol:

18mg
Sodium:

100mg
Carbohydrates:

18g
Fiber:

1g
Sugar:

12g
Protein:

1g