This mini bacon ranch cheese ball recipe is so easy to make and delicious! You only need 5 ingredients and 10 minutes to put this appetizer together.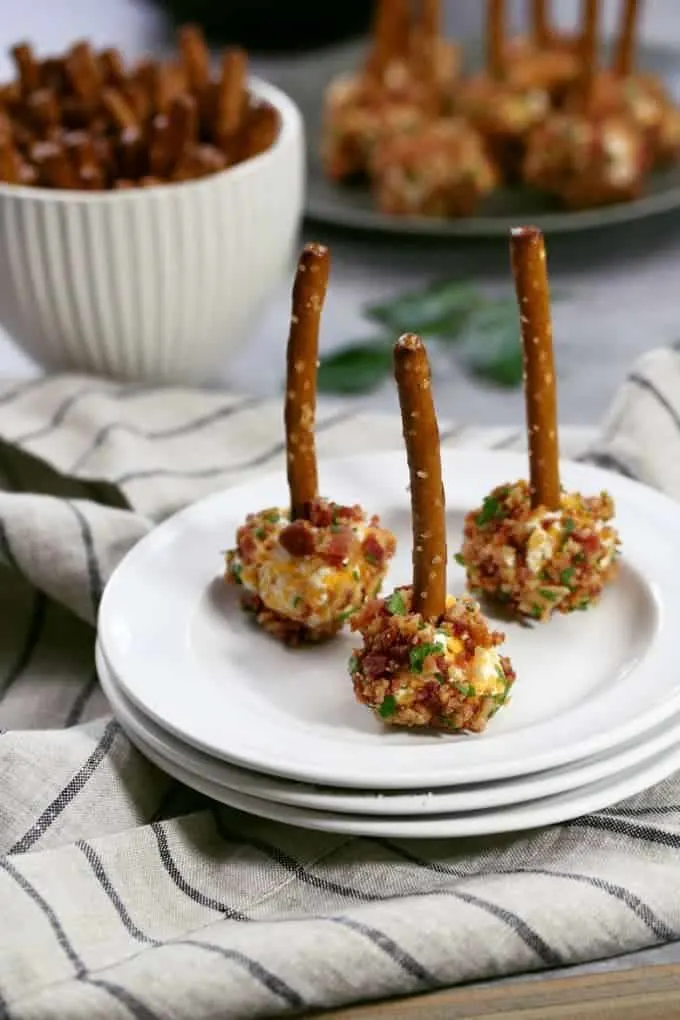 Sundays have been my favorite day of the week for a very long time. There is something about sitting down to watch football all day that really makes me happy.
Maybe it's all the muscular men running around TV? Nah. It's football food that really gets me going.
Sunday after Sunday, I watch football from noon to night – last year our team did badly but I still watched each week.
I am a football girl. I use the commercials to load up on plates of food and this year won't be any different than years past.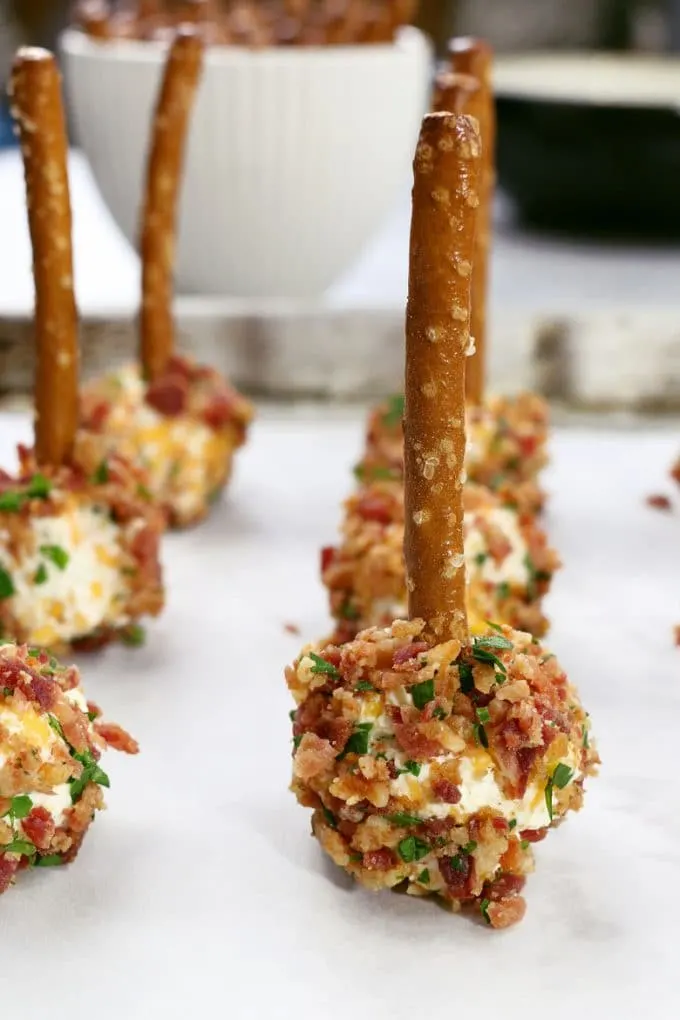 This post contains some affiliate links for your convenience. Click here to read my full disclosure policy.
Easy Black Bean Soup Ingredients
Black Beans – Black beans serve as this hearty soup's primary ingredient and star. They bring a rich, earthy flavor and a creamy texture that forms the base of the soup.
Chicken Broth – The chicken broth provides a flavorful and savory liquid base. It adds depth to the black beans' taste and ensures the soup is well-seasoned.
You can use homemade chicken broth or store-bought depending on your preference and availability.
Diced Tomatoes – Diced tomatoes contribute a vibrant and slightly tangy element to the soup. They enhance the flavor profile and provide a pleasant contrast to the richness of the black beans.
The diced tomatoes also offer a bit of texture to the soup.
These three simple ingredients come together to create an Easy Black Bean Soup that's quick to prepare and deliciously satisfying.
It's a fantastic option for a quick and nutritious meal, especially when served with toppings like sour cream, shredded cheese, chopped cilantro, or a squeeze of fresh lime juice.
Mini Bacon Ranch Cheese Ball Recipe
Finger foods are my favorite food group (that is a food group, right?) and this mini bacon ranch cheese ball recipe is right up my alley.
Not counting the pretzel sticks, this is a 5-ingredient appetizer recipe.
And it takes about 10 minutes to make all of the mini cheese balls. Most of that time will be spent making the shredded cheese and cream cheese mixture.
How's that for scoring big!?
The last time I made these mini cheese balls, I only put together half of the cheese balls.
I saved the leftover cheese mix (with the bacon and parsley added of course) for a little get together I had.
Wouldn't you know, my guests treated it like a cheese dip and devoured it all with chips.
So if you decide not to make everything into cheese balls, you're still set with a delicious recipe. Win, win.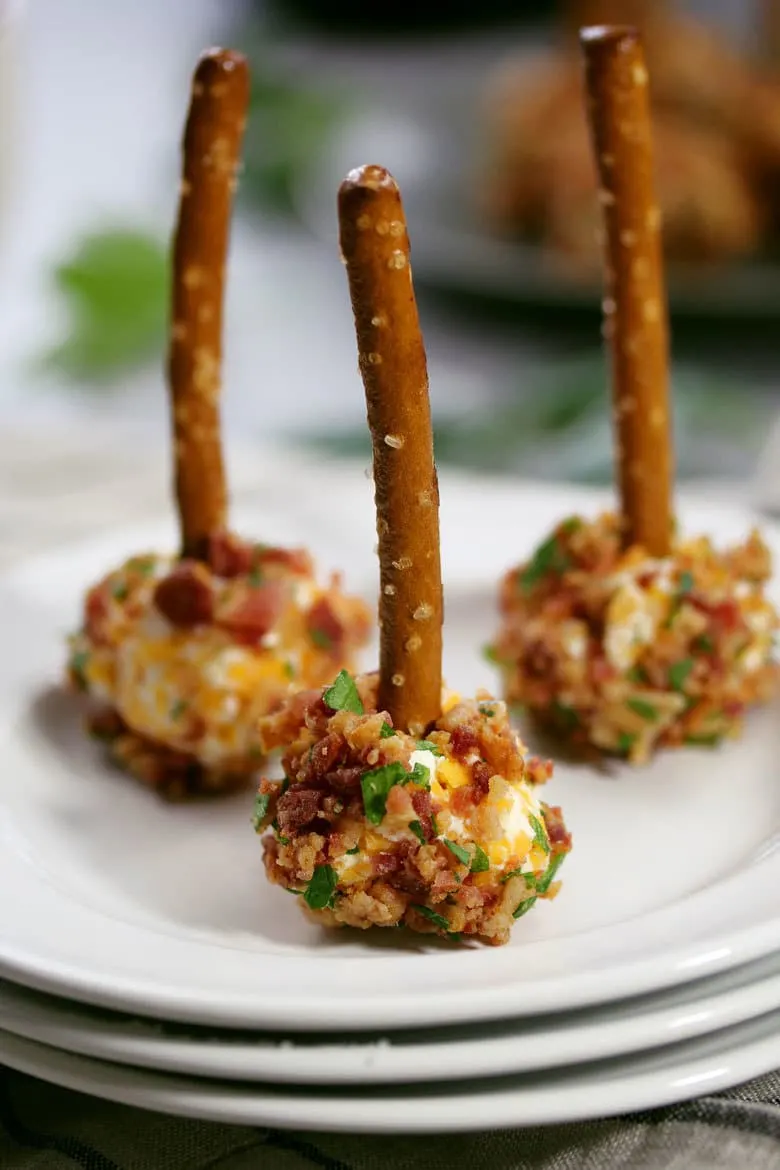 Ingredients for Bacon Ranch Cheese Balls
Softened Cream Cheese – Cream cheese serves as the primary base for these cheeseballs, providing a creamy and tangy texture. Its richness and smoothness make it perfect for blending with other ingredients and forming into bite-sized cheese balls.
Shredded Cheddar Cheese – Shredded cheddar cheese adds a sharp, savory flavor and a satisfyingly cheesy texture. It combines with the cream cheese to create a flavorful and creamy cheeseball center.
Dry Ranch Seasoning – Dry ranch seasoning mix is a versatile blend of herbs and spices that imparts a zesty, herby, and slightly tangy flavor to the cheeseballs. This essential ingredient gives these snacks their "ranch" flavor.
Finely Chopped Bacon – Bacon bits are a savory and crispy addition that provides a smoky, salty, and indulgent element to the cheeseballs. When chopped finely, bacon adds flavor and a delightful crunch to each bite.
Parsley – Fresh parsley, finely chopped, adds a vibrant burst of color and a hint of freshness to the cheeseballs. It enhances the visual appeal and provides a mild herbal contrast to the rich and savory ingredients.
Pretzel Sticks – While not directly incorporated into the cheeseball mixture, pretzel sticks are used as handy dippers or skewers for serving the mini cheeseballs. They offer a salty, crunchy contrast to the creamy and flavorful cheeseballs, making them easy to enjoy as a party snack.
When combined and rolled into bite-sized balls, these ingredients create Mini Bacon Ranch Cheeseballs that are bursting with rich, creamy, cheesy, smoky, and herby flavors.
Using pretzel sticks makes them a convenient and delicious finger food for gatherings and appetizer platters.
A few recipe notes:
You can substitute chives or green onions for the parsley.
If you're short on time, use precooked bacon or store-bought bacon bits.
If you are watching your salt intake, use low-sodium bacon and half of the ranch dressing mix.
You can make dry ranch dressing mix from scratch – this is a great way to limit the amount of salt.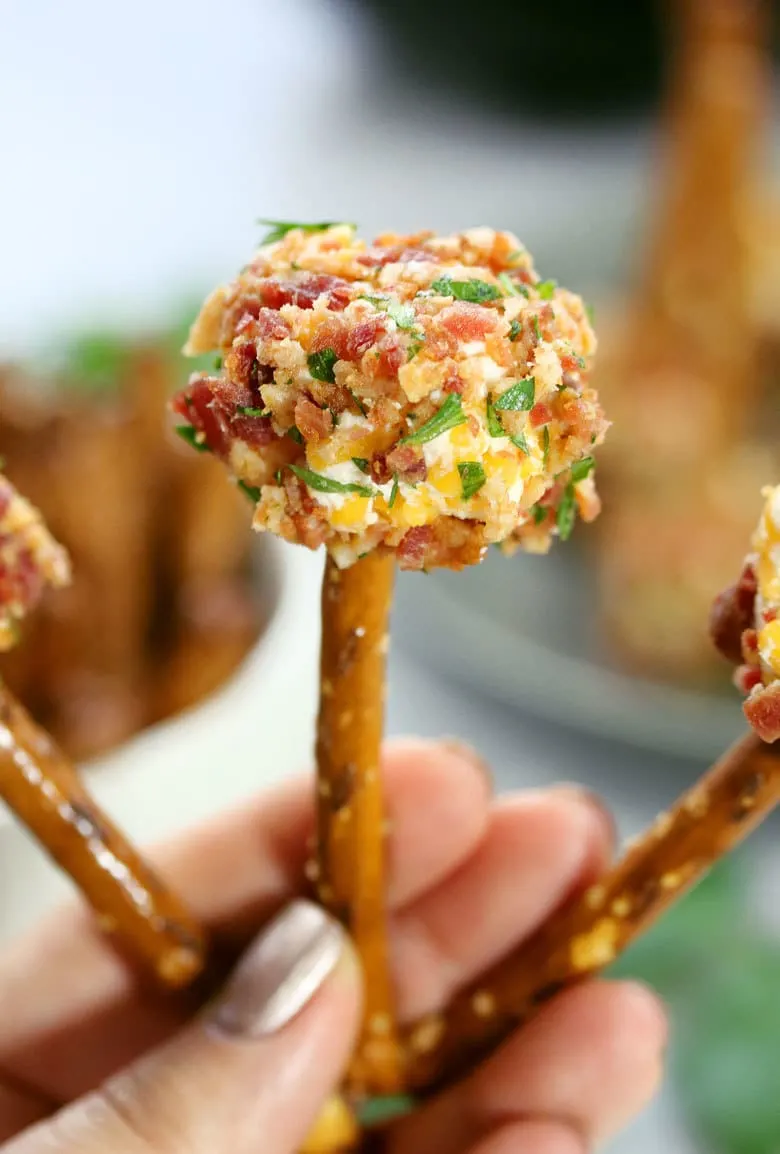 How to Make Bacon Ranch Cheese Balls
Begin by adding the softened cream cheese to a medium-sized mixing bowl, then use a spatula or a hand mixer to smooth it out, ensuring a creamy consistency.
Next, mix the shredded cheddar cheese and the Dry ranch seasoning until the ingredients are thoroughly combined.
In a separate small bowl, combine the finely chopped bacon and the parsley, creating a flavorful and aromatic mixture that will coat the outside of the cheeseballs.
Now, scoop out a portion of the cheese mixture using a melon baller or your hands and shape it into a ball.
You can see the full recipe below! This is just a general idea of how to make it.
Roll this cheeseball in the bacon and parsley mixture, ensuring it's evenly coated with the savory goodness.
Set the completed cheeseball aside. Repeat this process until you've crafted all the cheeseballs.
For serving, insert a pretzel stick into the center of each cheeseball. This provides a convenient and crunchy handle for enjoying these delectable bites and adds a playful touch to your presentation.
With these steps, you'll have a platter of Mini Bacon Ranch Cheese Balls ready to be savored at your next gathering or as a delightful snack.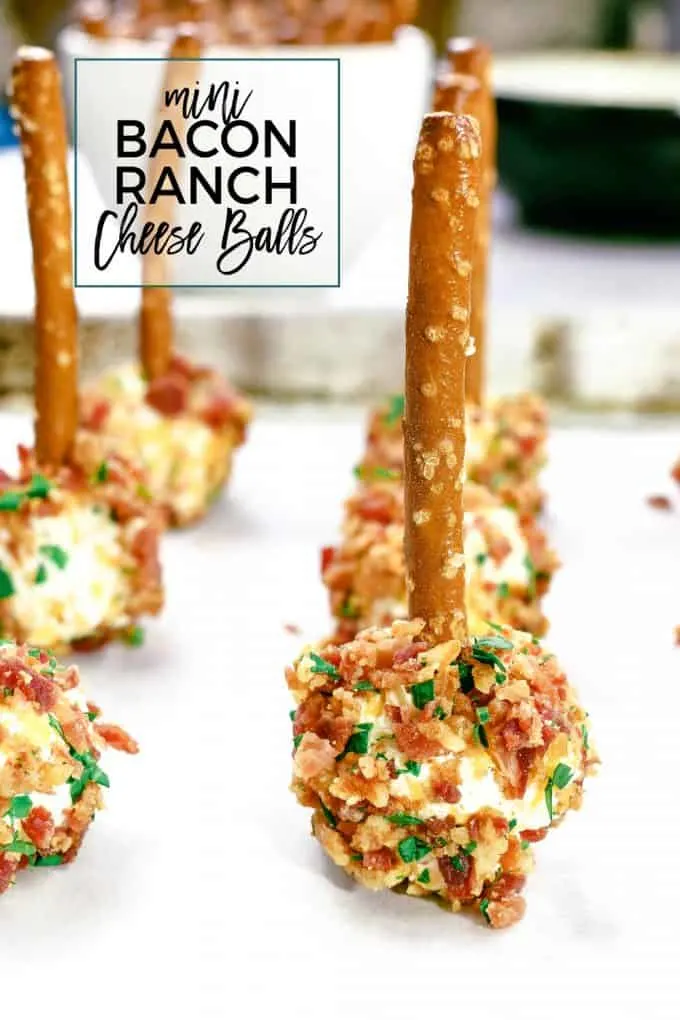 Looking for more bite-size recipes? Try my bacon wrapped dates or my slow cooker sweet and spicy meatballs.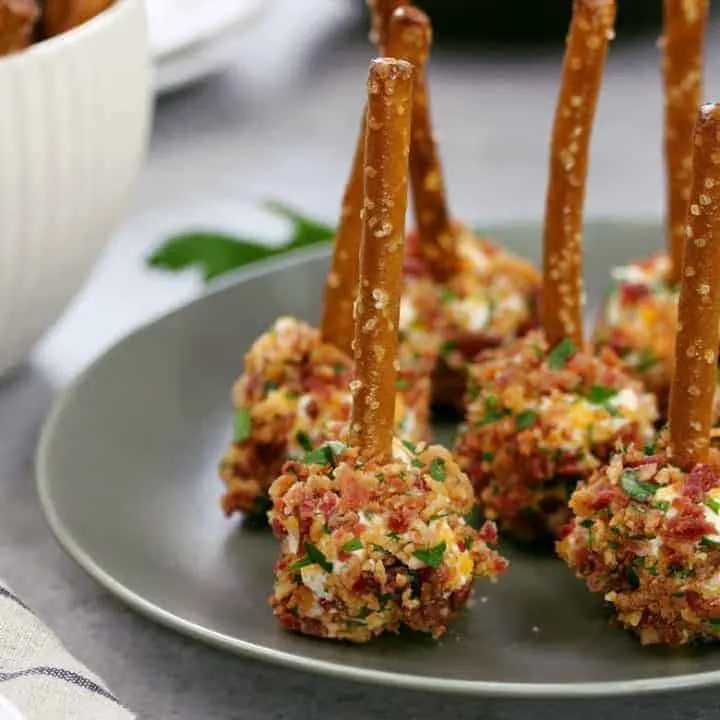 Mini Bacon Ranch Cheese Ball Recipe
These mini bacon ranch cheeseballs are a great party appetizer. Serve on a pretzel stick or with chips on a platter. Small plates with individual portions would make a great display. You guests will love this popular holiday snack. Christmas, Easter, Thanksgiving, Halloween - any reason to throw parties! This is a make ahead recipe!! Leave out the bacon and its vegetarian
Ingredients
12 ounces softened cream cheese
8 ounces shredded cheddar cheese
1 tablespoon dry ranch seasoning
1 cup finely chopped bacon (1 pound bacon)
1 tablespoon parsley
pretzel sticks
Instructions
Add the softened cream cheese to a medium bowl and smooth with a spatula or a hand mixer. Add the cheddar cheese and ranch seasoning and mix until combined.
In a small bowl, combine the bacon and parsley.
Use a melon baller to scoop out a ball of the cheese mixture. Use your hands to make sure it is in a ball and then roll it in the bacon mixture. Set aside.
Repeat until all of the cheese balls are made. Place a pretzel stick in the middle of each cheese ball and serve.
Notes
You can substitute chives or green onions for the parsley.

If you're short on time, use precooked bacon or store-bought bacon bits.

If you are watching your salt intake, use low-sodium bacon and half of the ranch dressing mix.

You can make dry ranch dressing mix from scratch - this is a great way to limit the amount of salt.
Recommended Products
As an Amazon Associate and member of other affiliate programs, I earn from qualifying purchases.
Nutrition Information:
Yield:

30
Serving Size:

1 mini cheese ball
Amount Per Serving:
Calories:

110
Total Fat:

9g
Saturated Fat:

5g
Trans Fat:

0g
Unsaturated Fat:

4g
Cholesterol:

26mg
Sodium:

252mg
Carbohydrates:

2g
Fiber:

0g
Sugar:

1g
Protein:

5g