This antipasto skewers recipe is the perfect lazy day Italian appetizer. They can easily be made from store bought pickled items or from your pantry stash! Easy to eat and very delicious!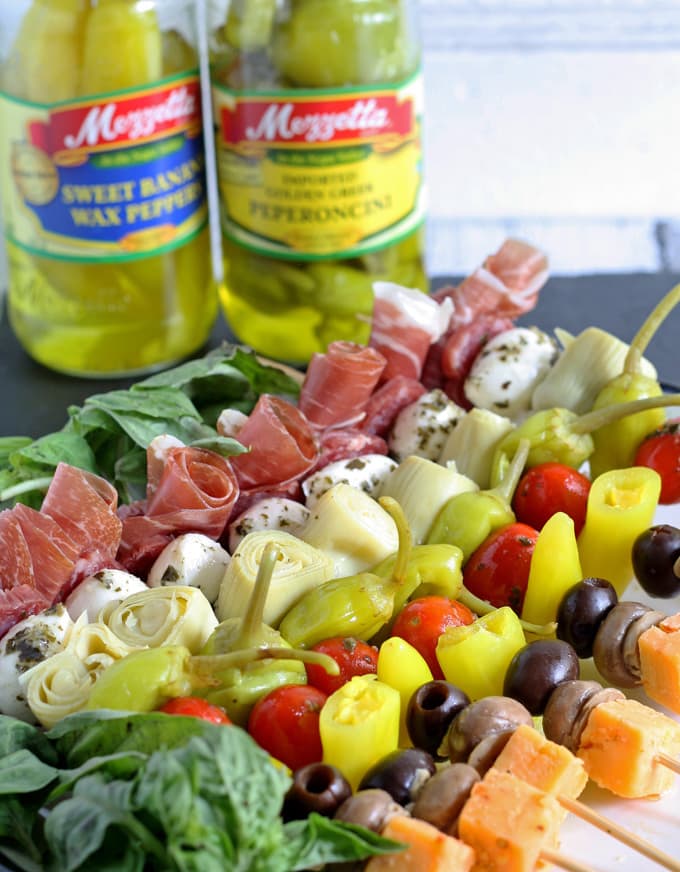 This post was sponsored by Mezzetta. This post contains some affiliate links for your convenience. Click here to read my full disclosure policy.
I live almost next door to a school and it very quickly got very quiet over here. Obviously, school is out for the summer!
Yippee for all the lucky kids that are going on awesome vacations over the summer. We aren't going anywhere so instead we'll be having a staycation here in Chicago.
We are experts at the staycation. We break out our comfy lawn chairs, the grill and some refreshing drinks – lemonade and a few of our favorite beers.
We either hang out in the yard, enjoying the sun, or we cool off inside in the air conditioning when it gets too warm.
My favorite summer days are usually when we have guests. Mr. B's family is from Ireland and his relatives visit often in the summer.
Our backyard has been the scene to more than one family barbecue over the years.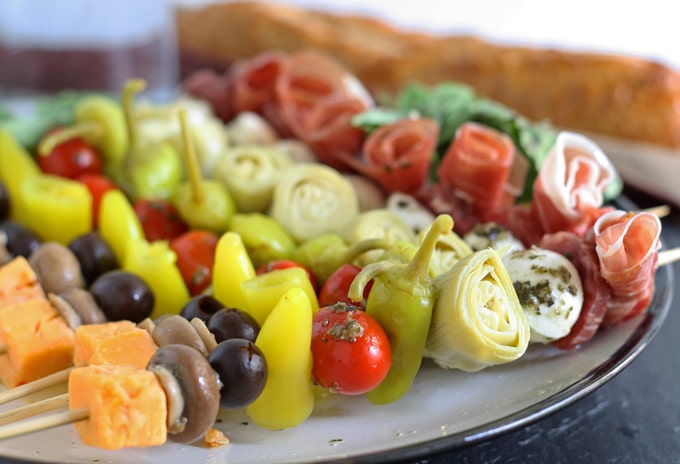 Mr. B mans the grill while I make what I make best – appetizers!
One of my favorite appetizers are these delicious antipasto skewers. They are a great way to start the party and perfect for folks that like to graze when eating.
Also, they're great for social butterflies because you can carry your whole appetizer around on a stick with you. What is better than that?
I say nothing; I do love my food on a stick.
Antipasto Skewers Recipe Appetizer
Antipasto can comprise of so many different things.
When you make these skewers, I want you to feel free to take liberties and substitute or add your favorite antipasto items.
Since you usually eat each ingredient on its own, I don't think its as important as it normally would be if the flavors go together.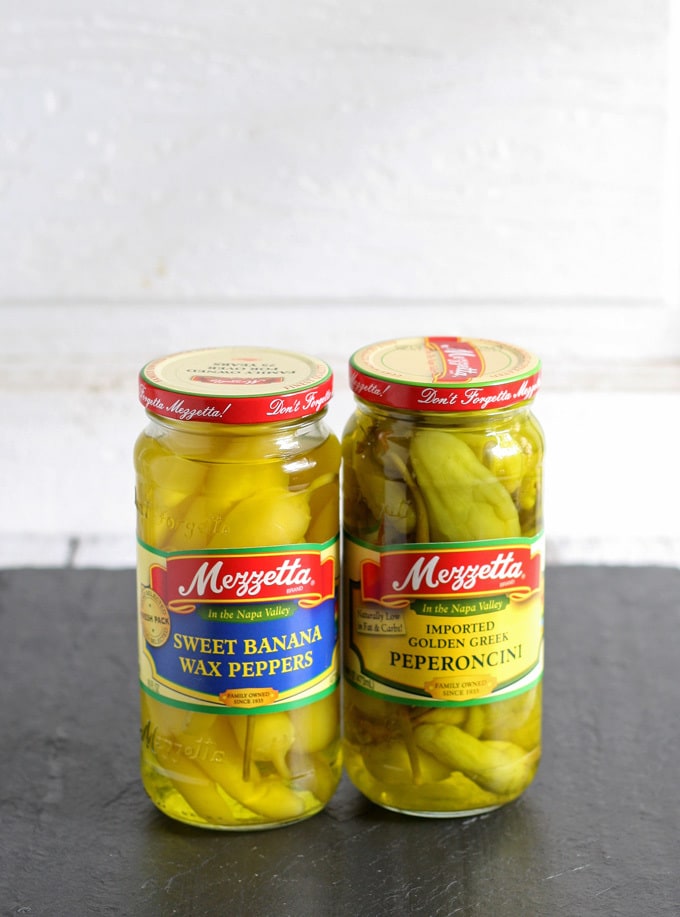 One of my favorite additions to my antipasto skewers recipe is the Mezzetta peppers.
I included both Sweet Banana Wax Peppers and the Whole Golden Greek Peperoncini (cut in half) in my skewers. I couldn't decide between the two so just went with both.
Eat. All. The. Peppers.
Antipasto Italian Appetizers
Antipasto means before the meal in Italian and this easy recipe is the perfect Italian appetizer.
I like to marinate my cherry tomatoes and fresh mozzarella in a blend of Italian spices and olive oil for about an hour before preparing my antipasto skewers.
This step isn't necessary of course, but since it doesn't take that long, why not do it.
The rest of the items I chose can be found in the same section as the Mezzetta peppers – just look for all the weird pickled things and go crazy!
Traditional antipasto includes cured meats, olives, peperoncini, mushrooms, anchovies, artichoke hearts, cheese, pickled meats, and vegetables in oil or vinegar.
It also occasionally includes fish if you are from a coastal region. Feel free to add or subtract for your personal taste.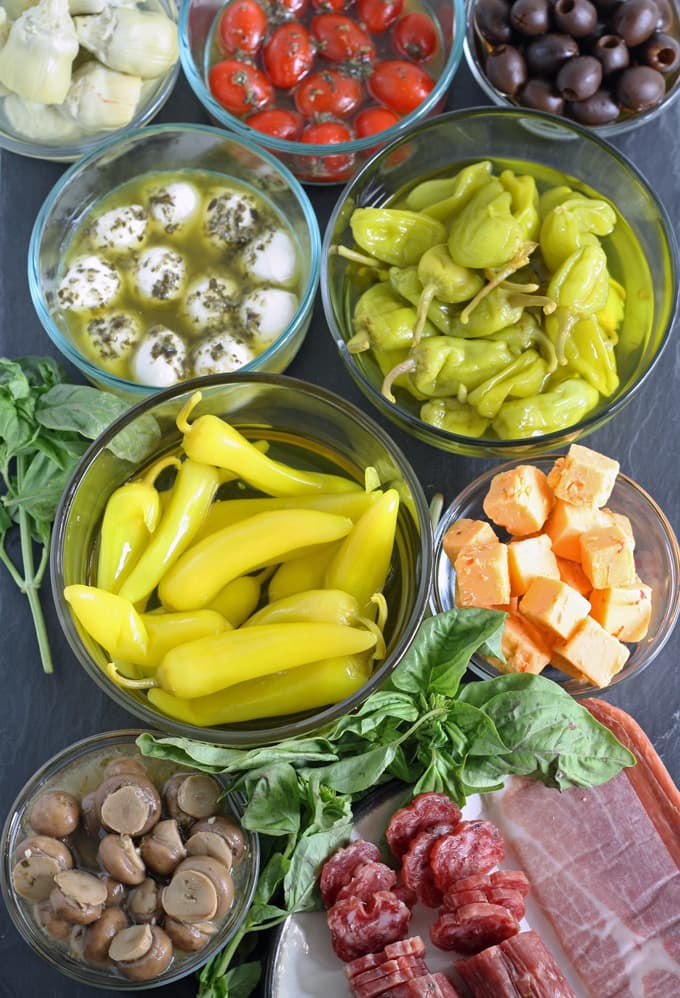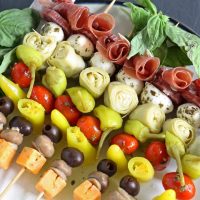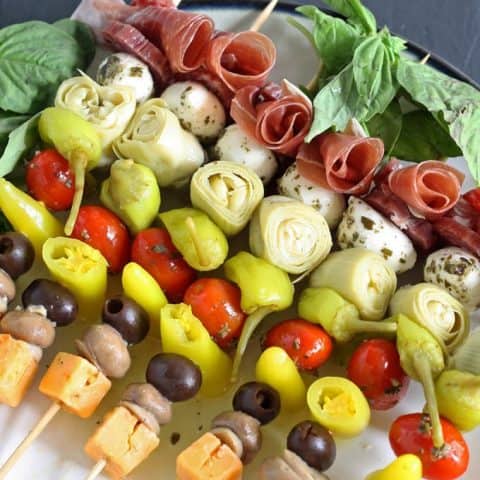 Antipasto Skewers Recipe - Italian Appetizer
Looking for an easy party appetizers for a lazy summer day or a casual and relaxed barbecue? These antipasto skewers can easily be made from store bought pickled items or from your pantry stash! Easy to eat and very delicious!
Ingredients
4 sweet banana wax peppers, cut in half
8 golden pepperocini
8 artichoke hearts
8 black olives
8 marinated cherry tomatoes
8 marinated fresh mozzarella balls (Bocconcini or Ciliegine)
8 cheddar cheese chunks
8 pickled crimini mushrooms
8 slices of genoa salami
8 slices of prosciutto
8 slices of sopresseta
8 skewers
Instructions
Take a skewer in hand. Slide one of each ingredient onto the skewer. Repeat until all skewers are full. Refrigerate until ready to serve.
Nutrition Information:
Yield:

8
Serving Size:

1
Amount Per Serving:
Calories:

394
Total Fat:

23g
Saturated Fat:

11g
Trans Fat:

0g
Unsaturated Fat:

10g
Cholesterol:

77mg
Sodium:

2261mg
Carbohydrates:

24g
Fiber:

5g
Sugar:

11g
Protein:

25g


Food on a stick just tastes better. Skewers!
French bread board – the longer the better.
Sometimes you just need a little of a good thing – round small plates.
---
Looking for more appetizers and finger foods?
Try my mini pepper poppers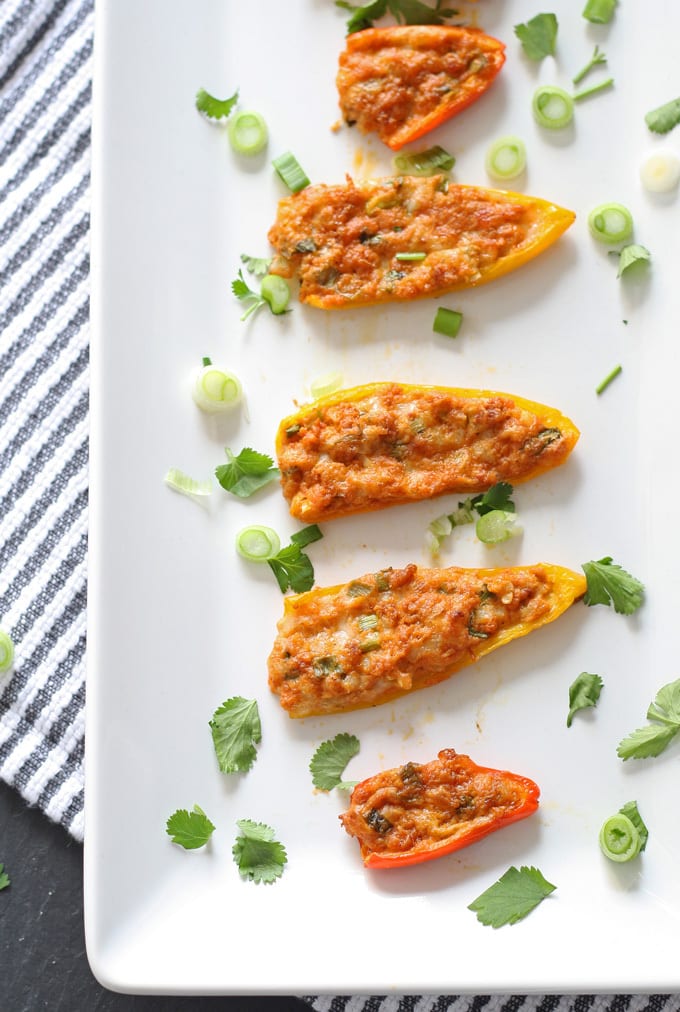 or my easy green onion dip!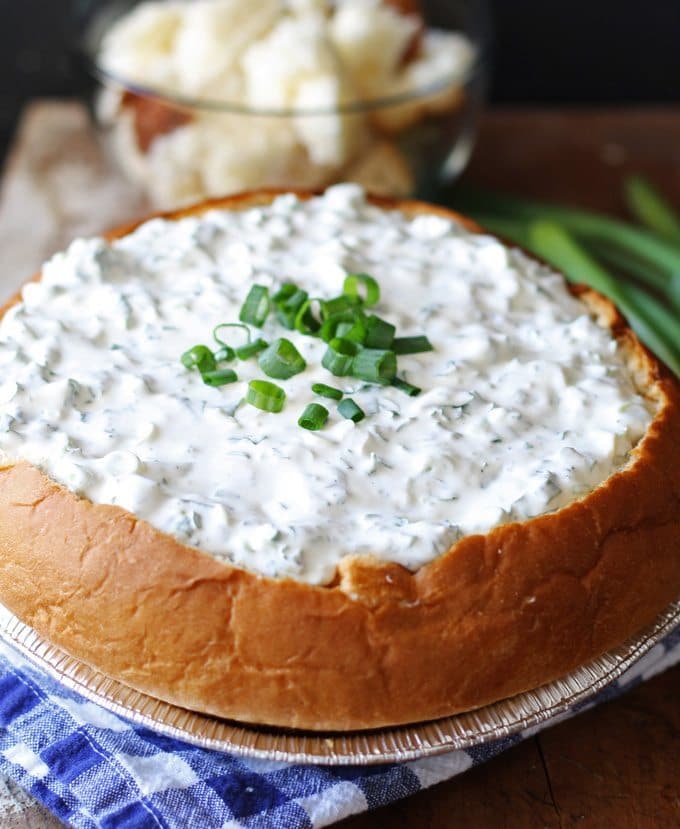 Or my hot pimento cheese dip!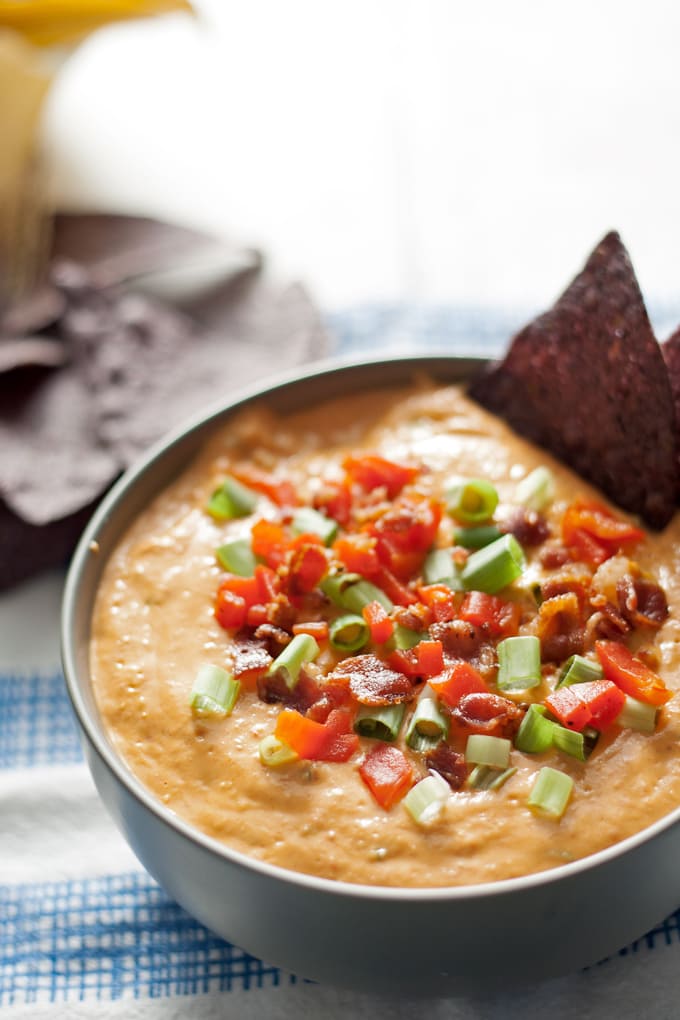 SaveSave
SaveSave