This gluten-free mushroom soup uses mixed mushrooms – you can use any edible mushrooms you can find! It's easy to make and is thickened with potatoes!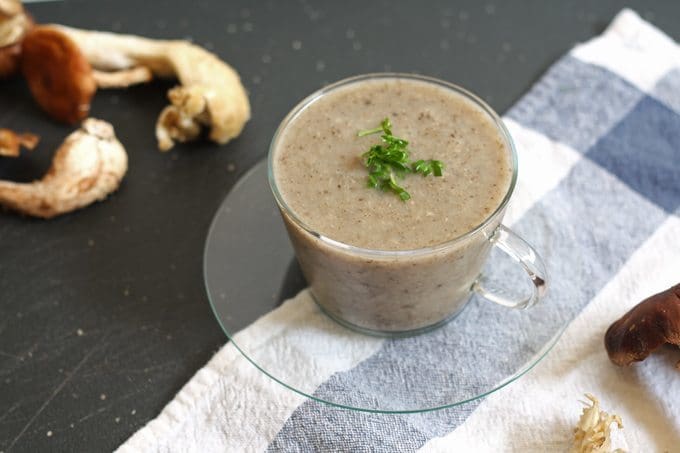 In the spring, I was diagnosed with an autoimmune disease called Hashimoto's Disease. It's not life threatening and it's symptoms can pretty much be treated with medication. The biggest problem came before I was diagnosed – I felt like garbage for months.
I finally went to see my doctor after a day where I slept for 16 hours straight and was then still unable to wake up after that. Now I've been on synthetic thyroid hormones for a few months and I feel a lot better. More awake for sure. I'm not going to go into great detail about my chronic disease – it's annoying but manageable.
Lately, I have been wondering if I can feel even better. So I did more research and heard that switching to a gluten free, dairy free diet can really boost the energy of us Hashi people. Which means I have been doing some experimenting with gluten-free and dairy-free cooking.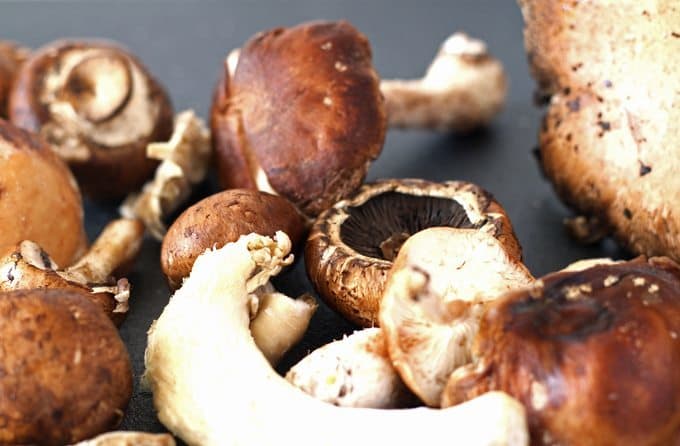 One of the biggest problems I'm anticipating is my love for creamy soups – cream of mushroom soup is definitely on that list. Just last week I rounded up mushroom soup recipes in anticipation for today's recipe. I knew I had to figure out a soup that was thick and like a cream soup before I finally make the switch.
I sent Mr. B. out grocery shopping for me – I was on the phone troubleshooting with the cable company – and I gave him my grocery list, including instructions to get "a big bag of mixed mushrooms." I should have been more specific.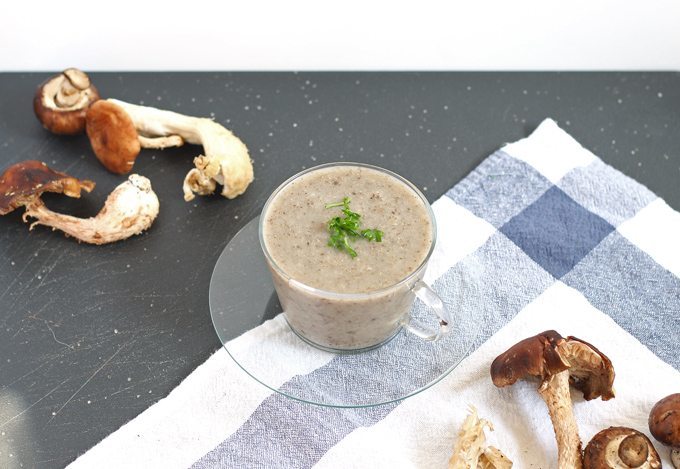 He filled up an entire shopping bag with mixed loose mushrooms. One large produce bag of each kind that was available at our grocery store – cremini, shiitake, porcini, and portobellos. And two containers of the everyday mushrooms. What the heck am I going to do with all of these mushrooms?
I used 6 cups of mushrooms for this soup and I still have pounds of mushrooms leftover. I thought about making a double batch of this soup, but it already makes a lot. I am open to suggestions (but they need to come today or tomorrow before the 'shrooms go bad.)
The potatoes help add starchiness without adding flour – pureeing all of the veggies helps too. Makes it nice and thick. And the cider adds flavor. For any non-alcohol drinkers out there – if you feel more comfortable adding wine, or omitting this in general, you can. But I can't guarantee it will taste good.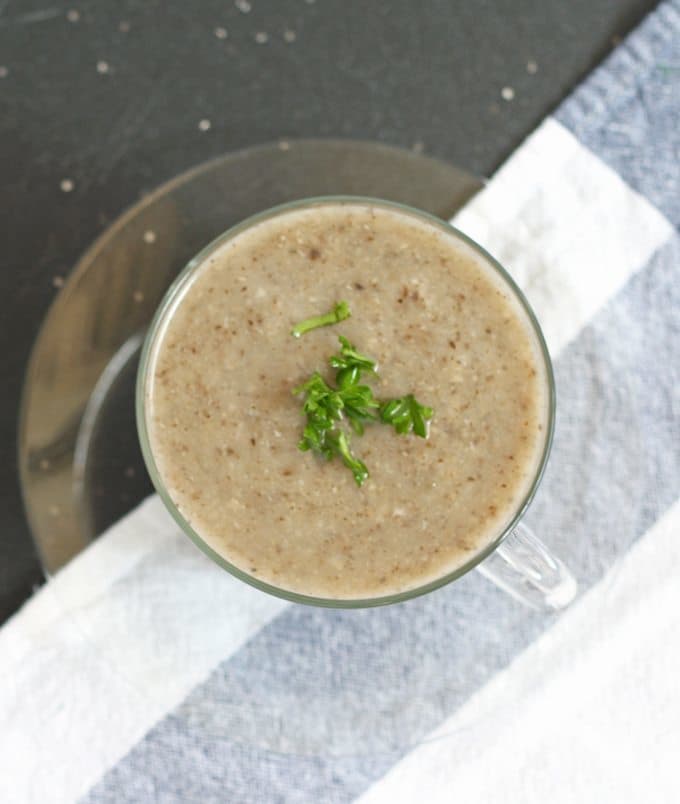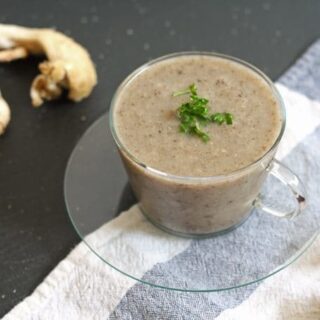 Mushroom Soup
Ingredients
1 tablespoon butter
1 tablespoon extra virgin olive oil
1 cup roughly chopped white onion
4 cups potatoes, peeled and roughly chopped (about 4 potatoes)
6 cups of mixed mushrooms, cleaned and roughly chopped
2 cloves of garlic, crushed
1 12 ounce bottle of dry apple cider
4 cups chicken broth/stock
1/3 cup chopped fresh parsley (plus more for garnish)
salt and black pepper to taste
Instructions
In a large soup pot, heat the butter and oil. Add the onions, stir, and then add in the potatoes. Stir until the potatoes are covered in butter/oil. Cover and sweat on low for 5-10 minutes (until the potatoes are softened but not burnt.)
Add the mushrooms, garlic, cider and chicken broth to the pot. Stir, season with salt and pepper and bring to a boil Lower the heat and cook for 15 minutes.
Using a stick blender (or a traditional blender or food processor), puree the soup until the mushrooms and potatoes are smooth. Stir in the fresh parsley. Serve and garnish with additional parsley.
SaveSave